How to visit the Lello Bookstore in Porto Portugal
Are you planning a visit to the Lello Bookstore in Porto, Portugal? Then read my article with some tips on how to make this visit as smooth as possible and the best time to visit Livraria Lello bookstore too.
Porto is a city with many gorgeous attractions and this beautiful bookstore is one of them.
The Livraria Lello bookstore, which is over 100 years old, has always been a famous site due to their magnificent looking building and indoor architecture, but it has in more recent years turned even more popular.
It is said that when J.K.Rowling lived in Porto she used to be an avid visitor to the store and that the building was a source of inspiration to some details of Hogwards castle in her Harry Potter books.
For Harry Potter fans this is a must see site, the store is often refereed to as the Harry Potter Bookstore.
However, not just Harry Potter fans visit this place, it is actually quite touristy and crowded with people. Specially after being named one of the most beautiful bookstores in the world by Lonely Planet.
On that note you should know that it is extremely unlikely that you will be able to take pictures of the place empty like you see in my images (below I share more tips about this). We were there on 2 occasions but on Friday we got to visit the store just before Livraria Lello opening hours which was organized in partnership with Visit Porto and North and that is how these images were taken.
Despite the crowds many visitors still find this spot to be a fantastic attraction but it is important that you have the right expectation otherwise it could easily become a very frustrating experience for anyone.
So below I am sharing some facts about the bookstore and tips for a smooth visit. Read on and enjoy the many Livraria Lello pictures I was able to take.
Lello & Irmão bookstore history and highlights
Brothers José and António Lello bought the Chardron Bookstore in 1894 (that is why you can see the word Chardron in the bookstore facade).
After building the interior as it is known today the brothers opened Livraria Lello & Irmão on that address in 1906.
The building features a mix of Neo-Gothic, Art Noveau and Art Déco styles.
The most iconic item is the red looping staircase that connects the first to the second floor in such authentic way.
Though you will have the impression that the majority of the work is carved wood it turns out that there is plenty of decorative plaster that is painted to look like wood – including the details in the staircase.
You wouldn't know the difference unless someone pointed out and you examined it very closely.
Another fantastic architectural feature is the stained glass ceiling that reads the Latin phrase "Decus in labore".
This was the Lello's brothers motto and means "honor in work". The ceiling got redone in recent years and a little yellow smilie (yes, the yellow little smiling face) was added to the ceiling. Try to find it in the photo below:
The store also still retains the rails and wooden cart once used to move books around the store between the shelves.
It appears that there used to be a coffee shop inside the store but there isn't one anymore, and if there was it wouldn't be very cozy because of the amount of visitors.
Livraria Lello entrance fee and Over-tourism
You will probably see the lines of people queuing to get inside the store when you visit some attractions near by, such as the Clerigo tower, specially during vacation season.
This store attracts thousands of tourists daily with visitors waiting up to 3 hours during summer months. You should expect a little queuing even when you plan your visit right, more on this below.
However, this amount of people requires quite a system in place to make sure the service and maintenance of this historic building are kept in check. This naturally comes with a cost.
When the store started getting more touristic attention the majority of the tourists visiting didn't want to buy books but only see the interior (which is a fair reason to visit) but that was not so good for the business. Therefore the Lello and Irmao Livraria decided to introduce an entrance fee in 2015.
Now, nobody likes to pay to get inside a store but the entrance fee is redeemable if you buy a book, you will be discounted the price at the cashier. However if you are just there to see the interior you will have to pay 5 euros to get in.
To see the detailed work of art architecture and design that forms the interior of this store I think this is a fairly reasonable amount to pay and affordable by the average traveler.
Is it worth visiting the Livraria Lello in Porto?
Because of the popularity of this attraction you may get disagreeing opinion about whether or not it is worth to visit the bookstore.
In general pretty much everyone agrees that the interior is beautiful and rather a work of art however many find that the crowds take away from the experience and that it makes them want to rush out of the store.
While others still enjoy despite the crowds or, perhaps with a bit of planning, manage to see it with less people walking around. For Harry Potter fans this may still remain one of the best things to do in Porto, despite the crowds.
This is likely be very personal and dependent on what time and season you manage to visit it.
This Porto bookstore is not massive so if you uncomfortable with crowded small places then you should consider whether it would be worth for you, especially on high season! Porto is after all a place with many well designed stores and establishments, so you could go see beautiful architecture somewhere else.
If you just want to take pictures for Instagram or are not interested in the architecture in general, then this might also not be for you.
But if you love old detailed architecture and also are a big Harry Potter fan I think you will enjoy the visit.
I still recommend you to try and visit during off-hours (very early or very late) so that you can enjoy the most. The interior details are truly unique and having more space to enjoy the building will only increase the value of the experience.
How to get tickets
When visiting Porto I suggest that you book your ticket in advance online to avoid more wait.
If you don't have your online ticket you will have to get it at the ticket shop which is a few meters up the road to the left of the store, in the corner of the block.
This might be a bit confusing if you are just arriving there for the first time.
You should note that there can also be a queue for the ticket shop, hence my suggestion to get your voucher online here!
If you are visiting during high season you can get a Livraria Lello skip the line ticket on booking.com. You get a more expensive ticket but it includes the skip the line and 2 small books about the most beautiful bookstores in the world.
Click here to get your Skip the Line ticket!
However you don't get that price discounted on your purchase inside the store and you still need to visit the ticket office (and wait in queue if there is one there) to get your paper tickets.
It could still save you time depending on when you visit it and seasonality.
There are a few Harry Potter tours in Porto which are more expensive but take you to other HP sites in town and include the skip the line ticket too.
Click here to purchase your Harry Potter Tour in Porto!
Children under 3 years old are not required to purchase a ticket, their admission is free. You might be asked to show identification with proof of child's age though.
Tips to save time during your visit
First you need to know that you cannot buy the entrance ticket in the bookstore itself. That is done in the bookstore ticket office which is a few meters on the left, at the corner of the street.
I thought it was a bit confusing and not clearly signed at first.
You could easily spend 20 minutes in queue and realize that you need to go to the other queue to buy tickets first! Especially if you arrive before the store opens like we did.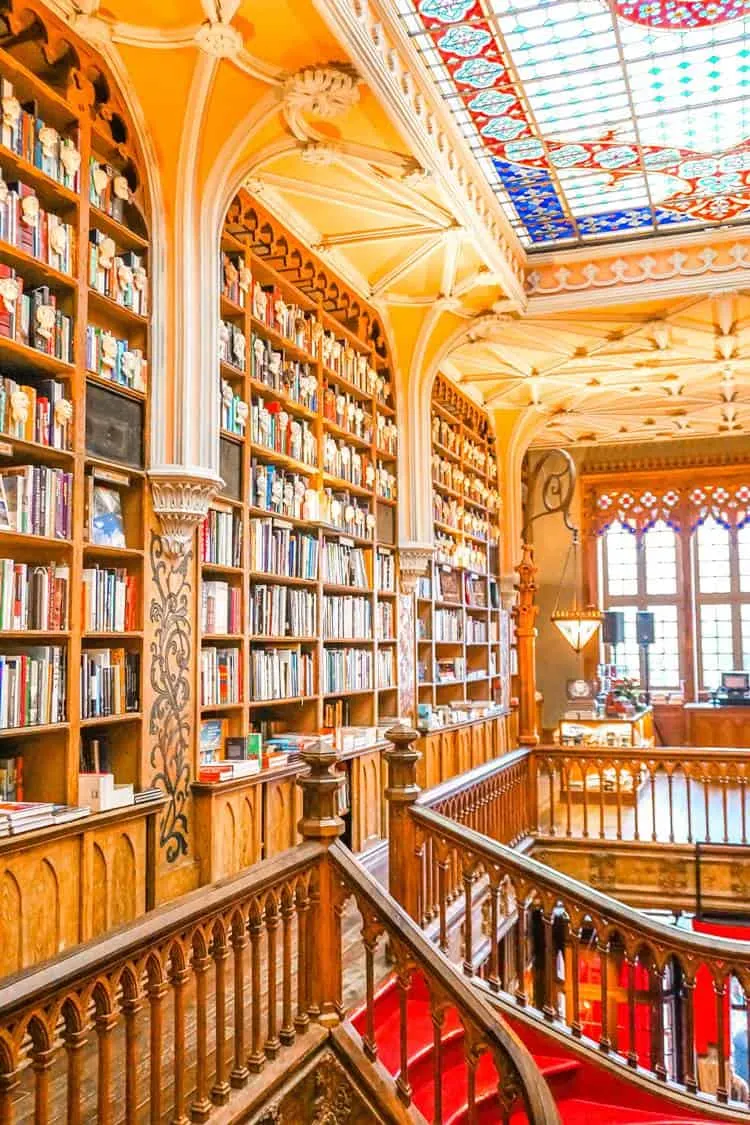 Once the store opens they slowly let the visitors in. It is not like Black Friday that once the doors open the masses rush in, no.
So if you are one of the very few first people in you will have some chance of getting images without a lot of people in. I saw visitors actually waiting let others take pictures of the staircase at the very beginning of the work day.
But once the store fills up the chances are slimmer. So a few tips are:
Gauge the popularity before visiting
The store is pretty central and if you are staying for a few days it is likely you will walk around the area while visiting other famous attractions in Porto.
If you have your itinerary planned to visit the Clerigo tower or the Igreja do Carmo the day before your actual visit to the bookstore you can check if the queues are too long on a particular time of the day and perhaps adjust your visit the next day.
We saw massive lines at around 11:30 and realized this wouldn't be a good time to go.
The store opens at 9.30. I arrived there just before 9 on a Friday morning (during a winter school break season) and there were about 15 people queuing. So if you managed to be there around that time you would be able to enjoy some quiet time (provided that you had bought your tickets online) for being one of the first people in.
However, by the time I left the queue was already pretty big and it tends to get bigger throughout the morning. So unless you can be there very early you should avoid the rest of the morning.
Outside of school vacation times and during the week days in the late afternoon are the best time to visit for smaller or no queues. Try to arrive around diner time, the store closes at 7pm.
You are not allowed to enter the store with a large backpack or something sizable, you are requested to leave it in lockers that you can rent in the ticket office.
So to avoid delays in your visit just come with a small purse, especially if you get your tickets online. Otherwise make sure you go to the ticket office for the locker before you join the bookstore queue.
As I mentioned above this will save you time from standing on one queue at the ticket office (in the morning you are likely to have to queue for that too).
---
The Livraria Lello is a unique experience in Oporto. By following some of my tips above you should be able to have the most smooth visit possible.
More Porto Travel articles:
PIN FOR LATER!