How to Plan the Perfect Camping Trip With Kids
Looking forward to spend time outdoors with your family but unsure how to plan a family camping trip? In this guide I will walk through all the steps to plan and have an amazing camping trip with kids.
Family camping trips can be an awesome family vacation.
Camping gets the kids outdoors, enjoying fields, forests, mountains, and away from the fast paced tech world that their generation is used to. It is suitable for all ages, gives plenty of opportunity for family quality time and it can also be a very frugal vacation if planned well.
However, if ill planned, a camping trip can become a huge nightmare with kids complaining, soaked clothes and the desire to get back home asap.
In this post I share all my best tips for camping with kids to help you plan the perfect family camping experience!
It goes from deciding a destination and camping style to packing and hacks to make your trip a success. If it is your first family camping trip you will find this organized camping hacks and ideas very useful.
Follow the steps below and have fun!
Why Is Camping Good For Families
Family camping is a great way to get away from it all, with little expense, and still have a great time doing so! But maybe you don't know that camping offers several other benefits for your family and children?
Wondering what are the benefits of camping? Check out some of the advantages camping can provide below:
Camping is a pattern interruption:
All styles of camping will provide the opportunity to interrupt a routine pattern. Leaving routine behind and being put on a somewhat challenging environment, different from the usual, has wonderful benefits to creativity and perspective. Basically when you break the 'norm' you are stepping yourself outside of your comfort zone. That can help you to think about your problems differently and change bad habits.
Camping equals quality time:
Camping provides great opportunity for family bond time. We are away from our computer with limited wifi, we are basically more mindful and present. This is excellent to create some family memories and spend a lot of time together!
Camping help build resilience:
We no longer have all the comforts of home on a camping trip. We have to learn to adapt and make do with what we have available. Resilience is a great skill to have and something newer generations are lacking considerably.
Camping is time spent outdoors:
Camping gives everyone the chance to experience outdoor activities. Depending on where you are camping your family will be provided with opportunities to engage in outdoor activities such as swimming, fishing, plant studying, canoeing, water rafting, nature photography and wildlife watching.
The physical part involved in outdoor activities imparts confidence in children as well as offers opportunity for adult campers to challenge themselves when in unfamiliar surroundings.
How Do I Plan A Family Camping Trip?
A camping trip with kids doesn't have to be overwhelming. My husband and I have years of experience camping, from rough camping to luxurious RV camping.
The tips we share below are meant to show you how enjoyable and inexpensive a camping trip with your family can be.
Follow the step by step planning below to have the best camping experience of your life and create memories the kids will cherish forever!
But first let's check what kind of camping person you are.
1 | Choose Your Family Camping Style
A camping trip should stretch you a little outside of your comfort zone. As I mentioned above, this is actually one of the many beneficial aspects of camping!
However, how challenging a camping trip will be for your family is totally up to you.
Ideally, you would be up and trying different camping styles eventually but it is good to start with one style as gear for camping can change drastically depending on what type of camper you are.
Although some may restrict the definition of camping by being only the one where you put up a tent in the wild or campsite (and disconsider other styles, such as RV camping, as camping), for the purpose of opening the discussion and with the intent of encouraging families to spend time outdoors in whatever manner they feel is suitable for their family, I am here listing all kinds of camping style in a very general way.
My opinion is that there is no right or wrong way of camping as long as you respect others and the nature.
So, with that in mind, please read below about the possible camping styles and choose the one that best suits your family.
Tent Camping:
Tent camping (or car camping) is the most common of all camping styles and there is large range of tools and equipment to suit all budgets.
It is usually popular among families with children because kids are primarily the ones that enjoy it the most, and it is inexpensive. We have always enjoyed tent camping with kids and have become quiet effective at it by using easy pop up tents.

As long as you have some basic equipment and a vehicle to transport it you just need to find family friendly campgrounds, which usually offers full amenities and direct car access, for the camping adventure to start!
Backpacking camping:
Backpacking camping (or backcountry trip)is usually the most adventurous and basic way to experience the outdoors.
Unlikely the tent campers who might convincingly find a campsite full of amenities to enjoy some comforts, backpackers usually want to experience a wilderness camping adventure.
Backpackers don't have the luxury of packing a car with much equipment either so they need to be efficient at packing and choosing carefully what they need for the outdoor adventure.
That often means that they will have a more minimalist or rougher camping style, making do with things that other campers may consider basic. Backpacking is simply exploring on foot and being self-sufficient, while hiking with camping essentials inside a backpack and set camp mostly in undeveloped and remote areas.
Backpacking camping entails having to carry every essential supply on your back, which often means that the equipment is more expensive as smart textile, smaller tools and lightweight materials are preferred to make the hike easier but these are normally premium supplies that come with a cost.
To add to the cost the selection of backpacking gear is always evolving and constantly changing so you may find yourself buying newer supplies sand products more often.
Packing for your backpacking adventure involves much more thought and preparedness than a campsite camping as you must balance comfort and supply allowance to start and finish a success the trip.
Packing too much gear (or the wrong kind) can spoil your hike with the heavy weight, however packing too little gear will result in discomfort and under certain conditions it may even be dangerous.
As mentioned above, backpacking equipment generally costs more compared to car camping but it is still a lot less compared to RV camping.
RV camping (Campervan Camping):
RV camping (also known as camper van / motorhome camping in parts of the world) is one of the most comfortable ways to camp.
The word RV stands for Recreational Vehicle and RV campers have comparable space to a small lodge but on wheels, and normally RV comes equipped with stove and oven, heater, shower, refrigerator, beds, toilet and electrical power.
The amount of amenities inside an RV means that family can travel for longer and to multiple places are setting up camp and packing up again usually takes less efforts than on tent camping.
Having a 'home on wheels' also means that you don't need a campsite every day and can enjoy a remote campground as you have all the campsites conveniences inside your vehicle.
Since buying a RV is a considerable high invest, individuals who never experienced camping in an RV should be renting first before purchasing one. There are pros and cons of owing an RV when compared to renting one.
You can read the lessons we learned after renting an RV for the first time.
Trailer Camping:
This is a mix between car camping and RV camping, basically you get the best of both worlds.
Camper trailers (caravan, travel trailer or camper) need be towed behind a road vehicle, unlike RVs which can self propel.
A travel trailer has the amenities of a RV camper but you are more flexible with your car. You can set camp with your trailer, just as you would have done with an RV, but then you have your car to do daily trips, to drive to a nearby city or do the shopping easily.
Using a travel trailer is normally preferred by those who set camp in one place for longer amount of time compared to people traveling with a RV.
Glamping:
Glamping has been all the trend in the last few years. The glamping word comes from the junction of the words glamour and camping and the activity basically means a luxurious camping experience with amenities you would usually have in a hotel, such as a bed, tables, cooker but also resort-style services that you don't usually see in traditional camping (such as wine tasting, prepared meals etc).
In some ways Glamping is similar to Cabin Camping with classic wood and timber style lodges but Glamping living areas can greatly vary from glamorous teepees and yurt style tents to glamping huts and pods.
This style of camping is perfect for comfort seekers who also want to enjoy the outdoors or a small retreat in nature with conveniences.
Whatever type you choose, with safety in mind, camping is sure to be a fun filled experience the whole family will love and will look forward to every season.
2 | Choose Your Family Camping Destination
There isn't a right or wrong place to camp as long you are not breaking any law but where you can go with your family greatly depends on how far you can drive, what you can afford pay for a campground, what are the expectations of your family, the season and even the equipment you have.
So, basically it depends on a lot of things!
Below I share some camping destination suggestions for your adventure:
State and National Parks:
All around the world you will find State and National parks that will offer some kind of campground space for campers. In some countries such facilities are even free.
These State and National Parks are often great places for animal sightings, usually they have with plenty of hiking and biking trails, rich flora and fauna, breathtaking scenery and opportunity to enjoy water sports such as whitewater rafting, kayaking and swimming.
Here are a few great ideas in the United States:
And here some National and State Park camping in Europe:
Campsites:
Picking a campsite is not always easy. Specially if you are traveling in the summer and everything seems to be booked.
One thing to keep in mind when deciding on a campground is that each will offer different amenities. Campsites can offer anything from just the pitch space and toilet facilities to complete complexes offering playgrounds, swimming pools, game room, restaurants and much more.
Depending on where you go and what you can afford you might even have scheduled recreational activities and workshop for kids in your campsite.
You can save money though by staying in less equipped areas or finding free places to camp.
Beach Camping:
Combining beach and camping can really be fun if you are in a great destination and well prepared.
Though there are plenty of beach campsites on the coast you can also go wild beach camping if you find suitable locations. Note that you are not allowed to camp in every beach, you have to check your location's rules.
Beach camping is more enjoyable for families during the warm months obviously but that is when campsites are packed understandably due to the good weather.
So be sure to book and make reservations ahead of time and arrive early to find a good area to pitch your tent, especially during weekends.
3 | Pack Your Camping Gear
Now is time to put everything together, fill up the vehicle and go.
This part is super important because the difference between a good and a bad camping experience is your camping gear.
You might even want to have a family camping checklist in hand to make sure you don't forget anything for an efficient family camping!
Below I share some camping essentials you should always take with you but the list can be larger depending on your children ages, needs and your camping location.
These packing lists will help you pack and organize for the trip.
Essentials for the camp:
Family tent and ground mat
Sleeping bags and sleeping mats
Camp table and chairs
Essentials for cooking and washing up:
Camping stove, fuel and matches
Cooler
Reusable water bottles
Knives and chopping board
Pans and kitchen utensils for cooking
Plates, cups and silverware
Tea towels and paper towels
Ziplock bags
Herbs, condiments, tea and coffee
Trash bags and wet wipes
Washing bucket, sponge and detergent
Rake
Handy to have while camping:
Jump starter or jumper cables (absolute must!).
Torch
Multi tool box
Duct tape
Ropes
Shovel
Compass
Essentials for camping safety:
First aid kit
Insect repellent
Sunscreen
Sunglasses and hat
Headlamp
Essentials for hygiene:
Camping apparel
Toilet paper
Towels
Toiletries
Hand sanitizer
Water treatment tablets
Essentials for outdoor activities while camping:
Fishing gear
Hiking boots
Bikes
Rain gear
Swimmers, snorkel, floats and beach toys
Binoculars
Travel telescope
Day backpack
4 | Plan Your Family Camping Meals
Cooking while camping can be a little challenging but also so much fun!
With the equipment we have these days your family camping meal doesn't have to be junk food, in fact you can make healthy and delicious recipes.
There are a few tools that we always take while camping and I will share my best tips below:
Plan and prep your meals at home:
To make sure you have the essentials for healthy meals while camping is to plan your meals in advance and prep whatever you can at home.
The more prepared you are, the cheaper your camping adventure will become too. It helps to do a big shop in advance too in your local supermarket than leave your grocery shopping to the last minute. Tourist areas normally have higher prices for similar items.
So prior to going camping, make sure you plan for how many days or weeks you will be out.
To avoid repetitive diet during camping, it is best that you schedule or designate different types of food at each meal.
Consider the cooking equipment:
When camping, it helps to think light and carry light but cooking tools are essentials you should not leave at home to save space.
Obviously you don't have need all the pans to cook a healthy meal on a camping grill but a good large pan for one-pot style dishes, a kettle and few other utensils will make your cooking so much easier.
Camping stoves and cooking equipment have been developed to be a lot lighter and smaller these days so if you can invest in a good gas burner.
A camping cooler is a must while camping with kids to store a few drinks, left overs and ready preped food.
Bring plenty of non-perishable snacks:
With such small space in a camping cooler, the least perishable a food is the better!
Usually carbohydrate rich foods do not have a lot of moisture and therefore are great choices for camping.
Also dehydrated foods like cereal, oatmeal and crackers are good options.
Dried fruits like raisins are also a better and healthier option than just cookies.
For drinks, good old water, milk and juice will do the job! Instant coffee and tea are great options too.
In general all the food we normally store in our pantry that does not need to be refrigerate make great camping food or snacks such as peanut butter, tuna cans and protein bars.
And of course, the crème de la crème of camping: pack your marshmallows and s'mores!
5 | Getting To The Campsite
Whether you are driving to one place and staying on only one campsite or your camping trip is a long family road trip with many stops, you camping trip will most certainly include a driving part.
Then that question shall be asked a million times: Are we there yet?
Since the road trip part is the start of your camping with trips journey you really don't want it to be a bad experience.
Below I share all my best tips for family road trip that will help your family to have a safe and pleasant journey!
Make sure the car is maintained and insured:
When our car broke down during our family road trip to in Tuscany, Italy we were happy to have paid for the car travel insurance – the costs would have been heavy as we were thousands and thousands of miles away from the start point of our trip.
Having a travel and car insurance during a camping trip with kids is a must, you can read everything that our insurance covered during our trip here.
Research your route carefully:
Get to know the route that you are about to take. This helps you plan the necessary stops and recreational activities for the kids.
Stopping at a park or playground to let the kids stretch their legs might delay your trip an half hour but it will also save your sanity!
Adults and kids need to do this to keep their blood circulating during the long trip. Stops at every hour or two will help avoid kid's carsickness and get the driver some rest.
Depart really late or really early:
To avoid heavy traffic it is better to plan your departure time in the late evening or early morning. This strategy also gives the driver a few quiet hours to drive as the kids usually sleep during those hours.
Pack for the road trip:
Keep in mind that apart form the camping packing you need to add snacks and entertainment for the road trip. depending on your travel time you might even need a change of clothes, it is easier to have a smaller bag with essentials than have to dig and mess up all of your packing trying to find a sweater.
Take plenty of kids activities for the ride to keep them occupied and entertained at least.
A few things my family enjoys during road trips:
You can also pack some board games. Many travel games are magnetized so they are easily transported anywhere without the kids losing the pieces.
Keep a loose agenda:
Even with all the planning things can go wrong, your may take a wrong route or miss your ferry. The memories of a road trip that is filled with activities and good laughs are better than thinking of the stress of actually getting there.
A trip is best enjoyed if you just let things flow.
After the long road trip you finally get to your destination! After checking in it is time to setup camp.
So, what is the best way to set up your camp when you go camping?
Here are a few tips and tricks to help you set up your campsite with kids in the most efficient way.
Plan to arrive at campsite before dark:
It is no fun to setup camp in the dark. Even though things outside of our control can happen which ends up shifting our travel time I always try and plan to get to the campsite with a few good hours before dark.
This helps with the camping setup but also gives the kids a little time to explore and for you to get familiarized with the facilities.
Make reservations ahead of time:
Especially when traveling during the summer you should make reservation for your camp spot. Campsites get particularly crowded during summer and may be fully booked.
Making reservations may also allow you to book better pitching lots, such as ones with shades or close to amenities.
Pick a good location to pitch your tent:
It is best to look for a high ground spot so if it rains you don't get flooded.
You may want to have a spot which provides some shade, the temperature of a tent in the shade will be a lot more enjoyable than the one pitched in the sun (unless you have a blackout tent like we do!), especially in the summer!
When considering the location also think about your neighbors, if the campsite does not have set up spaces for pitching always leave a good distance between your tent and the one of the neighbor.
Clean up after setting up your tent:
The phrase 'leave no trace' is so important for campers. Always collect your trash and educate the kids on where to leave their stuff during your camping trip.
7 | Enjoy family camping activities
Now your camping vacation truly starts! After all the planning, packing and drive you can all enjoy some well deserved relaxed time in nature.
Campgrounds normally are great places for kids to find new friends and entertain themselves but in case it rains or you are traveling out of season with not many other kids around I have a great suggestion of some of the best games and activities kids can enjoy while camping:
Story-telling:
What is better than a good ghost story around the campfire? But stories don't have to be scary, they can be funny, educational or "once upon a time" style.
Story-telling is an ingenious way to keep kids minds creatively occupied. A good game is to create stories together, someone starts with a single line and everybody pitches in one by one creating a fun new story.
This is a sure way to get their brain cells processing fast!
Scavenger hunt:
Kids love to go on adventurous quests and a scavenger hunts are perfect to play with siblings and friends. And there are many free printables available for you to download and take to your family summer camp.
Before the set off to find all the things just warn the kids about the many prickly plants that could be lurking in the woods.
Camping Scrapbooking:
Similarly to the scavenger hunt this camping scrap-booking would involve the kids to go out to collect stuff and make them into a scrapbook.
You know all the little trinkets the kids find and love to shove them in your purse? They can all go to the scrapbook now. Think about stubs from tickets, brochures and postcards, a little stone, a dry flower… they can collect it and later put into a scrapbook.
Board games, cards and dices:
The fun doesn't stop if the weather gets worse.
Small game packs such as a pack of cards can do wonders for your trip as kids can play several games with it. It fits one pocket's easily and can bring loads of entertainment and games.
You can even do magic tricks with cards if your kids aren't old enough to play.
Watching animals:
Going outdoors is such a great experience for kids, they have the chance to watch animals thriving in a giving area.
This can easily become a hands-on educational activity as you watch and discuss the different animals with the little ones. Do you want to see them all getting really interested? Start a contest – the one who spots most kinds of animals wins.
Depending on where you are though you will want to keep your children a safe distance away to avoid accidents and disturbing the animals.
Stargazing:
This is my favorite camping activity at night. Enjoy the unpolluted skies and the tiny stars so so far away.
Bring a travel telescope and give your kids some lessons about the stars and universe.
And these are only a fraction of the many activities you can do with your kids on a camping trip. The point of it all is to enjoy spending the time together as a family.
Camping is not without its risks but you can minimize them to almost zero by following rules and being attentive.
Below I share some of my best tips to keep children safe while camping:
Get the kids familiarized with the surroundings:
Once you arrive in the campsite and start setting up camp make sure that you walk the kids around the area and get them familiarized with the surroundings.
If there is anything in the area you would prefer the kids not to get close to make sure that you give the instructions looking straight on their eyes and after giving the instruction ask the kids: What did I just say? If they paid attention they will repeat the instruction and you know they understand it properly.
Also take note of any noticeable permanent landmarks around your tent pitching area such a large tree or a building. Explain to the kids how your pitch slot in just between these two landmarks and how they can find their own tent again in case they get distracted and lose sight of it.
Set boundaries for the kids:
These are perhaps rules you always follow while traveling but it is no harm to repeat them and enforce to keep kids safe.
Set your boundaries and advise the kid campers on what they can and what they cannot do without an adult. This depends on the age of your kids but could be as simple as not to leave a designated area or go inside someone's tent or RV.
Give the children responsibilities:
During camping it is essential that the kids get to do some chores so they learn these skills for themselves but it will also make them more responsible for their actions and that of others, especially small siblings.
Usually, an effective method to have the whole family watching out for each other is requiring kids to always be with a buddy. This could be an assigned partner where one could check in on each other while a task on where the other's location is, or update the rest of the group if there are any changes.
Give the children a whistle:
This is especially important if you are going for a hike and away from the campsite but it is also something you can use within the campgrounds.
Simply equip each children with their very own whistle. Establish a whistle code for specific situations that everyone could easily follow and heed. Just make sure to teach the kids not to whistle unnecessary as it can be counterproductive and also annoy other campers.
Have a first aid kit:
As I mentioned above in our packing section having a first aid kit is essential in any camping trip!
A camping trip essentially means your family will be enjoying all that glorious outdoors which is away from the civilization and modern conveniences. That is why you have to count for the possibility of someone needing some kind of first aid attention in the event of an accident.
You will need a few supplies even for simple things like a child hurting its foot while running barefoot.
You don't have to worry too much about it but do pack a first aid kit just in case. It is better to be prepared.
9 | Taking Your Pet On A Family Camping Trip
If you own a little pet you may be hesitant on taking a family camping trip because you don't know what to do with your pet while you are away.
This is super understandable and something I have myself worried about too.
The good news is that you can bring your dog on your camping trip, after all pets are part of the family! However, there may be good reasons why you would prefer leaving them at home with a family member or somewhere your pet will be taken care off.
Here are some pros and cons for taking your pet with you during a camping trip. These points are especially written with dogs in mind because even though they might apply to other pets, dogs are generally more human dependent than other pets.
Advantages of taking your pet to a camping trip:
Camping is advantageous to your dog's health:
Pets brighten up any day and they generally love and thrive in the outdoors.
A dog would be so exciting with so many different smells in wilderness compared to that same old smells he gets in the backyard.
Camping would be a great opportunity to increase your pets exercise levels too.
Bringing your pet will easy your mind:
Not having to worry about what is happening to your pet while you are away will most definitely lift some weight off your shoulder.
Pets help keeping the children entertained:
Depending on the age of your kids, playing fetch with a dog or walking it around the campground will keep your kids busy and help you have some relaxed time on your own.
Disadvantages Of Taking Your Dog Pet Camping:
Some Dogs Get Carsick:
My dog cannot take a real long drive without getting sick and we feel both sorry for the little thing and annoyed with the required cleaning.
Depending how far the drive is I might decide to leave him with a friend for his own comfort.
You might have to keep your dog on leash at all times:
Despite the idea of having fun outdoors depending on your locations rules you might have to keep it on the leash all the time to follow campsite policies.
This might be a little counterproductive because your pet won't have the freedom he might be used to. But you have to follow the campground rules to avoid accidents.
having a dog with you may even restrict access to certain activities and areas in the campsite. Some areas in national parks do not allow dogs and other pets and thus you might not be able to gain access to such areas if you bring your dog.
Dogs can be noisy in different environments:
With all the different smell and noises from the outdoors your dog may start getting agitated and behaving differently than what he would at home. He could start barking, sometimes in the middle of the night.
That would definitely disturb your family and others, giving you extra work to keep your pet quiet during a time when you are supposed to be relaxing.
They can also start provoking other animals in the area.
Dogs are prone to accident in areas they don't know:
Something you have to consider is that dogs can accidentally hurt themselves in a new environment. With all the excitement they won;t have time for any risk assessment.
My dog has careless walked from rocks to the water without realizing it. Luckily that didn't hurt him but I am not sure he would have realized if it was a cliff before it was too late.
They may provoke and get attacked or bitten by wild animals, get hurt in bushes, catch ticks and get Lyme disease or even eat poisonous plants.
You should carefully decide whether to take your pet or not on a family camping trip. If you decide to take it with you just make sure to do your risk assessment before letting your animal loose in the outdoors.And of course enjoy the moment together with your entire family!
---
Your family vacation is probably the most anticipated event of the year and a camping trip will not be disappointing to anyone.
To fully enjoy it and a have a break from your hectic life just make sure you follow the tips and step above to plan and have the most amazing family camping trip ever!
Make your camping trip with kids extra special and bring your pet dog along too. And have a great time together!
More Family Camping Posts You Might Enjoy:
PIN FOR LATER!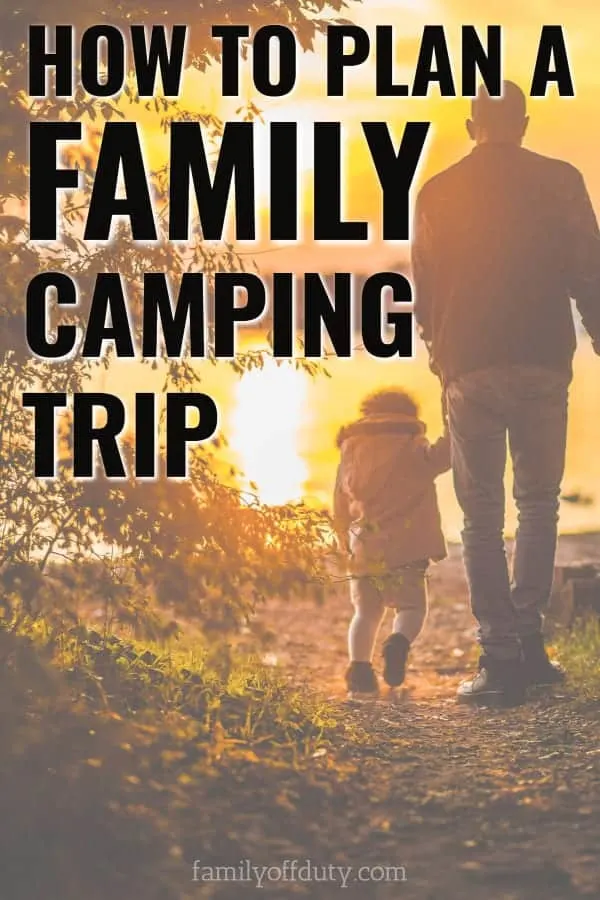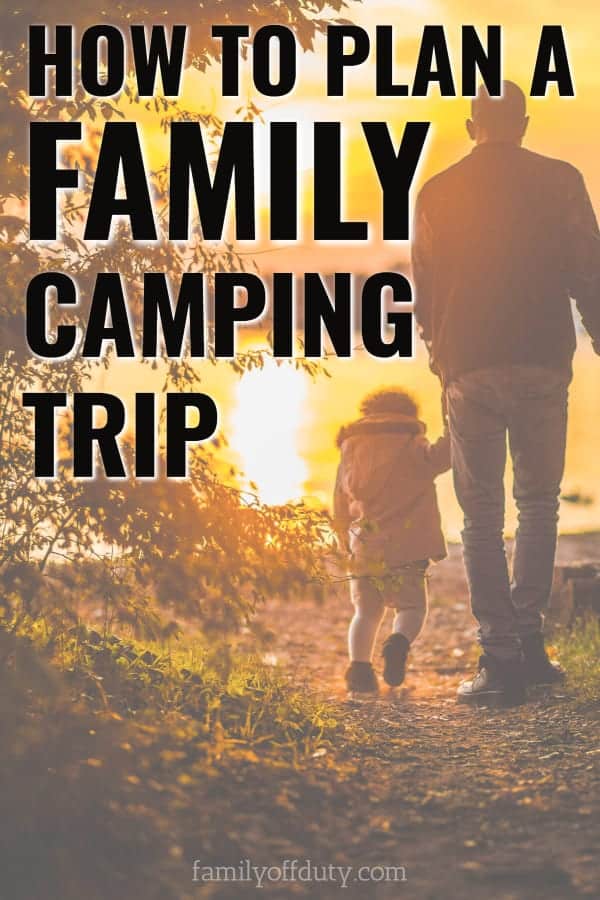 Camping Tips For Families