Porto bucket list
Going on a city break to Porto? Don't miss out these top things to do in Porto, Portugal that should be in everyone's bucket list. In this list you will also find things to see and to eat in this vibrant city.
Porto, or Oporto, has so much to offer to its visitors. Here you will find great gastronomy, history and beautiful landscapes but also architecture, culture and amazing exhibitions that are sure to please all sorts of visitors and make you want to go back for more.
Below is a list of the best things to do in Porto during your stay and how to get to them.
I originally visited Porto in partnership with Visit Porto and North Tourism Office. I may have received one or more of the products or services mentioned below for free in return for providing my honest and unbiased review. I only recommend products or services that I believe will be good for my readers.
Since our initial visit we have returned several times as the city is such a wonderful place to visit.
How to go around Porto
It is not difficult to find your way around Porto. However, it is a very hilly city and even though the attractions are not far away from each other in distance, the steep hills will not be easy to go through by foot.
I am all for walking as much as you can, I can spend all day discovering a city by foot, but in Porto it will be extremely difficult.
I am a 30 something years old with no mobility problems but those hills are out of this world! You just can't walk all of them!
Even by using the public transport you will do a lot of walking and hill climbing, so be prepared to be active and definitely have comfortable shoes with you.
Therefore, I suggest that you make use of the public transport by acquiring a Porto.CARD to help you get around all the attractions.
The Porto.CARD not only gives you unlimited access to transport public around the city, it also offers over 150 benefits and discounts in establishments and attractions around Porto.
It was so convenient to hop on buses for a little short ride from one attraction to another. We did it several times, and that is what enabled us to see as much as we did in our 3 day stay.
If you use google maps you just need to get directions to the next attraction and it will give you the bus or metro number to take. An easy and convenient way to move around the city like a local!
And it was great to get discounts in the attractions we visited, the majority of attractions we went on offered some kind of discount with the Porto.CARD.
Click here to get your Porto.CARD!
Hiring a scooter is also a great way to explore the city. We hired one at Vieguini, which was a perfect place to hire a scooter.
Things to do in Porto, Portugal
Here are the best things to do in Porto, including must see Porto attractions, museums and tips for your visit.
Admire the Painted Tiles (Azulejos)
The painted azulejo is one of the strongest cultural expressions in Portugal and there are several buildings in Porto displaying these magnificent tiles.
You won't really miss it here as you can basically stroll anywhere and fine beautiful building facades covered in decorative tiles. However, there are some spectacular spots that you should make an effort to go see because the tiles are seriously out of this world!
Some of the best places to see azulejo tiles in Porto includes: Capela das Almas, Sao Bento railway station, Sé do Porto (Porto Cathedral), St. Ildefonso church and Igreja do Carmo.
The Clérigos Church is a Baroque church in Porto with a very tall bell tower (The Clerigos Tower) which can be seen from many parts of the city.
A ticket to the Clerigos brotherhood comprises a self paced tour of the church, the exhibitions and the tower.
The tower is the most popular part of the tour providing panoramic views of Porto in every direction. It is rather a climb though that can get crowded with people trying to get up and down in the small staircase. But the climb is worth it for the views.
Stroll along Cais da Ribeira
The Riberira neighborhood is the postcard of Porto. Located on the riverbank of the Douro and is one of the most beautiful and liveliest districts in Porto's historic center.
Cais da Ribeira (or Ribeirinha as it is also called) is very picturesque with colorful waterfront houses and decorative facades, offering fantastic views of the river Douro, the Luis I Bridge and Gaia on the opposite side of the river.
Take a lift with the Funicular dos Guindais
The Guindais funicular will gently get you from the river bank level to the Batalha neighborhood, saving you from the steep climb that is required to get you to the higher grounds in Porto.
Not only is this a comfortable way to get around in Porto this ride will also provide you with amazing views of the city.
The Luis I Bridge is the most iconic of the 6 bridges that connect the cities of Porto and Gaia over the River Douro.
Due to the landscape this bridge has an upper and a lower deck. The Upper deck is restricted to pedestrians and trams, providing unobstructed views of Porto, Gaia and of the river Douro.
You can cross the river on both the upper and lower decks.
Being the main crossing between Porto and Gaia it is one popular place for tourists to enjoy the view while snapping sunset photographs.
Ride the scenic cable car in Gaia
At the end of Luis I bridge, on the Vila Nova de Gaia side, you have the opportunity to take the cable car down to the river levels.
This is a great way to get a panoramic view of Porto from a different standpoint and make your way to the wine cellars comfortably.
Or take a walk up the hill to Mosteiro da Serra do Pilar where you can get even better views of the entire city.
Discover Porto wine cellars
A trip to Porto wouldn't be completed without some Vinho do Porto tasting.
Many Porto producers are located in Gaia and you will be able to reach these wine cellars easily once you step out of the cable car.
You will find places to taste the local wines and Port.
The promenade has a lovely atmosphere too so even if you don't drink or enjoy Porto you can still take a stroll in this lively area, get something to eat and listen to live music.
Visit one of the city's green parks
Porto has a few city parks and green areas that are great places to visit, some offer amazing views of the city too.
The Crystal Palace Garden has definitely got one of the best views in Porto, here you can admire many different varieties of trees and fountains and enjoy this unique space with free wifi.
The Serralves foundation also offers plenty to its visitors. Here you will find not only beautiful gardens and natural green areas but a museum, exhibitions, workshops and more.
And these are only to mention a few spots. Make sure to grab a picnic and head to one of Porto's parks for a relaxing time in this vibrant city.
Visit the stock exchange palace
The Stock Exchange Palace (in Portuguese called Palácio da Bolsa) is a historical UNESCO World Heritage Site in Porto built in the 19th century.
The architecture is inspired by the Neopalladian style and the interior was magnificently decorated by several artists creating a building that is a literal work of art.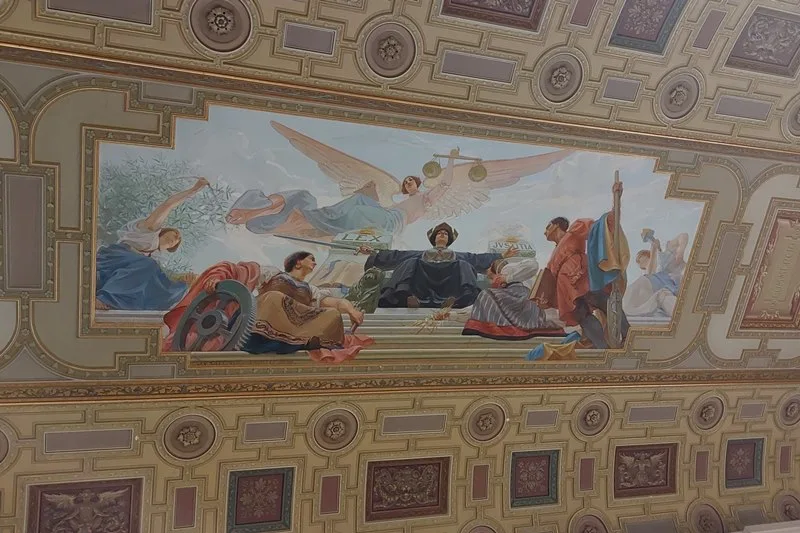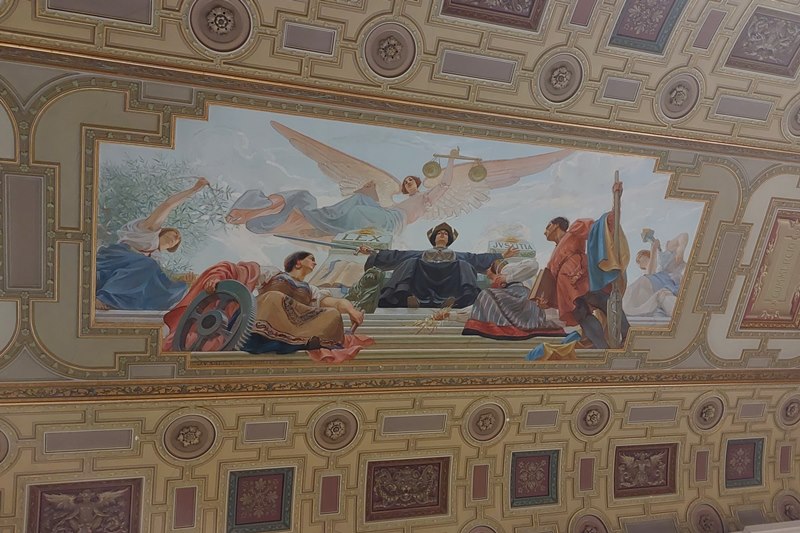 Inside you see, among other features, a large metallic dome with glass panels, a sumptuous stairway and plenty of detailed furniture and decorations created by celebrated sculptors.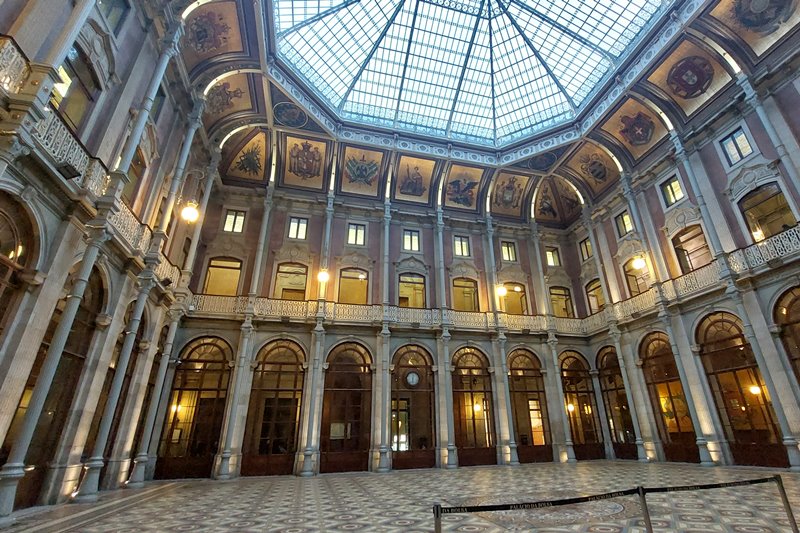 The highlight of the visit is the Arab Room decorated in exotic Moorish Revival style. It is now used as a reception hall for personalities and heads of state visiting Porto.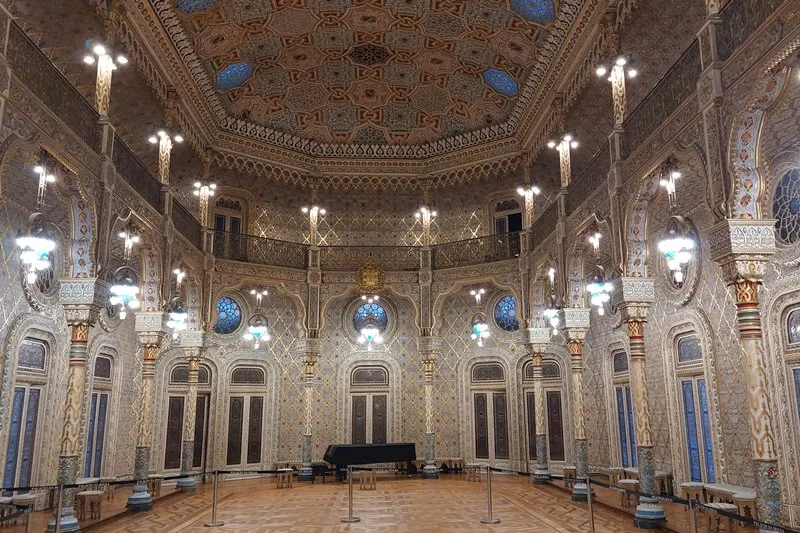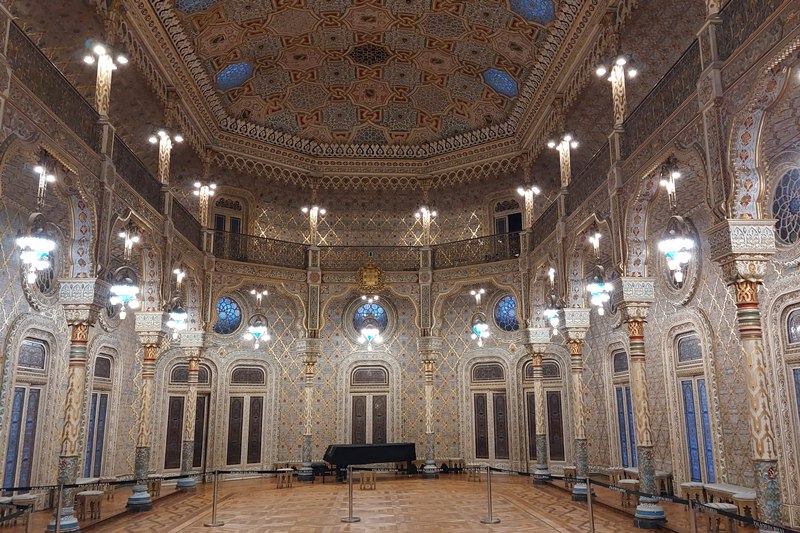 When planning your visit make sure to book your ticket online because they do sell out.
The tours are very informative.
Witness the golden interior of St. Francis Church and its catacombs
The Sao Francisco church interior is simply extraordinary. It is said that there is over 300 kilos of gold in the decorations of the church alone.
You are not allowed to photograph the interior but it is one of the most impressive churches I have ever seen.
Your ticket will also grant access to the catacomb area and the museum.
Riding in one of the old historic trams still remains a unique touristic activity that should be on your bucket list.
Three of the original tram routes remain and for a small fee you get to ride in these vehicles full of original features.
Go shopping at Rua de Santa Catarina
Rua de Santa Catarina is the main shopping street in Porto.
This 1500 meters long shopping haven in the city center of Porto is filled with boutiques, international department stores, restaurants and it's very close to the Mercado do Bolhão (Bolhão Market), a local market that is worth a visit.
Also in this street you will find the very famous Café Majestic, known as one of the most beautiful cafés in the world.
Take the kids to the World of Discoveries
The Portuguese were one of the pioneers during the discovery years when they sailed to unknown waters and 'discovered' new land.
These adventures are explained in the interactive World of Discoveries museum in Porto, which is filled with an informative child-friendly exhibition and a ride at the end of the tour. A great place to take the family on your trip to Porto with kids.
What to see in Porto
There are so many fantastic things to see in Porto, these activities below will help you experience everything that this lively city has to offer, from historical and monumental attractions to rich landscapes.
Admire the Lello Bookstore
This bookstore is over 100 years old and famous for its magnificent looking building and indoor architecture.
It is a must see place for Harry Potter fans as it is said that J.K.Rowling used to be an avid store visitor during the time she was writing the first Harry Potter book.
Because the store is so popular now there is an entrance ticket fee to get into the store (value redeemable if you purchase as book) and you should probably expect queues if visiting during season. I recommend you to get your ticket online to save you time and read my guide to visit the Lello Bookstore before you go!
Visit Fundação de Serralves
The Serralves Foundation comprises a Contemporary Art museum, a mansion and an extensive park.
The museum contains a great collection of national and international contemporary art, while the mansion is a prime example of art deco building and exhibition.
Here you will also find a fantastic 18-hectare park with a fountain, ponds, gardens and a treetop walk with fantastic panoramic views of the ground.
São Bento railway station
São Bento railway Station is one of the most beautiful train stations in the world featuring over 20,000 azulejo tiles dating back to the beginning of the 20th century.
There are 3 large wall portraying historical life scenes in those painted tiles. This station is very central and likely you will pass by it while walking or use it while commuting to another area in Porto.
Stroll Praça da Liberdade & Avenida dos Aliados
Avenida dos Aliados is the most central avenue in Porto, in the heart of the city center flanked by imposing buildings and some of the most prestigious hotels.
At the top of this avenue stands the Town Hall which is a grand building with a tall bell tower.
Between the two lanes of the avenue you will see the Praça da Liberdade square featuring a statue of King Pedro IV on a horse.
The square is beautifully decorated during Christmas time with a impressive light display and Christmas tree.
Foz do Douro is the area where the river Douro joins the Atlantic ocean.
It is an affluent part of the city, a little further away from Porto city center, and a fantastic place to take a stroll along the promenade, enjoy the beaches and see the Farol de Felgueiras (a lighthouse from the 19th century at the end of a pier providing a fantastic view of the city).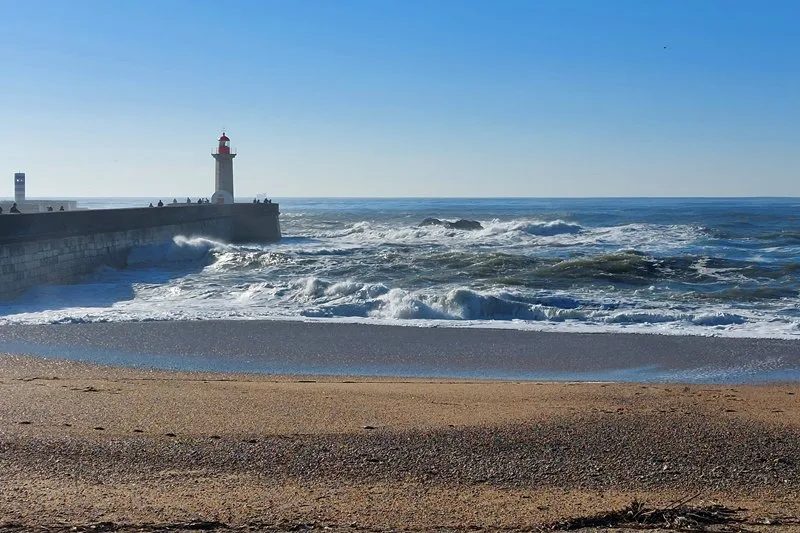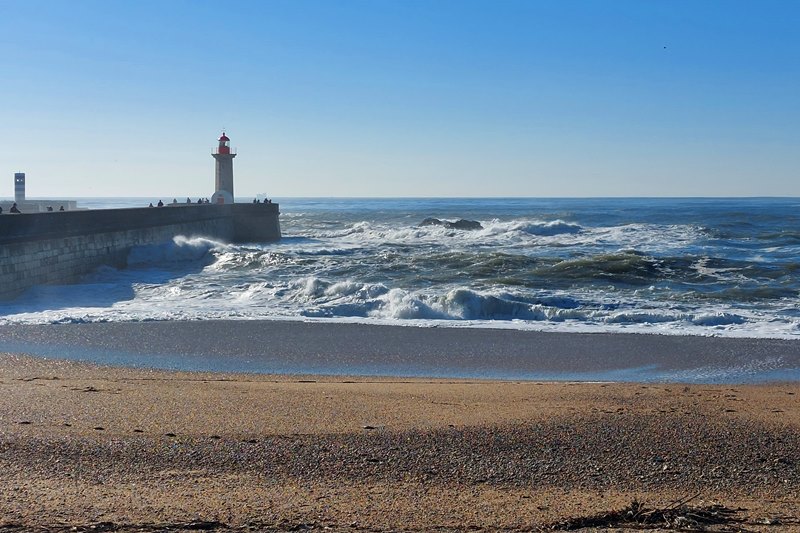 Before you walk the pier to the lighthouse make sure it is safe, the Atlantic is quite fierce here and the waves can crash over the wall.
If you want to see more of the beautiful Portuguese countryside landscape then a scenic cruise on the Douro River is a must.
Along with the views and wine tasting you get a chance to learn about the rich history of northern Portugal and discover some of the charming traditional Portuguese towns along the river.
Things to eat in Porto
Porto is a fantastic place to taste good and new flavors. I was delighted to try some traditional Portuguese dishes but there are original Porto dishes that you should not miss while in Porto either!
Try some Portugues Tapas in some of the excellent restaurants along the river side.
Francesinha is a dish original from Porto that comprises a sandwich of white bread filled with cured ham, sausage, steak or roast meat, and covered with melted cheese (and possibly an egg on top!) and surrounded by tomato sauce.
It is nothing like something I have ever eaten and it is tasty! You should try a Francesinha at the O Brasão cervejaria.
Have a Coffe at Café Majestic
Café Majestic is renowned for being one of the most charming Cafés in the world. It has a refined atmosphere with a Parisian style and Art Noveau design.
The café is deeply connected with the history of Porto with the old tradition where the intellectual elite would meet to discuss ideas.
Why not stop here for a coffee before heading out for sightseeing?
Try some seafood at some of the wonderful restaurants that line the riverfront. Like these shrimp in garlic and olive oil at the Ribeira restaurant.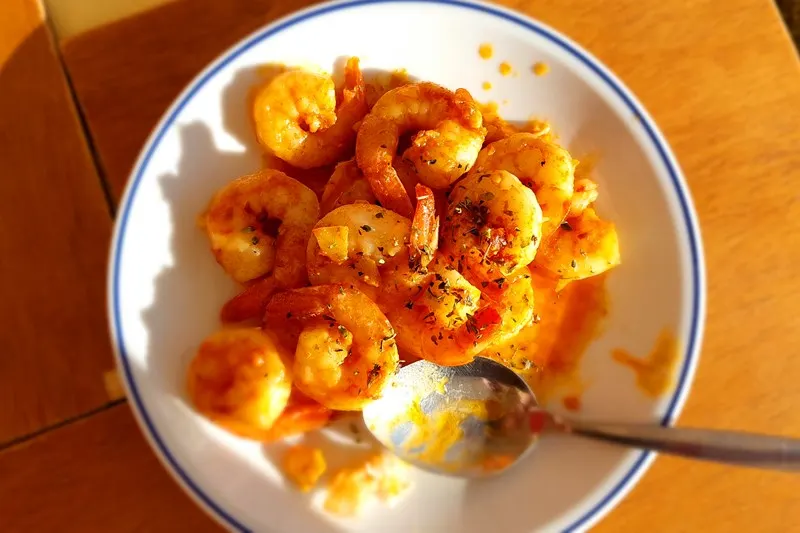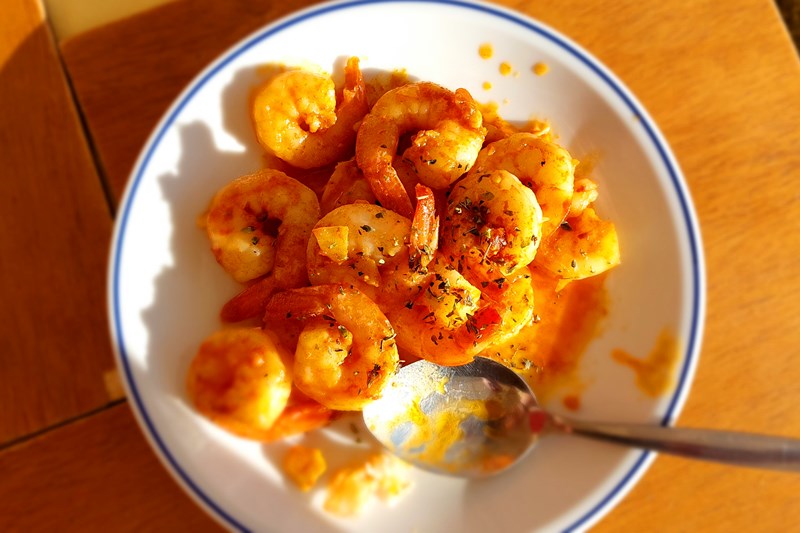 Your visit won't be complete without tasting a little Porto wine in Porto.
In the Gaia you will find several wine cellars with tours and opportunity for wine tasting. Don't miss out!
Apart from the traditional Portuguese Pastel de Nata (Portuguese Custard tarts) you will find several bakeries and confectionery stores throughout Porto where you will be able to taste some amazing high carb and high sugar delicacies, cakes and pastry.
A few that you should definitely try are: queijada, bola de Berlim (Berliner) with yellow Portuguese custard, bolo de arroz (rice muffin) and of course the pastel de nata.
---
More city breaks in Europe:
PIN FOR LATER!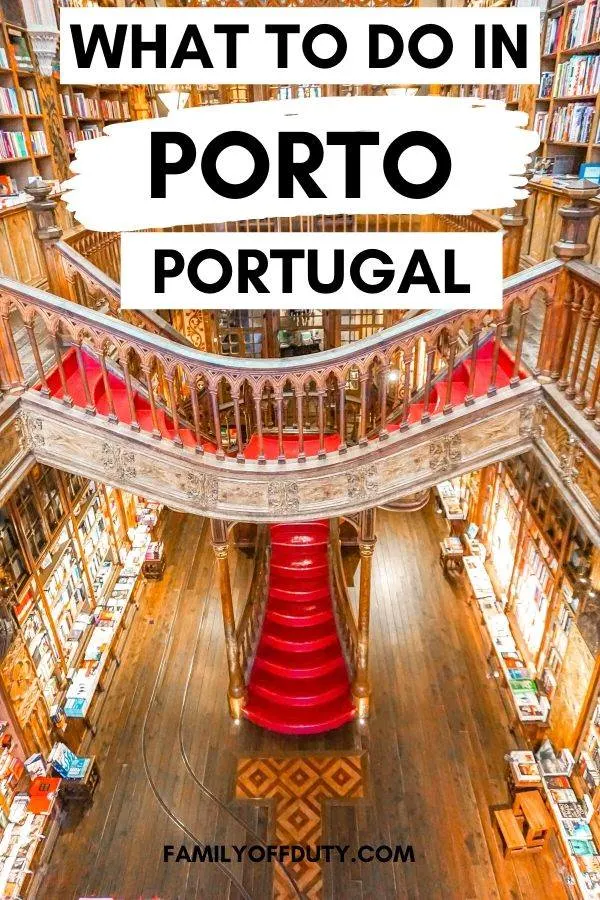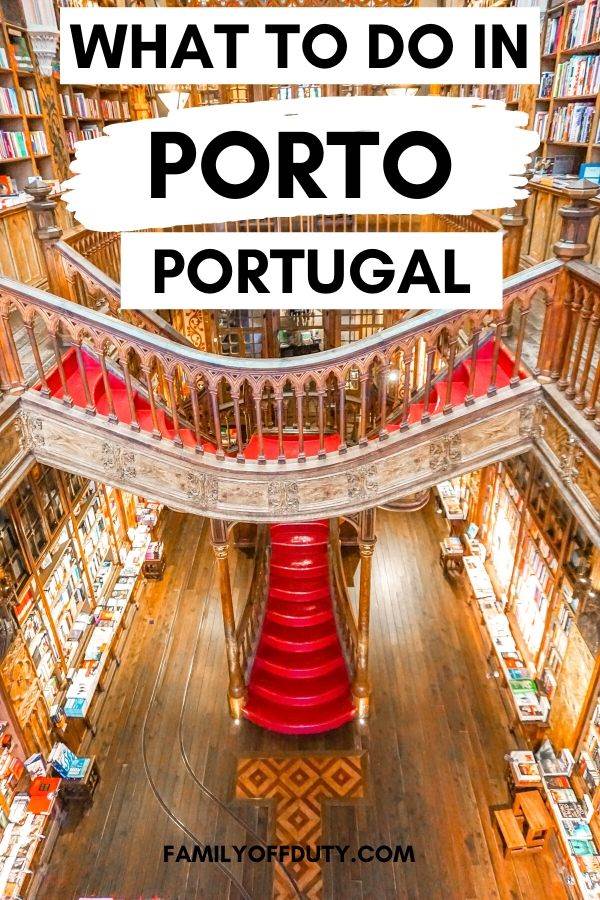 What to do in Porto Portugal