If you are going to Budapest you may consider looking into airbnb homes in the area. Here is an airbnb review of The Sunny Apartment, a lovely studio in the heart of the city.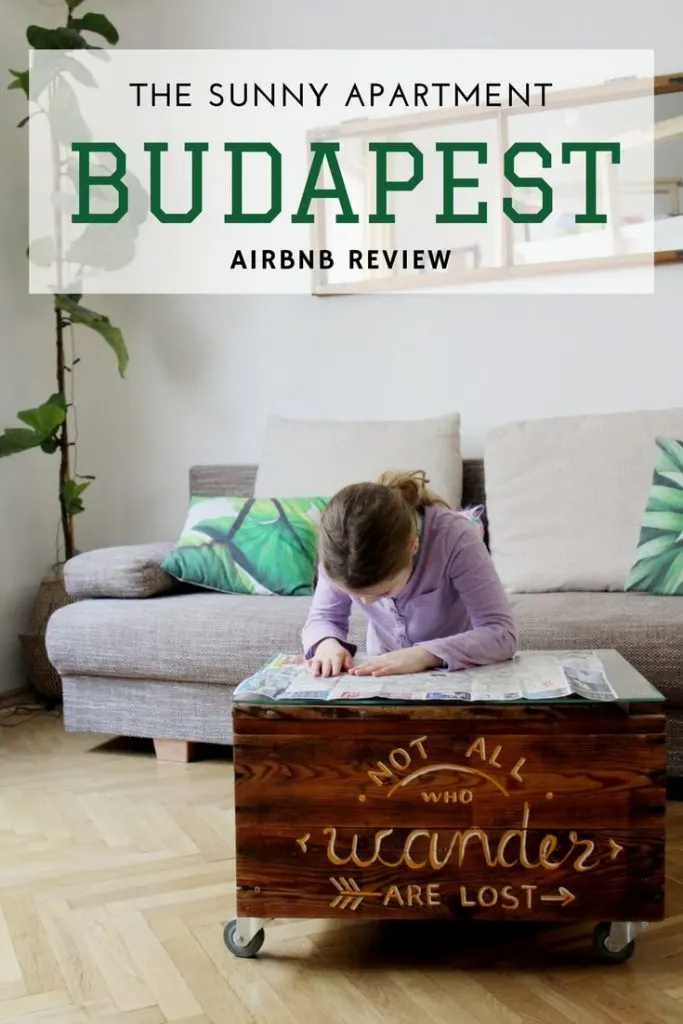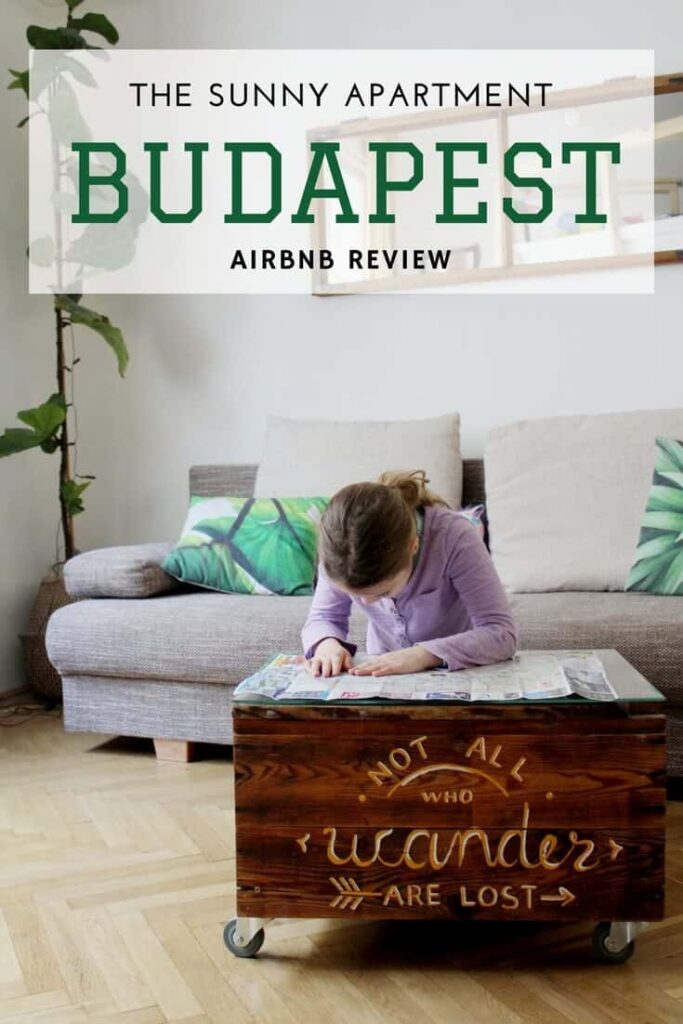 Read more family travel posts here!
Our hosts:
At the beginning of February 2016 we were given the fantastic opportunity to try out the Sunny Apartment in Budapest, located in the heart of the historical Jewish district in Budapest. We had been dreaming of going to Budapest for a long time, therefore we snapped this opportunity to visit on a long weekend city trip.
The owners, Réka and Marco, love travelling as a family and we got connected through a facebook group for like minded travellers and their families. You can also follow their travelling adventures through their instagram account.
They now live in Italy and have two apartments for rent in Budapest. Their airbnb's reviews are great and that is not a surprise at all; Réka is super friendly and goes the extra mile to help you with anything you might need. She also wrote a great travel guide with local expertise on what to see and how to get there from each apartment. We visited 2 recommended restaurants – you can read our restaurant reviews here.
After flying from Dusseldorf airport for the first time, we travelled to the apartment on public transport, which was surprisingly easy, with only a short (8 minute) walk from the nearest metro station (Blaha Lujza tér). We visit Budapest entirely by public transport. I would recommend anyone going to Budapest to do the same, check how we did it here.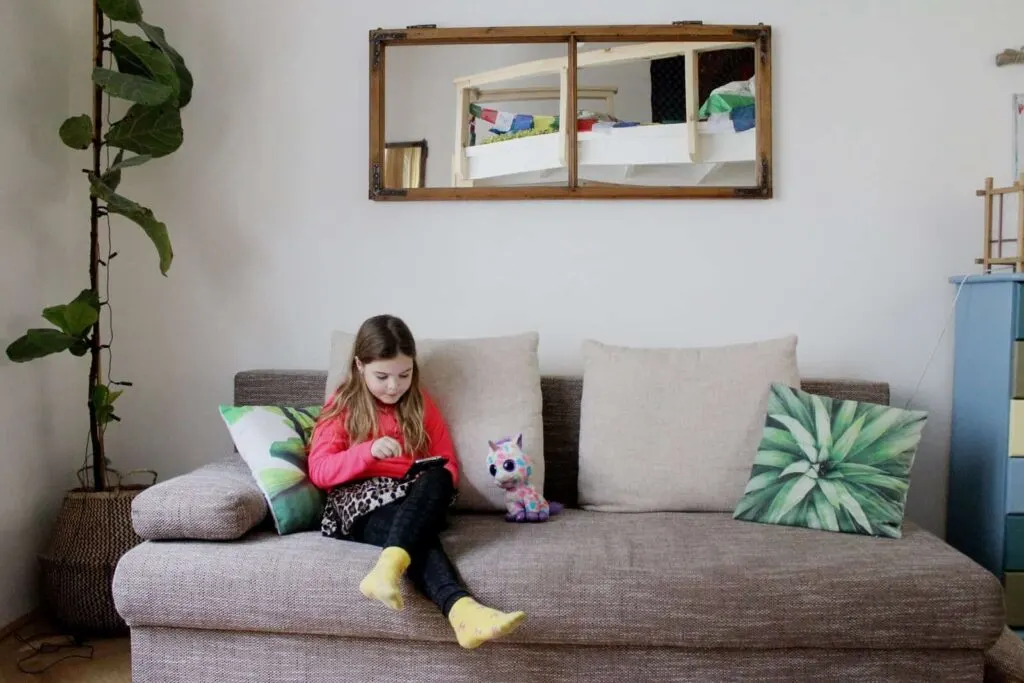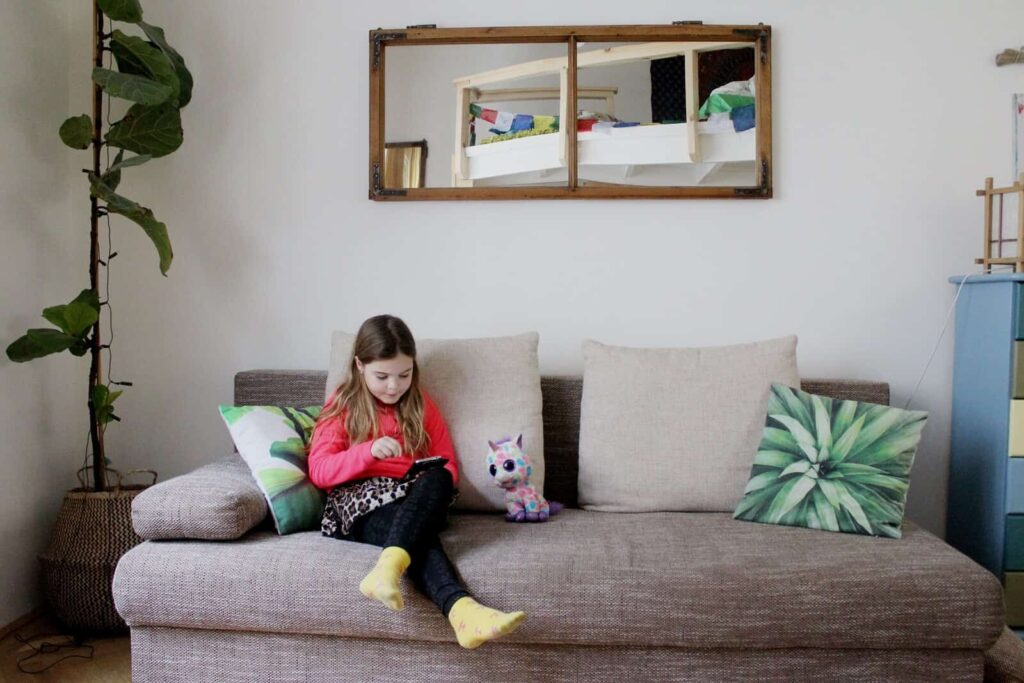 The apartment:
The Sunny Apartment is small but cozy, accommodating a max. of four persons. We were travelling with the three of us – two adults and one child, and for us the apartment was perfect! The apartment is centrally located in a quiet street, away from the hustle and bustle. However it is very close to a market and supermarket and many restaurants, bars and shops are only a short walk away. Before we arrived at the apartment we stocked up on food and drink to last a few days, at one of the stores that seemed to stay open quite late, and moved in.
The apartment is on the second floor which you can reach with the lift or the stairs. When we stepped in we were surprised by the uniqueness of the place. It was beautifully fitted and decorated with an individual style from the owners, which was very pleasant. The brightly coloured tiled floor, handcrafted mirrors, homemade rolling table, and fold-away kitchen table were all charming. A lot of personal details which made us feel at home straight away. They certainly made the most of the available space!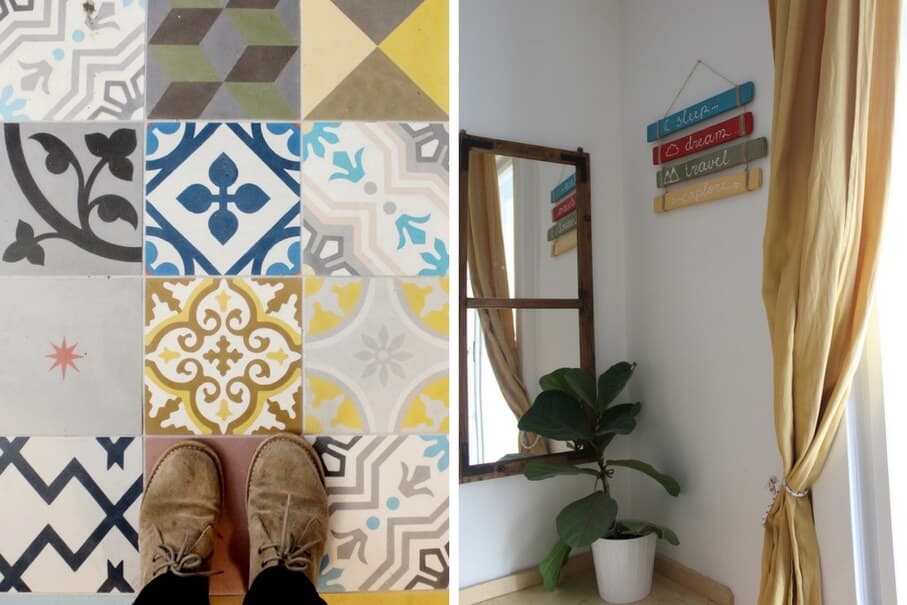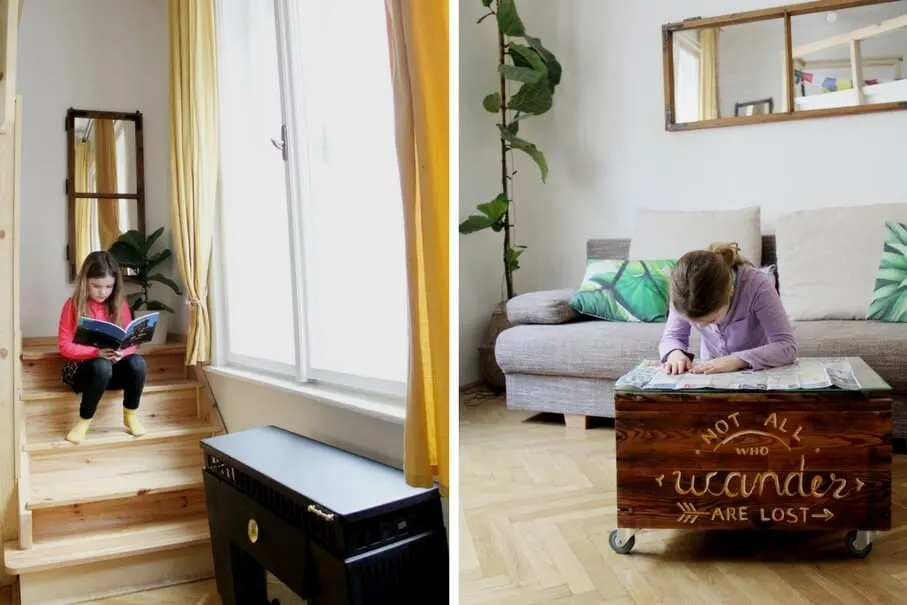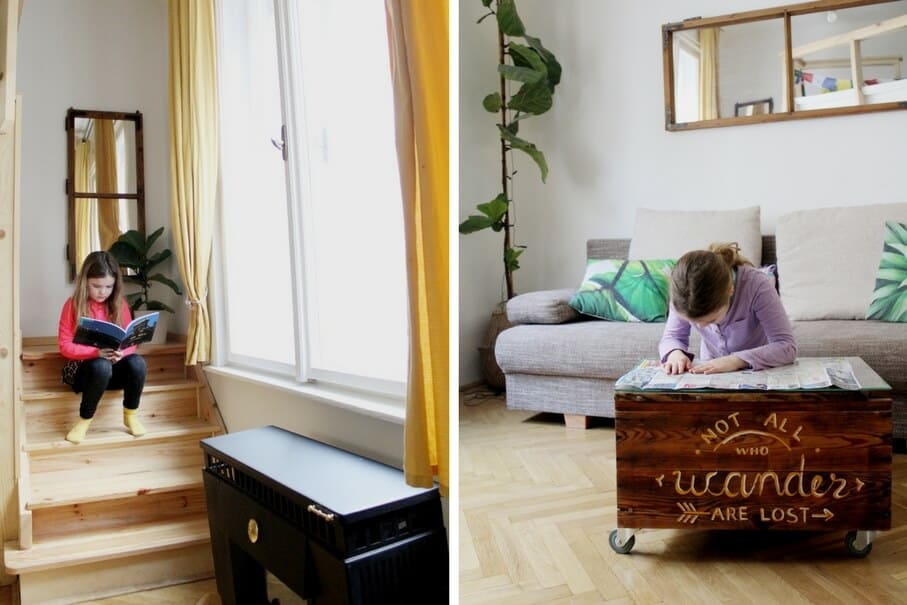 You will find the main sleeping area (a comfy double mattress) some stairs above the kitchen but is a big area with lots of cushions. We slept fine there. For the kids there is a sofa that folds down into a double bed. The apartment has double glazing and is nice and quiet. The window looks out on to the quiet street below, and you can open the windows if you need to get fresh air in the apartment.
The facilities are complete: microwave, oven, ceramic hob, fridge, sink, utensils, kettle, crockery etc. The kitchen had everything we needed – we started most days with a good old English breakfast before going off exploring. There is also a washing machine in the apartment.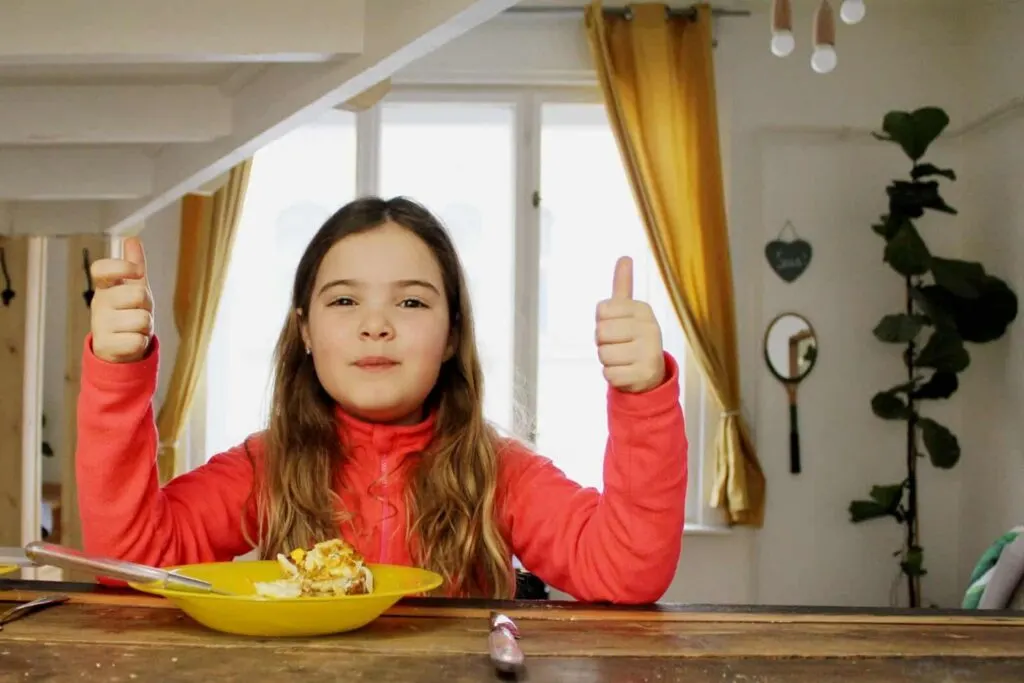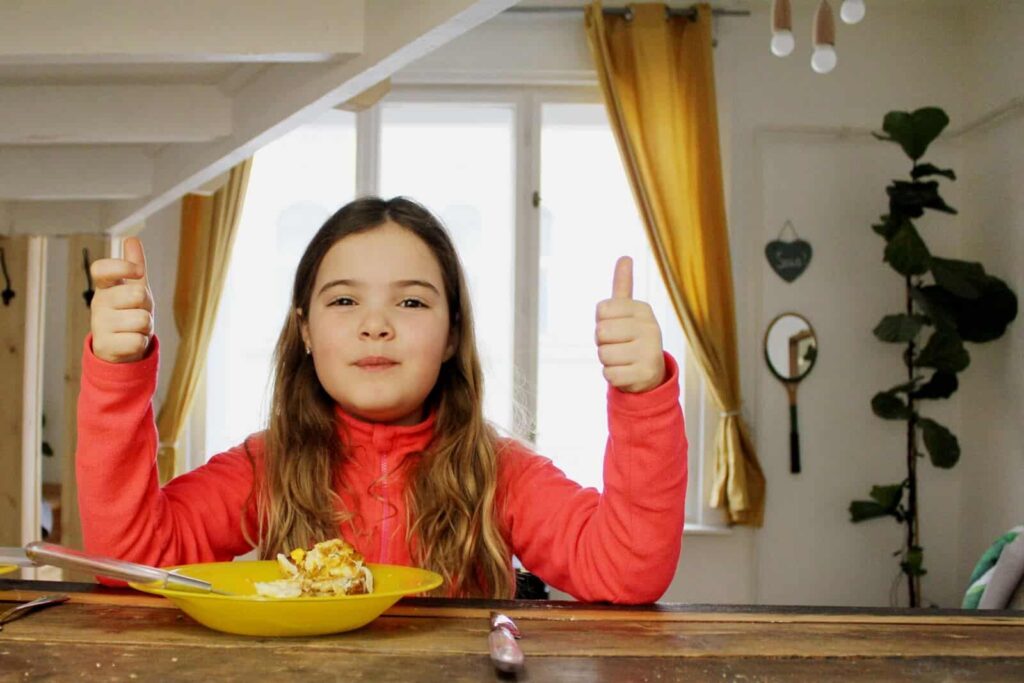 The heating is via a gas fired heater under the window which you control by hand. This worked fine for us – you just need to remember to turn it off when you leave.
The bathroom consisted of a loo with a shower and sink.
Our impressions:
This place is a good spot to stay if you are visiting Budapest. Our only regret is that we only had 3 days here. We found it to be very central with lots of restaurants and shops. Very easy connection with the public transport system. We recommend this apartment for small families but also young (solo/couple/small group) visitors who wish to experiment Budapest night life. The hosts are extremely professional, friendly and helpful. In conclusion, we had an excellent stay.
You can book this apartment through the Airbnb website. If you sign up here you will get a FREE GIFT towards your first trip from us!
Disclaimer: I received one or more of the products or services mentioned above for free in return for providing my honest and unbiased review. I only recommend products or services I use personally and believe will be good for my readers.