Campers are a lot of fun but have you ever thought of converting a mini-bus into a camper van before? Well, that is what Quirky Campers' van owners do! And the best part; you can rent these unique converted camper van and have fun yourself!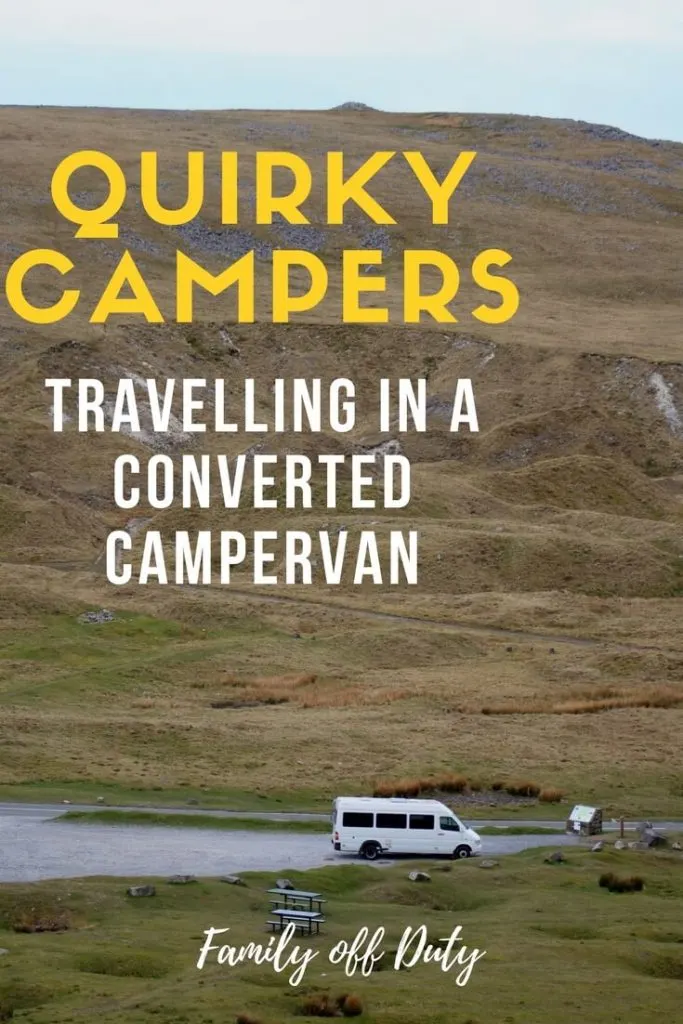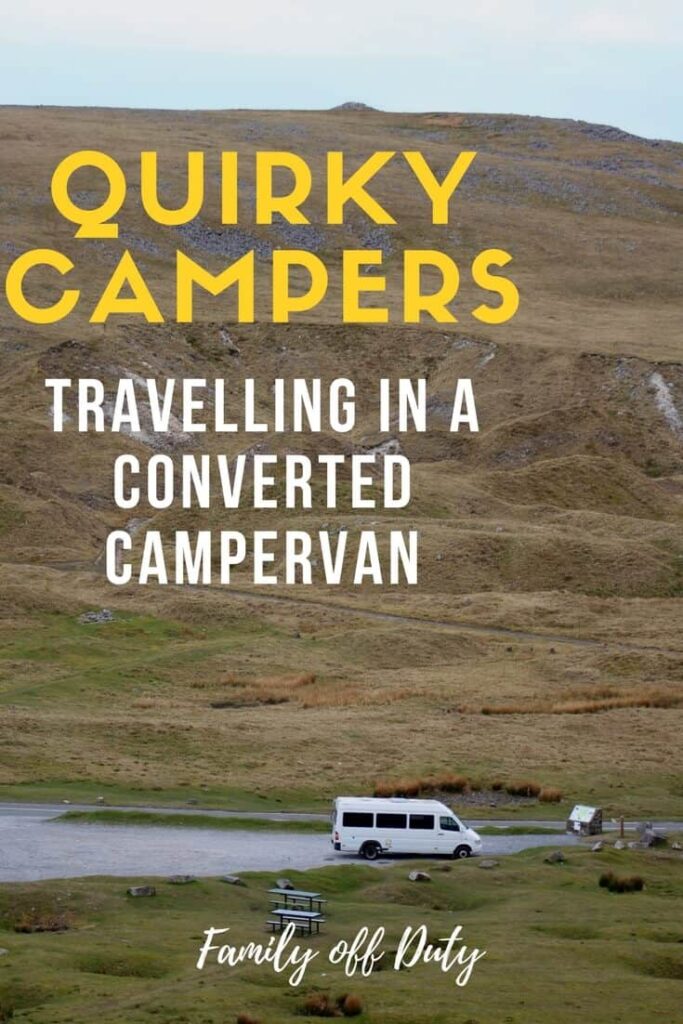 Quirky Campers is a family business run by husband and wife team David and Lindsay. They built this collective of friendly and like-minded camper van owners, each with a unique handcrafted camper van, offering quirky van rentals across the UK. They have a great collection of campers in their website here.
We partnered with Quirky Campers for a complementary van to take on a road trip to Wales! The camper van we were offered, Guinevere, was converted by its owner. Nigel re-designed it with many important features for festival lovers, like a shower!
We picked up Guinevere from Nigel's new house in Somerset. The handover was fairly smooth. It took about an hour and 20 minutes, as we chatted, complete the paperwork and signed contracts. Nigel gave us a tour of the converted mini-bus so we knew how to operate her and how everything works. If it is your first time on a camper, do make sure you ask all the question about the utilities. You can read more about first time campers in our blog post here.
Read some other tips for family holidays on a converted camper in this informative post. And learn budget RV Tips for family road trips in this great post here.
Converted Camper Van Travel
The Vehicle
The converted camper van is a long wheel base Mercedes sprinter mini-bus. She has been downgraded to a 3.5T vehicle with removal of all the 17 passenger seats and associated structure. There are two seats in the front and two seats in the back. We were travelling with three of us so our daughter went in the back whilst we were in the front. For the three of us the camper worked perfectly – four would admittedly have been a bit of a squeeze.
Nigel has done a great job perfecting the layout of the van. It has an extremely practical kitchen – a very large space – with two gas hobs and washing up bowl. The curtains are fantastic and very easily drawn and put away and help to completely blacken the vehicle out from the outside, although the skylights do let in some light in the morning.
There is a single solar panel on the roof connected to a Solar 30 regulator and associated utility battery that powers the compressor type fridge, the 12v cigarette lighter and two USB charging sockets, and the internal lights. This works well during the day for phones and tablets, we did not run out of juice all week.
Unfortunately there is no AC supply to charge a laptop, only a problem if one was hoping to work. But then if you are on a camping holiday you are on holiday and should not be working, right?!
Guinevere certainly has her quirky sides. We found that the passenger's seat leg space was a bit cramped as it was close to the gear lever. The seatbelts in the back of the van did not seem to fit an adult, they were designed for children.
Also there was the necessity to pump water into the water container due to its elevated position (meaning there are two batteries taking up the step up space on the driver side). Finally we thought we could have used a little bit more of clothing storage space.
However these points were limited and did not affect our enjoyment in the slightest. As every camper owner builds their van wanting to prioritize some aspects, like making a huge kitchen and work space, it is only obvious that you have to compromise in some areas.
This is the beauty of travelling in a unique vehicle. We have enjoyed all the little details that Nigel has carefully crafted.
The main advantage of Guinevere being a long based vehicle is that there is room for a shower (with gas boiler heated hot water) which must be great for the festivals where you have the opportunity to clean up after the mud and sweat of the day.
We did not use the shower as the grey water does exhaust directly below the camper. However, I can imagine at the festivals it would be a godsend. We did take the camping potty with us for emergency, and whilst wild camping it did get used.
You enter the van through the main passenger door side – there is no sliding door – which works fine. The back can be opened up from inside to allow storage access under the bed from behind.
The bottom bed can be turned into a sofa which can face to the back or front. This must also be great in the summer when you have a nice view to enjoy, or at a festival.
When we travelled it was the end of April and still quite cold. There is no heating in the bus, which although it seems to be well insulated, did get cold quite quickly, so we kept the back doors shut all the time.
The only way to warm up the van was to boil the kettle for tea or run the engine. On the second day we found the hot water bottle in the utensils – a nice touch which saved the day. Our beds were nice and warm by bedtime.
We did not use the sofa folded down but found it easier to keep the bed down. We also stored our bags along the right hand side of the bed looking backwards.
The kitchen cupboards were very well stocked with utensils – everything we needed for cooking and eating was there – and Nigel had also very nicely left us with the basics like tea, coffee, sugar, washing up liquid and cloths etc.
The fridge is quite small but worked perfectly and was sufficient for our needs – you could easily fit a few bottles of beer as well as the basic foodstuffs you would need. We had a cooked breakfast every day before setting off which was great.
The vehicle itself is not the quickest but will pootle along quite nicely at about 100km on the motorway, which is all you really need – also lower risk of getting speeding tickets which with the latest fines introduced in the UK is perhaps wise.
We took the converted camper van from Somerset to the Brecon Beacons in Wales and then to Pembrokeshire before returning to Somerset.
he van performed brilliantly and we stopped at some beautiful wild camping spots, where Guinevere was not so conspicuous as a camper due to her blacked out one-way windows and original purpose.
Because she had Quirky Campers painted on the front the guy at the toll on the Severn Bridge did realise we were a camper and charged us the lower car fare rather than the full fare for commercial vehicles.
Nigel was extremely helpful and spent much time telling us about the van and the other vans he is working on and showed his passion and illustrated the thought that had gone into the design and build of Guinevere and her successors.
Perhaps 'Sir Lancelot' will be the next one? We look forward to seeing how she/he turns out.
Quirky Campers has clearly hit on a niche market. No doubt if all the owners are as committed and inventive as Nigel, there is some fun camping to be had by renting one of their campers.
We had in total 4 nights in Guinevere and loved her.
Ps. We have written a blog post with many tips for the anyone having their first campervan rental experience. You can check this blog post here.
Video
Here you can see our daughter's vlog review of Guinevere.
Disclaimer: I received one or more of the products or services mentioned above for free in return for providing my honest and unbiased review. I only recommend products or services I use personally and believe will be good for my readers.
RELATED FAMILY ADVENTURE ARTICLES