Hotel Martinhal Lisbon Chiado
Looking for kids hotels in Lisbon? Martinhal Chiado Family Suites in the heart of the Lisbon offer luxury services and many amenities to provide you with a hassle-free family vacation. Read below for our full Martinhal Chiado Family Hotel Review.
During our family trip to Lisbon (with my 9 y/o daughter) and I were invited to stay at the Martinhal Chiado, a luxury 5 start hotel in the old city center of Lisbon, Portugal.
Here are some of our impressions and more details on what to expect of a stay at Martinhal and a brief introduction about their mission and accommodations.
Martinhal Family Hotels and Resorts
The concept of Martinhal Family Hotels and Resorts was created by couple Chitra and Roman Stern based on the experiences and challenges the couple faced on holidays while traveling with their 4 children.
They realized that there was a massive gap in the market for hotels and accommodations offering luxury services for family. This led them to start the Martinhal Hotels Brand in Sagres in 2010. Their goal is to provide services for families traveling with kids that will satisfy both adult and children on a higher level.
Often families on holidays plan their accommodation and attractions with kids in mind (because we all know that happy kids equal happy life) but that oftentimes means that parents aren't able to spent time together as couple or even having a relaxing time during their family vacation.
At Martinhal they make sure that all the services and facilities are in place to keep kids happy and safe, enabling a vacation where both parents and children can enjoy.
Martinhal Chiado Family Apartments
Martinhal Chiado opened in 2016 as "The World's First City-Centre Elegant Family Hotel" with 37 family apartments right in the heart of Lisbon.
The facilities on this hotel will allow parents and kids to enjoy the city together as a family but also as a couple because the kids can be supervised at the hotel.
Chiado is one of the best areas to stay in Lisbon closed to the neighborhood of Bairro Alto and Baixa Lisbon. It is located in the historic center with walking distances to many of Lisbon's top attractions such as Santa Justa Lift, Praça do Comércio and several family friendly museums.
It is also super well connected with public transport being just a few minutes away from Cais do Sodré bus and train station. This makes it easy for you to reach farther neighborhood areas in Lisbon such as Belém and Parque das Nações.
If you are looking at where to stay in Lisbon with your family, Chiado is very central and feels safe.
Martinhal Chiado Family Hotel Review
Following the Martinhal concept of luxurious family accommodation to allow parents and kids to have a great time, here is what you can expect at Martinhal Chiado.
Click here to book your stay at Martinhal Chiado!
The Martinhal Chiado apartments were designed to provide a range of accommodation to suit every family needs, from studio for 3 occupants to 2-bedroom apartments comfortably lodging a family of 7.
Each apartment has a fully equipped kitchen complete with a stove, dishwasher, washer-dryer, fridge and kitchen items.
Even the smallest apartment for a couple with a baby offers plenty of room and has all the facilities you will find in the larger apartments.
Martinhal Chiado Kids Club
Perhaps the most unique feature at this city hotel is the supervised kids club which is something I have never seen in a city accommodation before. The kids club covers the ages of 6 months to early teens where kids will be entertained and cared for by their responsible staff in a safe and secure space.
The space for small kids is an indoor playground with soft play items where parents are also allowed to join.
There are different kids clubs for different ages and suitable activities and equipment for each age group. The different spaces were created to interest and stimulate each kids according to their development skills.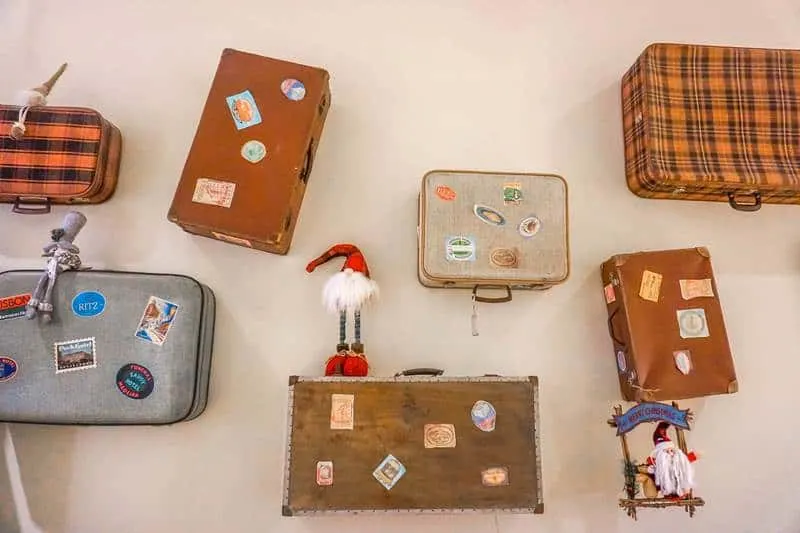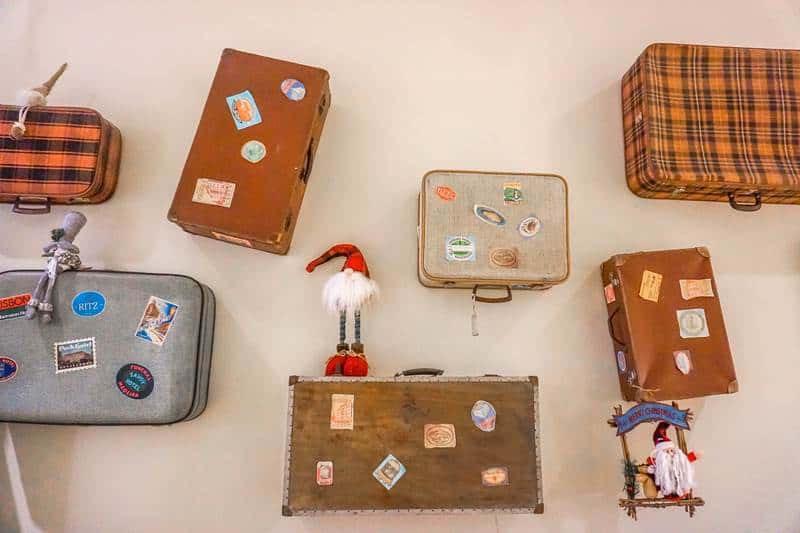 The pyjama club is the extension of the kids club at night and goes up to 10:30 pm.
Here the staff will look after the children from around diner time and make sure that they are comfortable even in the case they fall asleep.
This is a brilliant solution for parents who want to enjoy the vibrant night life in the bustling city of Lisbon!
In case you prefer that your children are looked after in your own apartment, there is also a baby-sitting service that can be organized upon request for children from a few months old.
Another fantastic service that Martinhal offers to make your family travel hassle free.
Here you can pre-book a variety of baby equipment – from small items like door protectors, potties, bottle sterilizers to bigger items such as baby cots, baby baths and strollers.
At Martinhal Chiado there is a family friendly café called M Bar inside of the property. Here is where you get the delicious and varied breakfast in the morning. Later in the day it turns into a real café for both guests and other visitors.
The space is super cozy with a mix of the original building features such as the curved ceiling and Portuguese tiles mixed with modern pieces of furniture and an iconic BMW Isetta that the kids love to play with.
The space is colorful, comfortable and fun, designed to make kids feel welcomed and for the parents to relax.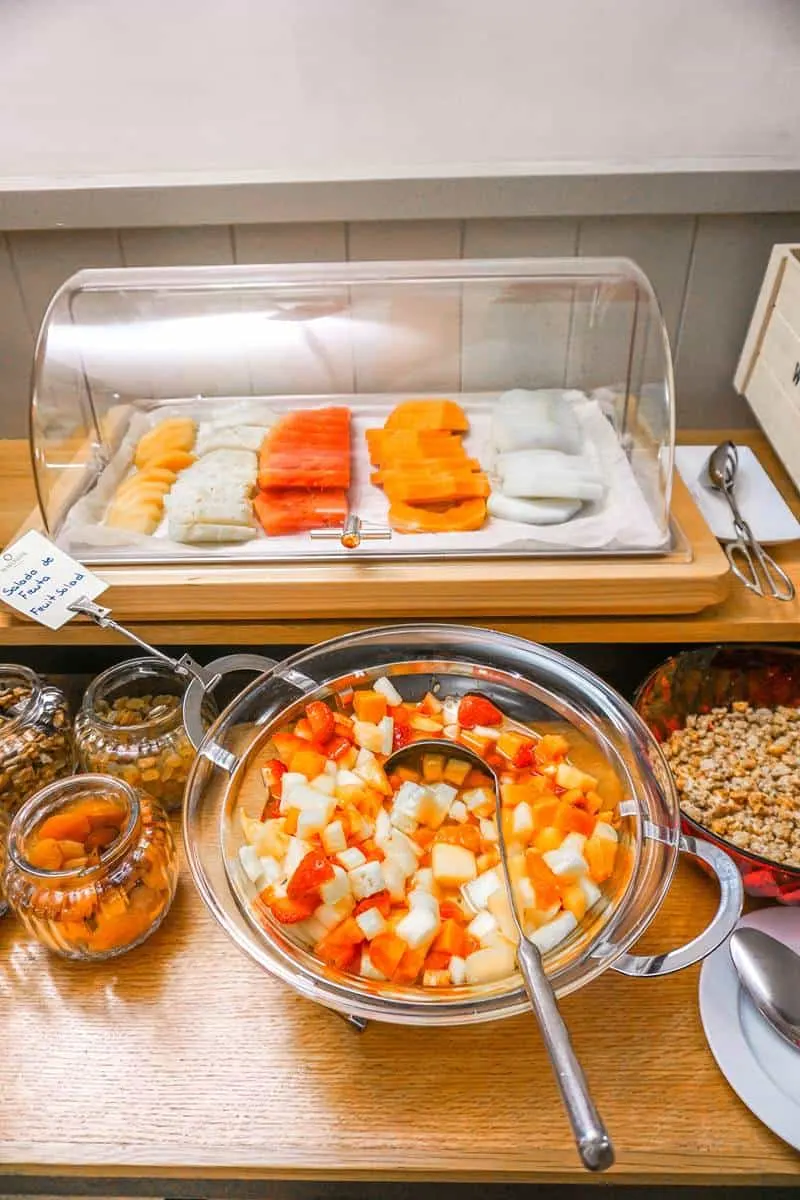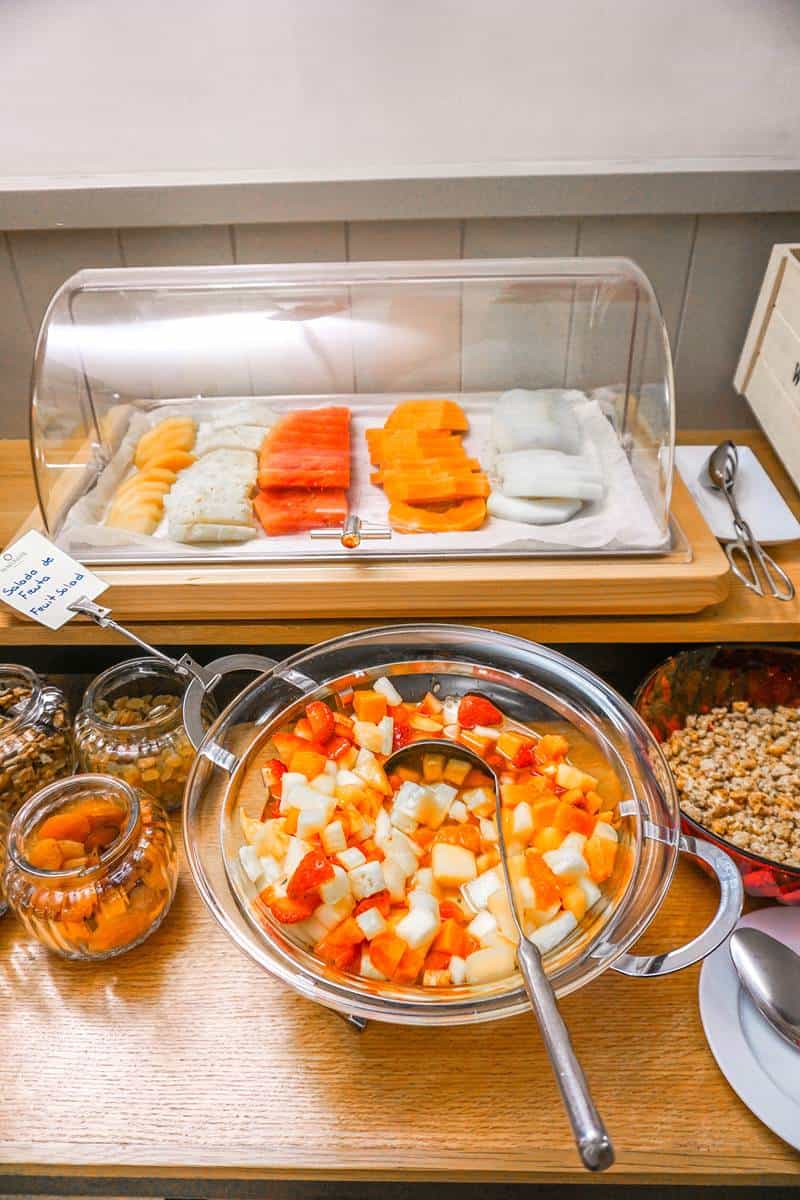 The breakfast at Martinhal Chiado is healthy and varied served at the M Bar each morning. However you can also choose in-room delivery at no extra cost if you prefer to start the day slow at your own apartment (which is fully equiped with dinning table, dishes and cutlery). You just need to fill in the form and have it organized the day before.
At breakfast you can enjoy several different pastry items, fruit, milk, yoghurt, jams and fresh orange juice and pretty much everything else that one can expect in a continental breakfast.
You can also order specialties from the kitchen that will be made to suit your choices like pancakes, scrambled or poached eggs, omelettes with your preferred filling.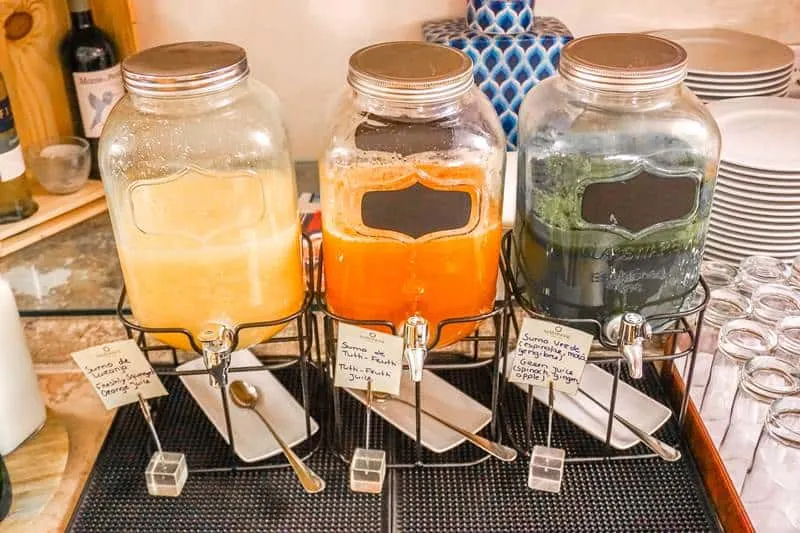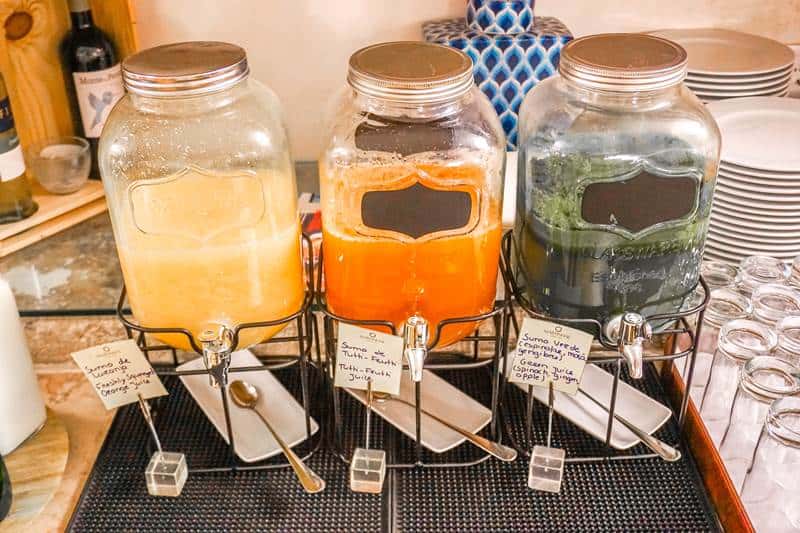 The feeling that you have at a Martinhal hotel is that the staff really understands the brand mission.
As you can expect from a 5 star hotel, the staff is attentive and available to help you 24/7. But here the staff also goes the extra mile to make sure every member of the family has the best time during their stay, following the Martinhal family concept. And you see it in all levels, from the reception to the kitchen staff.
The Martinhal brand celebrates Portuguese artists since the very beginning, and at Martinhal Chiado it is no different.
With the help of famous artists in Lisbon Martinhal has designed a comfortable and children-friendly environment without compromising on style and art.
The building dates back to 1855 with an original facade, large wooden windows, narrow balcony and tradition Lisbon ceiling. The refurbishing made the interior modern in a way that it complements the original architecture from the 19th century.
The modern living areas in the hotel were designed to make the space both functional and sophisticated.
The apartments are equipped with everything you may need and expect from a luxury service, such as a welcome hospitality tray with water, coffee, tea etc. You will also find in the apartment a washing machine/dryer, iron and iron board, central heating/air co, safe, lovely bed-linen and comfortable pillows.
The bathroom is stocked with toiletries such shampoo, conditioner, soap,shower cap, sewing kit, make up mirror and an abundance of towels.
Of course you will also find kids equipment such as high chair, potty and antislip mats.
All these amenities make Martinhal Chiado family suites simply the best family hotel in Lisbon.
Our review of Martinhal Chiado Suites
Martinhal services are above and beyond when it comes to providing a fun experience to the entire family.
Our stay was very pleasant and the staff members extremely helpful with our questions, provided expert tips for tourism and were always available to solve any problem.
We had a couple of technical problems in our apartment and the staff was prompt to check and find an immediate solution to us so we would have no delays in our services or plans. This made the experience truly exceptional.
On our last day we had to checkout early, before breakfast hours, to be in the airport on time. The staff made sure we had a fresh and healthy take away breakfast bag that was ready at the reception for us.
We definitely left with an amazing feeling and intend to go back to check other Martinhal properties. If you want a total hassle-free family vacation and are currently looking for Lisbon hotels that will provide that, look no further than Martinhal Chiado hotel!
Click here to book your stay at Martinhal Chiado!
Other family resorts near Lisbon city center
The Martinhal group also has another fantastic property in Portugal's capital area; the Martinhal Lisbon Cascais. This is a family resort near the beach in Cascais.
It is approximately 20 minutes from the city center and perfect if you want to combine both a relaxed family holidays with a Lisbon city trip with kids.
---
PIN FOR LATER!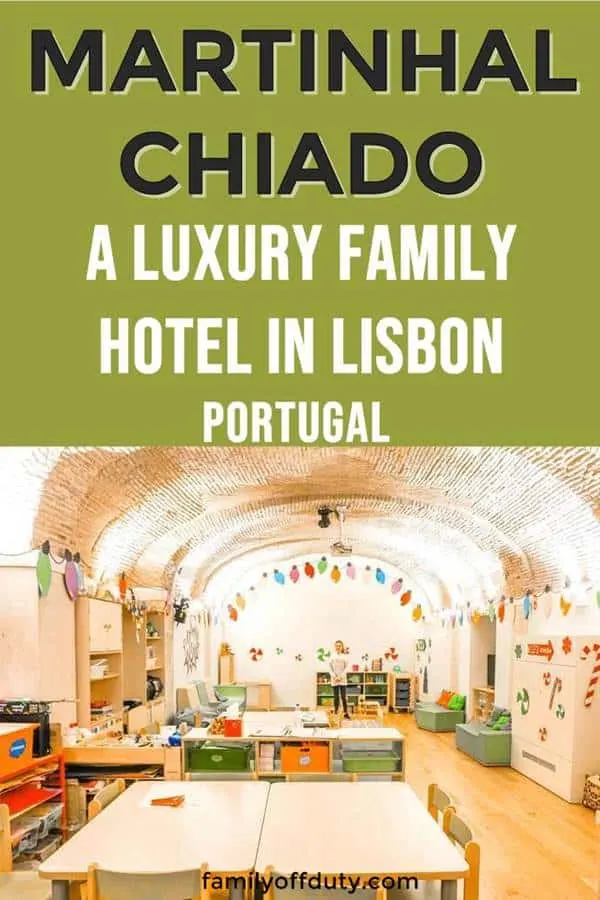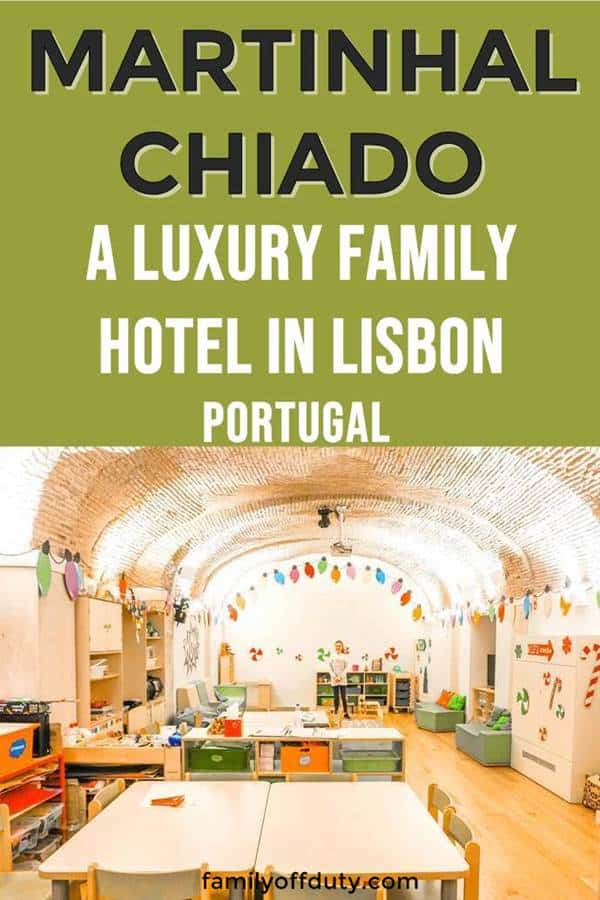 Martinhal Chiado review