Things to do in Lisbon for families
Planning a trip to Portugal's capital and wondering what to do in Lisbon with kids? read my detailed guide on the best family things to do in Lisbon with kids that the entire family will enjoy!
Traveling to Lisbon is not only fun and exciting for adults but families traveling with young children can also enjoy this safe and friendly capital and have a great time.
Being the largest city in Portugal there are over 500,000 people that call Lisbon their home and other millions that visit it every year. You are sure going to find here a taste of what Portugal has the best to offer, from history to delicious food and much more!
Below are some of the favorite things to do and see with kids in your family vacation in Lisbon.
Where to stay in Lisbon with kids
When visiting Lisbon with children it is important to bear in mind that some neighborhoods in Lisbon are at the top of steep hills.
While this isn't necessary a problem, and you will most definitely have to go through some of the hilly part to see the attractions, depending on the age of your kids and whether you need to push prams might dictate the best area to stay in Lisbon with your family.
The old city center area around Chiado and Baixa neighborhoods are fantastic places to stay as they are well connected with public transport, walking distance to some of the main attractions and not at the of the highest hills.
We stayed at the Martinhal Chiado family suites, a fantastic hotel in the city centre especially designed for family travel, and we could not recommend it enough.
If you want a hassle free Lisbon city break with kids than this is the place. The hotel features a kid's club, pyjama club, baby concierge and so much more! You can read my full Martinhal Chiado review here.
Best things to do in Lisbon with kids
Jardim Zoológico de Lisboa – Lisbon zoo
What a total treat it was visiting this fabulous city zoo.
When you arrive at the zoo, there is an area before the entrance of the zoo that is free and open to the public with several gardens, a pond, a Mac Donalds restaurateur, picnic tables and benches. So even if you don't have the time to go inside the zoo itself, that is nice area to just relax and let the kids burn energy.
Inside the Lisbon zoo there are many different zone for the animals, a super fun stand up cable car where you can take a ride above the animal habitats and see the entire ground of the zoo from above, dolphin presentation (which was closed for maintenance when we visit) and a flying bird presentation.
My opinion is that it is one of the best family attractions in Lisbon and I definitely recommend you to visit.
It is easily accessible from Lisbon city center with the metro.
Praça do Comércio (Commerce Square)
A Praça do Comércio is one beautiful square in Lisbon, and a very central place to start exploring the old city centre.
This riverfront square was built in the location where it used to be the Ribeira Palace, which was destroyed in the earthquake of 1755. The square is one of the landmarks of Lisbon being surround by the distinctive historical buildings painted in yellow, the Rua Augusta Ark that leads to the busy commerce street and the river Tagus.
Apart from being a fantastic open space with great opportunity for pictures you will also find several restaurants and cafes, the Lisbon Story Centre museum and a statue of King Jose I riding his horse.
Elevador do Carmo (Santa Justa lift)
Who doesn't want to take a ride to the top of a tower to see the views?
The Carmo lift or Santa Justa Lift in central Lisbon old town is a 45m tall metal tower built in 1902 that features an old elevator and viewing platform offering panoramic views of the city.
You can use your Lisbon card or Viva Viagem card to ride the elevator for free, you just need to swipe it on the machine. The elevator takes you to the penultimate level. To get to the viewing platform you have to pay extra (a couple of euros only) and climb a short staircase.
We queued for a while to take the short lift ride but once we were ready to come down we realized that we could have gone to the top of the tower via the metal bridge that connects the tower to a higher ground in the city, closer to the Carmo convent.
So in case the queues are too large, you could come to the top of the life using that way. Search maps for Bellalisa Elevador restaurant, as it is where the bridge goes to.
Pavilhão do Conhecimento (Lisbon science museum)
The Pavilion of Knowledge in Lisbon is an interactive, hands-on museum designed to offer plenty of opportunity for learning while playing.
This seems to be a popular destination for locals too as we saw many kids from local schools exploring with their teachers.
Everything was translated into English and many activities with audio had it in other languages too.
The exhibitions had interactive play for smaller and older kids, all designed to encourage curiosity and learning. I must say that even for an adult it was so much fun going through the activities.
This is definitely one of the top children's museum (or more like a giant indoor playground designed for learning) I have ever taken my child to and I believe it is one of the best places to visit in Lisbon for families.
One of the most unique experiences you can have in your family trip to Portugal is a ride in one of the historical old trams that are still in use in both Lisbon and Porto!
The difference that we found between the rides in Lisbon and Porto is that in Lisbon these trams seem to be part of the public transport system and therefore are free when you get the Lisbon card. That is not true in Porto where you need pay separately even if you have the city card.
So if you are going to visit both Porto with kids and Lisbon, perhaps it is more advantageous to take the trolley ride in Lisbon.
Be aware though that there are also old trams being used for guided tours, which are way more expensive – you can see them in the Praça do Comércio.
You can take the tram line 28 a couple of blocks from Praça do Comércio to Alfama and São Jorge Castle. Alfama is the oldest neighbourhood in Lisbon and is a fantastic place to get amazing views of Lisbon but the climb is too steep to be done by foot! So take the tram and have fun!
You don't have to ride the entire route on the tram 28 from Praça Martim Moniz to Campo Ourique, which takes approximately 40 minutes, just go for a short ride to experience the old trams.
We didn't experience it when visiting in January but apparently there may be queues to ride on the Tram 28 in May, June, July and August. You can also try the other routes that still use the old trams such as line 12, 18 and 25 (likely to be less busy during high season months).
However if you are riding the entire route of tram 28 then make a stop at Jardim da Estrela.
I am a massive fan of city parks and my itinerary always includes them.
City parks are generally relaxing areas where kids have the space to run lose in safety and where you can sit down to regroup after much sightseeing which is usual in family city breaks.
You can easily get to this park with the tram 28 route.
This city park is fantastic for small children, here you will find many different trees, walking paths, playground, animals and an open air café.
Castelo de São Jorge (São Jorge Castle)
You can get to the São Jorge Castle with the tram 28 stopping at Miradouro de Santa Luzia and walk uphill from there.The streets to get to the castle are also interesting to see and there are plenty of opportunities to take some great pictures. Otherwise you can get the bus number 737 from Baixa to the castle.
The São Jorge Castle was built in the 7th century and like any fortified castle you can enjoy a fantastic view from the premises.
It is a place that fascinates people of all ages and children, you walk the well preserved grounds, battlements, towers and keep and see how people lived in the medieval years. Very educational for kids.
Oceanário de Lisboa (Lisbon oceanarium)
The Lisbon aquarium is on the same area of science museum above so it is convenient to visit both while traveling to this part of Lisbon with kids.
One of the best places to take the children in Lisbon in the Oceanário De Lisboa. It is one of the largest indoor aquarium in Europe filled with about five million liters of seawater and with over 500 species of sea creatures that are mesmerizing to watch.
The building itself is very interesting, with 2 levels that float in the water. Here you will also find animal habitats that were re-created to host the various marine species from the oceans and also animals that live closer to the water.
Parque das Nações stands for the Park of the Nations in English. This is a part of the city that got revitalized for the World Exposition of 1998.
Much of the new infrastructure you can see around this area was also built for the Expo '98, including the Vasco da Gama Bridge and the Oceanarium.
Here you can enjoy the sights of the modern marina, other contemporary architecture or take boat rides. It is always fun to enjoy water events and attractions, especially on a beautiful day in Lisbon.
Another cool thing you can do is take the Lisboa Cable Car that will take you on an aerial ride over the Tagus River and providing you with panoramic views of the Nations Park.
Museu da eletricidade (Electricity museum)
This is one of the most interesting museum in Lisbon, located on the old Lisbon power station (Central Tejo) showcasing original items int he exhibitions.
Here you can learn about machinery needed to produce electricity and how it developed over time all the way to renewable sources of energy. It's fascinating and amazing to help kids understand such aspects of technology that can seem so challenging to explain without hands-on interaction.
Mosteiro dos Jerónimos (Jeronimos Monastery)
The Jerónimos Monastery is a UNESCO World Heritage Site built on the 16th century in the Belem district in western Lisbon.
It was built in 1502, it is a sign of wealth during the time to Age of Discovery. It features the Manueline style of architecture which is highly ornate and intrinsically linked to the Discoveries, which is an important part of Portuguese identity and culture.
All the intricate details in this building facade are linked to a moment in history regarding the Discovery years, you seriously could spend a week learning it all but you can definitely learn a lot about the most important characters of that time.
The interior detail and artistry of both the Monastery and the Chapel is absolutely gorgeous and worth taking picture.
Torre de Belém (Belém Tower)
You cannot miss this iconic Lisbon landmark on your trip to Belém. You can easily get to Belém with the train from Cais do Sodre station in Lisbon city center.
The Belém Tower was built in the 16th-century during the peak of Portuguese renaissance as a point of embarkation and disembarkation for the explorers in the Tagus Estuary. it's now a UNESCO Cultural Heritage of Humanity.
You have to probably wait in queue to climb up the tower where you will be able to take several beautiful images overlooking the water. You can relax in the grounds around the tower that are perfect for picnic and for kids to play.
My friend suggested that we took a day trip to Sintra, 45 minutes away from Lisbon, during our stay and what a day we had.
Sintra is a superb place to visit with kids (or without!) and in hindsight I wish I had spent more time there. Sintra is definitely worth of a weekend side trip, there is so much to do!
However if you, like us, don't have the luxury of time you can still explore Sintra in one day by taking the train from Lisbon to Sintra and then take a tour with a knowledgeable guide because the ground is so large you cannot see much in a day otherwise.
A few highlights of Sintra include the Pena Castle, the Mouros Castle, the Sintra National Park, Quinta da Regaleira and the Sintra National Palace – but there is much, much more to see!
More things to do with kids in Lisbon
Below are some other recommendations that were suggested to us, if you have more time these will be worth checking out!
Fun track Lisbon

Jamor adventure park

Museu Nacional do Azulejo (National Tile Museum)

King Edward VII park

Kidzania Lisbon

Convent do Carmo (Carmo convent)

Tuk tuk tour

Museu da Marinha (Maritime Museum)

Cascais and Estoril beaches

Museu das Marioneta (Puppet Museum)

Fragata Dom Fernando II e Gloria

Tuk tuk tour
Where to eat in Lisbon with kids
Portugal offers fantastic food and Lisbon has all the variety you can think of.
There are a few special places I would recommend you going with kids though, either because they are designed especially with kids in mind, or because they are budget or for their amazing diversity of options.
Fábrica de Pastéis de Belém
While in Belém you have to check out the Fábrica de Pastéis de Belém where the original Pastéis de Nata come from! This factory began making the original Pastéis de Belém, following an ancient recipe from the Mosteiro dos Jerónimos in 1837.
They still use the same old recipe which is a super secret nobody else knows but the members of the family running the business. There are many variations of Pastéis de nata but not quite the same as this original one. Your visit to Portugal won't be completed before tasting this dessert here!
Time Out Market and Mercado da Ribeira
Nothing like a local food market to taste the flavors of the city.
The Time-Out market is a large food court in downtown Lisbon near Cais do Sodré featuring a wide selection of global restaurants with family-style seating, here you will all the variety in food to please any (picky) eater!
The Mercado da Riveira is a local market beside the Time-out market featuring open layout stores offering food, plants, crafts, books & antiques.
M bar at Martinhal Chiado
The M Bar is the kid friendly cafe concept of Martinhal Family hotels & resorts. At Chiado family suites the M Bar is where the breakfast is served but it does not stop at breakfast.
After breakfast the M Bar is open to not only guests, but it becomes a kid friendly cafe that anyone can experience. What I like about the M Bar is that is a family space, with food that the little ones will enjoy and drinks for the whole family. Children are super welcome here and they have all the equipment and safe space for the kids so the parents can relax too.
This is a very popular establishment in Belém and you might get huge queues depending on what time you visit.
This is a fast food store offering sandwiches, baguettes, shoarma or salads where you can pick what goes into your menu sandwich. The price is ideal if you are visiting Lisbon with kids on a budget, at the time of my visit no menu deal was higher than 4,99 euros (this includes chips, drinks and the massive baguette with the fillings of your choice).
Despite the queue we saw (which moved relatively fast) this is a great place to replenish your energies.
---
And these are some of the best things to do with children in Lisbon. have I missed anything? What is your favorite attraction? Let me know in comments below!
More family friendly places in Portugal:
PIN FOR LATER!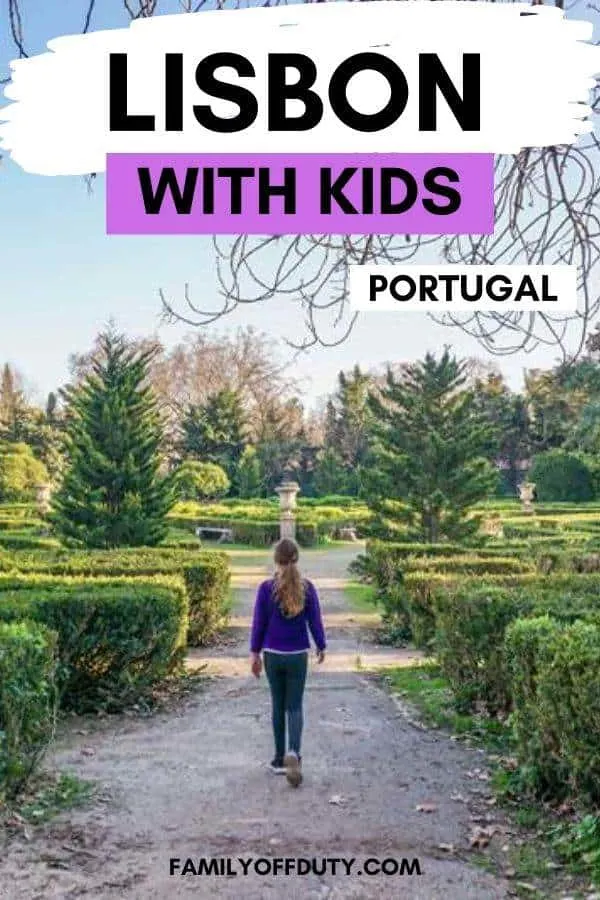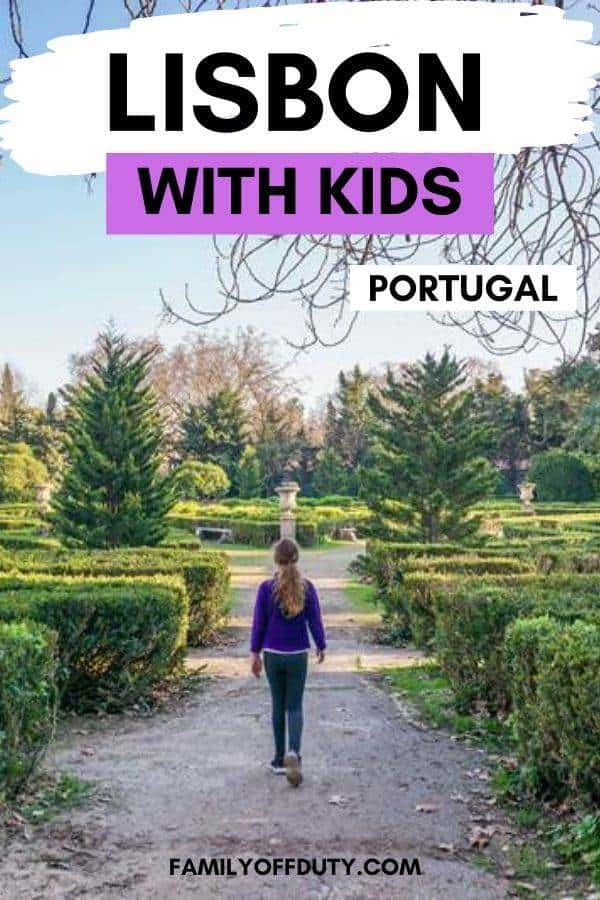 Things to do in Lisbon Portugal with kids