Must Try Traditional Portuguese Food
Wondering what to eat in Portugal on your next trip? Check below my list with the most popular food in Portugal that should be in your bucket list for things to try on your trip!
Portugal is a fantastic destination for anyone interested in food or traditional cuisine. Portuguese cuisine might not spring to mind when you think about really outstanding or unique world cuisine, but maybe it should.
Featuring a blend of influences that include the Mediterranean, spicy foods from Arabian cuisine, and spices from around the world due to their colonial history, you will find few places that have so many interesting and diverse food influences – which of course leads to some truly unique dishes!
With an unusual variety of dishes, here are fifteen Portugal dishes that give you the full taste of what Portuguese food culture has to offer, and it's sure to be an experience you're not likely to soon forget!
What to eat in Portugal
Find below some of the most popular Portuguese dishes that you have to try in Portugal.
Francesinha
You just can't sample Portuguese cuisine without having a Francesinha. A delicious sandwich that originated in Porto, this sandwich is made from thin slices of wet-cured ham, bread, roast meat like beef or fresh chipolata sausage, covered in melted cheese, and then dosed in a thick gravy tomato sauce made from port wine or beer.
This is the granddaddy of all open faced roast beef sandwiches, and is the upper level version that these come from.
These can vary locally from region to region in Portugal as one area may use steak, another sausage, and of course different gravy recipes. The O Brasao cervejaria makes a fantastic Francesinha, with a fried egg on top of the sandwich.
Francesinhas are often served with French fries as a side and are a delicious meal. They are an outstanding example of food of Portugal with each region having its special spices, seasoning, and flair on the traditional delicious dish.
Caldo Verde
Caldo verde, or "green soup" is a dish that is very distinctly Portuguese and delivers major taste to go along with its unique appearance.
This typical winter Portuguese dish is a very thick and creamy soup popular throughout the country. While you may find minor variations, in general this traditional soup is made mainly with potatoes, fresh chorizo sausage, and lots of thinly sliced kale.
Seasoning is the most common variants from region to region as you may find just salt-and-pepper in one area, but you may find an actual spice in your version with a little bit of heat further south.
Either way, this will be some of the most delicious soup you ever taste and it is a culinary experience you will not want to miss when traveling to Portugal.
Bacalhau
This is a dish for the seafood fans and possibly the national dish of Portugal.
Bacalhau is Portuguese for cod and while it can refer to a variety of different dishes, in this case it will usually refer to dried and salted cod while the fresh version will be known as Bacalhau fresco.
The recipes and ways that salted cod is used will vary greatly from one part of the country to another, and has often said there were over 300 Portuguese recipes for Bacalhau!
You are likely to find this served in the stew, or with potatoes and rice.
Sardinhas
While sardines have become very popular among the keto diet community, they are less common in many other parts of the United States.
However, in Portugal Sardinhas have long been a major part of the food scene whether on the coast or even further inland.
Barbecued, salted, grilled sardines or even mashed up in butter you will be amazed at the sheer number of options when it comes to enjoying good sardines in Portuguese cuisine.
You can also find canned sardines throughout the country, in distinctive colorful can designs that make a great 'food from Portugal' souvenir to take home or a gift.
Famous Portuguese foods
Polvo a Lagareiro
If you want unique and exotic food in Portugal then this dish is certainly going to catch your attention! Fish is an important part of Portuguese culture but it's not the only popular type of seafood found throughout the country of Portugal.
Octopus is also very popular, and Polvo a Lagareiro is a heavily Mediterranean influenced way of cooking this sea creature. While every version is sure to include lots of garlic and olive oil, there will be variations that also include potatoes, black olives, chopped coriander, and other appropriate support foods.
While this won't be for everyone, it is a delicious example of Portuguese foods using seafood inspired by Mediterranean recipes.
Porco Preto
The black Iberian pig is particularly important in the Monchique region of Portugal and in Spain.
Porco Preto refers to the pork that comes from this specific pig and it actually is the most popular and well thought of high-end pork in the country. This can be found everywhere in an endless array of recipes and styles, from thinly sliced smokey ham to pork cutlets.
Each region, and often many different restaurants in the same area will have their favorite Porco Preto recipe so if you don't know what to order – this is always a good bet!
Cataplana
Interestingly enough, Cataplana is a dish that is actually named after the type of pot that is cooked in.
There are many different versions of this hearty recipe and is important to note that there were two major types of Cataplana recipes (both amazingly delicious).
There is a pork and clam version and there is a seafood version with fish in a combination of seafood. Both are a type of stew, however the broth will be extremely different between the different versions.
Give them both a try!
Feijoada
A tasty and filling bean stew, Feijoada comes in many forms and many recipes and it's a traditional dish inspired by the colonial days of Portugal.
You know this is a winning recipe when the dish can be found in Portugal, Brazil, Azores, Mozambique, India, Angola, Macau, and many other places across the globe.
The recipes will vary greatly throughout the country of Portugal as you can expect black beans combined with garlic, olive oil, bay leaves, an array of locally common (cured) meats as well as a side of white rice.
Portuguese snacks
If you want to try different Portuguese Appetizers and snacks, check the list below with fantastic options.
Bifanas
If you are in the mood for savory Portuguese snack, you won't have to look far to find someone who makes a quality Bifana.
The Bifana is a traditional Portuguese pork sandwich where three or four very thinly sliced pork cutlets are thoroughly marinated, and then placed in the Portuguese bread roll known as a Papo Seco.
This creates a light yet filling snack that gives you your protein, is perfect after a day out like a farmers market, or when you want just a little something to eat but do not want a full meal.
This is direct evidence that the Portuguese definitely know the right way to snack!
Chouriço
Chouriço is a specialty sausage that can be found throughout the country and has several different variations on the original recipe depending on what region you are in.
The base ingredients remain the same with fact, pork, garlic, salt, pepper cook, and wine all stuffed into sausage casings and smoke dried.
Depending on the region there may be more spices or ingredients added. This type of Portuguese sausage can be found in soup, stew, sandwiches, or mixed with rice and beans.
Bolinhos de Bacalhau
Who doesn't like a delicious codfish cake?
Bolinhos de Bacalhau are Portugal's delicious take on this classic and filling fish cake.
Usually combining salted cod with potatoes, eggs, onion, parsley, and sometimes a bit of additional seasoning these fried favorites are going to find a lot of fans both in and out of the country of Portugal.
Similar to Bolinho de Bacalhau you will also find a variety of Croquete de Bacalhau (cod croquettes), which are covered in bread crumbs. We found many versions of this classic croquette made with poultry, meat and sausage during our trip to Lisbon. Make sure to try a few of them at least once.
Portuguese desserts
The dessert culture is an intrinsic part of the cuisine of Portugal. The variety of traditional desserts and pastries that you can find here is extremely large, we are just mentioning a few most famous sweet foods.
Travesseiros de Sintra
This dessert from the Sintra region of Portugal became so popular that before long towns throughout the country would come up with their own local version.
However, the finest is still found in the famous village of Sintra, at the Casa Piriquita Pastelaria.
Named like this because they are shaped like a pillow, this fluffy puff pastry is sprinkled with sugar on the outside and filled with delicious egg and almond cream on the inside (they are also available filled with nutella!).
Do not leave Portugal without getting one of these truly famous pastries!
Pastel de nata
Perhaps the most well-known Portuguese eats around the world these custard tarts are extremely popular desserts found throughout the country.
The Pastel de Nata at its base is an egg yolk tart best dusted with cinnamon and sugar, and regionally may have other ingredients added such as lemon, sugar syrup, additional sugar cinnamon, or even a bit of whipped cream on top.
You could even consider them a Portuguese street food example because you can find them in so many establishments, pretty much everywhere and they are generally very cheap.
The authentic recipe is still produced in Belem, a district in Lisbon, at the Única fábrica dos Pastéis de Belém following a secret recipe that only the family members of this company know. These tarts taste slightly different from the normal version you find everywhere – but both are tasty!
I highly recommend that you visit the store in Belem on your Lisbon food tour.
Queijada
There's no doubt that Sintra is known for its desserts. Aside from the famous Travesseiros, Queijadas can also trace their way back to Sintra.
These small tarts are generally made from milk, eggs, sugar, and cheese. Sometimes Requeijão is used specifically.
Add a dash of cinnamon, sugar, or both, and you have a treat that is as delicious as it is utterly unforgettable.
Whatever your diet plans, don't cut out the carbs when you're in the Sintra area – this is another Portuguese dessert you won't want to miss!
Arroz Doce (Rice pudding)
Portuguese rice pudding is a delicious dessert that mixes white rice, hot milk, cinnamon, egg yolks, and vanilla to create a very distinctive and unique take on a dessert that many cultures have.
The sweetness from the cinnamon goes very well together with the vanilla and adds the fullness of flavor that you want from a good dessert. The color is a bit more yellow than you are used to seeing in rice pudding because the Portuguese recipe includes eggs.
Arroz Doce is an exceptional dish and one that is a great way to finish off after some fantastic Portuguese meals.
---
These are some of the popular food in Portugal but obviously, the country has so much more to offer. Have a missed anything on this list? Please let me know in the comments below.
I truly believe Portugal is one of the best destinations for foodies and if you are visiting you should definitely consider taking part in Portuguese food tours.
More Portugal travel tips:
PIN FOR LATER!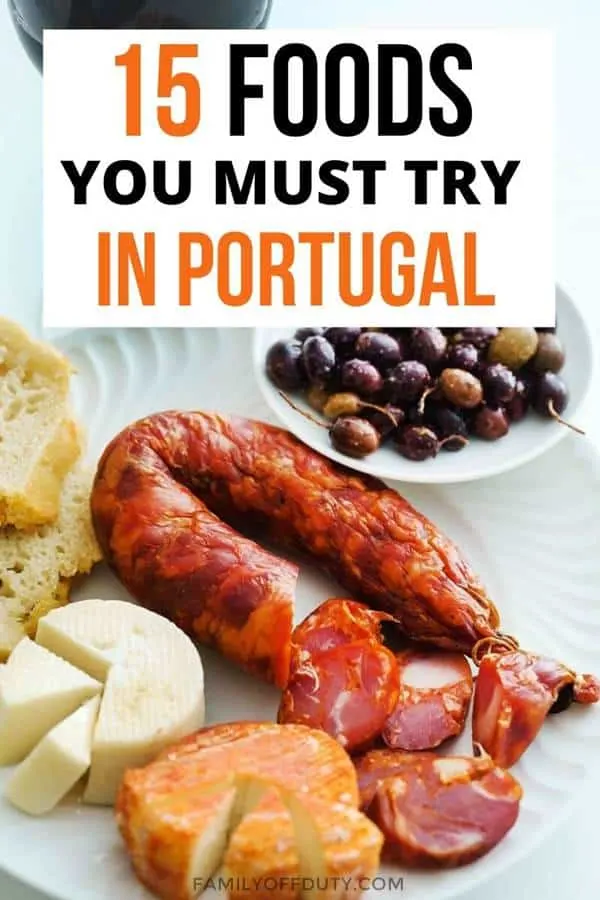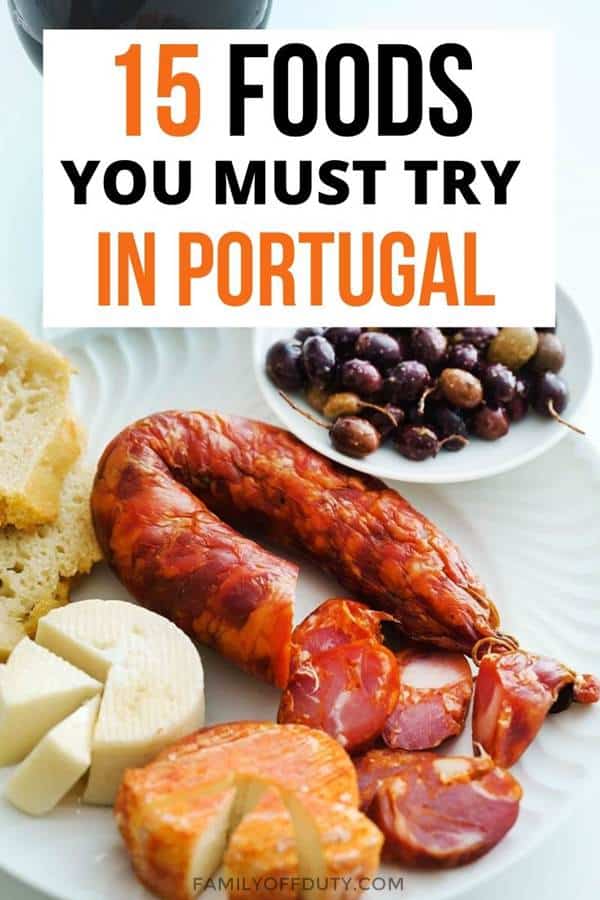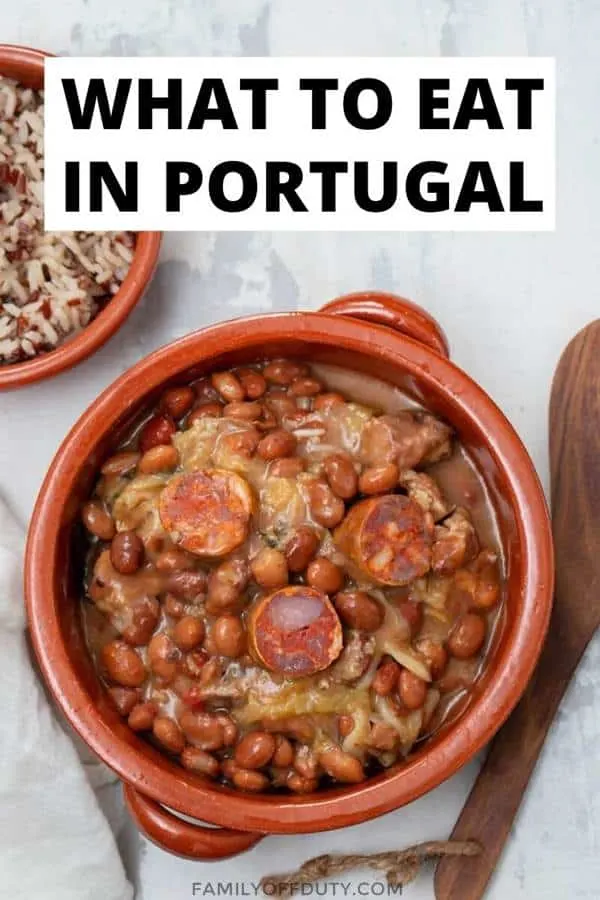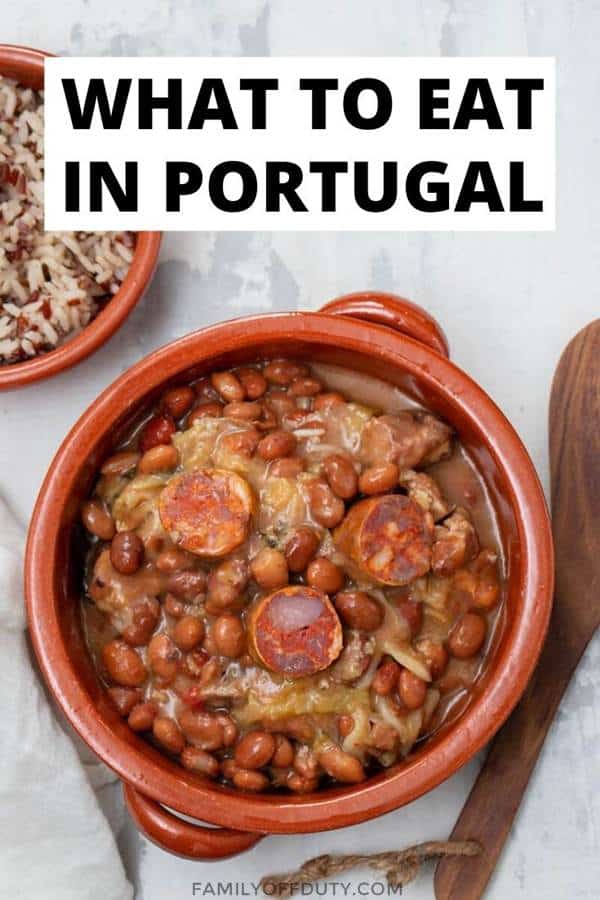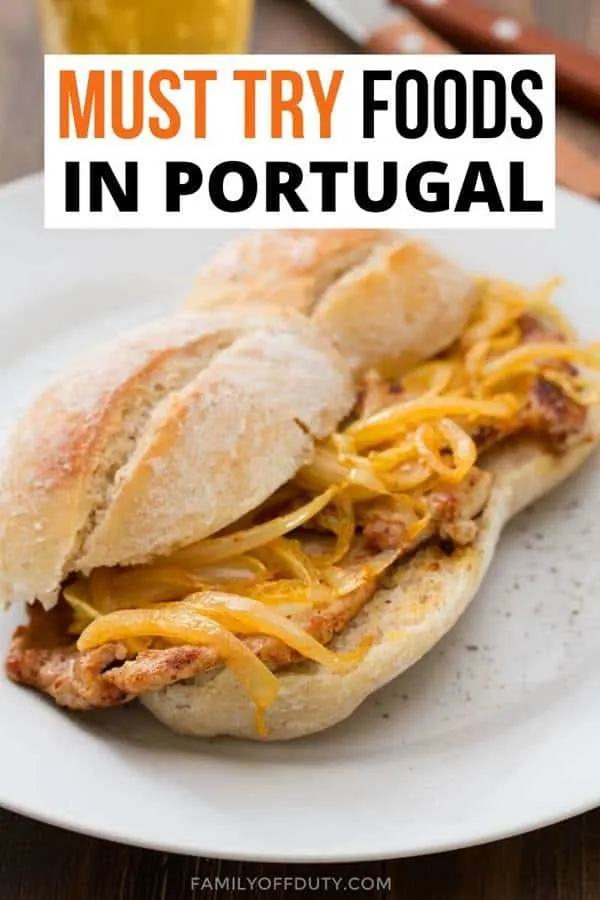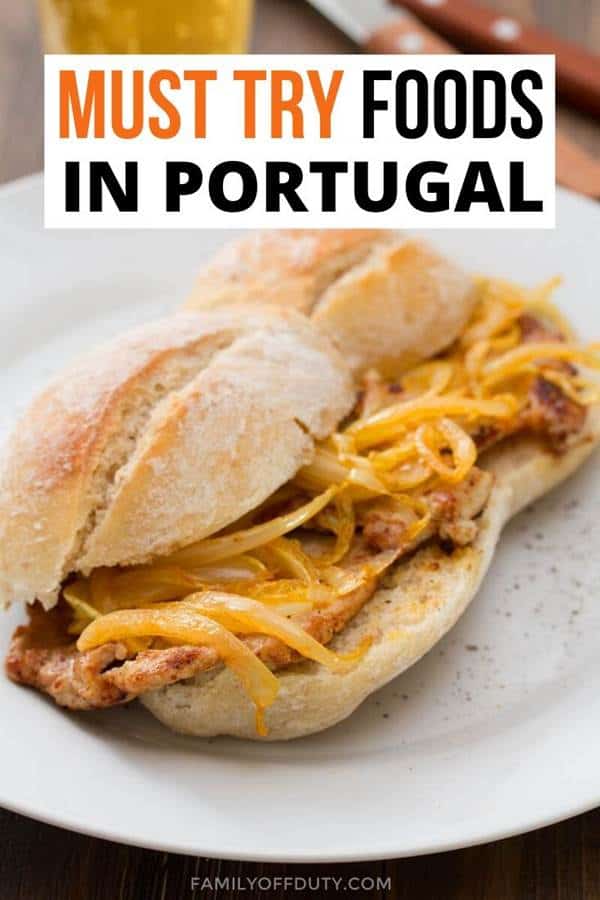 Portuguese food recipes to try in Portugal