Corfu is beautiful and it has many amazing beaches to visit. Here are the best beaches in Corfu, Greece in the Northern coast of the island.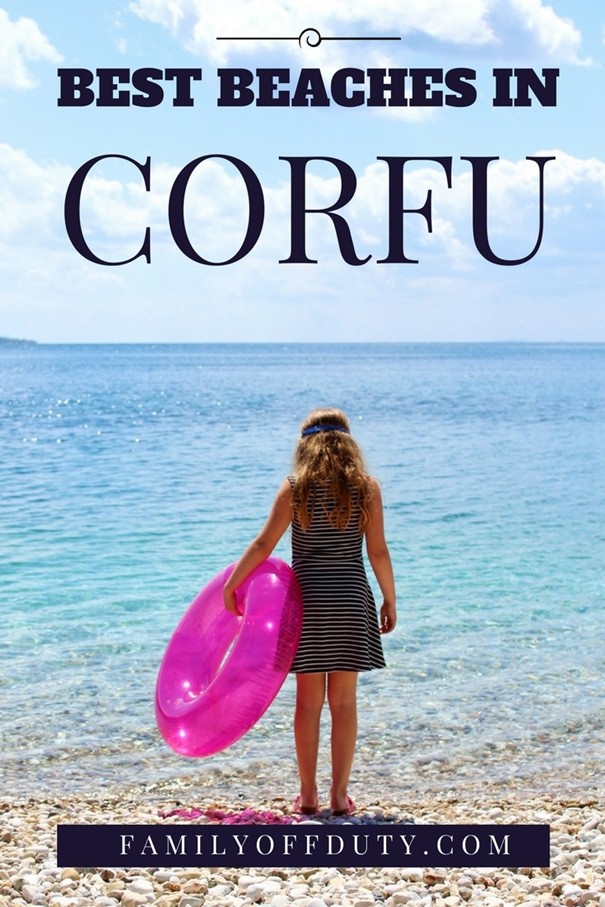 We visited Corfu in April 2017, just before the season started. The timing was actually perfect for a Corfu beach holidays as we uncrowded places. After Easter people start getting everything ready for the new summer season.
You can see a lot of accommodation and restaurant owners painting and cleaning up the island for the tourists, who start turning up in earnest after the 1st of May.
So when we were there, for just a week, many of the places were pretty much closed, meaning we had the most gorgeous Corfu beach resorts to ourselves! So off we went to see the best beaches in Greece, Corfu island.
We stayed in Kassiopi, which from what we saw seemed pretty much the only village that had quite a number of restaurants, bars and shops already open out of season.
This was a lucky shot as we couldn't have known beforehand. Now we think that Kassiopi is probably one of the best beach resorts in Corfu, just because it has everything and near some other amazing beaches to visit.
We had planned to stay about 1km walk away from the village but in fact were re-located to the Marika Apartments, which are very well located at the Kalamionas beach just one minutes' walk from the shops and restaurants.
There is plenty of accommodation on the beach in Corfu, you just need a little searching.
Kassiopi is a lovely old fishing village with a harbour and separate beach. It is about 6km across the water to Albania whose beautiful mountains you can clearly see all up the East coast of the island.
There are an old Byzantine castle ruins there, all but destroyed but still worth a visit if you can do the little uphill walk. During our visit the temperature was kept rather cool by the cold NW wind (Mistral) that blew into the bay where we were for most of the week so we had to search the island for shelter depending on the wind direction.
The wind does change direction fairly regularly. So we found this website: WINDFINDER fairly helpful to help us plan the day. Here you can see how variable the wind direction can be!
Find out more Family Travel posts here!
Disclaimer: This post contains affiliate links.  I only recommend products or services I use personally and believe will be good for my readers.
The Best Beaches in Corfu
How to get there
If you dream of a Corfu holidays on the beach we recommend you to hire a car as we did. A car is essential if you want to explore the beaches in Corfu or the surrounding mountains. You could perhaps hire mopeds but the roads are not brilliant and the distances are fairly long. Be aware that the trip from the airport to the apartment was only about 37km but took us an hour by car. It was cheaper for us to hire a car than to pay for the return transfer from the airport for 3 people (which would have taken twice as long as well!).
We rented the car with Hertz.
What you need
Some of these beaches have restaurants and bars along the coast, others are more isolated and difficult to get to. If you are going out of season you may want to take your pack lunches and drinks because you won't be able to find open restaurants around all beaches.
Another essential are the Swimming Beach Shoes. Most of Corfu Greece beaches have stones which makes walking with bear foot very hard and painful. Don't compromise your joy at the beach and get a pair of water shoes for the whole family. They are more expensive to buy at location. There aren't many beaches with sand nevertheless we found the some of best sandy beaches in Corfu too, which are in our lost below.
While we were there we visited many places and beaches. As we were based in Kassiopi in the North we didn't go South for the beaches. I am sure there are lovely beaches in the South and some beaches near Corfu town too but it seemed like too much of a drive to spend the day only when there was plenty of amazing beaches around where we were within 1 hour's drive.
Top 10 beaches in Corfu
We listed our best beaches in Corfu below. There are actually more than 10, we keep updating this post! Click on the place names to access location link on google maps.
From Kassiopi moving south east: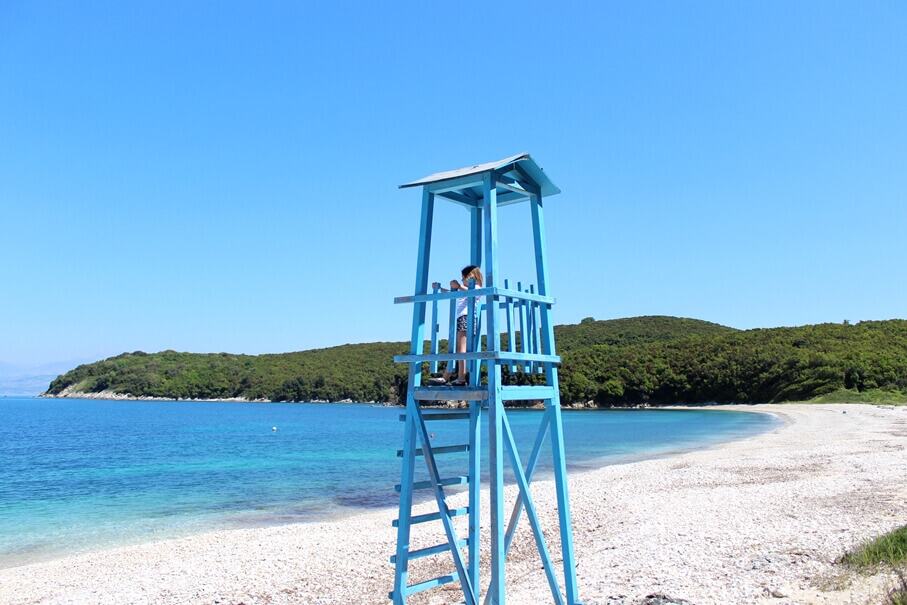 A Stony beach – very quiet with a blue lifeguard tower. Land for sale there to build your dream house on the sea. Stunning!
A little fishing village with boat hire.
A beautiful little beach with access down a VERY steep hill – you need to have the guts to do it (and enough umph in your car to get back up again!). But it is worth it. We parked on the beach and had the beach to ourselves for the afternoon.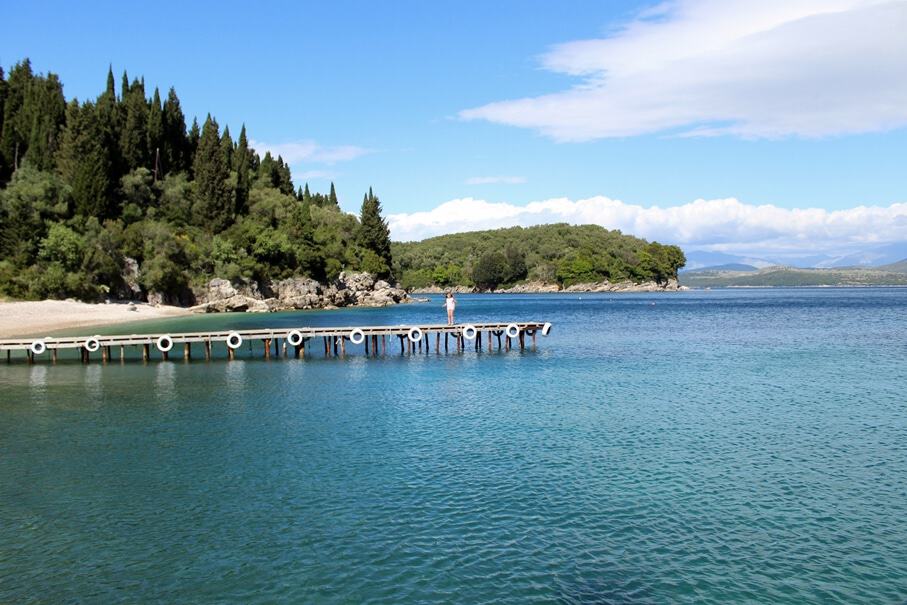 A bit further down the coast you have this great little stony beach, which is home to the Durrell family white house (Gerald Durrell was the famous author of 'My family and other animals' and other books which describe his time here in Corfu). We also enjoyed a few hours on this beach. I can imagine it is not easy to park here in the summer. There are bars/restaurants around this beach.
We stopped here briefly to have a look at the charming view of Albania but there was hardly room to park and nothing was open. In the summer they have boat hire here and trips to and from other bays it seemed.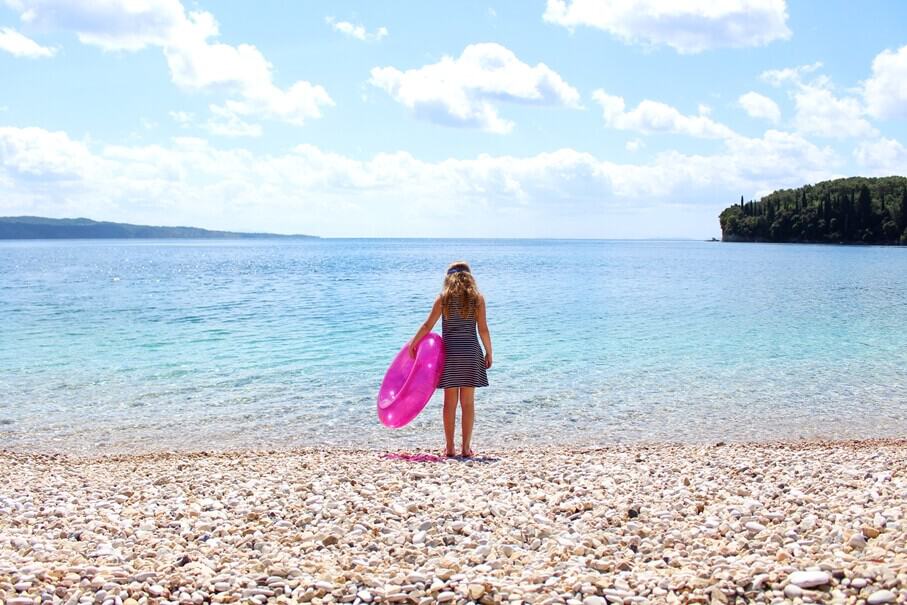 More Kid Friendly Travel Destination posts here!
Nisaki or Nissaki beach a tiny little beach, with a restaurant and dive centre (which were closed when we were there) with not many places to park. As we got back in the car it would not start and we feared being stranded there with no-one around. Fortunately it was just a loose connection on the battery negative terminal (which they disconnect during the winter period when no-one is using the cars) which had not been properly re-tightened.
Ipsos beach was the last beach we visited on the east side of the island moving south. This is a long stony beach about 1,5 km long with a few jetties and a small marina. There is a long straight road  with the sea on one side and restaurants and apartments on the other. It reminded us a little bit of a mini version of Praia de São Francisco in Niteroi, Brazil. Well, sort of…..
From Kassiopi moving west along the coast: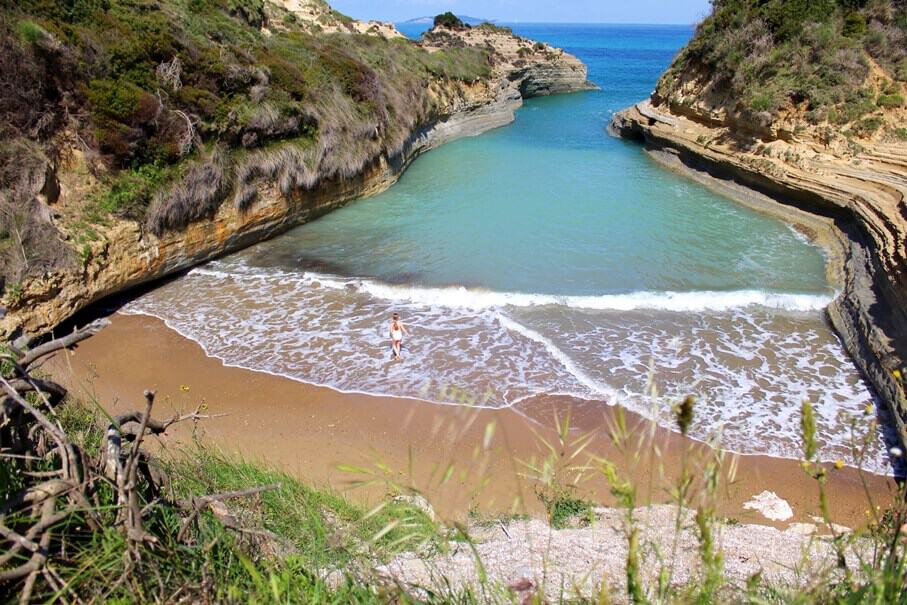 Kalamaki is a long beach with shallow waters which is perfect for kids to swim. A very beautiful place to solo or couple travellers to see too. There is a long wooden pier in the water.
It is a long sandy beach in Corfu (there aren't many it seems) but when we were there it was too windy so we didn't spend much time before moving on.
This is around the next corner and is an amazing long stretch of partly developed and partly undeveloped coastline. Great if there is sun and no wind and probably a good place to stay near in the summer.
This place is amazing. A bit difficult to find but with google maps you can find anything these days. The coastline geology is amazing and appears to be layers of soft mud that makes you wonder how it has not eroded before now, being next to the sea. Well worth a visit and surely a good place to stay near come summer time.
This one we actually didn't visit unfortunately – but we had marked it to visit as it looks fantastic! There are two small beaches separated by a land. It looks like quite a walk to get there though but seems from the pictures to be worth it.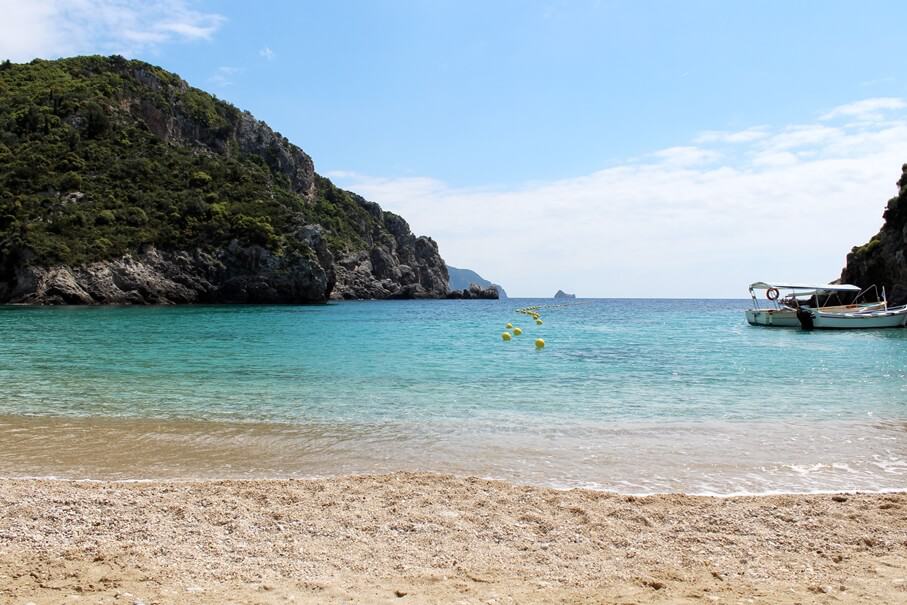 This beach was great – the busiest one we found during low season. No wonder it was quite busy; sandy/rocky beach looking out on a bay surrounded by steep rocky inclines. Very beautiful and easily accessible with lots of parking spaces and restaurants around. There is a monastery nearby which is worth visiting too.
Mirtiotissa or Myrtiotissa beach is absolutely stunning but BEWARE! It is a nudist beach. One of our Instagram followers recommended this beach but forgot to mention that it was a naturist beach! We searched through the images on google and decided to check it out! We did not notice the NUDIST signs on the way down – in the paving, painted on the rocks –  (but we saw them all on the way back up! They are there for anyone to see). Mirtiotissa is a secluded beach in Corfu. The walk down is quite steep but not too bad. It is beautiful, probably one of the most beautiful beaches in Corfu, hidden by the mountains around. It is a sandy beach with rocks in the sea and a wonderful view if you don't mind the naturalists around.
Despite the initial surprise we spent a few hours enjoying the beach. Even though it was out of season there was someone there selling beers and hiring umbrellas.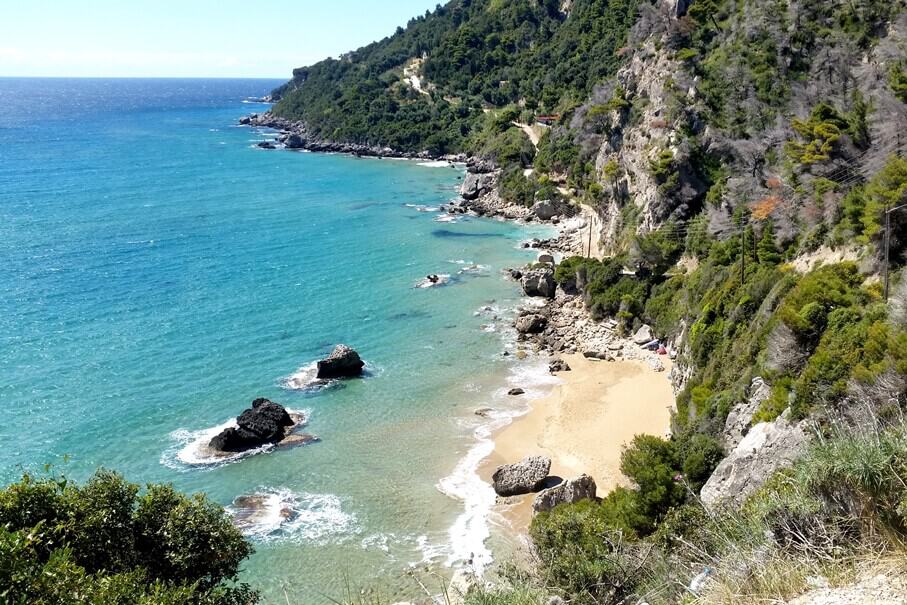 So this just gives you an idea of the beaches we did manage to visit in a week (plus one we did not).
Don't forget to buy and take your water shoes for walking and swimming in the beach – they will save your feet. Most of the beaches were fairly rocky, and some almost un-walkable without shoes.
If you wish to see something other than beaches in Corfu try visiting  Old Perithia up in the hills. The drive is lovely and brings you to an old civilization in the hills that hid here from pirates in the olden days. The views are spectacular and it is well worth a visit.
Next visit we will have a look some of the Southern beaches there.
Check out our post on best European travel destination for families!