Best places in Greece for families
Wondering which Greek island is best for families? Read this guide before you plan your family holidays in Greece.
The Mediterranean paradise that is Greece is one of the world's most popular tourist destinations.
And no surprise here because it caters for all sorts of visitors with its ancient medieval ruins, historic monuments and quiet villages all spread out across numerous islands lined by sun kissed beaches. It is simply irresistible to most people.
Because of its diversity the Greek islands are perfect for couples vacation, adventure travel and cultural trips. However it is also a wonderful destination for family vacation.
If you are planning a Greece family holidays but are yet to settle on a specific Greek island, then you have come to the right place.
Read on as I share with you why you should go on a family trip to Greece, what to pack and the top 8 Greek islands for family vacations.
Why visit Greek islands with kids
Greece is a perfect destination for family vacation because of its sunny days, warm weather during high season and a family-friendly atmosphere.
With several islands and beaches with clear and calm waters, this is not only a paradise for kids but also a place where parents can relax and enjoy.
For people looking for the full luxury experience there is also plenty of all inclusive resorts in Greece for families with water parks and kids club that will keep kids entertained and active for days!
However, Greece is also a great choice for budget family travel. There are several budget airlines offering great fares from other European countries. You can even get some awesome deals for Greece family vacation packages with accommodation and flights included for a very reasonable price.
And obviously Greece has also remarkable history, plenty ancient architecture, archaeological sites and several historical UNESCO heritage sites that are so impressive and worth visiting.
Adding all that to a beautiful landscape, lush forests and crowd pleasing cuisine it is easy to see why it is such a popular destination for families on vacation.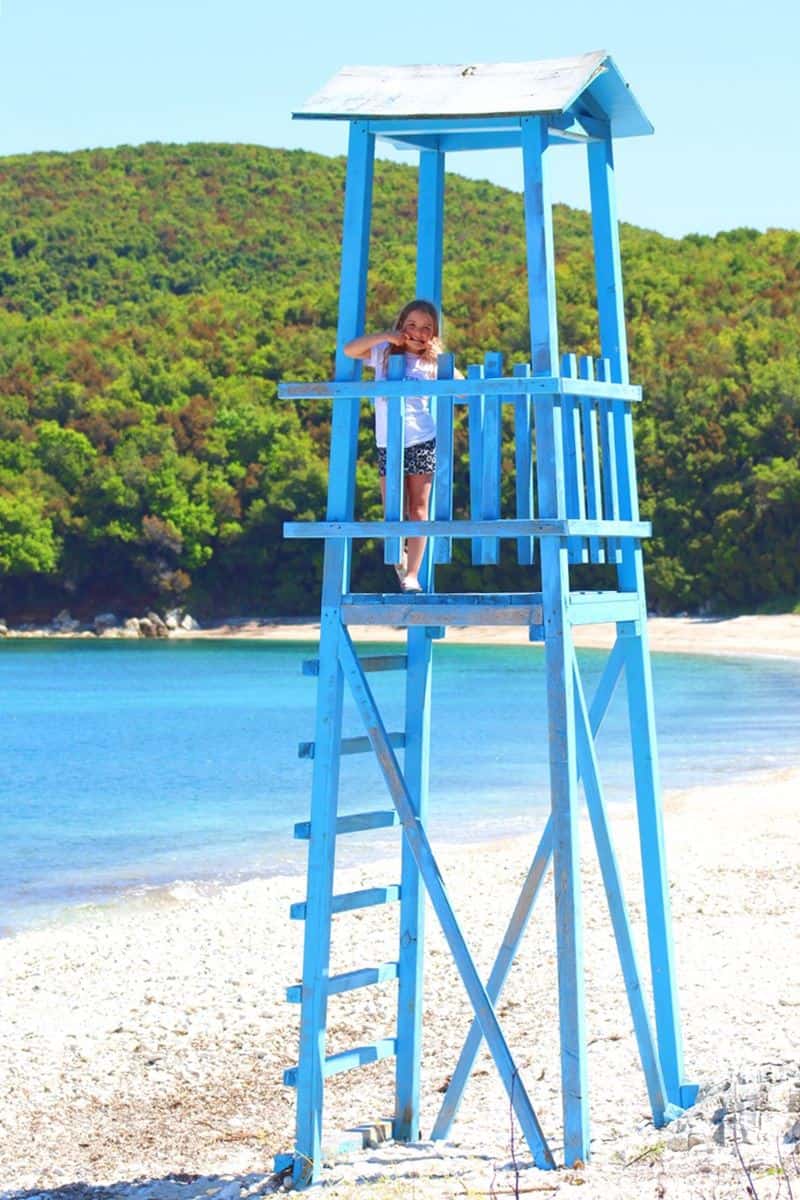 What to pack for Greece with kids
If your are planning on traveling to a Greek island during the high season then the weather will be warm and you won't need many heavy clothes. However there are a few items that I think you should always pack for your Greece family vacation. So before traveling to Greece with kids make sure to pack these items:
Water shoes: Not all Greek beaches have soft white sand. In the Mediterranean you will find plenty of beautiful but pebbly beaches. It is so much easier for the kids to have a beach shoes to walk on the pebbles and go in and out of the water.
Pack lunch: If you are like us and love exploring the island, driving around it until you find a nice spot to enjoy, you will find that carrying a pack lunch is super important. Some of the best hidden gems we find are uncrowded and undeveloped meaning that there will be not many restaurants and places to get food or water. So always be ready, especially with kids.
Mosquito repellent: This is a must in every family holiday packing list, just have it in your bag in case.
For a full Greece packing list for families check this post here.
The Best Greek Islands for Families
Here are some of the favorite family destinations in Greece. I share what are the top attractions in each island so you can plan the perfect Greece family vacation itinerary that suits your family lifestyle best.
1. Crete
Best Greek Island for: history, landscape and beaches.
Crete is Greece's largest island, meaning that it has something for just about everyone, including young kids.
There are many things to love about this popular Mediterranean tourist hot spot including low crime rates and a long summer, longer than any other location in Greece and Europe at large.
This means that you get a wider window when it comes to planning when to visit, and this could help you get better prices and less crowded places.
Those looking for the best family holidays in Greece will also be happy to know that this island is home to a selection of family friendly accommodation options.
The island is lined by numerous beaches known for their soft sand and child friendly shallow waters.
Some of the top beaches to sample while on holiday with your family in Crete include Elafonisi, Makrigialos, Agia Pelagia and Matala among others.
Check my article on the best beaches in Greece for families to see the full list!
2. Corfu
Best Greek island for: nature and beaches.
Our favorite island and definitely one of the best places in Greece for families to travel to.
Fondly referred to as the "Emerald Isle" Corfu is undoubtedly one of the greenest of all Greek islands.
A definite hit among nature lovers, visitors are bound to appreciate the islands natural appeal, rugged mountain settlements and the Old Town, a UNESCO listed location.
To ensure that you and your family spend as much time out on the sea, soaking in the soothing Mediterranean sun and dipping in the ocean, Corfu is home to some exceptional family friendly beaches.
To the west you will find Glyfada, one of the liveliest family friendly beaches on the island. Other beaches you might be interested in visiting include Dassia Bay and Issos Beach.
3. Santorini
Best Greek island for: Greek island hopping with family.
This small, scenic island appeals to all types of holiday makers, including families.
If you are planning a holiday getaway with older kids, be sure to consider Santorini because it is one of the best Greek islands for families with teenagers.
While the eastern edge of the island is famed for its impressive beaches, the opposite end is where you can catch most of the island's awe inspiring scenery.
One of the must visit attractions on the island are the hot springs, and mud baths, located in the bay of Agios Nikolaos. This will be a great experience for both kids and adults.
The island's top two family friendly beaches are Kamari and Perissa Beach. They each lie on opposite sides of mount Mesa Vouno.
Another great family activity is to go Greek island hopping with kids, as it is super easy to take day trips from Santorini to nearby islands.
4. Kos
Best Greek island for: sightseeing and beaches.
Another expansive island, Kos has something for everyone.
Located just off the Turkish coastline, the island is home to shallow family friendly beaches and the Melissa Honey Factory, a definite hit among kids as they get the opportunity to enjoy a free treat during an educational tour of the area.
The most popular beach on the island, Paradise Beach, situated between Kefalos and Kardamena is suitable for young kids thanks to its shallow incline into the sea.
Volcanic gases coming from the seabed cause the appearance of bubbles, and are the main reason why it is also referred to as "Bubble Beach". The most popular tourist spots are located on the southern part of the island.
Here is a video of the Paradise beach (Bubbles Beach):
5. Mykonos
Best Greek island for: nightlife and entertainment.
Mykonos is the perfect holiday destination for families who have older kids.
The island is popularly known for its vibrant and exciting nightlife. The availability of quiet and relaxed family accommodations options is also considered to be a huge draw for vacationing families.
Mykonos is home to more than thirty beaches. Families vacationing with older children may want to check out those known for beach parties and loud music.
However, if you are travelling with younger kids, you might want to check out the quieter options including Agios Stefanos, Platis Gialos and Ornos beach.
While here, be sure to check out the alleged birthplace of Artemis and Apollo, the islet of Delos which is uninhabited.
6. Rhodes
Best Greek island for: Historical tourism.
Rhodes is considered to be one of the most historically significant locations in this part of the world.
In addition to its generous offering of family friendly, sun kissed beaches, the island is home to one of the world's best preserved historical locations, the Rhodes Old Town.
Families can also explore the numerous wild animal exhibits at Farma of Rhodes. Here, visitors not only get to see various animals, including ostriches, raccoons, kangaroos, llamas and camels, but can also pet and feed them.
Some of the top family friendly beaches around Rhodes include Lindos and Lardos.
7. Paros
Best Greek island for charming Greek villages and beaches.
Paros still retains its Greek charm and appeal without attracting huge crowds of tourists. This means that visitors don't have to deal with exorbitant prices everywhere they turn; great if you are traveling as a family.
If you are looking for an island where you and your family can enjoy everything Greece has to offer, from small picturesque villages, medieval ruins and impressive beaches, Paros is where you need to go.
Two o the liveliest towns on the island are Parikia, the capital, Naoussa, a quiet fishing town during the day but lively when the sun comes down.
Paros is also home to Golden Beach, ranked as one of the best beaches in Greece and the world at large when it comes to water sports.
8. Zante
Best Greek island for: active seaside family holidays.
Zante (or Zakynthos) is the island for you if you are planning an action filled family holiday.
The island has plenty of family friendly resorts that are designed to guarantee an exciting and active stay. Some of the top choices include Alykanas, Kalamaki and Tsilivi.
Visitors also get the opportunity to spot the endangered loggerhead turtles in their protected natural habitat at the Marine Park located on the island's south coast.
Gerakas beach is considered to be the most impressive beach in the island. However, if you and your family members are more into shipwrecks, be sure to visit Navagio Beach, which is also referred to as "Shipwreck Beach" thanks to the Freightliner stranded on the beach.
---
With the above options in mind, you will have an easier time finding the perfect Greek island vacation spot for you and your family.
More Greece Vacation Posts you will enjoy:
PIN FOR LATER!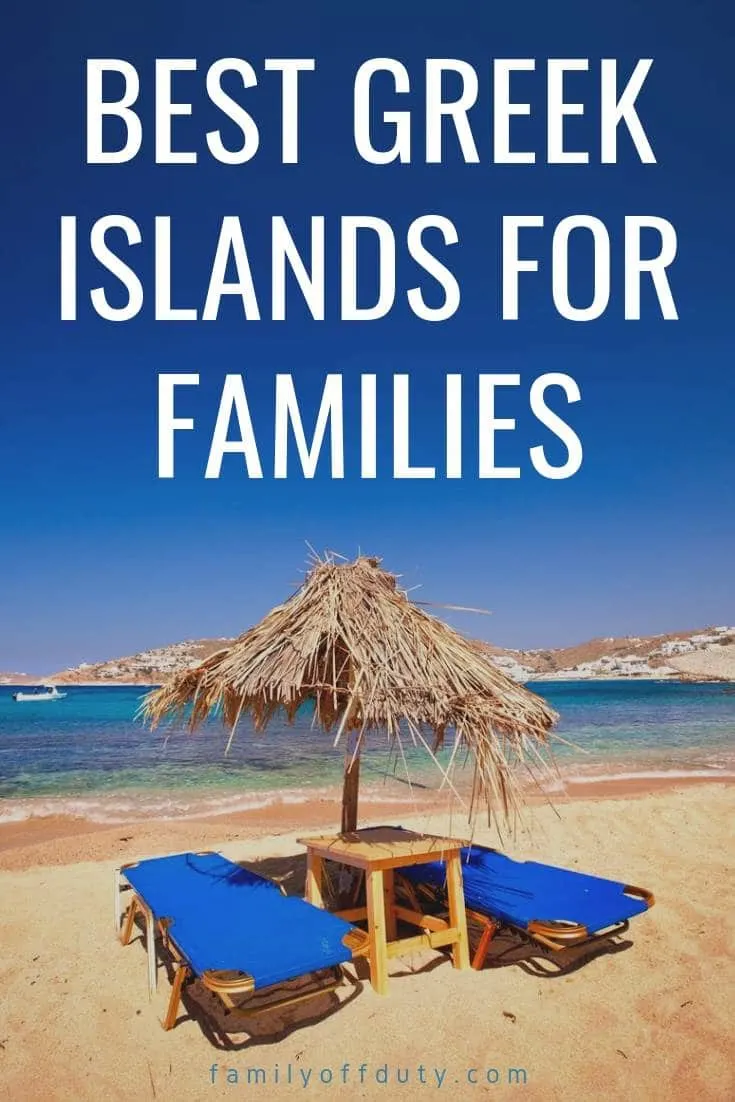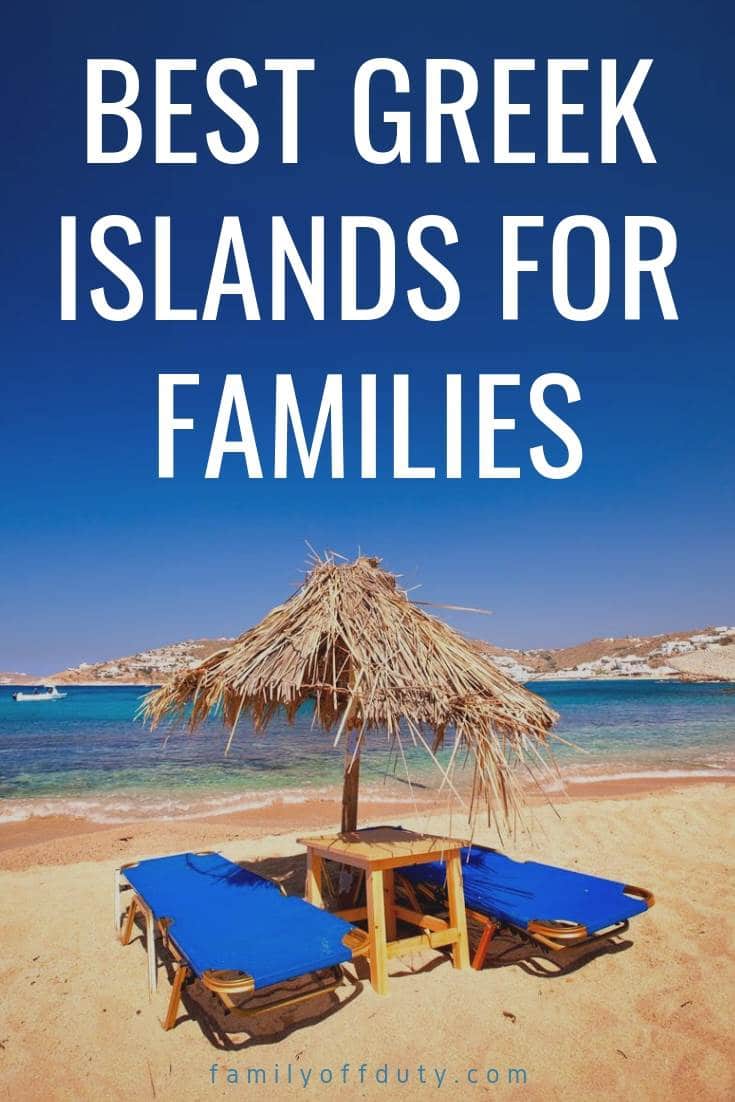 Best Greek Island For Kids