Top Corfu (Greece) beaches
Corfu (also known as Kerkyra) is a beautiful Greek island home of some of the best beaches in Greece. Read this ultimate guide of the best beaches in Corfu, Greece.
Corfu is one of the Greek islands located in the Northeast side of the Ionian sea. It has many amazing beaches to visit, all with beautiful clear waters and gorgeous scenery.
On the east side of the island you can see the coast of Albania and Greece mainland. From Corfu town you can take a boat day trip to Albania too.
Visiting the beautiful beaches in not the only things to do in Corfu. The island is a paradise for nature lovers and it has plenty of cultural sights too from its Venetian, French and British heritage who ruled it before it was made part of Greece in 1864.
A trip to this beautiful Greek island won't disappoint any traveller. Read on to learn more about the best beaches in Corfu island and other important information you might need to get there and make the most of your trip!
Best time to visit Corfu to enjoy crowd-free beaches
If you want to avoid the crowds April is the best time to visit Corfu.
We visited Corfu in April, just before the season started. The timing was actually perfect for a Corfu beach holidays as we love uncrowded places.
The high season actually starts in May. After Easter though you see restaurant and accommodation owners start getting everything ready for the new summer season. You can see a lot of them painting and cleaning up the island for the tourists, who start turning up in earnest after the 1st of May.
So just be aware that many places won't be open in April and you have to find a resort that is lively all year round, more about it below.
However, there are many advantages of going there in April:
First, we had the most gorgeous Corfu beach resorts to ourselves! All the places that are packed with tourists in the season were super empty and we had absolutely no company in most of the beaches we discovered.
We were able to get better prices of accommodation, flight and car rental.
The only downside is that in April you won't get the hottest of days, though we were on the beach, swimming and playing most days too. But during our visit the temperature was kept rather cool by the cold NW wind (Mistral) that blew into the bay where we were for most of the week so we had to search the island for beach shelter depending on the wind direction.
The wind does change direction fairly regularly. So we found this website fairly helpful to help us plan the day. Here you can see how variable the wind direction can be!
So off we went to see the best beaches in Greece, Corfu island.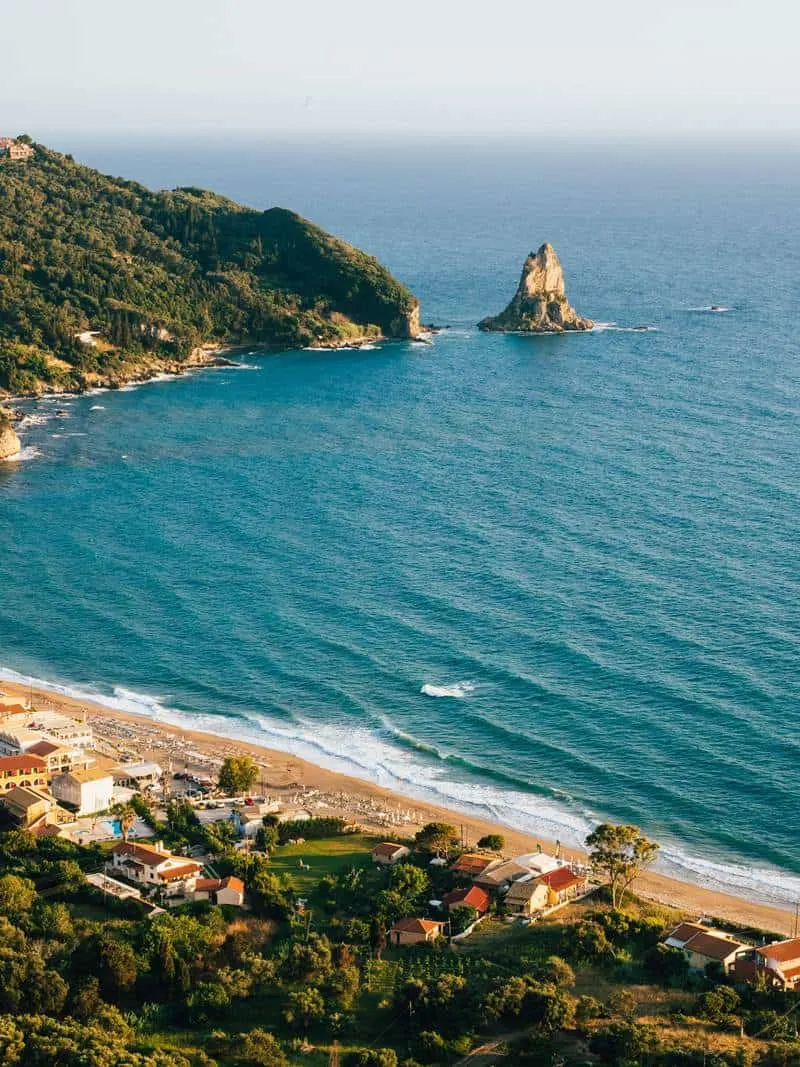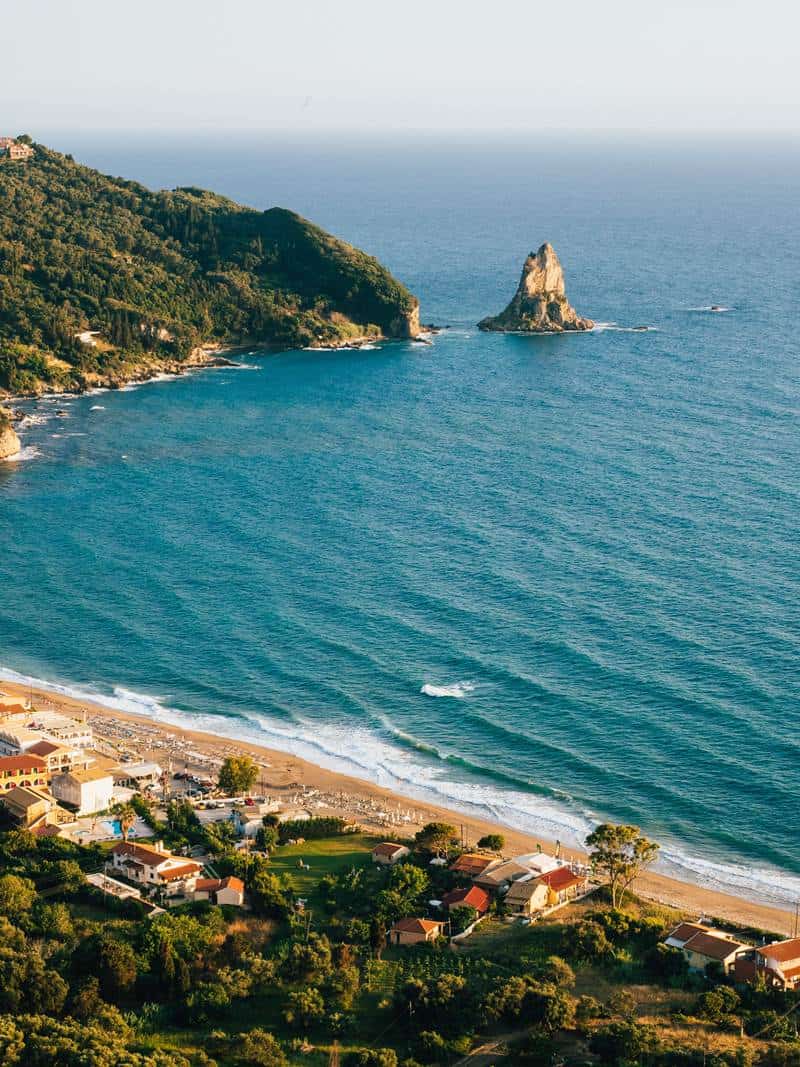 Where to stay in Corfu for a beach vacation
Corfu Town may seem like an obvious choice but you could be located closer to good beaches if you are willing to go elsewhere.
We stayed in Kassiopi, which from what we saw seemed pretty much the only village that had quite a number of restaurants, bars and shops already open out of season.
This was a lucky shot as we couldn't have known beforehand. Now we think that Kassiopi is probably one of the best beach resorts in Corfu, just because it has everything and near some other amazing beaches to visit.
There is plenty of accommodation on the beach in Corfu, you just need a little searching.
Kassiopi is a lovely old fishing village with a harbour and separate beach. It is about 6km across the water to Albania whose beautiful mountains you can clearly see all up the East coast of the island.
There are an old Byzantine castle ruins there, all but destroyed but still worth a visit if you can do the little uphill walk.
Find out more Family Travel posts here!
How to get to the best beaches in Corfu, Greece
You can see on the Corfu (Greece) map that the most beautiful beaches are all over the island. If you dream of a Corfu holidays on the beach we recommend you to hire a car as we did instead of relying in public transport to get around.
A car is essential if you want to explore the beaches in Corfu or the surrounding mountains. You could perhaps hire scooters but the roads are not brilliant and the distances are fairly long.
Be aware that the trip from the airport to Kassiopi was only about 37km but took us an hour by car.
It was cheaper for us to hire a car than to pay for the return transfer from the airport for 3 people (which would have taken twice as long as well!).
We rented the car with Hertz and picked up our rental car from the airport.
What to pack to enjoy beaches in Corfu
We thing that the best way you can enjoy some of these beautiful beaches in the island is to just drive around and stop to explore when you find something interesting.
You will discover places that I likely haven't listed and those little discoveries are what will make your trip even more fun!
But don't forget to pack properly for a day out, specially if you are planning a trip in April (our of season) like we did.
Some of these beaches have restaurants and bars along the coast, others are more isolated and difficult to get to.
If you are going out of season you may want to take your pack lunches and drinks because you won't be able to find open restaurants around all beaches.
Another essential are the Swimming Beach Shoes. Many of Corfu beaches have stones which makes walking with bare feet very hard and painful. Don't compromise your joy at the beach and get a pair of water shoes for the whole family.
They are more expensive to buy at the location. We also found some of best sandy beaches in Corfu, which are in our list below.
Map of the top beaches in Corfu
While we were there we visited many places and beaches. Below are the top 10 beaches in Corfu and some other great ones too. Click on the map to see the exact location.
Best beaches in Southern Corfu
It is one of the most active and frequented beaches on the island, popular among the British. It is fully equipped with tourist amenities.
A very large beach with golden sand in the southwest part of Corfu.
This area of the island can be very windy and it is perfect for sports such as windsurfing. In the central area of the beach you can several tavernas and sunbeds facilities.
Issos is a long beach on the Southern part of the island. Crystalline waters and soft sand dunes wait for you there.
There is also plenty of tourist facilities such as parking and various beach equipment.
Best Secluded Beaches in Corfu
Mirtiotissa or Myrtiotissa beach is absolutely stunning but BEWARE! It is a nudist beach.
One of our Instagram followers recommended this beach but forgot to mention that it was a naturist beach! We searched through the images on google and decided to check it out!
We did not notice the NUDIST signs on the way down – in the paving, painted on the rocks – (but we saw them all on the way back up! They are there for anyone to see). Paralia Mirtiotissa is a secluded beach in Corfu. The walk down is quite steep but not too bad.
It is beautiful, probably one of the most beautiful beaches in Corfu, hidden by the mountains around. It is a sandy beach with rocks in the sea and a wonderful view if you don't mind the naturalists around.
Despite the initial surprise we spent a few hours enjoying the beach. Even though it was out of season there was someone there selling beers and hiring umbrellas.
The paradise beach is a beautiful cliff beach in Corfu that is accessible by hiring a taxi boat who will leave you there and come back a couple of hours later to pick you up.
Though the surrounding is amazing it is not a child friendly beach as the water gets deep really quickly and there are no amenities such as toilets and restaurants.
This secluded pebbly beach is perfect for swimming though with its crystal clear seawater.
Popular beaches in Corfu
The Glyfada beach in Corfu is a very popular sandy beach just about 16 km west of Corfu Town.
It is beautiful and full of conveniences for travelers such as sunbeds, umbrellas, shops and taverns. Very popular among the young crowds.
Paleokastritsa beach, Corfu
This beach was great – the busiest one we found during low season. No wonder it was quite busy; sandy/rocky beach looking out on a bay surrounded by steep rocky inclines.
Very beautiful and easily accessible with lots of parking spaces and restaurants around. There is a monastery nearby which is worth visiting too.
Agios Georgios beach in Corfu is located in northwest Corfu, about 40kms from Corfu Town.
This beautiful resort is tucked away in this horseshoe shaped bay and is suitable for families with small kids, couples or anyone who wants to enjoy a relaxing place with beautiful views.
There are two small beaches separated by a land. This one we actually didn't visit unfortunately – but we had marked it to visit as it looks fantastic!
It looks like quite a walk to get there (around 30 minutes) but seems from the pictures to be worth it. In this post here you can see the instructions on how to get there.
Beautiful beaches in the North of Corfu
This is around the next corner and is an amazing long stretch of partly developed and partly undeveloped coastline. Great if there is sun and no wind and probably a good place to stay near in the summer.
It is a long sandy beach in Corfu (there aren't many it seems) but when we were there it was too windy so we didn't spend much time before moving on.
Kalamaki beach Corfu (Apraos beach)
Kalamaki is a long beach with shallow waters which is perfect for kids to swim. A very beautiful place to solo or couple travellers to see too. There is a long wooden pier in the water.
Best beach in Sidari Corfu
This place is amazing. A bit difficult to find but with google maps you can find anything these days.
The coastline geology is amazing and appears to be layers of soft mud that makes you wonder how it has not eroded before now, being next to the sea. Well worth a visit and surely a good place to stay near come summer time.
Best beaches in East Corfu
A Stony beach – very quiet with a blue lifeguard tower. Land for sale there to build your dream house on the sea. Stunning!
A little fishing village with boat hire.
A bit further down the coast you have this great little stony beach, which is home to the Durrell family white house – Gerald Durrell was the famous author of 'My family and other animals' and other books which hilariously describe his childhood here in Corfu, which was the inspiration for the famous series The Durrells in Corfu.
We also enjoyed a few hours on this beach. I can imagine it is not easy to park here in the summer. There are bars/restaurants around this beach.
Nisaki or Nissaki beach a tiny little beach, with a restaurant and dive centre (which were closed when we were there) with not many places to park.
As we got back in the car it would not start and we feared being stranded there with no-one around.
Fortunately, it was just a loose connection on the battery negative terminal (which they disconnect during the winter period when no-one is using the cars) which had not been properly re-tightened.
Beautiful pebbly beach with clear water and facilities such as sunbeds, umbrellas and watersports. You have the opportunity to rent a boat here.
A beautiful little beach with access down a VERY steep and narrow hill – you need to have the guts to do it (and enough umph in your car to get back up again!). But it is worth it.
We parked on the beach and had the beach to ourselves for the afternoon.
Best beaches near Corfu Town
Ipsos beach was the last beach we visited on the east side of the island moving south. This is a long stony beach about 1,5 km long with a few jetties and a small marina.
There is a long straight road with the sea on one side and restaurants and apartments on the other.
Dassia is a very popular beach for families with many hotels, tavernas and bars along the seafront road that cater for every taste.
It is located between the villages of Gouvia and Ipsos and you will see its long promenade when driving from Corfu town to Kassiopi.
It consists of sand and pebbles and it is safe for swimming.
Check out our best travel destination for families!
---
So this just gives you an idea of the beaches you will found around this gorgeous Greek island, Corfu!
Don't forget to buy and take your water shoes for walking and swimming in the beach – they will save your feet. Most of the beaches were fairly rocky, and some almost un-walkable without shoes.
If you wish to see something other than beaches in Corfu try visiting Old Perithia up in the hills. The drive is lovely and brings you to an old civilization in the hills that hid here from pirates in the olden days. The views are spectacular and it is well worth a visit.
Other Greek island articles you will enjoy!
PIN FOR LATER!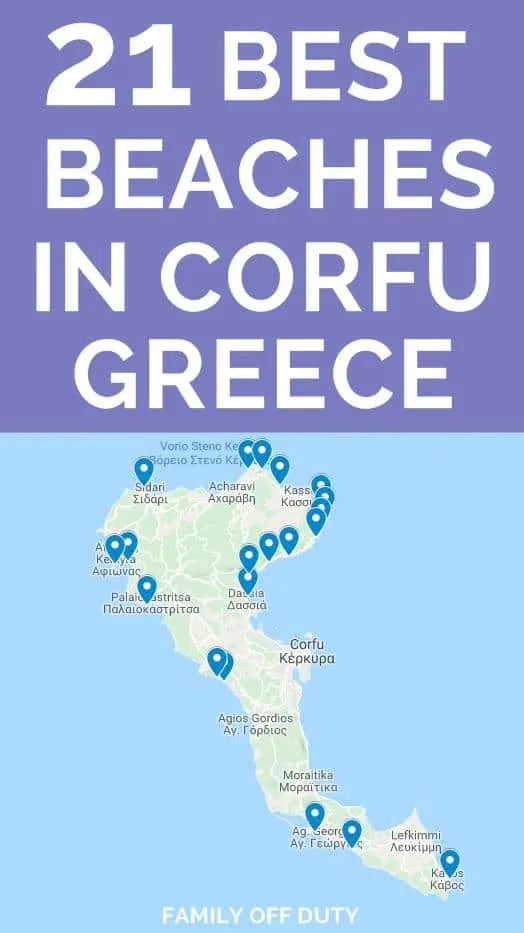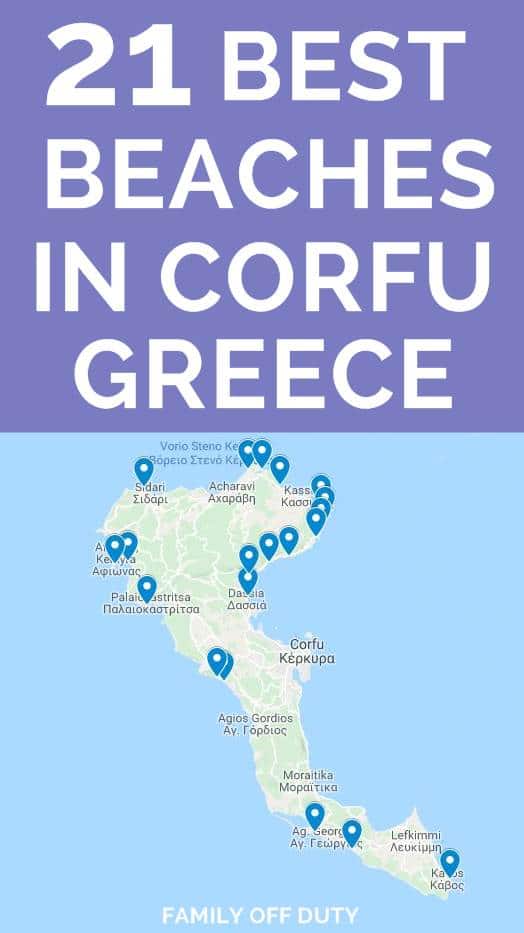 Top 10 beaches in Corfu