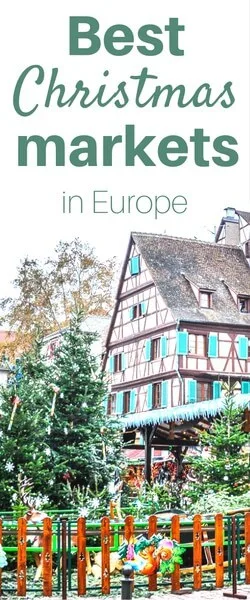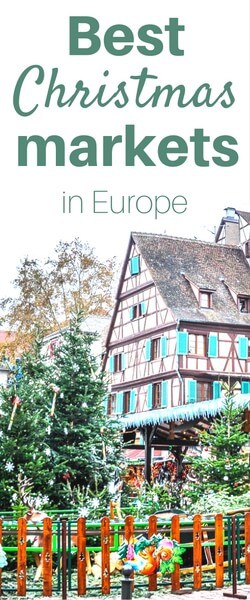 Christmas in Europe is just magical! End of November or beginning of the December it is when Christmas markets season starts.
It is our favorite time of the year because there is so many Xmas markets all around! Food lovers can feast on delicious seasonal artisan food products, while drink lovers can sample a hot chocolate, craft beer, apple cider or mulled wine.
And for the kids? There is plenty for them to see, do and eat! We make it a lovely family day out when we visit a Christmas fair.
Europe is known for having the best Christmas markets in the world. With cities beautifully decorated for the season.
How can you resist those cute Christmas stalls, amazing food, drink and the pretty decoration that includes the smell of pine, Christmassy lights and warmth atmosphere to get you into the spirit of the season?
Plus it is a great chance to get your Christmas shopping done from the local makers and to enjoy all the entertainment available in the Christmas fair.
If you are planning Christmas breaks in Europe you just got to visit as many Xmas markets as you can! You can have weekend breaks or even go on a European Christmas market tours.
What can be better than a Christmas market holidays? Think of all the yummy European treat you can taste, from Belgian chocolate to French crepe and German pretzels… and this is just the start!
If you are wondering what are the best places in Europe for Christmas fair, we've got you covered. To get you into the festive season we made a list of European markets that will wow you!
More Family Travel inspiration in this section here!
Best Christmas markets in Europe
German Christmas market
You are never short of options for German Xmas markets (Weihnachtsmarkt). Here are some of the best Christmas markets in Germany.
Berlin Christmas market at the Gendarmenmarkt.
Dresden Christmas markets
Nuremberg Christmas market at the Christkindlesmarkt
French Christmas markets
Some of the best Christmas markets in France.
Strasbourg Christmas market
Marché De Noël La Défense
Lille Christmas market at the Grand Place de Lille
Best Christmas markets UK
Winter Wonderland at the Hyde Park – London
One of the best Christmas markets in England.
Bath Christmas market
Birmingham Christmas market
Edinburgh's Christmas
Belfast Christmas market
Austria Christmas market
Best Christmas markets in Austria.
Vienna Christmas market at the Rathausplatz
Belgium Christmas markets
Bruges Christmas market
Brussels Christmas market at the Grande Roue de Bruxelles
More European Christmas markets
Tallinn Christmas market
One of the most charming Christmas market around and definitely a favorite thing to see in Tallinn, Estonia during the winter.
Related post: Visit Helsinki, the Christmas city
Prague Christmas market – Old Town Square
Copenhagen Christmas market
Warsaw Christmas market
So, what do you think about our list? Do you know any amazing European Xmas market? Let me know in comments below.