We all want to have a successful family vacation, right? On top of parent's priorities are places with enough range of activities to keep the children occupied, child friendly holidays events and restaurants and of course interesting places for the parents to visit too.
But how to know before hand if countries you haven't been before are good family holiday destinations without spending hours searching and reading all the confusing advice?
These destinations here might just do the trick. While it can be hard to please every family member when deciding on the best places to go with kids, you can trust this advice.
Our selected list was put together by top family travel bloggers, who have extensively travel with their children. Here are their best vacations for kids.
Our entire list comprises 40 plus destinations including the safest countries, culturally diverse places offering something for people of all ages and types to enjoy. But that is a lot of countries for you to digest in one go so we separated them by regions!
In this first part of the Best Family Holidays Destinations series we will introduce you to the countries in Asia and Oceania region. The next blog posts of this series will give you the list for best countries to visit with your family in Europe, Americas and Africa.
To check out the best destination to travel with kids in Europe you can read this blog post. For the best family-friendly destinations in the Americas, check here.
Read our best Family Travel posts here!
Check out our list below and book your next trip!
Best family destinations in Asia and Oceania
We have added Asia and Oceania countries in this section. Of course you will find amazing destinations at the largest continent on the planet. Here we cover the best resorts in Asia and Australia for family beach holidays and cultural spots. From metropolitan cities to stunning nature, from theme parks to cultural and religious sites, travel destinations in Asia and Oceania region will suit all kinds of traveller families.
Jordan
"Jordan was the first country we travelled to as a family of four. We haven't beaten it yet! Jordan is an absolutely stunning country. It has incredibly preserved ruins; from the famous Petra to the lesser-known Roman ruins at Jerash and Amman. There are also many Crusader castles to explore. It was also very interesting visiting the Biblical sites in Jordan, like the beautiful mosaic church at Mt Nebo. Jordan's scenery is also amazing. When we travelled there we weren't prepared for how beautiful it would be. Huge valleys or wadis, run through the country so that around almost every corner is a stunning view. Wadi Rum in particular is a very special place. Kids will love spending a night here in tents under the stars. Trekking through the desert on a camel to our camp is one experience our kids won't forget. Don't forget the beach, either. Down at Aqaba you'll find luxurious hotels on the Red Sea, one of the best places in the world for snorkelling and scuba diving. The Dead Sea is also a really fun experience (although perhaps not suitable for small kids!). But what really made our trip to Jordan extra special was the welcoming, friendly people. We felt safe at all times. The Jordanians were so kind, helpful and wherever we went calls of "Welcome to Jordan!" followed us. We're already making plans to return."- Emily, Kids and Compass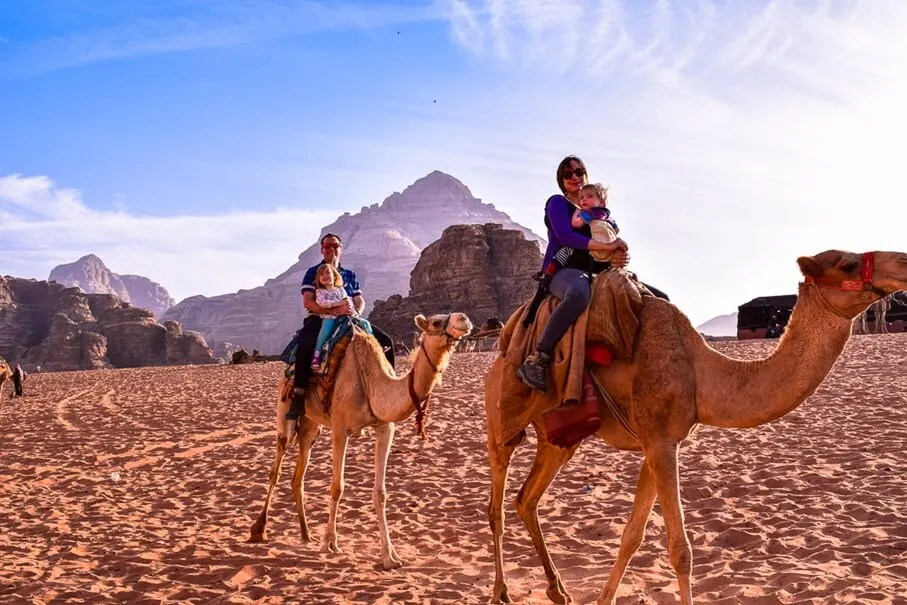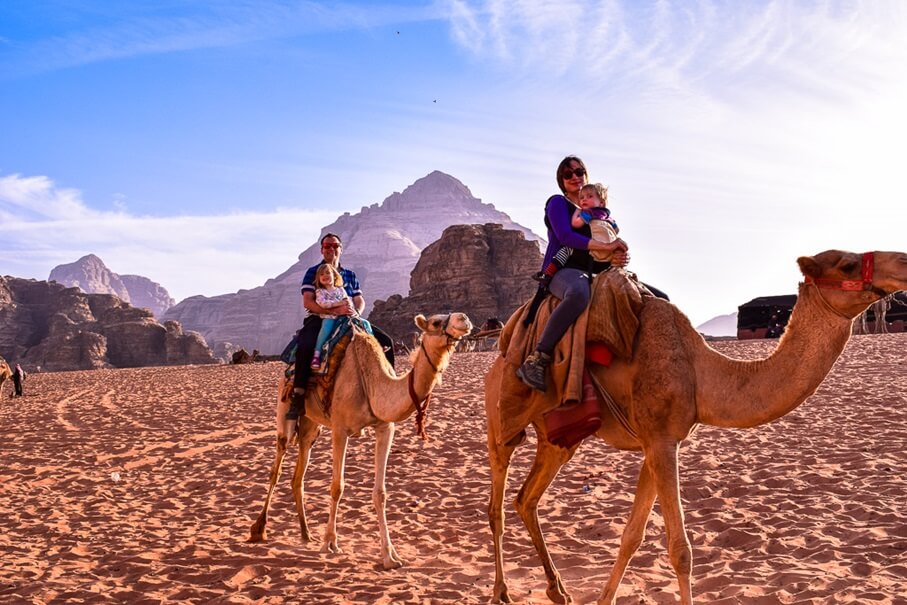 Recommended reading: Jordan with kids
Indonesia
"Being from Perth, Indonesia, and more specifically Bali, has become our home away from home. Its only 3 hours to fly to Bali and ridiculously cheap for us to fly there! We love everything about holidaying with our kids in Indonesia and here some reasons why. 1) They LOVE children: Balinese absolutely adore children. At restaurants staff will happily come and take your baby for a walk or play with your kids so can you can relax and finish your meals. They especially love little blue eye blonde hair children! 2) It's cheap: There is nothing better than going on holiday and not having to worry about how much your meals are going to cost and feeling like you have to scrimp. A kids meal in Bali on average will cost around $5 and a nice plate of nasi goreng around $7! And the shopping!!!? You can spend hours wandering the markets and picking up cheap apparel, sounveniers and beautiful home décor! 3) Relaxing: There are SO many resorts in Bali and most are a haven for kids. From huge pools, waterslides to kids clubs, Balinese know how to look after kids! 4) Scenery: Indonesia is absolutely beautiful. From waterfalls, rice paddies, temples to beautiful beaches, every part is so different and there is so much culture to immerse in. I guarantee you and your family will love Indonesia. We intend to explore more areas than just Bali in the next few years as there are so many amazing places to see!" – April, Globetrotting Grommets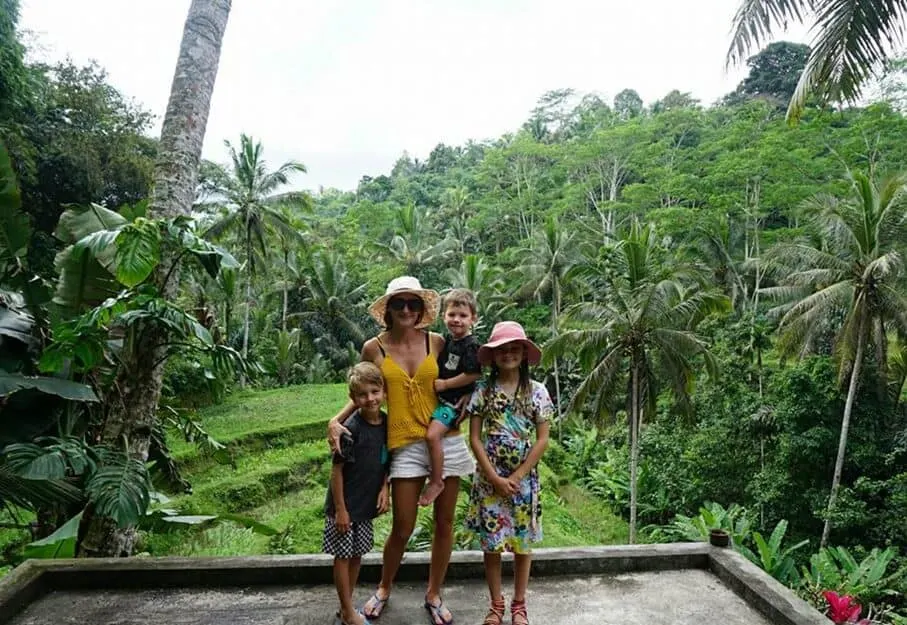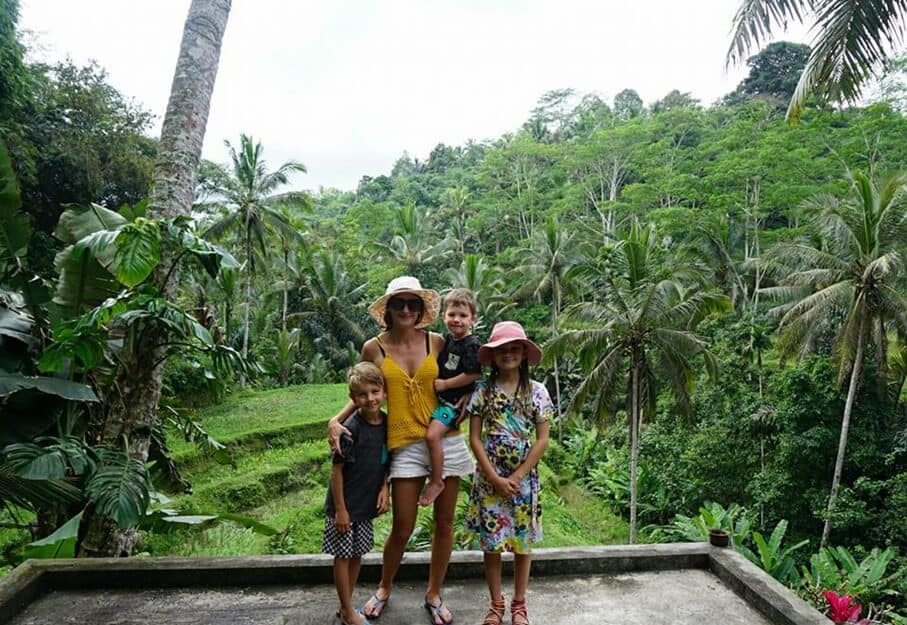 Recommended reading: North Bali with kids
Japan
"Japan has to be one of our favorite places we have travelled as a family because of just how family friendly it. From amazing changing tables, ease of public transport and accessibility of the main tourist sites, Japan is one of the easiest places we have travelled to as a family. Before we went we had been a little worried about food but Japanese food is so much more than sushi and our little one loved noodles, ramen and katsu but there are plenty of western restaurants for fussier eaters. But perhaps the biggest hit with our little one was the fact there are not only one but two Disney parks in Tokyo, perfect for if you are all shrined and templed out. Japan has to be one of our favorite family travel destinations and we can't wait to go back again."- Leona, Wandermust Family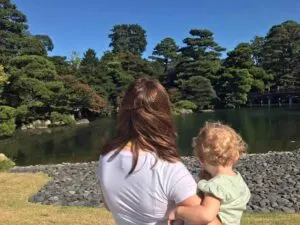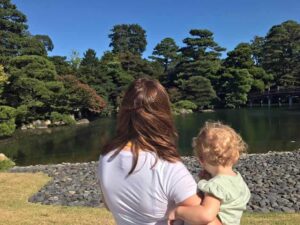 Recommended reading: Japan with kids
Australia
"One of the safest countries in the world (coming in at number 12 on the Global Peace Index 2017), Australia is a place where adults and kids can equally enjoy a family holiday. Famous for its unique wildlife and bush landscape, a trip Down Under will see the kids meeting koalas and kangaroos, swimming and snorkeling at white sand beaches, trekking through the bush and generally getting their vitamin D fill enjoying the great outdoors. As well as being famous for its diverse landscapes and cute creatures, Australia is has vibrant cities such as Sydney, Perth, Melbourne and Brisbane, with high quality art galleries and museums that cater well to kids. Kids are well catered to with activities, events, playgrounds and cultural exhibitions specifically designed to engage and educate young minds. Australia also has a fascinating indigenous, convict and immigrant history to explore, with sites of historical spread across the country. Its multicultural population is evident particularly in its capital cities, where visitors can enjoy delicious food from all over the world." – Christine Knight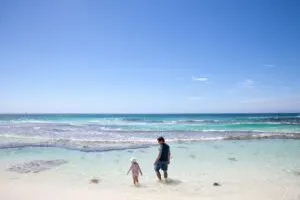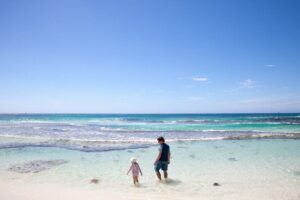 Recommended reading: Best of Sydney for kids
Sarawak, Borneo
"The Island state of Sarawak, Malasysian Borneo is where you and your kids can get back to nature and enjoy the simple things. Cruising along the Sarawak River discovering wild proboscis monkeys, small crocodiles and mud skippers will have your kids engaged with the world around them. Watching orangutans swinging in the trees at the Semmongoh Wildlife centre morning feed is the perfect morning activity while heading back for the pool time in the heat of the day. In the evening the Kuching riverside is the place to be to watch the sunset, stroll along the river and enjoy a local dinner at the family run restaurants on the riverbank. Kuching is like stepping back in time and the perfect place for families who like to explore and adventure in a safe and slow-paced city."- Bron, Smiths Holiday Road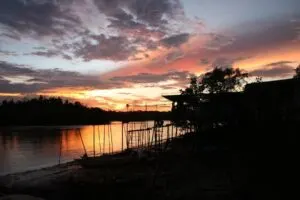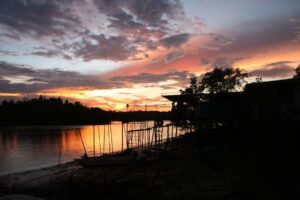 Recommended reading: Visiting Malaysian Borneo with kids
China
"My six-year-old daughter and I had the most adventurous, surprising, mystical and rewarding time traveling through China together. We love it so much we have returned three times so far and have many more China adventures ahead. China is a beautiful country with stunning protected nature, ancient temples and tradition, friendly people, delicious cuisine and a transport network that makes it easy to get around this vast and diverse land. It is also where we found our favourite hostels – clean, modern and chilled, very affordable and offering family rooms. Highlights for us include traveling down the Yulong River on a bamboo raft in Yangshuo, climbing the Avatar mountains in Zhangjiajie, camping on the Great Wall of China, visiting Shanghai Disneyland, the beauty of West Lake in Hangzhou and the lakes, waterfalls and mountains of Jiuzhaigou National Park and seeing the Giant Pandas in Chengdu. We devoured trays of xialongbao, shallot pancakes, kung pao chicken, steamed buns and hot pots from street vendors and local restaurants, and were cared for and offered fruit and gifts from local people we met. Many people think China is very industrial and busy – and some of the big cities are. But if you leave the cities you will find villages untouched by the modern world, amazing temples religious rituals and some of the most beautiful and unique natural wonders in the world." – Evie, Mumpack Travel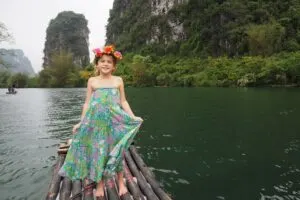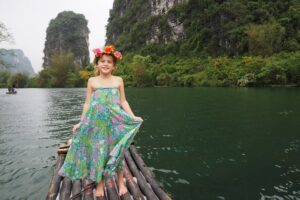 Recommended reading: China with kids
New Zealand
"New Zealand is one of the most spectacular places on earth to explore with kids. With two islands to navigate, road tripping is the easiest way to get around and days can be filled with visits to real life Hobbit's Villages at Hobbitron to digging out our own natural spa pool on the beach at low tide at Hot Water Beach. It is a diverse and exciting country that has boundless activities, parks, beaches and mountains to discover. Our favourite adventure is through the South Island where amongst countless other things, two of the worlds most accessible (read kids can conquer these guys too) glaciers can be found – San Josef and Fox Glaciers. A gorgeous drive down the West Coast to Queenstown, also known as the adventure capital of the world where kids can bungy jump, ride through canyons on jet boats, pan for gold, hurtle down a mountain on a luge ride and visit the very places where Lord of The Rings were filmed. New Zealand is great year round, but winter is our favourite time with after dark skiing under lights at Coronet Peak, ski all day lessons at the Remarkables Kea Club for kids aged 5-15 and the most beautiful winter village atmosphere sprinkled with roaring fires, mugs of mulled wine (adults only) and s'mores, hot chocolate and New Zealand's famous sweets all on offer. What is not to love right?" – Narelle, A Little at Large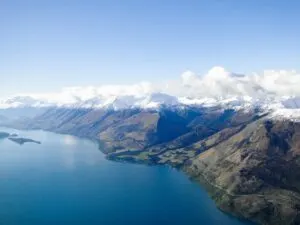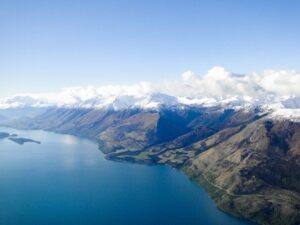 More of A Little At Large adventures here.
Read our Family Friendly Destinations posts in this page!
Singapore
"Having been to quite a few Asian countries, I have to say that Singapore is one of my favourites. Its easy to get around on the MRT and trains run regularly every few minutes. Its very clean and organised and I always feel very safe in Singapore and most, if not all, people speak English making communication so much easier. Best of all there is so much to do with kids! Singapore Zoo is one of the best in the world and the Night Safari is a one of a kind to view nocturnal animals. Universal Studios Singapore is great for kids of all ages and KidZania is a great opportunity to experience role playing in real life jobs. Gardens by the Bay is spectacular by day and night and if you time it for dusk you'll get the best of both worlds! Singapore food is a fusion of tastes for your taste buds, take your pick from Malay, Chinese or Indian, they do all three so well and make sure you experience eating in one of their hawker market places of authentic food. Visit Little India and Chinatown for some more great food and a little history. Make sure you do some shopping on Orchard Rd, Singapore has everything techno you could possibly need. I love Singapore and I'm sure you will too." – Sally, Our 3 kids vs the world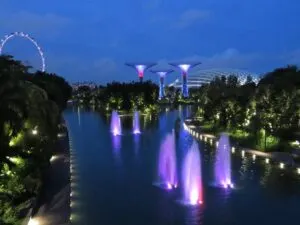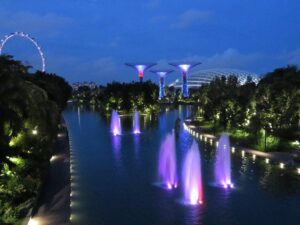 Recommend reading: Universal Studio in Singapore
Sri Lanka
"Sri Lanka is probably our favourite travel destination to date, and we've been to a few! Pristine beaches, ancient temples, wildlife safaris and lush highlands are all compacted into a relatively short space, meaning you only really need to travel a maximum of 3 hours between places. This made travel with our 2 and 3 year old boys very easy. They particularly loved the trains (our favourite stretch was between Ella and Haputale), but if the tracks didn't take us where we wanted to go, we would opt for a tuk-tuk (fantastic fun!) Highlights included jumping in the waves on remote Eastern beaches, climbing Little Adam's Peak near Ella (our boys managed all the steps themselves!) and seeing the elephants in the wild at Udawalawe National Park. We found the locals to be extremely warm and welcoming and the food was divine! Our boys didn't really take to the spicy food, but they loved the hoppers (a bit like a pancake in the shape of a flying saucer) and the vast array of tropical fruits. Plus, with a fantastic variety of family friendly accommodation, the fact it's relatively cheap, the easy application process for visa and no malaria, Sri Lanka is a big recommend from TraveLynn Family!" – Jenny, Travelynn Family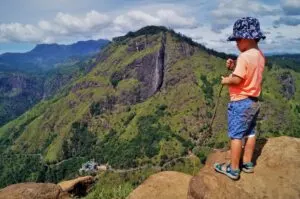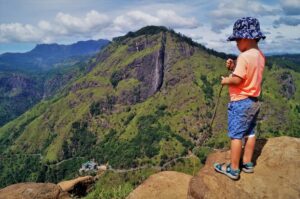 Recommended reading: Sri Lanka with kids
India
"India isn't the first destination that comes to mind for families looking for an adventure, but it should be! India is the perfect destination for families because it offers top notch accommodation at lower costs in a culturally rich country with mind blowing experiences. India is a stimulating and vibrant environment filled with fantastical stories and myths that beacon families to expand their views of the world. From bathing with elephants in the lush tropical jungles of Kerala to being wow'd by the architecture of the Taj Mahal to meditating with monks in the Himalayas, there is something for everyone here. Get your fill of Bollywood in the chaotic streets of Mumbai before heading to the beautiful beaches of Goa to relax and refresh. With it's amazing history, beautiful animals, colorful festivals and delightful food, India is truly a dream for families looking to get out of their comfort zone and fully immerse themselves in another culture. And to top it off, Indians absolutely adore children, going out of their way to make their stay just perfect." – Karilyn, No Back Home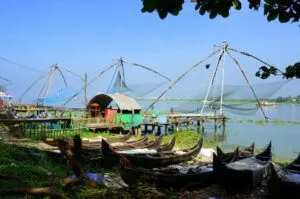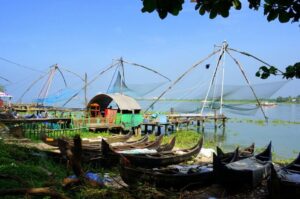 Recommended reading: India with kids
South Korea
"Why would you want to go to South Korea? Seoul, the capital of South Korea, is by far the biggest city in Korea, yet it is surprisingly easy to get around thanks to the subway system. There are elevators in all stations but you may run around with your stroller looking for them. They open to enormous underground shopping malls. The historical museums include the royal palaces, with the changing of the guards at Deoksugung palace every day at noon. The guards are actors, although that in no way diminishes the flair by which they execute the 400-year-old ceremony. There are modern toilets and changing rooms in all the parks, museums and other attractions. Finding diapers and baby goods is harder. The brands tend to be local and text in Korean only. The easiest way is to go to one of the huge supermarkets. You can stay in a traditional guest house. Most of them have family rooms, even if you have to sleep on mattresses on the floor. Traditional Korean houses had floor heating. Korean food is not exactly known for its subtle harmonies, but there are non-spicy options. The dumplings, called mandu, are not spicy unless they are red. Samguetan soup is another safe option." – Wisterian Watertree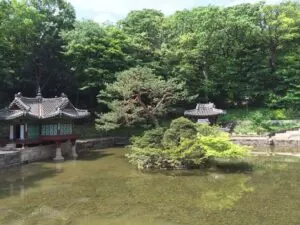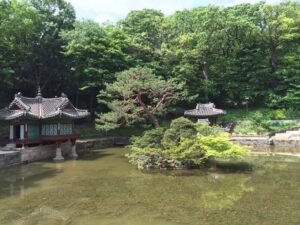 Recommended reading: Seoul with kids
Check out our Toddler Friendly guide to Kids Café in Seoul!
Thailand
"Thailand is the perfect travel destination with kids. Everything in Thailand is exotic – the food, the language, the people, the temples, the animals, and even the toilets! Thailand isn't known as The Land of Smiles for nothing. The Thai people are friendly and love children. From exploring the exotic floating markets, to caring for elephants in Chiang Mai, snorkeling the beautiful Similan islands, visiting temples everywhere, eating mango sticky rice from street (and boat) vendors, hiking the seven levels of Erawan Falls in Kanchanaburi, rock climbing on Railay Beach, riding in tuk-tuks, getting $8 massages, watching snake charmers risk their lives with King Cobras, celebrating Loi Krathong, and relaxing on pristine beaches, the family-friendly adventures are endless! The best months to visit Thailand are between December and March, which make it an ideal destination for Christmas break or spring break." – Kellie, 4 Worn Passports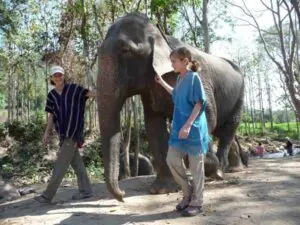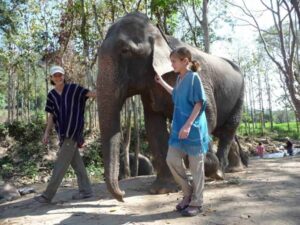 Recommended reading: Family Snorkeling in Thailand's Similan Islands
Mongolia
"Arriving into Mongolia on the Trans Siberian Railway from Beijing was one of those moments I will never forget. Watching out the window as environment turned wide, green and flat with small white dots covering the landscape. Spending time living in a traditional Mongolian Ger is an amazing experience as a family. We lived amongst nomadic families who were here for the Summer. Riding horses across the river, hiking up to far hidden temples and enjoying dinner by candlelight inside the Ger. With no water or electricity and a toilet outhouse we were able to reconnect with nature and with each other. Not only did we learn about the Mongolian culture and living more simply we learnt about each other and what we can do when put in different situations. We discovered strengths we didn't know we had. The kids learnt how to build and start a fire by collecting animal dung. They learnt how to collect water from the river and heat it for a warm drink. They learnt to play with rocks, grass and water and each other. We all learnt to slow down." – Bron, Smiths Holiday Road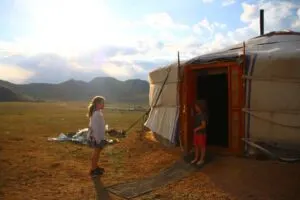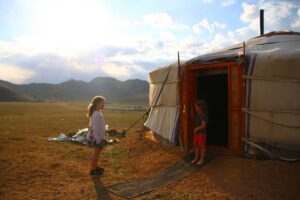 Recommended reading: Living in a Mongolian Ger
Cambodia
"While I've always had soft spot for Cambodia, I was worried that even my well-travelled kids would suffer an acute case of temple fatigue when we visited earlier this year. But with their giant stone faces and elaborate carvings emerging from monkey filled jungles, the extraordinary temples of Angkor Park in Siem Reap had my little adventurers (5) and (8) enthralled as they played hide and seek between their ancient stone walls. Of course, there's much more to Cambodia than just temples. We also explored curious floating villages and zip lined through lush national parks near Siem Reap. We were dazzled by golden palaces in Phnom Penh. We frolicked on pretty white beaches in unspoiled Sihanoukville. We sailed past pretty rural provinces along the Mekong. And we soaked up the charming riverside vibe of Battambang. Add wild rides on tuk tuks, friendly locals, food the kids loved (though we'll pass on the fried tarantulas next time) as well as extraordinary family accommodation, and we're already planning our return." – Aleney, Boy Eats World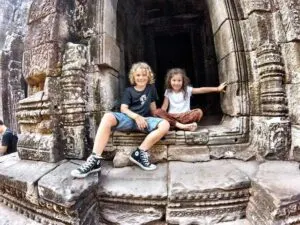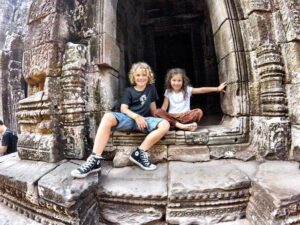 Recommended reading: Cambodian inspired food
Myanmar
"Myanmar is such a fascinating country to visit. We recently spent 10 days here and managed to fit in so many varying activities and enjoy so many memorable experiences. We visited three different parts of Myanmar –Yangon, Bagan and Inle Lake. Each of these destinations had a completely different atmosphere from the next, allowing for a really exciting and varied family vacation. In Yangon we led the kids on a scavenger hunt around the incredible Shwedagon Pagoda, in Bagan it is all about the amazing temples, while in Inle Lake we explored via long boat, visiting the local artisan workshops and taking in daily life in the water villages. We also enjoyed hot air ballooning, visiting an elephant sanctuary, learning how to make peanut oil and trying our skills at making handmade paper. Myanmar is not only beautiful but culturally fascinating too. Despite being relatively underdeveloped, we found it easy to travel around and there was plenty of choice of comfortable child-friendly accommodation." – Marianne, Mum on the Move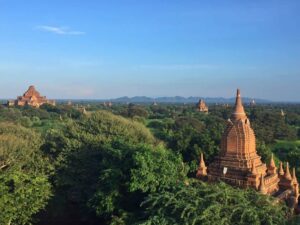 Recommended reading: Myanmar with kids
Vanuatu
"Vanuatu would have to be one of the best countries for family travel in the world. Multiple stunning islands with crystal-clear shallow water stocked with dolphins, turtles and brightly-coloured tropical fish make ideal swimming spots for families with children of all ages. Clean sandy beaches and lush green jungle interiors make these islands a parent's photographic dream and a child's ideal playground. The capital of Port Vila is family-friendly with good shopping and a beautiful central park for the kids to play in. As if all of this isn't enough, Vanuata also offers great value for money holidays for families. However perhaps the best feature of this beautiful nation is not it's natural wonders – whilst these are indeed spectacular. It's the welcoming, wonderfully caring and friendly people. Our top-tip for Vanuatu – seek out Espiritu Santo for some of the most beautiful beaches and swimming holes in the world – and best of all, they are often deserted! If you're looking for the perfect holiday destination for the whole family, Vanuatu ticks every box!" – Barbara, Let's go Mum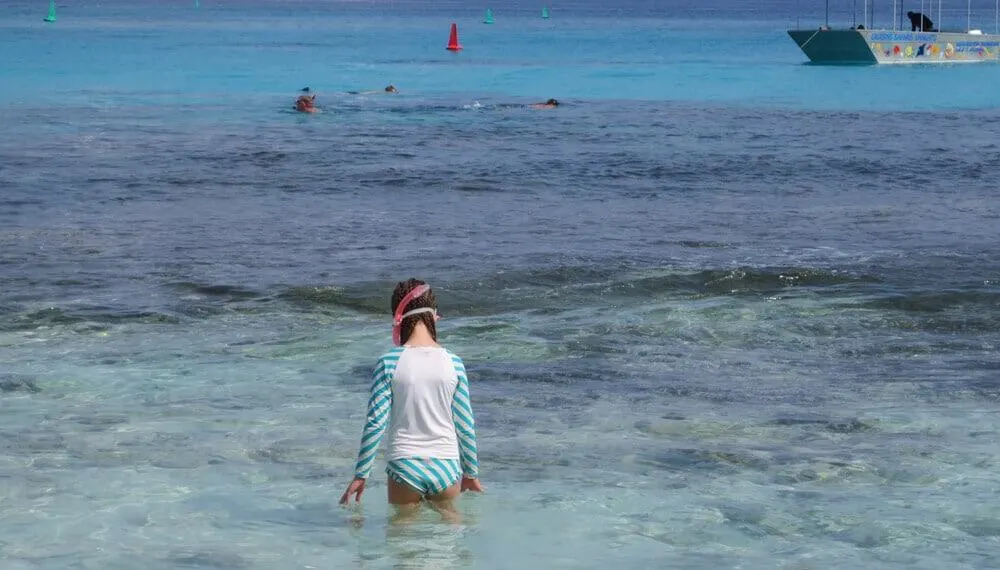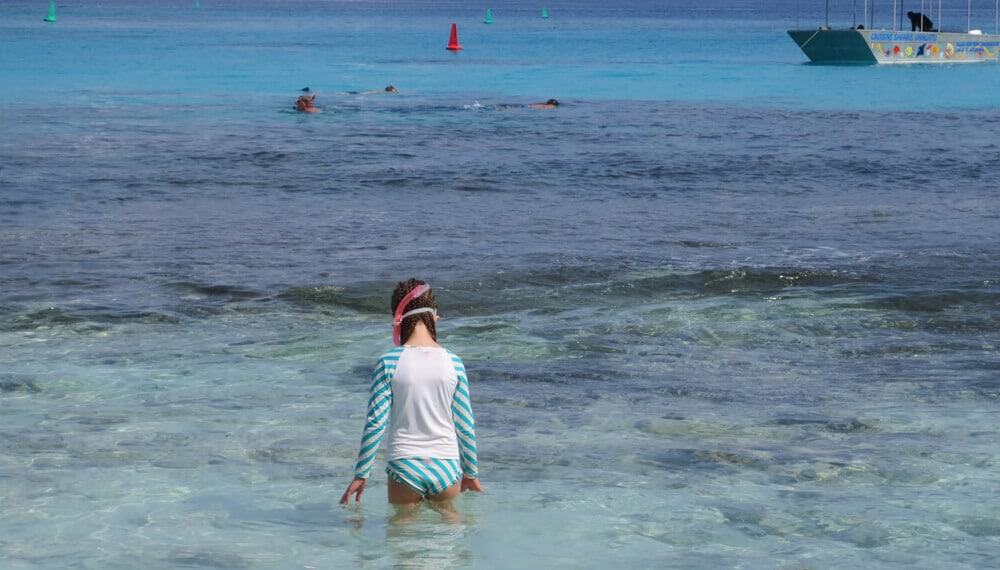 Recommended reading: Cruising with kids
Philippines
"We're a little biased because we're from here but the Philippines will always be at the top of our list as the best country to travel with kids. Why? There's lots of nature to explore, good food to taste and a colorful culture to explore. Did you know that the country is made up of more than 7,500 islands? That might make transport a little challenging but it is all part of the adventure. Plus, there's lot of water and sand and sun that the kids will surely enjoy. In Cebu, where we live, the sea, mountains and the city are literally just 30 minutes away from each other. Everything is just within reach and there's something for the family, no matter what type of activities you enjoy doing. Family is also something very important in our culture so don't be surprised if the locals are extra friendly to you when you especially when you have little ones in tow." – Pam, Hey Miss Adventure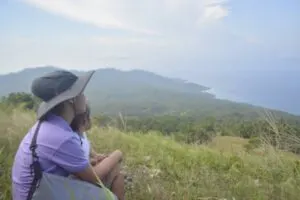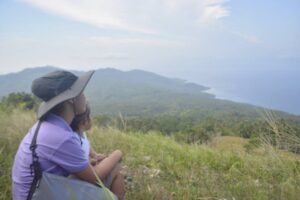 Recommended reading: Outdoor family fun around Cebu
Israel
"For such a small Country, Israel has everything our family looks for in a vacation. It is geographically compact and easy to get around. The roads are outstanding if you are driving yourself, and alternatively there is a robust public transportation system connecting every major city. Most people you meet along the way are friendly, speak English and are happy to help. In the span of two weeks you can encounter the wonders of the desert in the south, beautiful prestige Mediterranean beaches in Tel Aviv, ancient history throughout the country with iconic biblical and medieval sites, incredible nature encounters and hiking in the North. Israel is a family-oriented country. Children are welcome everywhere. The food is fresh, healthy and delicious. The hotels and vacation rentals are abundant and first class. Some of our favorite highlights from our last visit included bird watching at the Hula Valley Nature Reserve, chocolate making at De Karina, visiting the Sataf Forest goat farm and enjoying fresh cheese and local wine, taking in the sites, smells and tastes of Mahane Yehuda market in Jerusalem, and simply hanging out and relaxing on the beach in Tel Aviv. Israel is a fantastic destination for traveling families!" – Melissa, The Family Voyage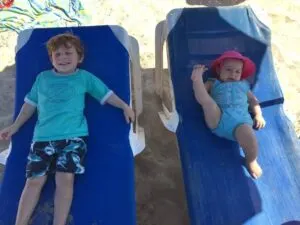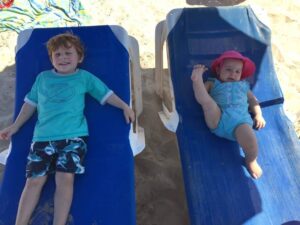 More of The Family Voyage adventures here.
And what do you think? Have a destination to add? Let me know if comments below.
CLICK HERE TO READ NOW THE BEST FAMILY HOLIDAYS DESTINATIONS IN EUROPE!