A day trip from Dublin to Wicklow mountains
Want to visit the beautiful Wicklow mountains from Dublin? Read our guide with many tips and ideas of things to see in Wicklow, Ireland.
Some of our family visitors have asked us if there were mountains in Ireland, and the answer is simply yes!
I know it is easy to associate Ireland with beautiful coast, cliffs and green landscape but Ireland does have many mountain ranges and the Wicklow Mountains near Dublin should definitely in your must visit Ireland places.
Earlier this year we were lucky enough to get tickets for the Rolling Stones concert in Croke Park in Dublin. Because we would be driving from the West Coast of Ireland, where we live, we would have a car with us, and because of the horrific cost of parking a car and renting a room in Dublin, we decided to stay outside of the city for that evening.
In the end we booked an AirBnB in the Wicklow Mountains, as we figured it was an hour's drive from Dublin and we could be back before midnight after the concert.
It was not a bad idea. In fact it turned out great, as the concert was on a Thursday night and so it gave us a long weekend to enjoy the location. However it is perfectly fine to visit the area on a day trips from Dublin.
Below I show you everything you need to know before heading to this beautiful county Wicklow as destination.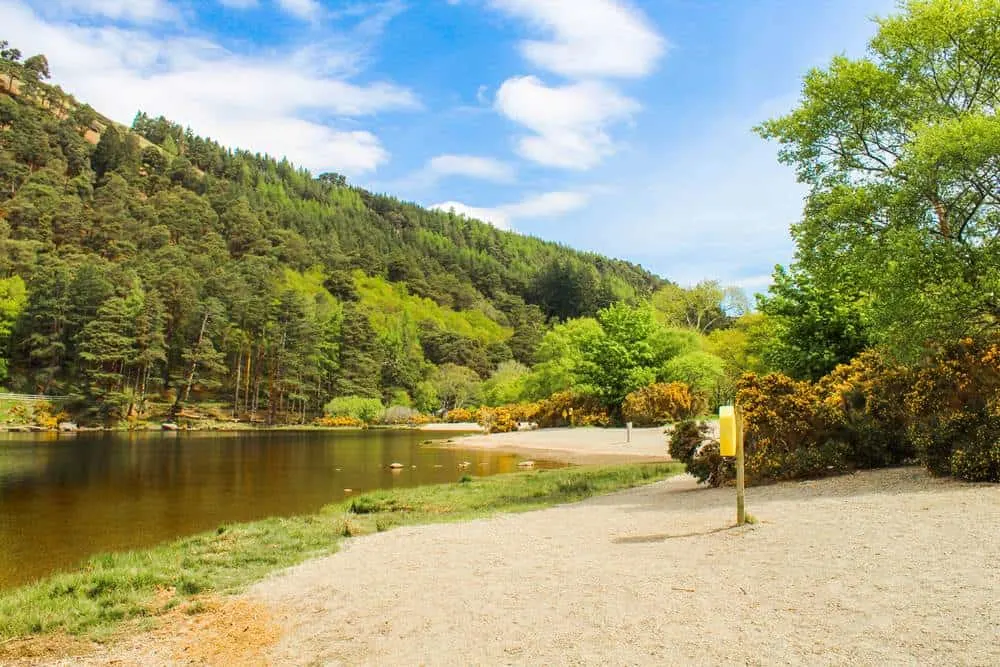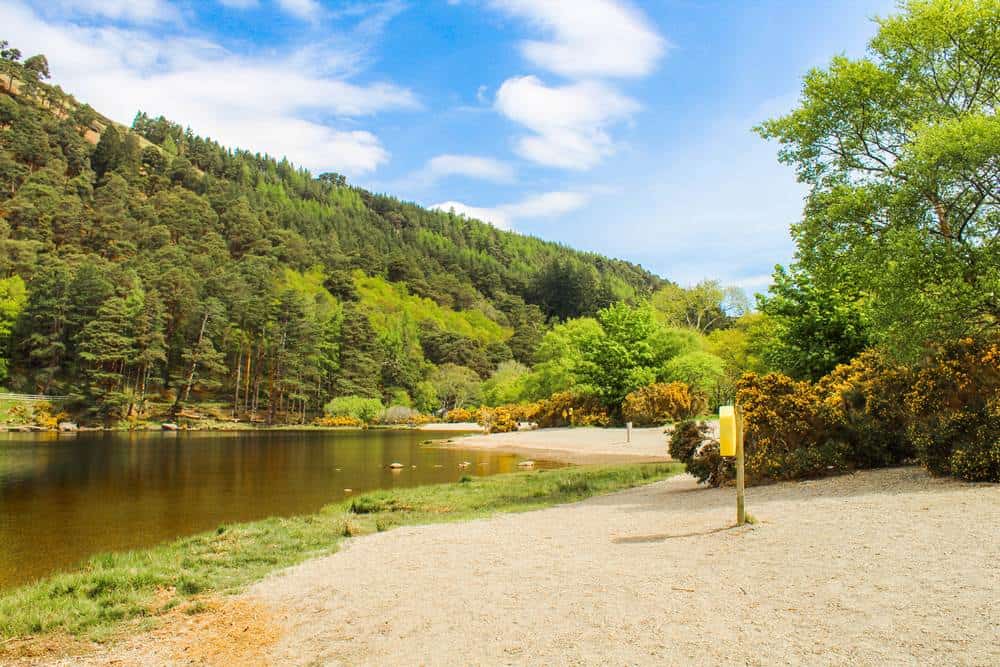 Related: Check out our 2 days itinerary for Dublin
Why visiting the Wicklow mountains?
The Wicklow Mountains are the largest area of continuous high ground in Ireland, with over 500 km2 (190 sq mi) of unbroken area with height above 300 metres (980 ft). The highest mountain in Wicklow (Lugnaquilla) is 925 meters high, and I could not help feeling I was in the peak district when driving through.
The area is home of the Wicklow Mountain National Park and its very interesting sights such as the Glendalough ("Valley of two lakes"), a glacial valley with Early Medieval monastic settlement founded by St Kevin in the 6th century.
In addition to the historic value, the area offers its visitors amazing opportunities for outdoor recreation, including walks and hiking trails (also as part of the Wicklow Way), rock-climbing and also relaxing.
The scenery is most definitely worth admiring. Here you will find some of Ireland's best lake views and most spectacular scenic drives.
County Wicklow is known as the 'Garden of Ireland' because of its beauty and diverse landscape. Here you can also find many wonderful gardens, stunning nature and woodland area all within short driving distance.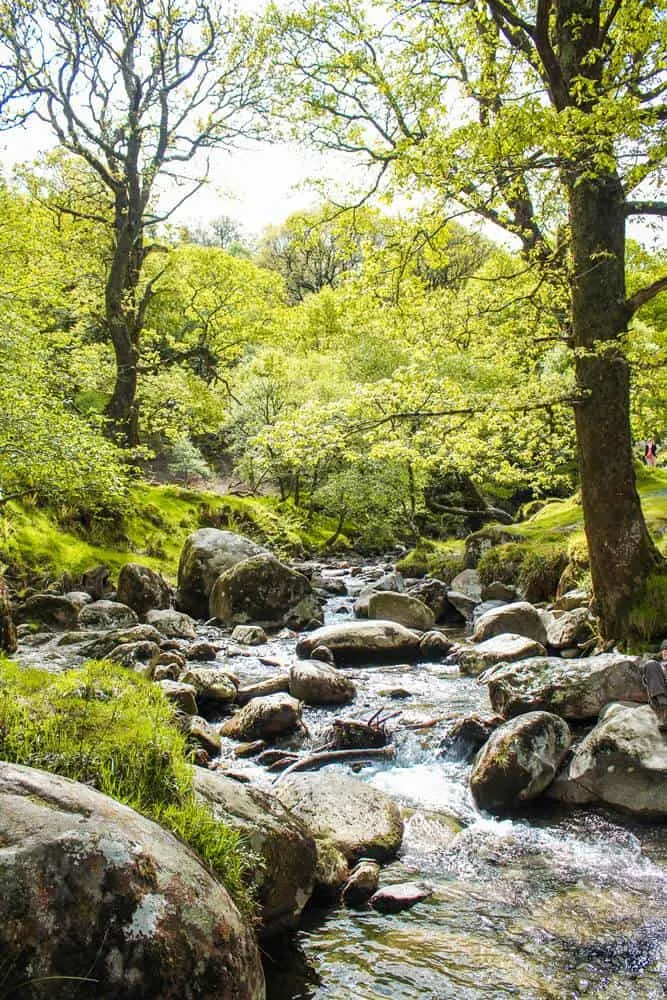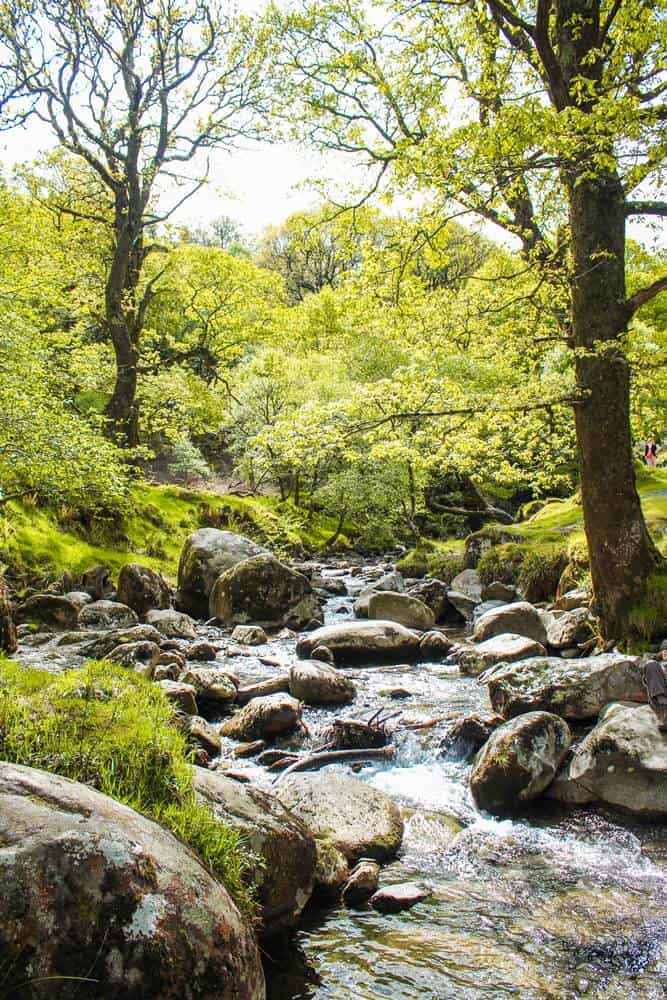 Where are the Wicklow mountains in Ireland?
The Wicklow mountains, as the name suggests, are mainly located in co. Wicklow, Ireland but also encroach on Dublin, Carlow and Wexford counties.
How far is Wicklow from Dublin driving?
It is about one hour's drive to reach the Wicklow mountains from Dublin, and it is a fairly easy drive to take. Dublin City to Glendalough is a total drive of 51 km (32 miles).
How to get to Wicklow mountains from Dublin?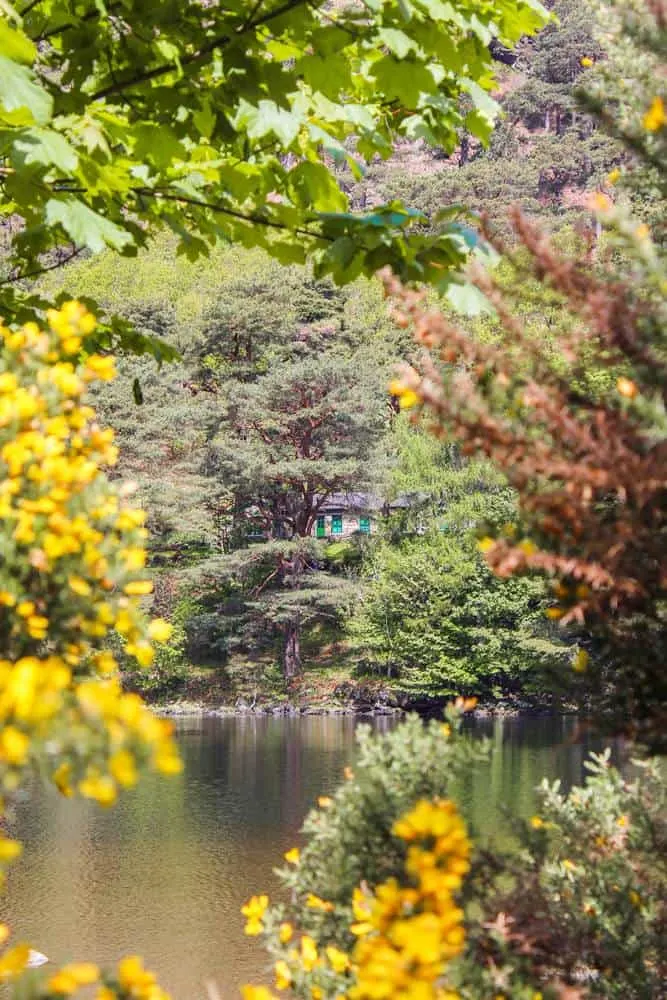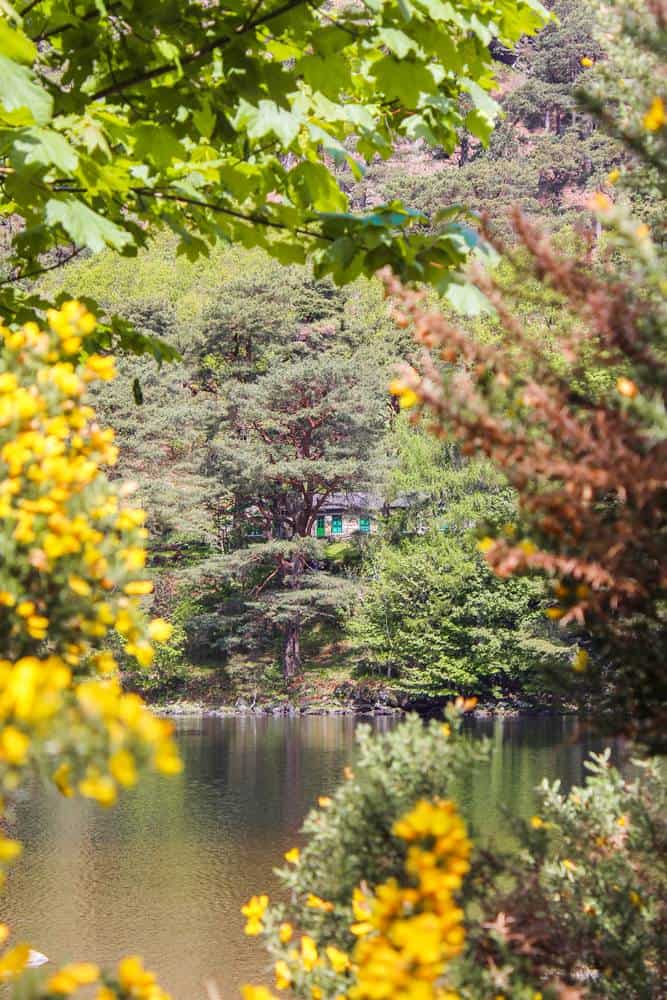 As mentioned above, the Wicklow mountains are only about an hour's drive way from Ireland's capital
There are a few ways that you can reach the Wicklow national park from Dublin and other attractions during your Wicklow day trips.
1. Wicklow mountains by car
By car is perhaps the easiest way and certainly the most flexible. It will also allow you to drive to more remote, less known sites and explore on your own time this beautiful area.
To read more on hot to get to Wicklow National Park from Dublin, check out this post here.
2. Wicklow mountains by tour providers
Many private tour companies operate Wicklow mountains tours, for a full day trip or half day trip from Dublin, in particular to Glendalough and the national park area.
Here are some ideas of day trips from Dublin to the Wicklow mountains and region:
In addition to the private tours, there is a private bus service, St. Kevin's Bus, that reaches the Glendalough national park from Dublin city center via Bray and Roundwood. Read more here.
3. Wicklow mountains by public transport
Public transportation options to visit the Wicklow mountains are limited.
Bus Éireann and Dublin Bus have service bus from Dublin to Wicklow Mountains towns such as Enniskerry, Wicklow, Arklow, Baltinglass and Blessington. There is also a train line to Rathdrum but to reach the attractions from these towns you would have to get a taxi.
Wicklow Mountain map
Here are the best attractions shown in the Wicklow Mountain map:
The Best Things to do in Wicklow mountains
What to do in Wicklow, Ireland depends on how long you for your visit. The attractions listed below we saw during a weekend away in the area.
You can still see many sights even if you take a day trip tour from Dublin or hire a car to visit for one day only. Just make sure to prepare yourself before so you don't waste time when you get there.
Check out what to see in Wicklow below:
1. Glendalough Monastic Site and Visitor Centre
The Glendalough Valley is located in the Wicklow Mountains National Park and it is home of the site of an ancient monastery.
This monastic site consists of a number of monastic remains such as the gateway, cathedral and the round tower, which just like the one is Scattery Island, is one of the most impressive monastic buildings to see.
What is the cost of visiting Glendalough Monastic city?
The Monastic site itself can be visited all year around free of charge. Entry to the Glendalough Visitor Centre and exhibition however costed €5,00 per adult at the time of visit (2018).
Please note, if you are visiting by car, that all parking in the area has a charge.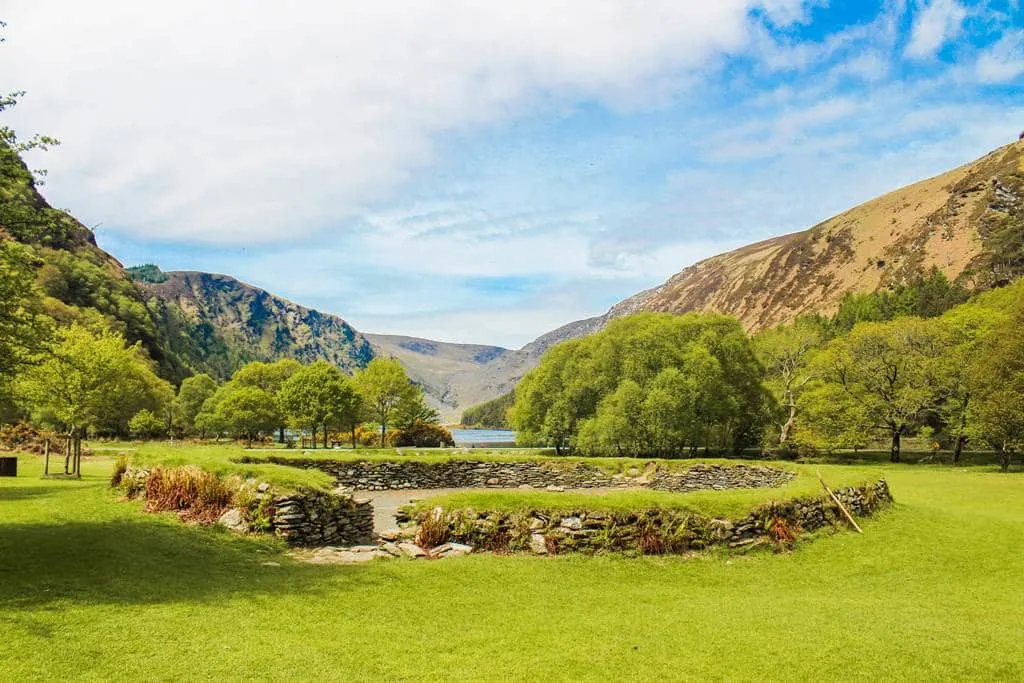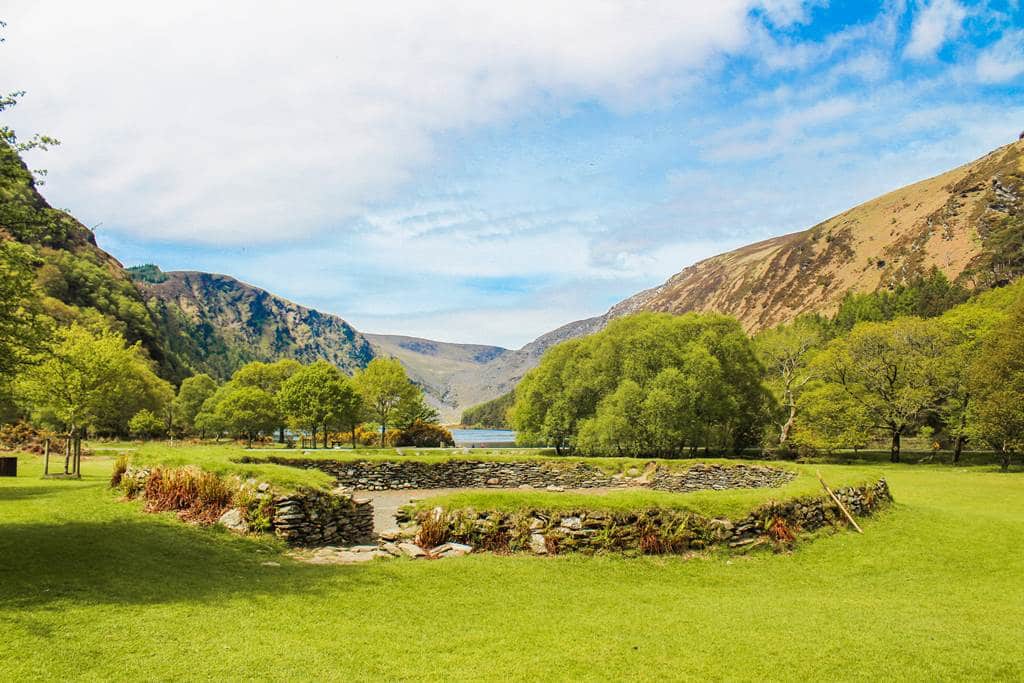 2. Wicklow Mountain National Park
Wicklow Mountains National Park is one of the six, and the largest, national parks in Ireland covering an area of over 20,000 hectares of mountain scenery.
The objective of the Wicklow Mountains National Park is history, biodiversity and landscape conservation, being that the most popular impressive place to visit is the historic valley of Glendalough explained above.
Beyond that, in this park you can expect to see wide open vistas and beautiful lower and upper lake, surrounded by mountains. Narrow winding roads, and fast-flowing streams continuing their way to lower lands.
If you have been to the Guinness Storehouse in Dublin you will hear that contrary to popular belief, Guinness is brewed not with water from the river Liffey, but with water that emanates and is piped from the Wicklow mountains.
We were able to taste water direct from the streams when we were there and it was indeed special. Clear, clean and tasty.
There are several great hiking trails with different difficulties to suit everyone. Definitely a good spot to visit if you like your walking.
You can park in the car park (there is a charge) and then walk down to the water and start one of the various hiking paths around the lake and up the hills.
There are granite cliffs above the NW end of the Valley that are a popular rock climbing location. At the end of the upper lake there are some abandoned lead mines and a miner's village about a half hour's walk from the upper lake car park.
How much does it cost to visit the Wicklow Mountain National Park?
The entry to the park and information office is free of charge. Please note, if you are visiting by car, that all parking in the area has a charge.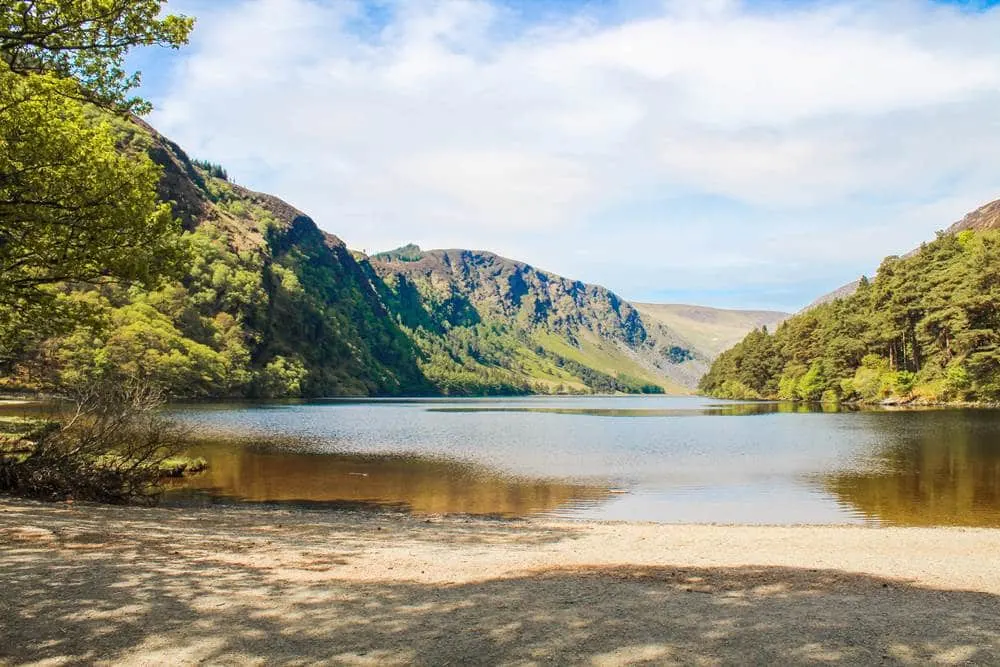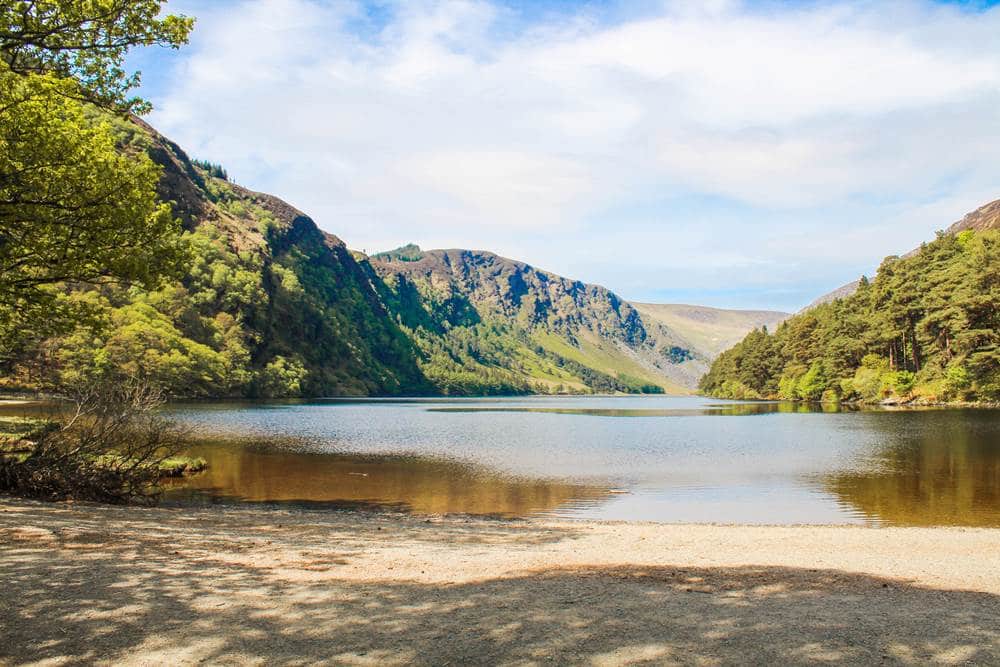 Related: Visit the Burren national Park in West Ireland
3. Lough Tay
Lough Tay, also known as the Guinness Lake, one of the most photographed location in Wicklow because of its interesting color and stunning surrounding scenery.
Although you cannot visit it without permission because it is a private property, there are 2 good vantage points from the road (R759) that offers incredible views over Lough Tay and the privately owned Guiness Estate.
The lake, with its dark waters white sand beach, looks like a pint of Guinness!
The best viewing point to the Lough Tay and the property is along the Wicklow Way R759 road. I didn't notice any sign when we visited but you see a small area of parking on the opposite side of the road (pointed as Ballinastoe Car Park in google maps), then you cross the road and take a short 20 meters walk through the uneven ground to enjoy the stunning views over the Wicklow Mountains and Lough.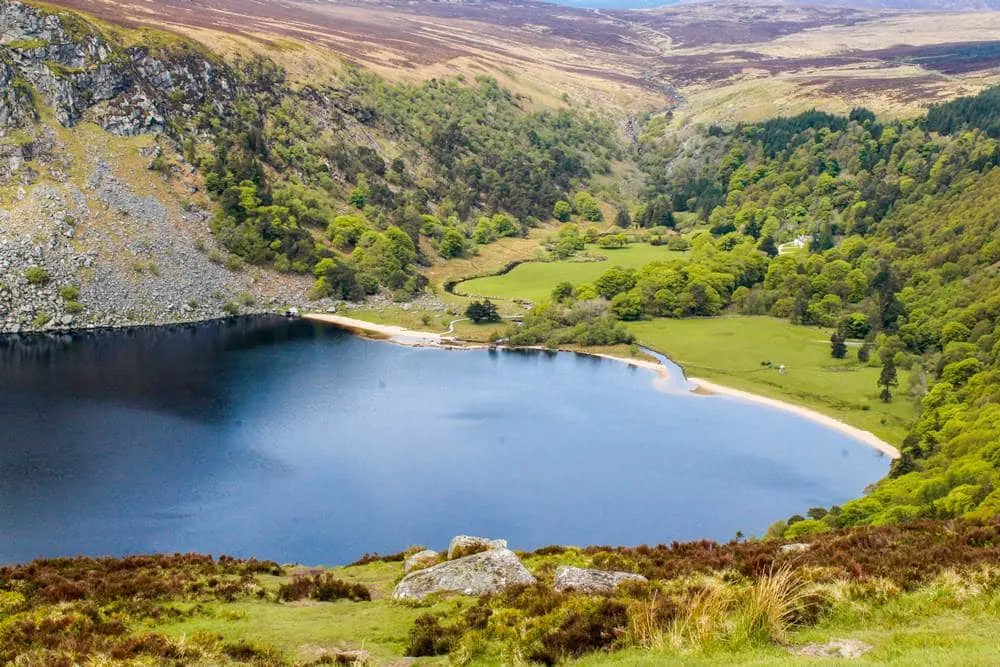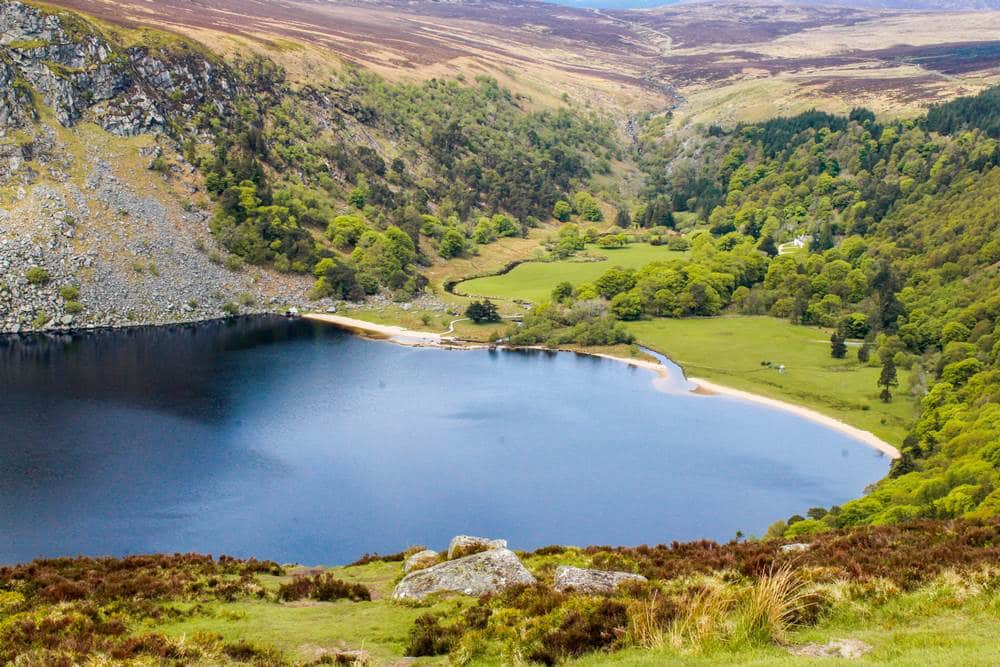 4. Wicklow Gap drive
There are 2 passes drive through the Wicklow Mountains. One is the Wicklow Gap, the other is Sally Gap (read more below).
If you follow the R756 westwards you find the Wicklow Gap, a 475m high pass, from which on a clear day you can view Snowdonia in Wales.
It is a very scenic route and worth making the drive up there. Whilst we were there we discovered Turlough hill Power Station (a hydroelectric power station) cleverly hidden away in the hills. From a distance across the valley you can see the upper reservoir that is used to provide energy by flowing water through the 4 turbines into the lower reservoir when demand is peaking. The reservoir is filled during quieter times and this helps to flatten the demand.
5. Sally Gap drive
The Sally Gap mountain pass lies further to the North and can be reached from Glendalough along the pretty R115.
Again some stunning views and super scenery. Well worth the drive.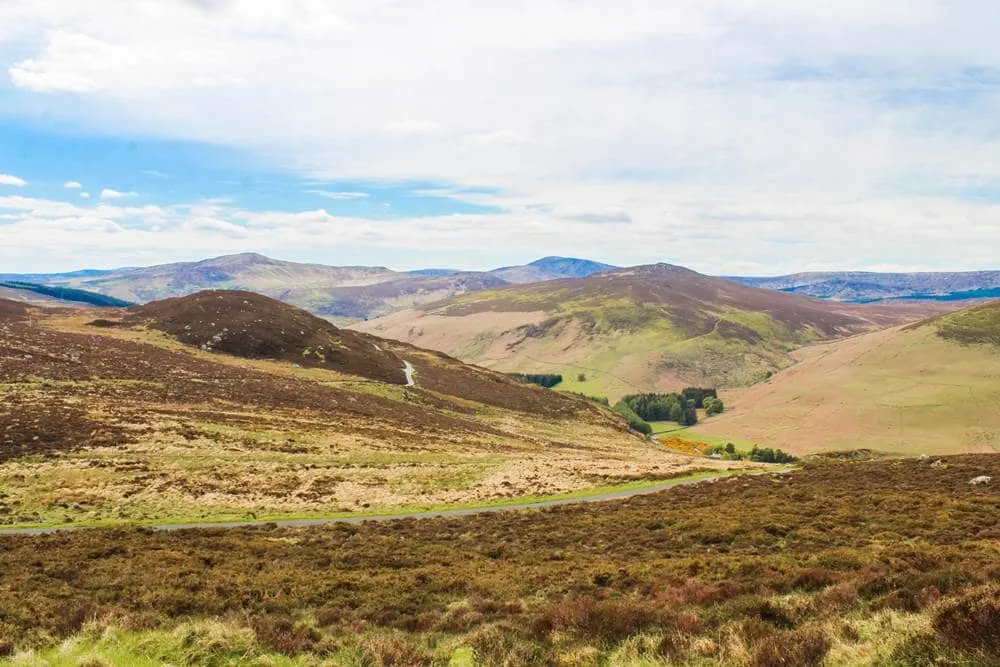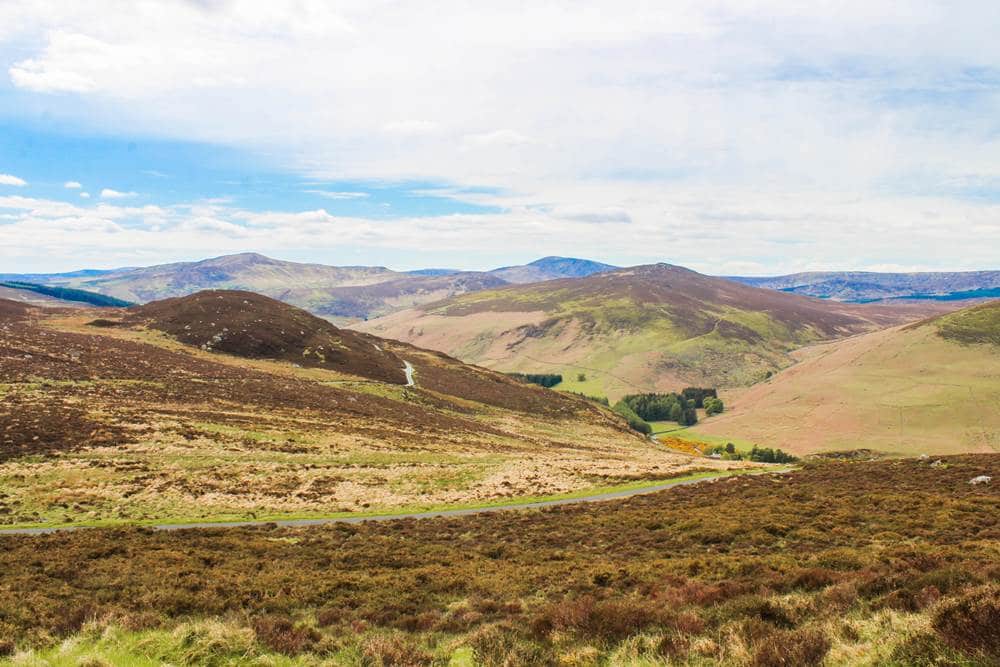 6. Powerscourt Gardens and Waterfall
This waterfall is Ireland's highest at 121 m (398ft.), it is 6km away from the Powerscourt house and gardens estate where you will find some of the most beautiful gardens in Ireland. The gardens are open all year round and are quite spectacular. All in all very worth a visit.
The estate also houses two championship golf courses (East and West course), so there are all sorts of possibilities here for keeping all members of the family happily occupied.
The Powerscourt waterfall area is a great place to take kids during a family adventure trip, as they can play in the playground, and run around the large open spaces. There is also a kiosk where you can get a coffee or an ice cream.
There is an entry fee for both gardens and waterfall, more information can be found here.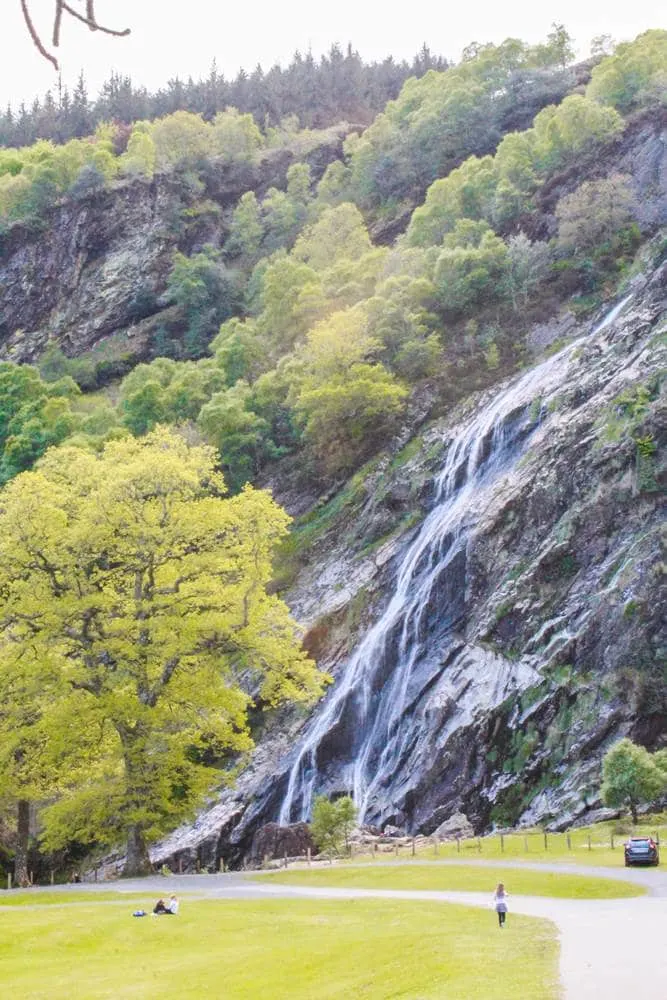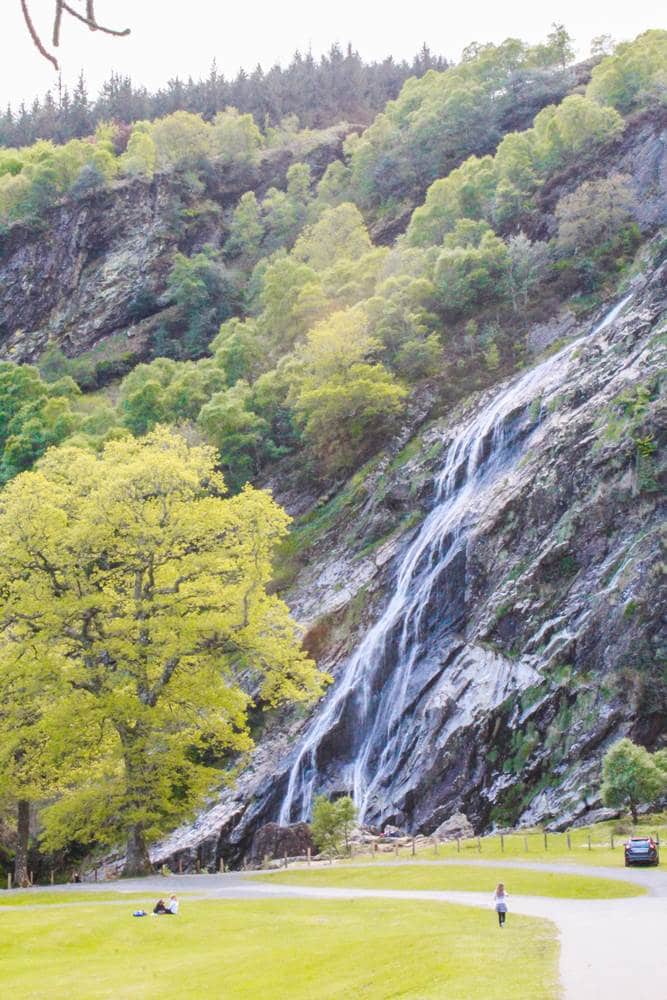 Do you love Ireland just as much as we do? Check this post for the best things to do in The Ring Of Kerry
Where to stay in Wicklow mountains?
We stayed in an Airbnb near to Laragh, and had seen some of the splendor of the mountains on our slow ambled drive to get there the day before.
It is a great place to stay if you, like us, decide to stay in the area and not only take a day tour from there. Also perfect place to stop on your Irish road trip.
Here is a coupon code if you want to try Airbnb for the first time.
More Ireland travel guide posts:
PIN FOR LATER!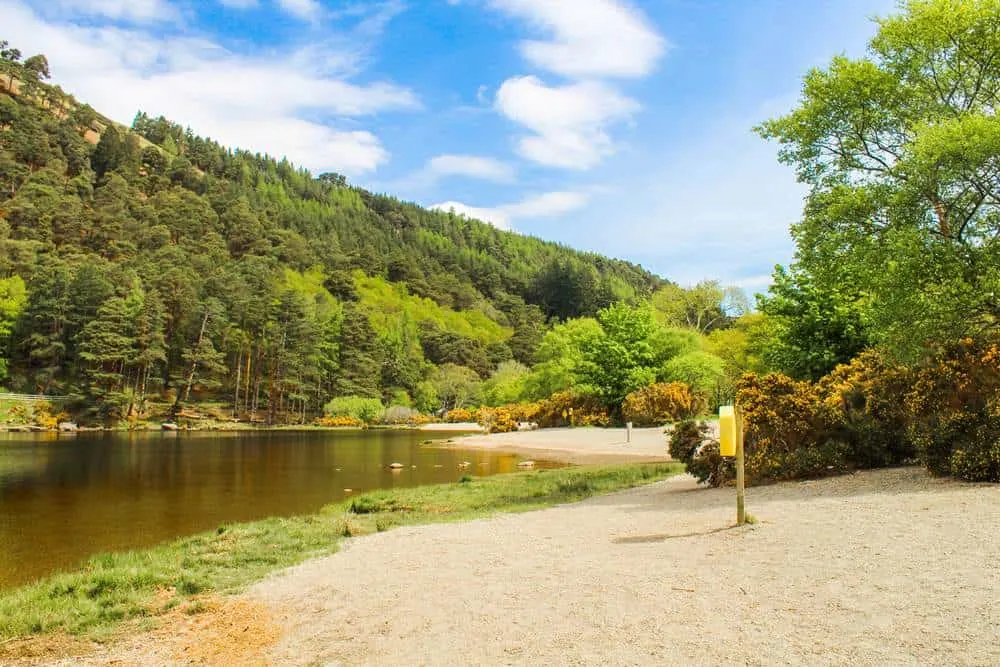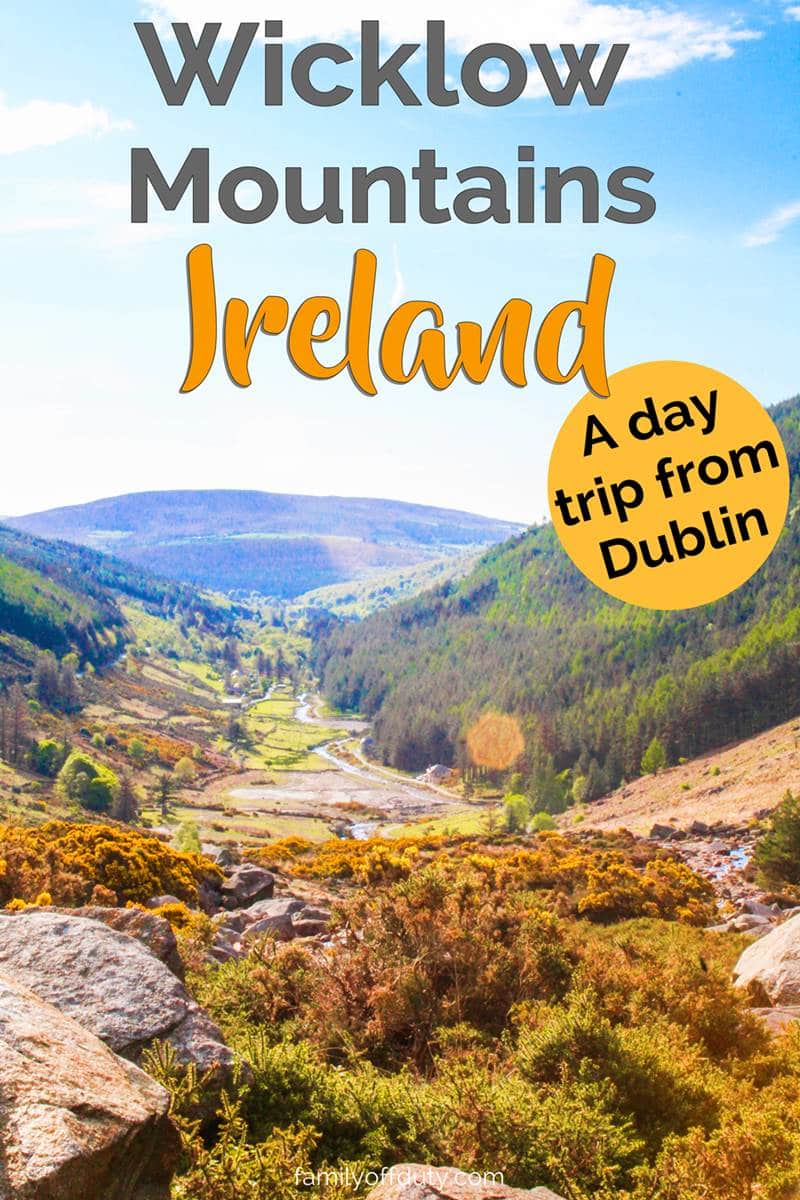 Dublin to Wicklow day trip