Planning a trip to London on a budget
Wondering how to save money in London as a tourist? These amazing sights are cheap or free to visit during your London on a Budget trip!
London is a top tourist attraction for countless reasons. It's a theatre mecca, hotspot for nightlife, and a leader in innovation.
The capital of England is filled with cultural and historical landmarks, along with exciting attractions for kids. There's something for everyone in this bustling city!
With so many popular sites to visit, London is an expensive city for tourists. Since many ticketed attractions are world-famous, you could spend more than you bargained for on them. You should also expect your lodging to be pricey, especially if it's near the airport.
Thankfully, it's possible to enjoy London on a budget. These attractions and activities all cost under $10 USD. This converts to about £7.61.
To save you from making extra currency conversions, the items on this list include prices in England's national currency. Some of these things to do in London are even free! With a bit of planning, you can visit this expensive city without digging through your life savings.
What to see on a budget trip to London?
Below I have list of places that are either free or extremely cheap that are perfect to visit if you have a tight budget.
So read on to find out my fave cheap London hacks for travelers.
Cheap things to do in London for families
Everyone should witness this British ceremony at least once in their lives.
The changing of the Queen's guard isn't much more than a shift change, but it comes with fanfare, music, and large crowds.
After the brightly-dressed soldiers march to Buckingham Palace, you'll hear a full military band play traditional marching music, show tunes, and pop favorites. The whole ceremony lasts 45 minutes, and it's a great way to start your day!
Since the changing of the guard is so popular with tourists, get to Buckingham Palace early to grab a spot up front. Otherwise, it may be hard to see the band and ceremony.
This pop culture landmark is a must-see for anyone who loves the Harry Potter franchise.
Platforms 9 and 10 are separated by tracks at King's Cross Station, but you can find a luggage trolley in the wall in the concourse.
You're free to take a photo with the trolley, and many people do – get there early in the day if you don't want to wait on long lines!
King's Cross Station also has a Harry Potter shop in its concourse. Here, you can purchase horcruxes, Hogwarts attire, and other souvenirs. Click to check more Harry Potter sites in London.
London's oldest aquarium is situated within a large museum center.
The fifteen exhibits in this aquatic wonderland host South American fish, poison dart frogs, jellyfish, and much more.
Watch clown fish weave through live corals and other creatures thrive in habitats from around the world.
After you've visited the museum, check out the Horniman Museum's other sections!
Tickets to the aquarium cost £4.50 per adult and £2.50 per child.
Cheap things to do in London for students
London's science museum is free to visit! On each of the building's seven floors, you'll find galleries, artifacts, and interactive exhibits.
The museum's exhibits are constantly changing, with current and intriguing topics like space and genetics.
There are also plenty of activities here for kids – there's an interactive children's garden in the basement and a flight simulator on the third floor!
While the museum itself is free, some attractions within it require tickets.
This free art museum is home to works from Leonardo DiCaprio, Vincent Van Gogh, and hundreds of other fine artists.
Rotating exhibits explore certain pieces and artists in depth – exhibit themes have included contemporary artist David Bomberg, DiCaprio's 'Virgin on the Rocks' painting, and Artemisia Gentileschi's portraits.
There's so much to see at this important cultural landmark!
Entry to the National Gallery is free, though some special exhibits are ticketed. The ticketed sections tend to be pricey, but the fees vary.
Cheap things to do in London for foodies
Grab some fresh-cooked food from a market that's over 1,000 years old! Borough Market features a wide variety of food, ranging from gourmet cheeses to bento boxes.
You can typically find a delicious meal for under £6 from a local farmer, fisherman, or chef.
The market is open every day, so there's always an opportunity to check it out!
You won't be able to park a car at Borough Market, but you can use the Snowsfields NCP parking lot instead.
Visit the world's first international cereal café in London! At Cereal Killer Café, you can order a wide variety of cereal and cereal-based dishes including ice cream, Pop-Tarts, and alcoholic beverages.
Their coffee is made from cereal milk, and their hot chocolate is made from soaked Cocoa Pebbles. This unique café is popular enough to require reservations, and with good reason – the cereal is top-notch.
At Cereal Killer Café, you can get a scoop of cereal milk ice cream for £3 or two scoops for £5. Their Pop-Tarts ice cream sandwiches are £4, create-your-own cereal bowls are £4.50 (or £6.90 for a large bowl).
Cheap things to do in London for tourists
This museum is all about human health. The free exhibits in the Wellcome Collection explore every aspect of the human experience, from the things that make life fun to those that make it tragic.
All of the museum's galleries and exhibits are free, as are most of the events in this 3-level building. Be sure to visit the medical library!
The Wellcome Collection is completely accessible, with step-free access, wheelchair accessibility, and accessible restroom facilities.
In London, you can sit in on an actual Supreme Court case! In the United Kingdom, Supreme Court cases are open to the public so long as they remain in public viewing galleries.
Because there's limited seating available, you may have to wait for a turn to enter, but you're able to witness at least one case during a typical visit.
You can also schedule a guided tour of the Supreme Court. Tickets cost £7 per adult, and are free for youth ages 12-16. Please note that 12 is the minimum age to take a tour.
Many European cities offer a free walking tour of popular areas, but London has 11 unique opportunities to see the city for free!
With Strawberry Tours, you can see the entire city in 6.5 hours or you can see certain sections of the city in 2.5-3 hours. They also offer specialized tours, like their Harry Potter and Jack the Ripper tours. Where will you go in London?
If you're interested in barhopping, Strawberry Tours leads a pub crawl every night.
You'll save over £50 on bars by gaining free access to five British pubs! While this activity isn't under £7.60, it's still inexpensive.
---
When you need to spend so much on lodging and airfare, the best way to see London is on a budget.
Choose reasonably-priced activities to stay within your spending allowance, and use the leftover money for emergencies and food on the plane.
Even if you don't spend much, you'll still get to see much of what this city has to offer!
More travel budget posts you will enjoy:
PIN FOR LATER!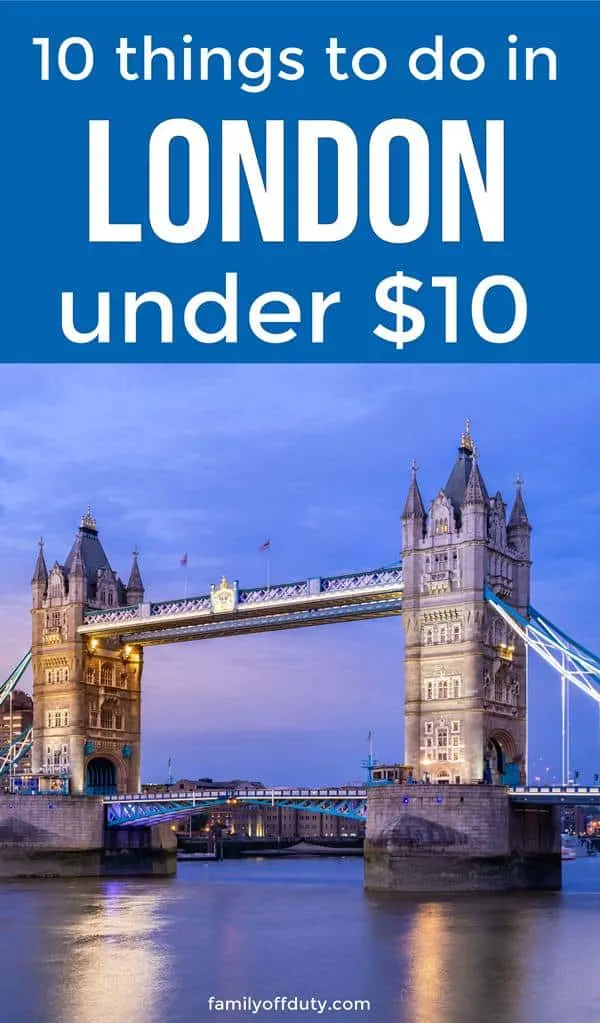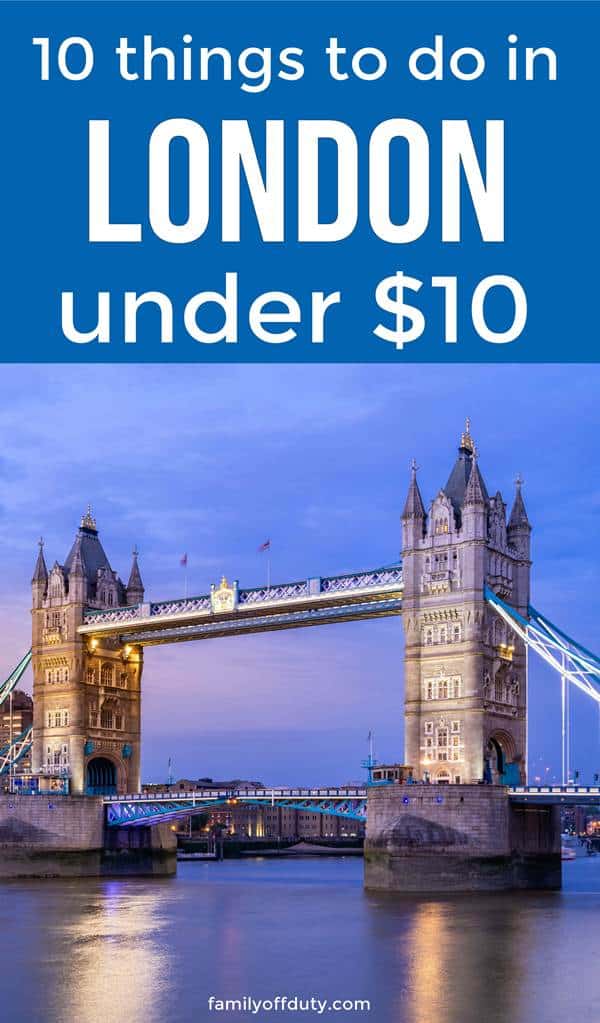 How to travel to London cheaply