Affordable Things To Do In Reykjavik, Iceland
Are you looking for free or cheap things to do in Reykjavik during your trip to Iceland? Then you came to the right place. It's okay to look for free things to do in downtown Reykjavik and our list will help you have a fantastic Iceland on a budget trip.
Recently, it may seem like more people on your Instagram feed are travelling to Iceland. There are several contributing factors to Iceland's rise in tourism, but inexpensive flights have helped tremendously.
Although WOW Air's closure in March 2019 disrupted Iceland's tourism industry, Icelandair still provides low-cost flights to the Nordic island country. Through this flagship airline's stopover program, travelers can take a 7-day layover in Iceland on their way to another country at no extra cost. See two countries on one trip!
Despite how cheap it is to travel to Iceland, it's still an expensive country to visit. You'll likely have to rent a car when travelling outside of Reykjavik's city center, since public transportation is limited to that area.
Since 98% of tourists visit Reykjavik at some point during their trip, there are also plenty of tourist traps that can cost you dearly. Here's a pro tip: don't bother going to the Blue Lagoon. There are free hot springs nearby that are even more breathtaking.
Thankfully, there are inexpensive things to do in Iceland's Capital Region that won't drain your vacation fund. And this guest post from Travel with Meraki will show you just that!
When calculating the cost of visiting Reykjavik, keep in mind that your home country's currency is likely much stronger than the Icelandic Krona. Each of the tourist attractions on this list will cost less than 1,253 ISK, or $10 USD.
So, what should you do in Reykjavik Iceland for cheap? Let's start planning your Icelandic adventure!
10 Things to Do in Reykjavík City for Under $10
Reykjavik is an expensive city to visit due to car rentals and pricey accommodations (that is why I suggest checking some of the best Iceland campsites), but activities don't need to cost an arm and a leg.
Check out these free or cheap things, attractions, experiences and sights that you can enjoy for under $10 and save during your Iceland on a budget trip!
Many of Iceland's natural wonders in the Golden Circle are accessible by car or bus tours that leave from Reykjavik, but you can also get to Mount Esja by taking the city bus.
If you are short on time and wondering what are the best things to do within an hour of Reykjavik, this this is a great choice!
This mountain sits just 10km outside of the city, but hiking to the top should be planned for as a day trip. There are several ways to reach the 914-meter-high peak on Mount Esja, each marked according to their hiking difficulty.
Even if you've never climbed up a mountain, there's a route on the mountain that will match your skill level! This is one of the best fun things to do in Reykjavik for free.
Get to Mount Esja by taking bus 15 from Hlemmur Bus Station. Get off at Haholt to transfer to bus 57. Get a Reykjavik city card to more savings.
Enjoy the Nauthólsvík Geothermal Beach
The air temperature stays chilly at this geothermal beach, but the hot tubs are warm enough to relax in on Reykjavik's coldest days.
Nauthólsvík beach is a man-made area with heated and unheated swimming pools (for those who can handle the frigid waters).
Visit for free during the summer, or pay just 650 ISK per person to enter year round!
You can find more information here!
See Northern Lights at Grótta Lighthouse
This lighthouse offers great views of the Northern Lights near Reykjavik center.
The walk to the coast from the city center is long, but it's worth it to see the natural neon lights that can only be seen at high latitudes.
Check the weather forecast before heading to the light house – the Northern Lights appear on clear winter nights.
The lighthouse is also a relaxing place to hang out during the summer months. The area is considered a nature preserve due to its bird population, so you're likely to see some animals.
Check the Reykjavik Punk Museum
Learn about influential Icelandic musicians at the Reykjavik Punk Museum.
This tribute to new wave and punk music is located in an underground public restroom, with re-purposed bathroom stalls that hold artifacts from the 1970's and 80's.
Even mainstream artists like Bjork have roots to punk music, so stop by to explore the subculture!
Admission to the Reykjavik Punk Museum is 1,200 ISK per person.
Visit the Hallgrimskirkja
For a reasonable fee, tourists can head to the top of the tallest building in Reykjavik!
This 73-meter-tall church serves as a memorial to a famous Icelandic poet, as well as a place of worship for 7,000 people.
Marvel at the stained-glass windows at the front of the church before ascending to its peak for just 1,000 ISK. Children can see Reykjavik's skyline for 100 ISK – that's 80 cents USD!
The church itself is free to enter seven days a week, but the tower is closed on Sundays for religious services. Find out more here!
Free and Cheap things to do in Reykjavik
Splash on Arbaejarlaug Swimming Pool
This aquatic recreation center in Reykjavik has water slides, hot tubs, a sauna, and a thermal steam bath.
There's also a play area for kids, since some of the heated facilities are not recommended for children. With both indoor and outdoor pools, Arbaejarlaug can be easily compared to the much more expensive Blue Lagoon, with many of the same amenities for a fraction of the cost.
Senior citizens over age 67 and children under 5 enter for free, while children ages 6-17 pay 160 ISK, what a deal. Adults over 18 enter for a still reasonable 1,000 ISK.
Before entering the sauna, check with the facility to learn about the dress code. In Scandinavia, it's common for people to use the sauna while completely nude, so be sure to find out before you go.
You can get free access to this attraction with the Reykjavik City Card.
Head to "Hot Spring Valley" to see the hot springs, Reykjavik's botanical gardens and park. Certainly one of the best activities to do in Reykjavik with children.
Although Laugardalur's facilities are used by Iceland's professional sports teams, the recreational areas are open to the public.
Visit the zoo for just 860 ISK (650 ISK for children ages 6-12 and free for anyone under 5), and the swimming pool for 950 ISK (150 ISK for children ages 6-17, free for anyone under 5).
Click here for more information.
Taste the famous Bæjarins Beztu Pylsur
Bill Clinton visited this popular hot dog stand in 2004 – that's how you know it's worth checking out.
Between several locations in Iceland, they sell over 1,000 hot dogs a day. The iconic local Icelandic hot dog will set you back just 450 ISK. So it is likely to be one of the cheapest food in Iceland.
Even if you wouldn't typically eat a hot dog, you should make an exception to try these!
Take a free walking Reykjavík city tour
You can take a 'free' walking tour of Reykjavik with locals through CityWalk. The tour runs 100% on donations from guests that they accept at the end of the tour, so this will be what you can afford.
On this 2-hour journey in English, you'll see local hotspots while learning fun facts about the country.
This is a must do Reykjavik experience in either winter or summer because it runs every day, year around, in all kinds of weather (snow, rain and sunshine).
Visit the Solfar Sun Voyager
Visit the Sun Voyager sculpture on the coast of Reykjavik to capture some great photos.
The steel artwork is meant to resemble a dream boat, though many people believe it looks like a Viking ship.
Make sure your photos include Mount Esja in the background!
---
Following these tips will help you save a ton of money around Reykjavik. Families could spend tens of thousands on their road trip to Iceland, or they could spend far less. The choice is yours!
More European city guides:
PIN FOR LATER!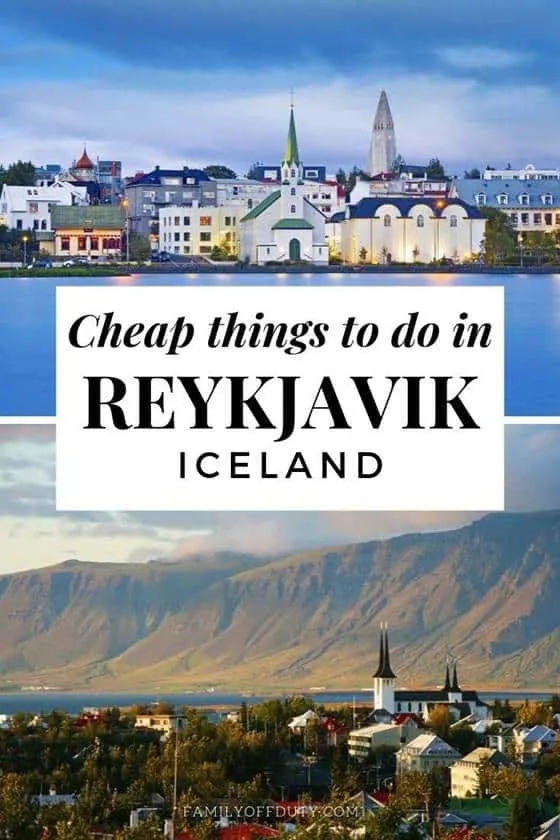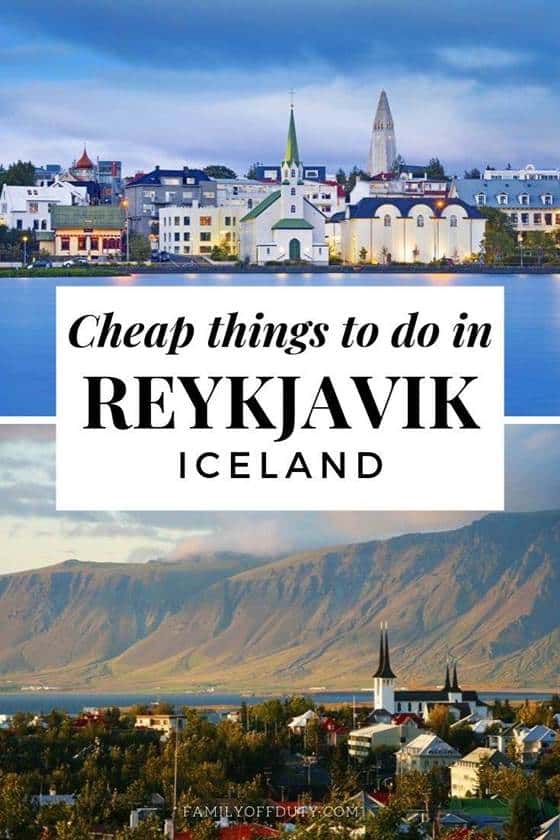 Top Cheap Attractions Reykjavik