Best things to do in Dublin on a budget
Planning a budget trip to Dublin? Check out our list of 10 cheap things to do in Dublin that won't break the bank. From cultural to nightlife activities we have you covered to allow you to travel to Dublin on a budget.
Dublin is the capital of Ireland, and it's known for a quite a few things. Tourists visit The Fair City to watch sporting events, see historical monuments, and drink in authentic Irish pubs.
There are also plenty of colleges in the area, so it's easy to find attractions catered to young adults.
As a tourist city and coveted study abroad destination, Dublin is not the cheapest place to visit. Expect to pay more than you're used to for food and drinks, since the city is known for its nightlife.
If you plan to visit one of the famous distilleries, you could spend over €50 per person! Depending on how much you drink, you could drop hundreds of euros on drinks alone.
Cut back on the cost of your trip to Ireland by visiting less expensive attractions, like any of these things to do in Dublin for under $10. Since you'll be using euros in Ireland, this list includes activities and attractions that cost less than €9.08.
What can you get for that little in Dublin? As it turns out, quite a bit!
Read on to find out how to visit Dublin on a budget.
How to do Dublin cheap?
If you are tight on money but want to see as much as possible then I suggest that you buy a Dublin Pass.
Here you what you get with Dublin pass:
Free entry to 33 attractions (most of the places I visited with my child are in this list!)
Fast track entry to selected attractions
Free guidebook with map
Tickets to the Dublin hop-on hop-off bus tour
More special offers and discounts at local retail and restaurants
This pass gives you free access to over 30 attractions in Dublin plus a ticket for the hop on hop off bus and priority entrance is some attractions.
If you have limited time using the Dublin pass will help you see some attraction from the bus and learn with the guided tour.
Here are some attractions that are free to enter with a Dublin pass – check how many of these attractions you will want to see, if you answer yes to more than 5 then it is very likely it will save you money to go around using this pass.
With Dublin Pass You Will Get:
Free Entry To:
Newbridge House and Farm (Save €10.00)
Christ Church Cathedral (Save €7.00)
Dublin Castle (Save €8.00)
Guinness Storehouse (Save €25.00)
Vaults Live (Save €25.00)
St Patrick's Cathedral (Save €8.00)
Jameson Distillery Bow St. Tour (Save €22.00)
Jeanie Johnston Tallship & Famine Museum (Save €11.00)
Teelings Whiskey Distillery Tour (Save €17.00)
Dublinia (Save €10.00)
Irish Rock 'n Roll Museum Experience (Save €16.00)
Dublin Hop on Hop Off Bus Tour (Save €22.00)
Malahide Castle (Save €14.00)
Croke Park Stadium Tour & GAA Museum (Save €13.00)
Farmleigh House & Estate (Save €8.00)
Dalkey Castle & Heritage Centre (Save €9.00)
EPIC The Irish Emigration Museum (Save €16.50)
Skerries Mills (Save €8.00)
GPO Witness History Visitor Centre (Save €14.00)
Castletown House (Save €8.00)
Dublin Zoo (Save €18.00)
Glasnevin Cemetary Museum & Guided Tour (Save €6.00)
National Botanic Gardens Guided Tour(Save €6.00)
Rainforest Adventure Golf (Save €9.85)
Aquazone National Aquatic Centre (Save €16.00)
Dublin Writers Museum (Save €7.50)
National Wax Museum Plus (Save €15.00)
Airfield Farm (Save €12.00)
James Joyce Centre (Save €5.00)
The Little Museum of Dublin (Save €10.00)
How to do Dublin on a budget
Temple Bar Neighborhood
Find public artwork all over this historic Dublin neighborhood!
Along the Icon Walk, you'll see graffiti-proof murals by local artists. Many local businesses have exterior walls covered in artwork, some of which have become cultural landmarks.
Once the sun sets, head to any of Temple Bar's pubs to enjoy Dublin's nightlife, live music and pub crawl. Order some appetizers at Bad Bob's for under €8, or grab a beer draft from Porterhouse for €7.
Temple Bar gets rowdy at night. If you plan to stay in this neighborhood after dark, keep your wallet and phone in your front pockets. Consider leaving non-essential valuables in the hotel room, as pickpockets hang around this area.
Dublin's natural history museum is one of four National Museum locations in Ireland.
Also known as the 'Dead Zoo' by locals, this museum has 10,000 exhibits featuring all kinds of animals. If you're visiting with kids, check out the Discovery Zone carts for some hands-on learning. Your kids can pick up a whale skull!
Entry to the Natural History Museum is always free and it is a fabulous place to visit in Dublin with kids.
The IMMA's permanent art collection has over 3,500 original works.
The museum also features rotating exhibits with themes like civil disobedience and digital art. Explore 48 acres of fine art in a former hospital-turned-gallery!
The Irish Museum of Modern Art's permanent collection is always free to browse, but you'll need tickets to enter the special exhibits.
Thankfully, the tickets cost as little as €2.
Until 1922, the Dublin Castle was home to the Viceroy of Ireland, it acted as an administrative building. Now, the castle hosts installations of modern art, Irish artifacts, and history lessons.
See well-preserved pieces of Irish history in a castle that's nearly 800 years old!
Self-guided tours of Dublin Castle cost less than guided tour tickets. See the State Apartments and exhibitions for €8 per adult, €6 per senior citizen, and €4 per child aged 12-17.
Entrance is FREE with the Dublin Pass.
This church has been active for nearly 1,000 years! The church boasts medieval architecture and artifacts that tell Ireland's religious history.
Since Christ Church Cathedral doesn't receive state funding, they rely on ticket sales for maintenance. Take a self-guided tour of the crypt and exhibit to support a historical landmark!
Tickets to the Christ Church Cathedral cost €7 per adult, €5.50 for students, and €2.50 for children under 12.
Entrance is FREE with the Dublin Pass.
Looking to eat a small meal in Dublin for €7 or less? Head to Fish Shop Benburb Street for delicious a la carte seafood options.
Their menu includes croquettes, oysters, and cheeses at reasonable prices. This dining experience will delight both seafood lovers and those who find the cuisine to be adventurous.
That's why the Irish Restaurant Awards calls Fish Shop the best seafood experience in all of Ireland!
Fish Shop also has a location on Queen Street, but their menu is not a la carte. Each night, they serve a different no-choice dinner for guests who want to try seasonal Irish seafood.
If you'd like to visit their Queen Street location, Fish Shop welcomes you to call ahead to see if their offerings will work within your diet.
Take a free walking tour of Dublin with a local, energetic guide. On your 3-hour excursion, you'll be shown some of Dublin's must-see attractions and hidden treasures.
Your tour guide will also cover interesting Irish history, like the rock band U2's origins and stories of famous writers. See the best of Dublin all of once!
Tipping your tour guide is optional, but the guides appreciate a small donation.
This culture museum displays artifacts, manuscripts, and literature from around the world.
The Chester Beatty's permanent collection covers belief systems, as well as Asian, African, and Middle Eastern artifacts. While the suggested donation is €5 for admission, you can visit the museum for free!
On Wednesdays, Saturdays, and Sundays, visitors can take a guided tour of the Chester Beatty for free.
You can also join a free tour in Arabic, Mandarin, or Japanese, as well as a special tour designed for visitors with dementia.
This garden is dedicated to those who sacrificed their lives in the name of Ireland's freedom.
The Garden of Remembrance was designed with subtle nods to Celtic culture, Trinity College, and the struggles Irish people faced throughout history.
Learn about Irish history in this free public memorial!
Anyone who's interested in literature should plan a visit to the Dublin Writers Museum.
Only deceased writers are honored here, giving visitors a chance to learn about authors they might not have heard of.
On the ground floor, you'll find the first edition of Dracula, Samuel Beckett's phone, and letters exchanged between writers. Visit this literary museum for just €7.
---
Dublin is filled with fascinating attractions, many of which are accessible to frugal travelers. Everything from museum visits to tap beers can be enjoyed for under $10 USD at this popular tourist destination.
When you plan your trip to Dublin, keep these attractions in mind to make your money stretch farther!
More Ireland Travel Posts you will enjoy:
PIN FOR LATER!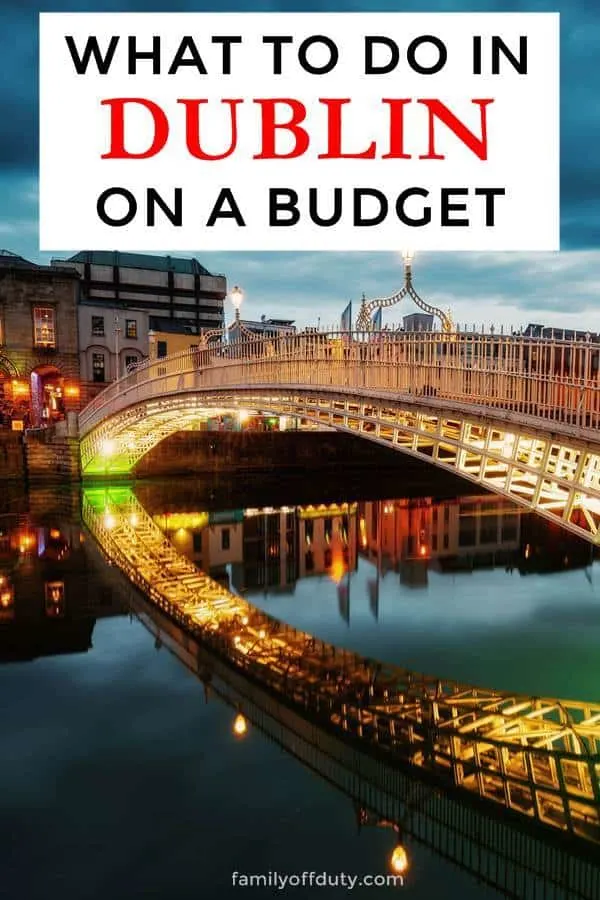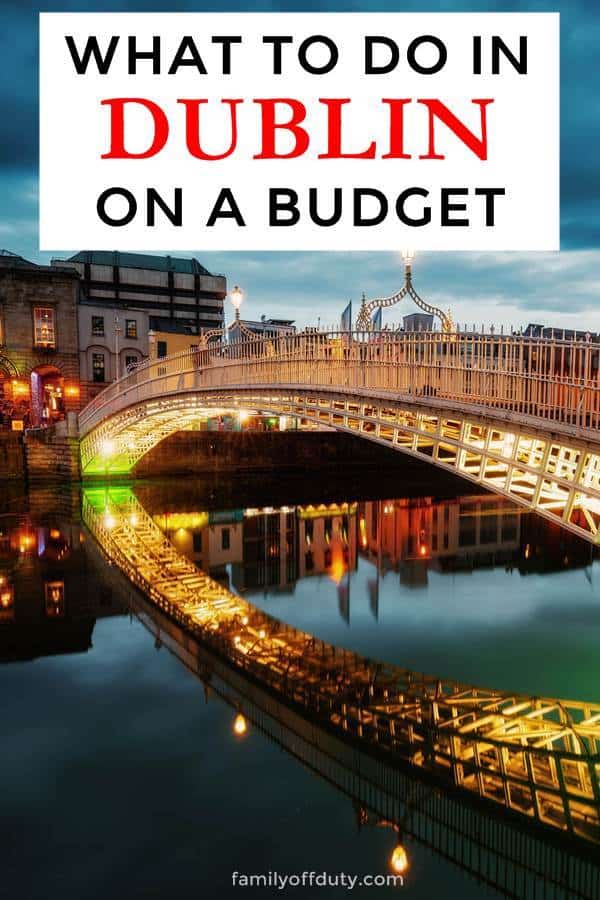 What to do in Dublin on a budget