The best things to do in Dublin with kids
Are you getting ready for your trip and wondering where to go with kids in Dublin? We have taken the kids to Dublin several times and we wrote this post to give you of ideas of places to visit in Dublin with kids. So read on to find out what are the best family outings in Dublin, Ireland.
Are you looking for fun things to do in Dublin with kids? The fair city of Dublin is the capital of the Republic of Ireland.
Dublin is a fantastic place to visit and with cheap flights available there from many parts of Europe these days is easily accessible for a long weekend city trip.
Obviously a trip to Dublin for the first time could not be done without considering visiting at least some of the well known iconic sights such as the Guinness storehouse, a whisky distillery or museum, Kilmainham Gaol and of course the Temple bar and it's back alleys, bars and food scene.
However, depending on the age of the kids, these locations are unlikely to inspire them! If you want to see the adult guide to Dublin, you can read my post 'Visiting Dublin in 2 days'.
So you need to find a mix of activities to keep both adult and child happy.
We find when we are travelling with our daughter that she is much more likely to let us do our stuff without complaining if we make time for her to do stuff she wants as well.
What you do on your trip is obviously dependent on your budget, age of your kids and interest, but here below are some ideas which we hope will give you some inspiration.
The list consists of both indoor and outdoor activities in and around Dublin. Click here for all my Ireland Travel guides.
Where to stay in Dublin with kids
I don't normally pick a neighbourhood to recommend staying in cities because oftentimes there are many good places to stay. However in Dublin I really think it is beneficial to stay in Dublin 2.
The reason is because Dublin 2 is very central and easy to connect and the majority of the tourist attractions will be found here.
Depending on your fitness level and willingness you can walk to many attractions in both Dublin 2 and in the adjacent neighborhoods.
Check this map here to see what I mean about being close to attractions.
When we visited Dublin recently we stayed in District 2 Dublin and I believe it is the best part to be. All the area was well signalized, felt safe and was stroller friendly. We also saw many local families walking around and entertaining the kids in one of the many green city parks you can find in Dublin 2.
Family hotels in Dublin
My daughter and I stayed on a budget accommodation in Dublin 2 and we were happy with the services. It is not wheel chair accessible though and you might have to go through a fair amount of staircases depending on where your room is. But we loved the friendliness of the people working at the Kilronan House, the breakfast and the location were all fantastic!
We definitely recommend you to stay here if you are visiting Dublin on a budget.
Here are the best alternatives for families in D2 Dublin area, for all budgets:
Click here for more Hotel options!
Airbnb for families
If you have large families you can probably save a ton with stay costs if you book an Airbnb accommodation instead of hotel rooms. Here you can see some of my favorite Airbnbs you can book for your family trip to Dublin.
Click here to see my list of amazing Airbnb for families in Dublin Center
And don't forget to use this discount code if you are new to Airbnb! You can get over $40 in discount if you sign up with my link: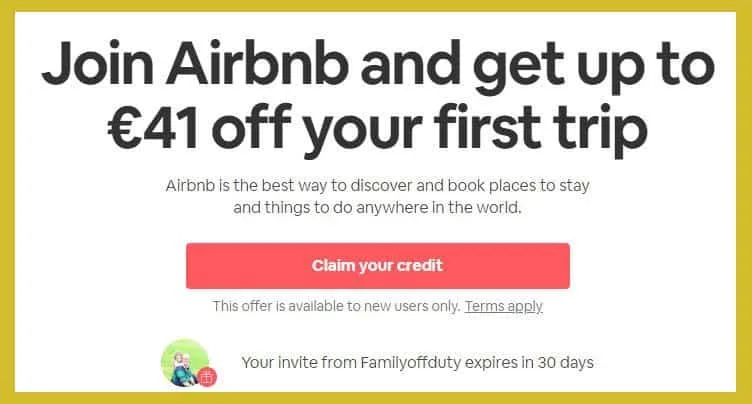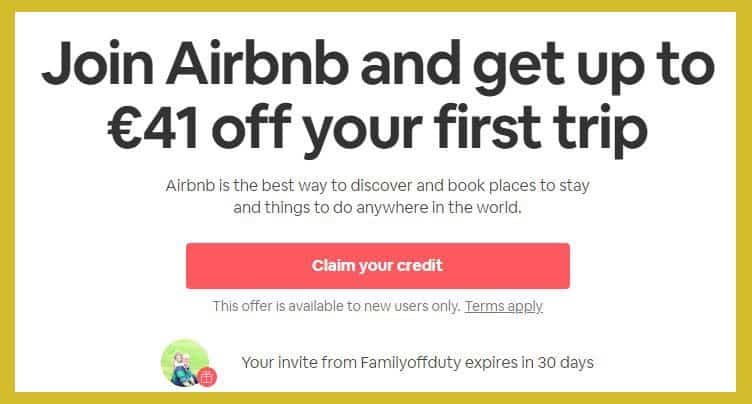 Click here to get your Airbnb Discount Code!
What to pack for your trip with kids to Dublin
Dublin is a vibrant, family friendly city. Apart from the normal items you will need for your kids depending on their age one thing to consider is that you should expect rain in Dublin. So I would suggest you to pack children's rain gear, water and winter proof items to make sure the kids are comfortable in all weather.
Comfortable shoes are also a must, as I mentioned there is so much you can walk to by foot. You will also likely stop at the parks and playgrounds to let the kids burn their energy so as long as they have a good solid shoes to play around they will be absolutely fine!
Is Dublin stroller friendly? Yes, it is.
Not only the city public area itself but also the attraction buildings were adapted for strollers and wheel chairs.
My packing list for Ireland has more information about what you need to pack for your stay. I suggest you to have a look here before you head to your trip.
How to go around Dublin with children
If you are staying in a central area there is plenty you can do by foot by just walking from one attraction to the next. Obviously it will depend on your fitness level and how far the kids can go.
However, considering that the weather can turn badly during your stay there is plenty of alternatives for going around Dublin that might be quicker and comfortable than walking.
I suggest that you consider buying a Dublin Pass. But what is a Dublin pass?
The Dublin pass is a pass o get you inside of the hop on and hop off bus that goes around Dublin. Apart from the easy manner of going around the locations of the best attractions in Dublin this pass is also great because the entrance of many popular touristic places is included in the price!
Depending on what attractions you want to visit this will save you money for sure!!
You can also enjoy Fast Track Entry for the some attractions ensuring that you save more time on your trip to do the fun things. And their money back guarantee makes it totally risk free!
And you don't have to learn how to use the public transport system because the hop on hop off bus will take you around Dublin's most popular tourist locations. You just need to hop off as desired.
This is brilliant if you have a bad weather forecast. Believe me, you don't want to feel trapped because of rain!
So here you what you get with Dublin pass:
Free entry to 33 attractions (most of the places I visited with my child are in this list!)
Fast track entry to selected attractions
Free guidebook with map
Tickets to the Dublin hop-on hop-off bus tour
More special offers and discounts at local retail and restaurants
Here are some attractions that are free to enter with a Dublin pass – check how many of these attractions you will want to see, if you answer yes to more than 5 then it is very likely it will save you money to go around using this pass.
With Dublin Pass You Will Get:
Free Entry To:
Newbridge House and Farm (Save €10.00)
Christ Church Cathedral (Save €7.00)
Dublin Castle (Save €8.00)
Guinness Storehouse (Save €25.00)
Vaults Live (Save €25.00)
St Patrick's Cathedral (Save €8.00)
Jameson Distillery Bow St. Tour (Save €22.00)
Jeanie Johnston Tallship & Famine Museum (Save €11.00)
Teelings Whiskey Distillery Tour (Save €17.00)
Dublinia (Save €10.00)
Irish Rock 'n Roll Museum Experience (Save €16.00)
Dublin Hop on Hop Off Bus Tour (Save €22.00)
Malahide Castle (Save €14.00)
Croke Park Stadium Tour & GAA Museum (Save €13.00)
Farmleigh House & Estate (Save €8.00)
Dalkey Castle & Heritage Centre (Save €9.00)
EPIC The Irish Emigration Museum (Save €16.50)
Skerries Mills (Save €8.00)
GPO Witness History Visitor Centre (Save €14.00)
Castletown House (Save €8.00)
Dublin Zoo (Save €18.00)
Glasnevin Cemetary Museum & Guided Tour (Save €6.00)
National Botanic Gardens Guided Tour(Save €6.00)
Rainforest Adventure Golf (Save €9.85)
Aquazone National Aquatic Centre (Save €16.00)
Dublin Writers Museum (Save €7.50)
National Wax Museum Plus (Save €15.00)
Airfield Farm (Save €12.00)
James Joyce Centre (Save €5.00)
The Little Museum of Dublin (Save €10.00)
A Special Gift on these free attractions:
Chester Beatty Library
Dublin City Gallery The Hugh Lane
Irish Museum of Modern Art
National Gallery of Ireland
National Museum of Ireland – Archaeology
National Museum of Ireland – Decorative Arts & History
National Museum of Ireland – Natural History
Special Offers On These Venues:
Abbey Theatre
An Evening of Food, Folklore & Fairies
The Ark
Bewley's Café & Restaurant
Captain Americas
Celtic Whiskey Shop
The Church Bar & Restaurant
Day Tour of Wicklow with Activity Options
Dublin Literary Pub Crawl
Gallagher's Boxty House
Glendalough & Kilkenny Day Tour
Hard Rock Café
Historical Walking Tours
Koh Restaurant
Kildare Village
Kilkenny Shop
Liffey River Cruises
Merry Ploughboy Irish Music Pub
National Concert Hall
Saba Restaurant
TGI Friday's
Viking Splash Tours
Wagamama
You will see many stations around Dublin where you can find the Dublin bikes.
The Dublin bikes are an alternative transportation that is faster than walking but still as environmentally friendly!
Dublin is relatively easy to bike around, you will see lots of locals cycling and there is bike paths alongside the road.
The Dublin bikes aren't however for families with small kids because there is no place to add a baby seat or even where to rent one.
But for families with older children that can cycle on their own and are used to cycling alongside road traffic it could be a great fun way to go around!
The Dublinbikes are a cheap alternative, costing only 5 euros (Nov 2019 price) to get a 3 day ticket.
In their site here you can find station locations and more information about renting a bike.
Getting around Dublin is fairly easy. As I mentioned, you can do a lot by foot if you are located on the city centre.
The double-decker buses are always a favorite for kids, but you also take the single-coached trams in town, as they run throughout Dublin. For more information about the public transport, check the official site here.
Visiting Dublin with kids
Here is the list of fun activities in Dublin. Some of them may be season dependent so remember to check the website beforehand and plan your trip or book your tickets in time.
It is often financially advantageous to book online.
There are in fact so many things for kids to do in Dublin that we could have made this a monster post, but we hope this selection will make you have a great visit there so you can all have fun as a family!
Below are some of the top things to do in Dublin with kids.
Family attractions in Dublin city centre
These family attractions are in Dublin city centre, so you should be able to reach them easily either by foot, public transport or hop on hop off bus.
Learn about the Vikings at the Dublinia museum
Dublinia is a super interesting and interactive museum designed to increase the knowledge and understanding of the Medieval period.
It is located on the site of the Medieval Church St. Michael and on the second floor you walk through a bridge that connects you to the Christ Church cathedral.
The Museum has a Viking and a Medieval exhibition. The exhibition has plenty of interactive tools to help you understand the Viking life, how they trade and the battles that happened in Dublin, then it follows to the Medieval times.
You can book your tickets and find more information here!
When you come out of the Dublinia museum you will on Christ Church Cathedral grounds so you can visit this cathedral straight after visiting the museum. You need to pay a fee to get inside the cathedral though (unless you have a Dublin pass, then it is free!).
Along with St. Patrick's Cathedral, this is one of the most famous churches in Dublin. The good news is that both cathedrals are only a couple of blocks away from each other, easily accessible by foot.
Go shopping at the Grafton Street
The Grafton street, along with Henry street, are two very popular locations for shopping and strolling.
When it comes to the heart of Dublin, there is one place and one place only: Grafton Street. This is Dublin's High Street where you will find anything from designer stores, souvenir and vintage shops to flower stalls and boutiques. If you are planning to buy gifts for friends back home, there is no other place better than Grafton Street.
But shopping is not all you can do here. This area is also full of densely populated with restaurants, cafes and bars serving food and drinks for all tastes.
And let's not forget the talented buskers and street performers that will keep everyone entertained.
Visit the Trinity College and the Old Library
You might think that the trinity college is not a place to visit with kids but you will be happy to know that you can find some interesting kid-friendly attraction inside the campus.
The Science Gallery is one of them.
The Old Library and the exhibition of the Book of Keels is also a very interesting place to visit. Trinity's 18th century Old Library building is a must see for anyone, no surprise it is regarded as one of the most impressive libraries in Europe.
Children under 12 don't need to pay and adults can book tickets here.
Explore Dublin's lively Temple Bar
The Temple Bar is one of Dublin's most lively areas, especially at night. Contrary to what many may think the Temple Bar is not a pub, it is an area in Dublin city centre, although there is a pub with the same name in the area. It is full of bars, pubs and restaurants but it is not only for tourists looking for pubs and bars.
You should not avoid visiting one of the oldest areas in Dublin with kids, however I took my daughter during the day because; first, you can see more and second, you avoid the nightlife party tourists.
The Ark, one of the family attractions I talk more about later in the post, is located here so you should definitely find a little time to visit this popular area of the city.
Outdoor things to do and see with kids in Dublin
Kids love outdoor areas where they can burn the extra energy. Here are some cool outdoor things for kids in Dublin.
Take a tour with Viking Splash
This is a fantastic experience that everyone will enjoy. Climb aboard the Viking Splash Tour amphibious vehicle and tour Dublin by land and water for 75 minutes!
We absolutely enjoyed this tour and it was our first time on an amphibious vehicle. Our guide was very knowledgeable and entertaining, keeping my daughter entertained with the story telling for the entire tour length.
The car-boat vehicle goes around tourist areas of Dublin before splashing into the Grand Canal Basin. Throughout the tour you will learn from the viking captain that is your tour guide all about the Viking settlements in Dublin and the following Medieval and Georgian history.
Click here to get your Viking Splash tickets!
Spot colored Georgian doors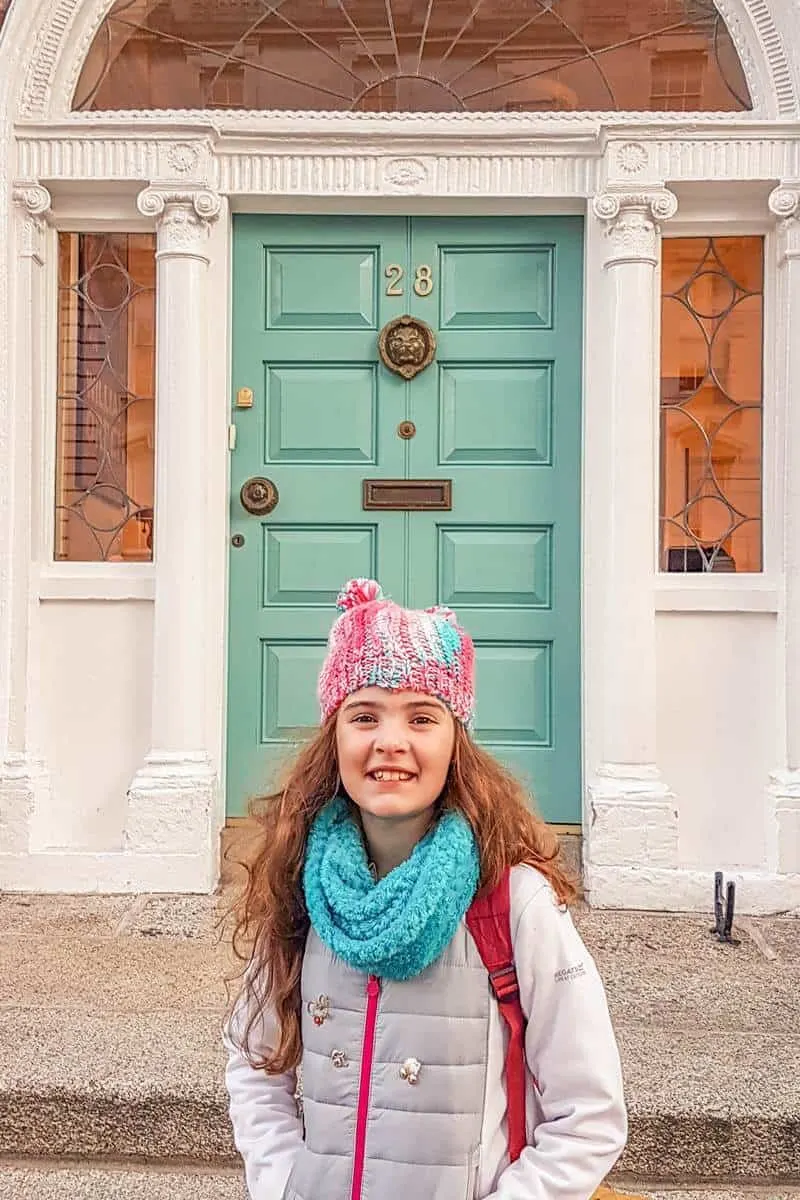 You will find a great mix of 18th century Georgian style buildings around Merrion Square park in Dublin 2. You will notice the distinctive colorful Georgian doors in the 4 store buildings around this part of the city.
Great to get some Instagram worth images (but don't disturb the residents!).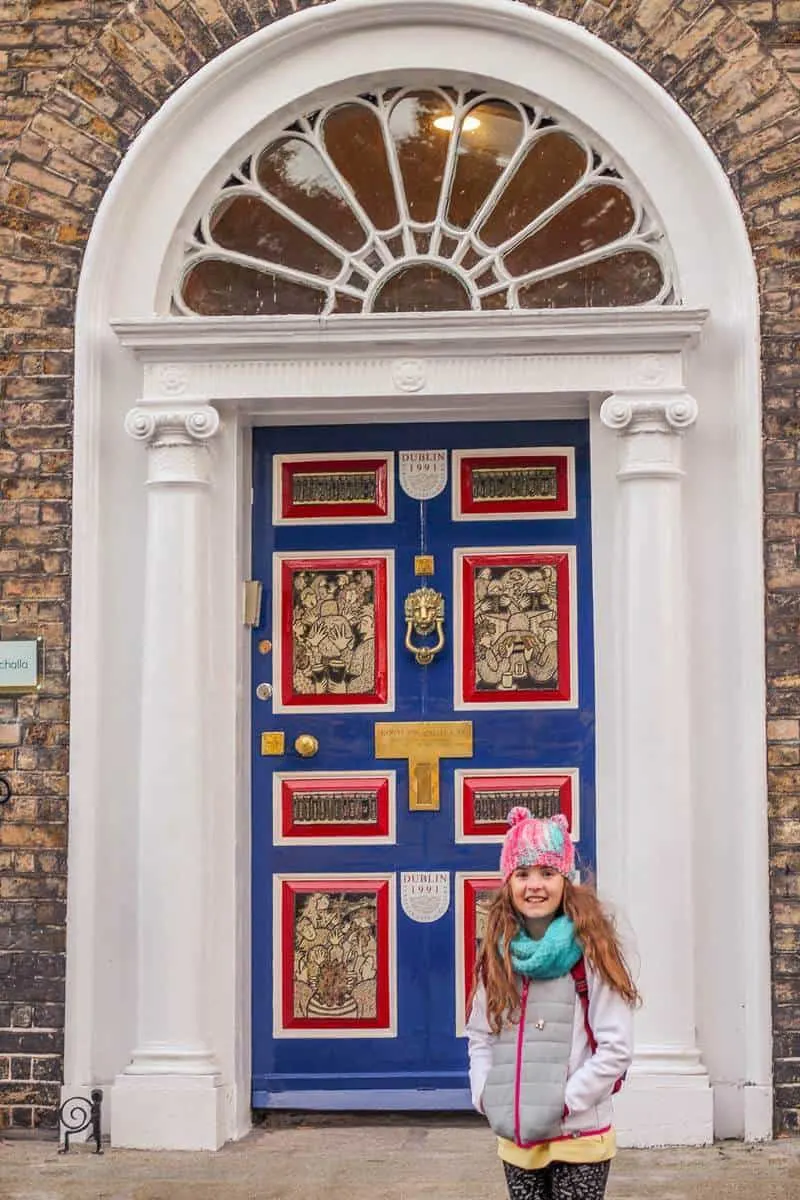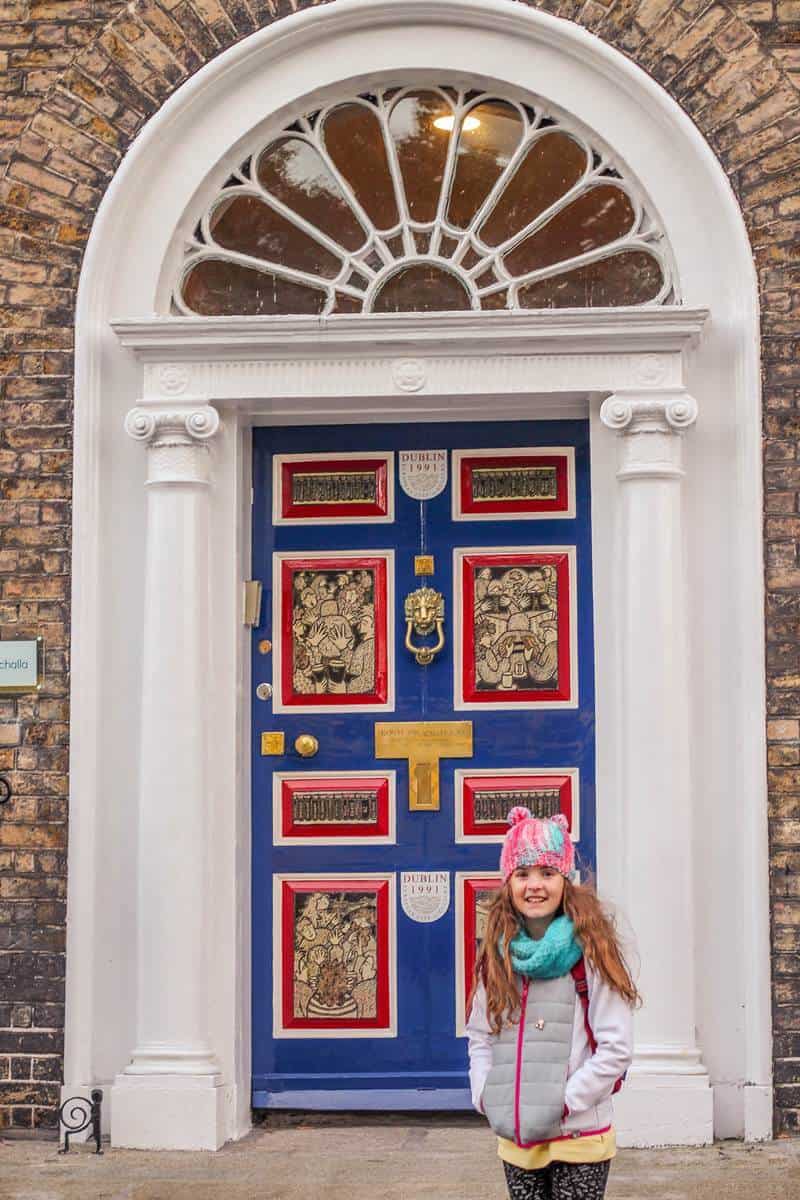 Play at one of Dublin's city parks
Dublin has several city parks that are perfect for families needing a little break from sightseeing. If you plan ahead you can make sure that you have time from little city park breaks during your busy day so the kids can stretch and give you time to sit and relax too.
St. Stephen's Green:
St. Steephen's green is a great city park in Dublin 2. We had a lovely time walking this park and the fall leaves were absolutely stunning.
St. Stephen green is in a very central area. Many tour buses leave or have a stop station at this park.
It has one of the best playgrounds in Dublin, one we went back to a couple times. You just have to pay attention at closing times. The playground closes about half an hour before the park closes.
So it is not somewhere you want to leave to visit late in the day, it closed at 5 o clock in October when we visited last time.
The park has plenty of green areas obviously, the playground, a few statue and monuments, lovely benches to sit and places to picnic and relax in the heart of the city. I totally recommend families visiting not only this but the other parks in the region too.
Merrion square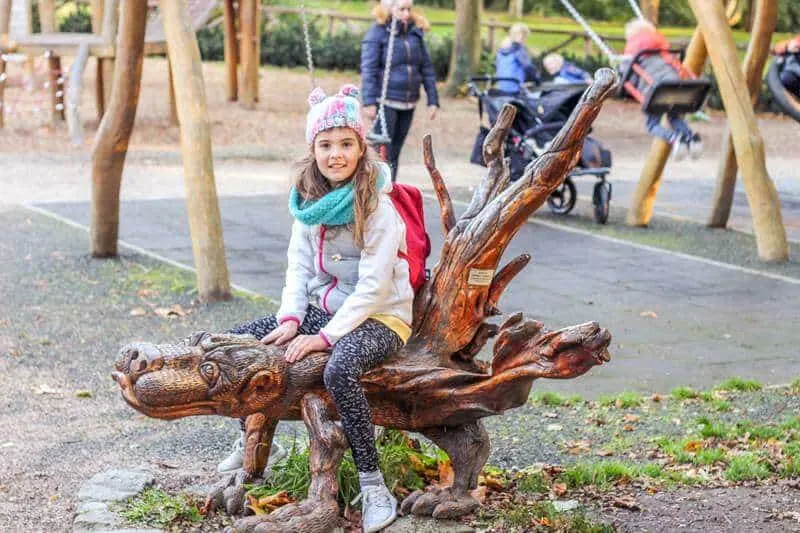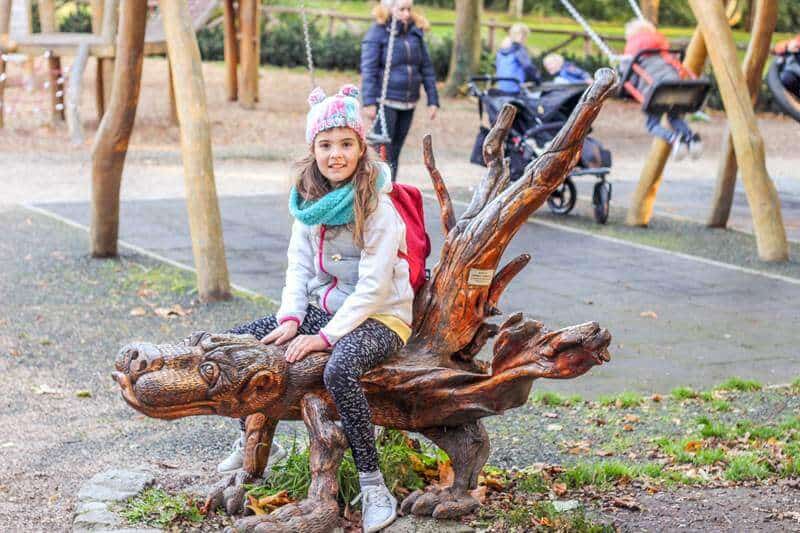 This is another park in Dublin 2, it is only a few blocks away from St Stephen's Green. It is super well located and a great place to stop between tourist sights.
The Natural History Museum and the national gallery of Ireland are just outside this area.
You will also find a great playground that my child enjoyed for a good hour before we had to keep going to see everything we wanted that day.
You can also find the statue of Oscar Wide in this park.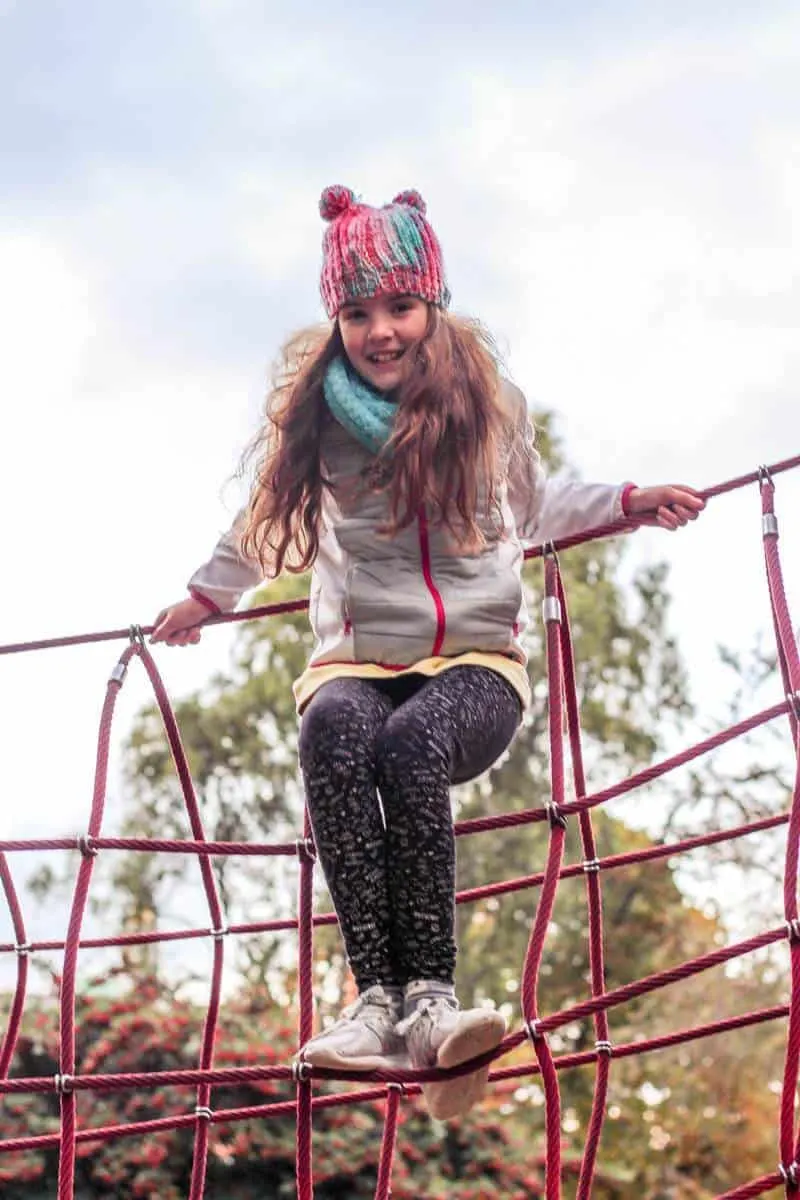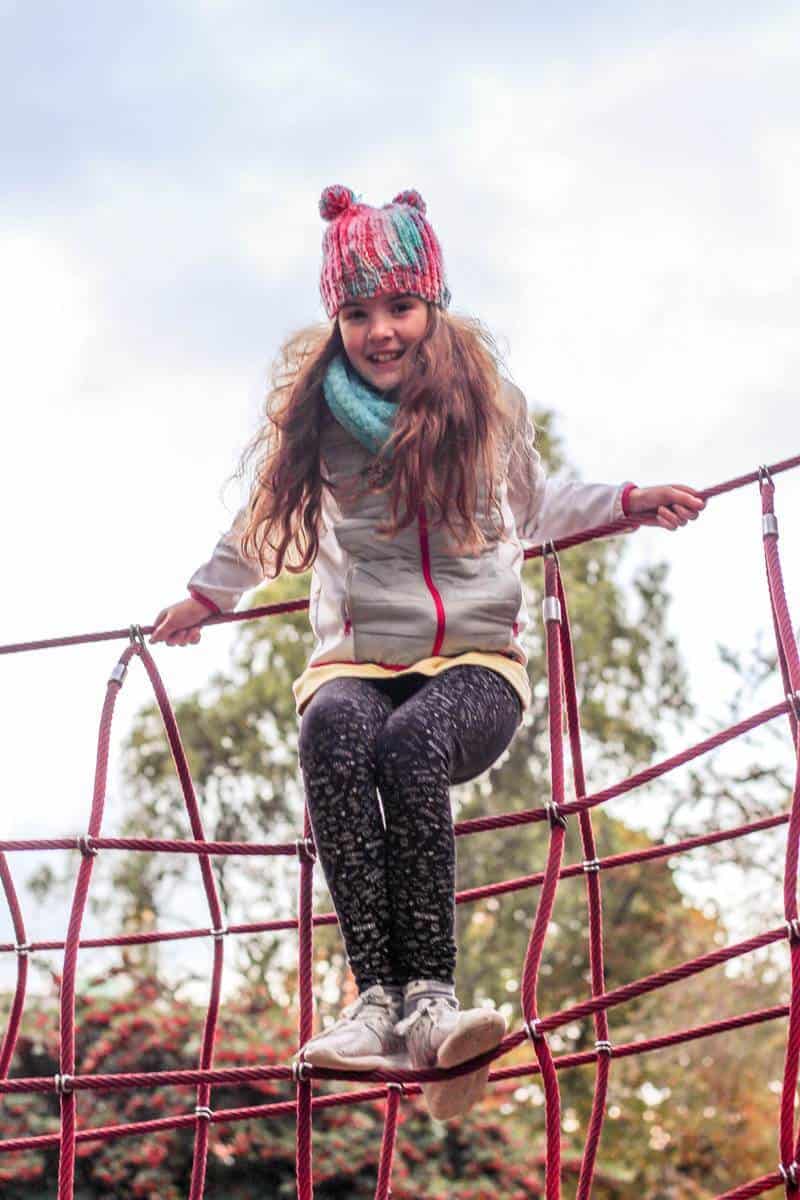 Iveagh park
This is a smaller park in the Southern part of Dublin 2 but charming nonetheless. If you plan to visit it quickly just make sure you go around working hours and this park also closes for the night.
Enjoy the National Botanic Gardens of Ireland
This is a gem in the heart of Dublin. What a lovely place to take the kids to enjoy some beautiful gardens, trees and glasshouses. It is admission free.
There are several glasshouse buildings and each of them is more impressive the other. They host an amazing range of plants from cactus to alpine plants and everything in between. The great Palm House has a section with a tropical rain-forest in a acclimated hot and humid environment that is fantastic to see.
The National Botanic gardens are spread over a 19 acre site with lovely pathways, trees and squirrels to feed. They also host events year around.
I totally recommend families to visit the gardens, even though it is a little ways from the city centre and parking around the area can be problematic. But you won't regret going though.
Stroll in the Phoenix park
Phoenix park is a massive park, open every day throughout the year, perfect for strolling, running and letting the kids enjoy a great open area.
You won't be able to walk around it all but you can drive easily and there is plenty of places to park. Some of its many sights include the Magazine Fort, the Prehistoric Burial Chamber, the Papal Cross the People's Gardens and the Ashtown Castle and Demesne.
No admission fee is required to visit the the public areas in the park.
Phoenix park also hosts Dublin Zoo which does have an admission fee.
See wildlife at the Dublin zoo
Dublin Zoo is one of the top family attractions in Dublin, Ireland.
Open nearly the whole year round the Zoo is always a good day out for the kids. Dublin zoo is one of the world's oldest zoos, dating back to 1831, and is located in Phoenix Park, Dublin.
Dublin zoo is my daughter's favorite zoo. The zoo is large and the animal's habit are well preserved and spacious. They have many interesting animals and great insights about the species they host but also remarks about the number of animals left in the wild and their risk of extinction plus what the zoo is doing to help care for the existence of these species.
A walk around the zoo is sure a treat for kids but also for adults. I recommend you to schedule at least a couple of hours to visit it.
Plenty of free parking around the location. I do recommend you get your tickets in advance because it can get quite busy and the queue isn't fun!
This attraction if free with the Dublin Pass!
What to do in Dublin with kids when it rains
You should always be prepared for rain but if you want to take shelter while making sure the kids are having a great time then you should check these indoor activities for kids in Dublin.
Learn at the The Natural History Museum
The Natural History Museum is not a massive museum like some others around the world but still a great place to visit with the kids.
Here they will have the chance to learn about hundreds of animals that are part of the zoological collection.
In the first floor you will find all the animals that are native to Ireland, including a wide range of birds, insects and fish.
The display on the second floor showcases animal models and skeletons from large species from all over the world such as elephants, bears and more.
The National History Museum has free admission but you can receive a special offer gift with the Dublin Pass!
Watch a performance at The Ark
Located in the Temple Bar, the Ark is a dedicated cultural centre for children aimed at discovering art. Children can enjoy performances in their child-sized theatre, view exhibitions or participate in creative workshops.
A good location to combine with something to eat afterwards perhaps?
Check their website for the current performances and if you find something you enjoy book in advance because they can sell out quickly.
There are special offers available for Dublin Pass Holders!
Family Friendly Museums in Dublin
There are tons of museums to give the kids a throwback to the history of the city. You usually don't need to pay to take a look at the expansive culture of Dublin as the National Museums are free.
However, f you have to pay for your entry it is not so expensive to visit a particular museum.
The National Gallery of Ireland
The National Gallery is located at Merrion Square West, in Dublin 2, very close the Natural History Museum.
It is another free entry museum in Dublin so what is not to love? This stunning gallery has lots for all the family including workshops, family-friendly tours and children's audioguides to hlp engage even the smallest of visitors.
The National Gallery of Ireland has free admission but you can receive a special offer gift with the Dublin Pass!
EPIC Irish Emigration Museum
Although this is a relatively new place, it has fast become a popular tourist attraction. Older children and teenagers love this high-tech interactive museum.
Your kids will enjoy learn with the interactive structures. This is not a typical museum that you usually come across. Visitors get a passport that they need to stamp at different stations. It is almost like visiting new countries while you are inside the museum.
Each area in this museum has educational information with touch screen systems. The moment you touch on a figure, it will start explaining the history behind it. For example, if you want to know about River Dance, all they need to do is touch on the figure. They can also make digital postcards from them.
Get your ticket here! You will have free admission with the Dublin Pass!
GPO Witness History Museum
This is an award-winning museum and should be in your top things to do in Dublin with kids list. Like the EPIC museum, this is also an interactive, immersive, and engaging museum that tells about the Irish history in detail.
Kids will love to experience this museum where they can learn about the history of the city through an interactive session.
Over the years, museums in Dublin have gone through a massive change to make them more kid-friendly. The GPO Witness History Museum is a step towards making museums attractive again.
Click here to book your tickets!
Visit the National Leprechaun Museum of Ireland
A museum to experience mythical Ireland.
Step in the Otherworld and learn Irish Folklore through storytelling. For kids from 7 years and up.
Click here to get your tickets!
If your kids love Harry Potter, they will find the Dublin castle almost similar to Hogwarts. This towering castle is magical. It was erected early in the thirteenth century. What's more interesting is that the castle was built on a Viking settlement. So, if you see the Vikings series, you would have other imaginations when you visit this castle.
Make sure you take your camera along because there are tons of spots where you can take good images. The architectural brilliance of this castle is something to admire for hours. It opens at 9:45 in the morning and remains open until 5:45 in the evening.
At the Dublin castle you can enjoy different exhibitions and parts to explore which are child friendly, for instance the Viking Excavation, the Medieval Tower, The Castle Gardens and the Chester Beatyy Library.
Click here to get fast track tickets! If you are a holder of a Dublin Pass your admission is free!
Family things to do in Dublin outside the city centre
These activities are not in the city center but it does not mean ti is hard to access them. if you rent a car these are just a few miles outside of the centre, but you can rich it via public transport and taxis.
Play in the Rainforest Adventure Golf
Located in Dundrum Town Centre this is the only themed indoor mini golf venue of its kind in Ireland. It is perfect activity if you want to shelter from the rain too. The shopping centre beside this attraction is very large so you could combine as a shopping trip too.
They have two 18 holes indoor mini golf courses that are perfect for families and really children of all ages can enjoy. If you arrive there before 12:00 (like we did) you get a special deal and get to play in both courses for the price of one!
This is very close to the Airfield farm (next in the list) so I recommend you to visit both in the same outing.
You will have free admission with the Dublin Pass!
Spend a great afternoon at the Airfield Estate
We thoroughly enjoyed visiting the Airfield Estate, farm and gardens.
The Airfield Farm is committed to environmentally sustainable farming practices and you can get educated about the work they put for grass and land management. Kids have the opportunity to collect eggs, witness milking of the Jersey cows, calf and feeding.
You can also visit and explore the Overend family home and vintage car garage. There are several gardens and walking trails with century-old redwoods and fruit trees. It's just a fantastic day out for families.
Airfield Estate offers free admission with the Dublin Pass!
Visit the Malahide castle
This is an 800-year old castle located only a few miles from the Dublin airport. The location is so beautiful that you might want to spend an entire day or half day with your family here.
Your kids would love to explore this medieval castle, especially if there is a guide around. Take them to the Butterfly glasshouse, the walled gardens and into the fairy trail woods.
There is also a playground. Many families come here with their kids to have a small picnic. The colossal castle in the background provides the ideal backdrop to your picnic setting. Take a tour in and around the castle to feel the magic.
Malahide Castle offers free admission with the Dublin Pass!
Explore the Imaginosity (Dublin Children's Museum)
Only interactive museum in Dublin for kids under 9 years old. They believe in a "hands on, minds on" concept to help children learn while having fun.
It is called a children's museum but for me it is more like a hands-on learning playground. There isn't really any exhibition, but a space with different areas, toys and structures designed to help kids learn while they play, interact and explore the equipment and tools around.
I must stress that even though my 9 years old had a great time because she loves playing she was just about too grown up and advanced to really be challenged with the learning possibilities here. Smaller kids, toddlers and preschooler will definitely enjoy but there isn't much to challenge the knowledge and curiosity of kids older than 10.
Before you head there book a ticket online, they sell out sometimes!
Take a day out to Howth harbour
Howth is a small fishing village and outer suburb of Dublin. The people are very friendly here and it is a great place to stroll around and enjoy the seaside.
Most importantly, the scenic beauty of this place would make you want to come to Howth harbor every week. It is like the perfect getaway from the busy streets of Dublin. You can explore the sandy beaches and go bird-watching with your family.
Looking for Day Trips From Dublin? Check out my post here:
Things to do with kids in Dublin County
Here I have some of the best family days out from Dublin. This will require you to rent a car or use the public transport because they are not close to the city center.
However they make for fantastic family day trips from Dublin, or half day trips even, and gives you the opportunity to explore more around Ireland.
Take a workshop at the Chocolate Warehouse
This is always a good one for the kids (and the adults!). The kids can create their own chocolate art by taking part in the workshops.
It is a little drive away from Dublin city centre as it is located in Walkinstown but definitely worth the drive if you are looking for fun things to do in Ireland with the family.
Check their website here to find more information.
For those who love strolling for hours, there is no place better than Dun Laoghaire. It is a small coastal suburb where you can take a long walk and end up having fish and chips.
You will get to experience a taste of how the locals live in Dublin. There are tons of cruises and water sports that your kids can enjoy. Don't forget to try your hand in fishing if you have time.
Learn at the Sea Life Bray Aquarium & Attractions
The National SEA LIFE centre is actually in Co. Wicklow but you can get there in 30 minutes by train and you can get there also by bus.
It is a relaxing and scenic ride from Dublin City Centre which the whole family will enjoy.
More family activities in Dublin
There is plenty more to see in Dublin but the list may depend on your kids age.
Leisure centres:
Looking for things to do in Dublin for tweens or teenagers? How about bowling or a game of pool?
Leisureplex has several locations in and around Dublin – Stillorgan on the Old Dublin Road, in the Charlestown shopping centre, Blanchardstown, Tallaght and Coolock can provide you with a variety of family fun activities including a kids adventure land, arcade games, Quasar, bowling, snooker and pool – something for all the family.
Watersports:
A short distance from the city centre Surfdock has a watersports school – kayaking, surfing, paddleboarding – you name it. They also do summer camps.
Check out their site for the options.
Go kart:
If you are looking for Near the airport in Dublin you have Kartcity Raceway, where kids from 8 years and older can race on their outdoor track. My kids have always loved racing karts – always a good kids day out!
Take a boat trip:
Most kids love going on boats. How about a guided 45 minute covered boat trip along the Liffey giving you a relaxed time and an alternative way to see some of the sights in Dublin with your family.
Click here for more information.
Aqua zone:
For kids who love splashing then this aqua park will be a great attraction. Check their website for more information.
---
If you were planning to make a list of the things to do in Dublin with kids, the above guide will help. Don't miss out on any of them because each one has a special significance.
More Ireland Travel posts:
PIN FOR LATER!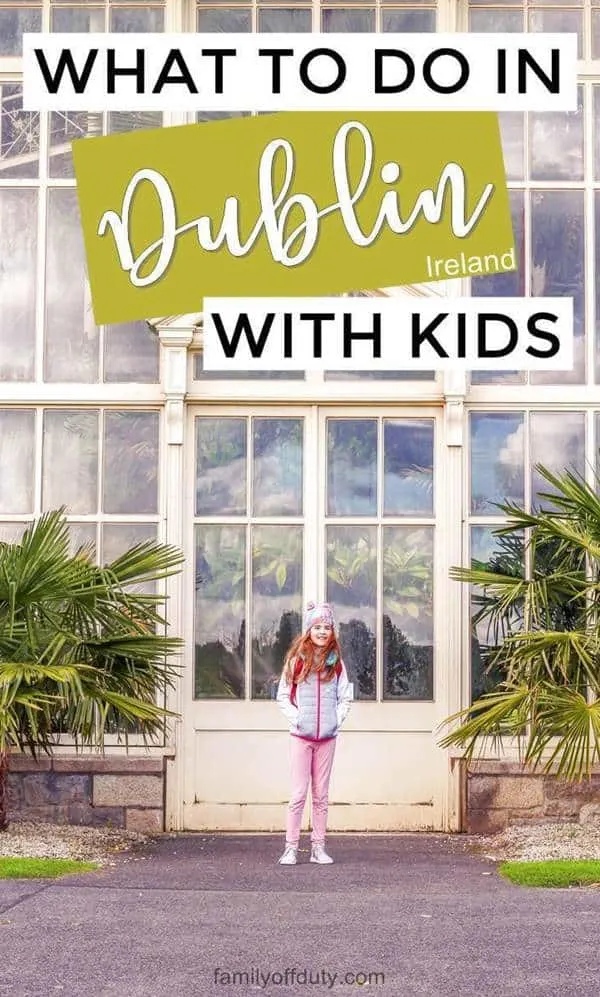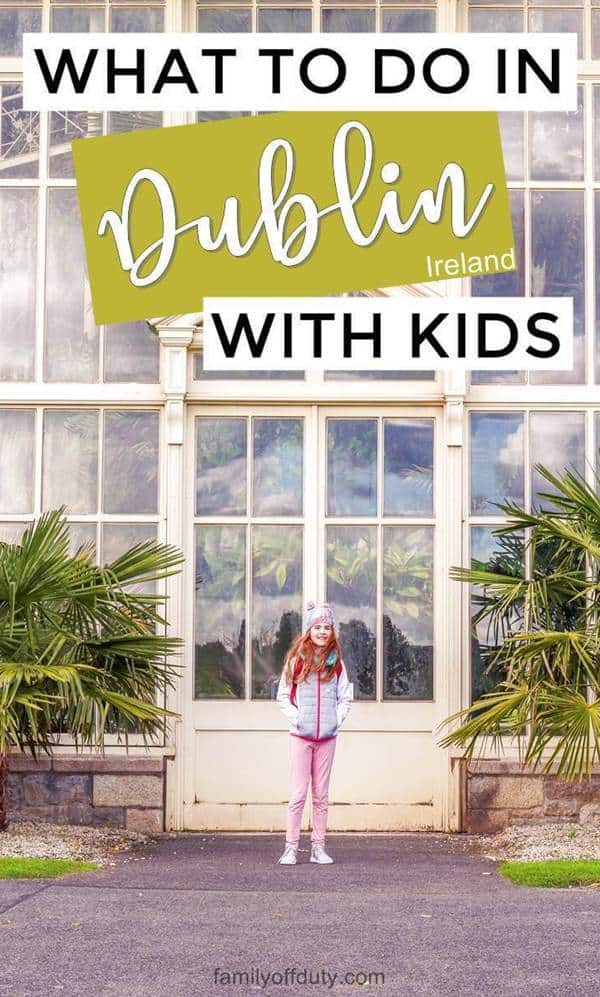 Things to do in Dublin with children