Best day tours from Dublin
What to see more of Ireland during your trip to Dublin? In this post I will share the best day trips from Dublin by car, train, bus and DART.
There is so much more to Ireland than it's charming capital Dublin. Since the island is relatively small you can take several Ireland day tours from the capital and see a lot more during your visit, from ancient ruins to unique cliff walks.
Below I have a list of the best day tours you can take, with information about the travel time, distance from Dublin and what you can expect to see there should you choose to go to that destination. You can also follow the links to other blogger's site to learn further about each destination.
Is you are just visiting Dublin for a short weekend you should enjoy the city but if you have a day or two to spare I would definitely recommend visiting other beautiful sites in Ireland and Northern Ireland.
What are the Best Day Trips From Dublin, Ireland
Below is a list of what myself and other travel bloggers consider to be the best day trips that you can take from Dublin.
You can choose to join a coach or private day tour providers to reach some of these locations. This is perfect if you like to follow a schedule or would not want to drive yourself in Ireland.
However there are some good day trips from Dublin that you can go with public transportation such as Howth head and Bray head, read below for more info.
The list is organized on descending order of travel time required to get to the destination. So read on for some of the most rewarding Ireland tours from Dublin.
Dublin to Howth day trip:
Location: Co. Dublin, Republic of Ireland
Distance from Dublin centre: 18km
Travel time (each way): 50 min by train
Best for: Picturesque coastal suburb, cliff walk and day trips from Dublin by train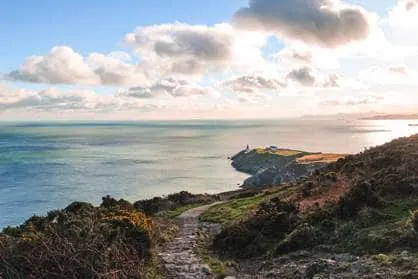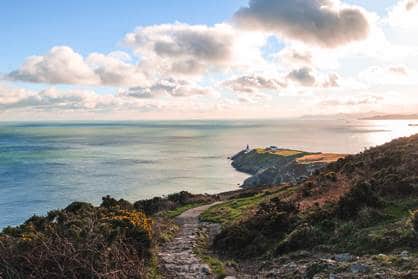 When visiting Dublin, a day trip to Howth is a "must add" to your itinerary. Howth is a charming fishing village just a 45-minute train ride north of Dublin.
In Howth, you can enjoy freshly caught seafood, but the real draw to this town is its famous cliff walk. The Howth cliff walk is a 6k loop that provides sweeping views of Ireland's Eye (a small island home to a variety of birds) and the bay of Dublin.
While it is a loop, I suggest walking until you reach the view of Dublin and the lighthouse and the turn back. As the second half of the loop takes you through a residential area.
To get to Howth, take the Dart (a round trip ticket costs about €6) from any station in Dublin north to the final stop, Howth.
It's so simple, and inexpensive, making Howth the perfect escape from Dublin.
Wicklow Mountains National Park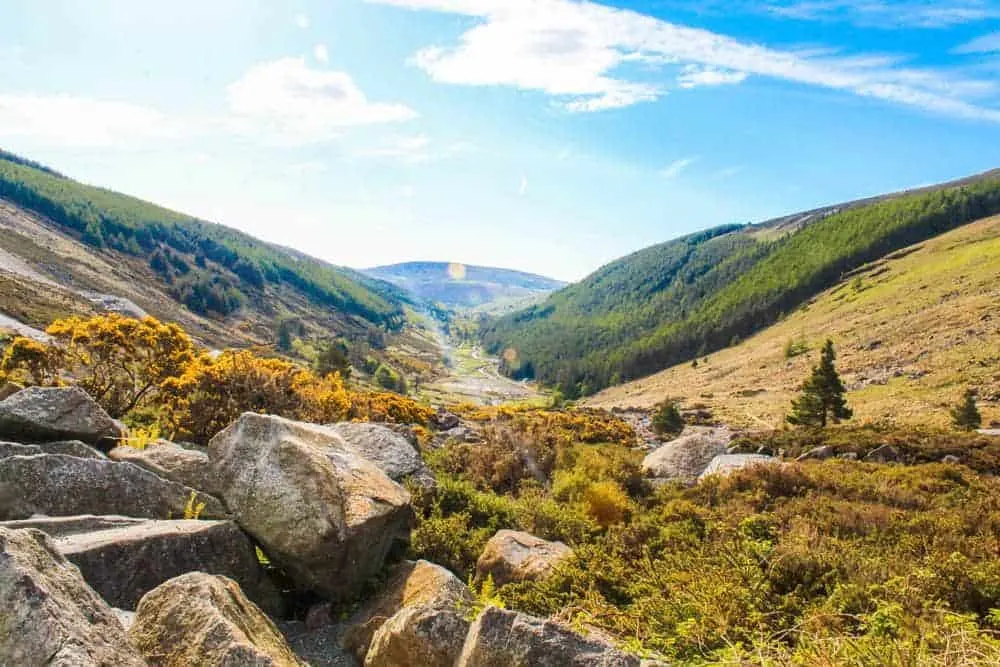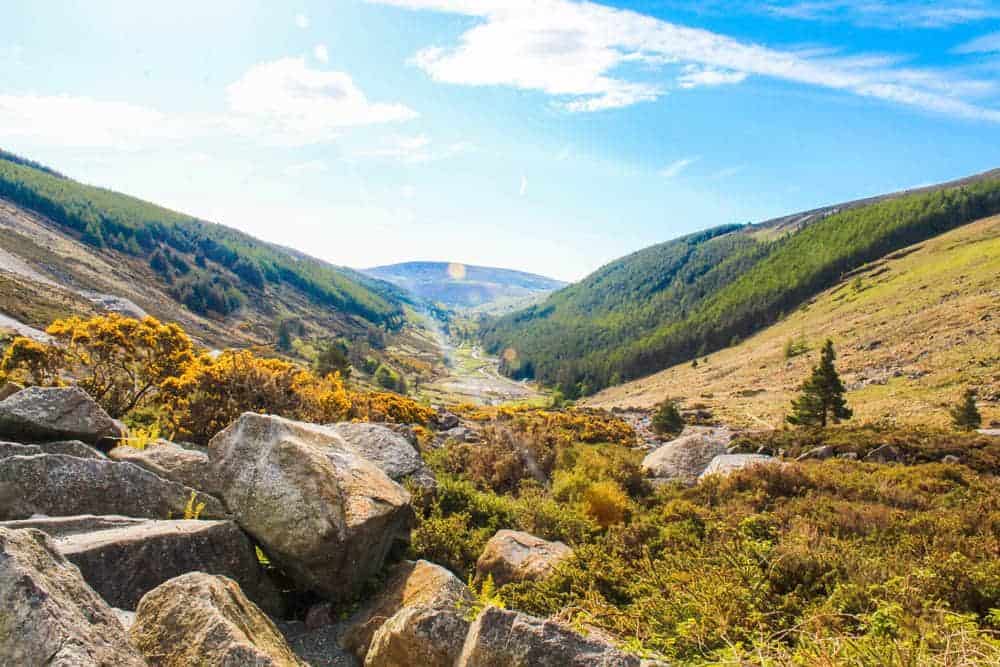 Dublin to Wicklow Mountains day trip:
Location:
Co. Wicklow, Republic of Ireland
Distance from Dublin centre:
50km
Travel time (each way):
50 min by car
Best for:
Outdoors, scenic drives, mountain views, historical ruins and building
Just about an hour's drive from the busy city of Dublin you will find the most beautiful areas in Ireland, The Wicklow Mountains National Park in County Wicklow.
The Wicklow mountains is a perfect day trip from Dublin, Ireland especially for hikers and nature lovers. The Glendalough National Park has great hiking trails with different difficulty levels to suit most outdoors enthusiasts.
In the National Park you will also find the Glendalough monastic site, which is an impressive historical site with several monastic remains such as the gateway, cathedral and the traditional Irish round tower.
The area is also home to the iconic Lough Tay, the black lake that resembles a pint of Guinness and belong to Guinness family. Powerscourt gardens and waterfall, Ireland's highest waterfall, is also found in the area and most definitely worth exploring.
You can visit the Wicklow mountains in Ireland and the attractions in the area by car, private tour providers or by public transport.
Newgrange and Knowth Passage Tombs
Newgrange tours from Dublin:
Location: Co. Meath, Republic of Ireland
Distance from Dublin: 50km
Travel time (each way): 1h
Best for: Archaeology, ancient history and prehistoric monuments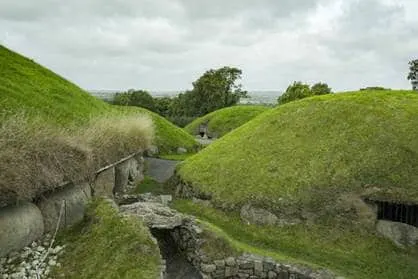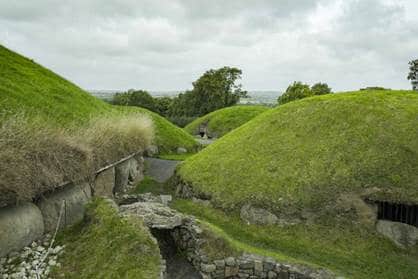 Visiting Newgrange and Knowth Passage Tombs as a day trip from Dublin is a must. These three prehistoric burial mounds, along with forty satellite passage graves, make up the Brú na Bóinne complex. The sites are recognized as having great ritual significance and are part of a UNESCO World Heritage Site.
What makes these particular tombs so interesting in a land full of prehistoric ruins, is that visitors can still enter the chamber of Newgrange.
There are many tour companies leaving from Dublin and touring the sites. It's an easy 50-minute (60 km) drive to the Brú na Bóinne complex for visitors with a car. Parking is free.
Tours from the visitor center to the burial mounds are required and sign up happens upon arrival. Small shuttle buses take visitors to both mounds (separately) and then there is a tour of each site.
If driving oneself, get there early to beat the tour buses and feel a little less rushed. There is a café and gift shop in the visitor center.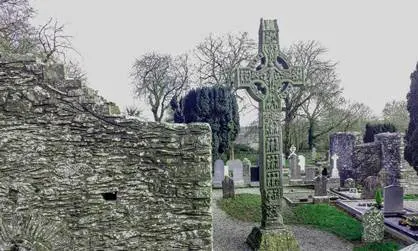 Dublin to Monasterboice day tour:
Location: Co. Louth, Republic of Ireland
Distance from Dublin: 58km
Travel time (each way): 1h10
Best for: Ancient history, monastic site, buildings and monuments
Getting to Monasterboice is not easy via public transit and could take you up to 4 hours from Dublin. This is a trip you need to take a tour bus or drive yourself as the location which is just north of Dublin is difficult to get to. If you take a bus it would be around 50 minutes to Drogheda then from Drogheda get to the Monasterboice Inn where you could walk to the site in about 30 minutes or so.
There are also a wide selection of tour operators that include Monasterboice in their itineraries and the cost will be around €45.00 but include Newgrange and Tara.
Monasterboice is near Drogheda, and it was founded in the 5th century by St. Bhuithe, one of St. Patrick's original followers. Today this beautiful little graveyard is known for one of Ireland's greatest collections of high crosses, in particular, The South Cross or High Cross of Muiredach.
The South or High Cross depicts Medieval Europe with images that include Viking warriors arresting Christ holding Norwegian swords and many other convoluted images that were used to teach those that couldn't read about the history of Christianity.
It is believed that the West Cross head was stored inside to protect it but the stem of the cross is quite damaged. Locals believe that the damage came from those fleeing the famine who took a piece of the cross with them in remembrance.
Day trips to Bray Head from Dublin:
Location: Co. Wicklow, Republic of Ireland
Distance from Dublin: 45km
Travel time (each way): 1h15
Best for: Coastal path, beautiful view, hiking and day trips from Dublin by DART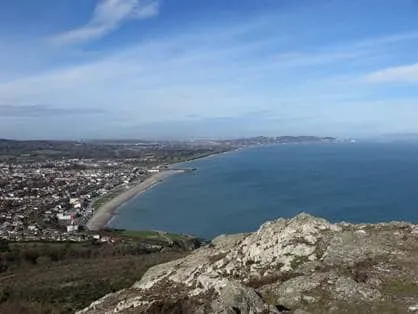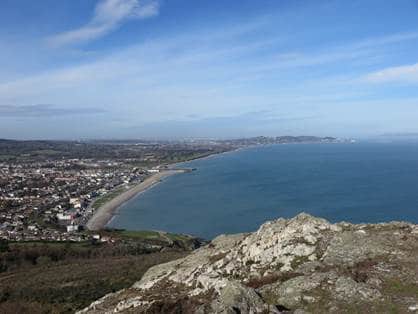 Bray is a coastal town in County Wicklow, a short distance south of Dublin city centre. The easiest way to travel to Bray from Dublin is by DART which takes around 45 minutes.
Bray's beachfront promenade is a one minute walk from the DART station. Stroll along the grass-lined promenade towards Bray Head, easily recognizable as the 241-metre high headland with an enormous stone cross on the top.
The end of the promenade climbs upwards to join the Bray Head path. From here it takes between 30-60 minutes to reach the stone cross. The path becomes rocky and narrow with some steep sections but is well trodden and easy to follow. On a clear day, your efforts will be rewarded with an expansive view of Bray and Dublin Bay to the north and the Wicklow coastline to the south.
Plus, you will have a wonderful view of the imposing Great Sugar Loaf Mountain. Descending from Bray Head, you can rejoin the scenic, flat coastal path around the headland into pretty Greystones from where you can catch the DART back to Dublin.
The entire linear walk from Bray to Greystones is approximately 7 kilometres and will take 2-3 hours to complete.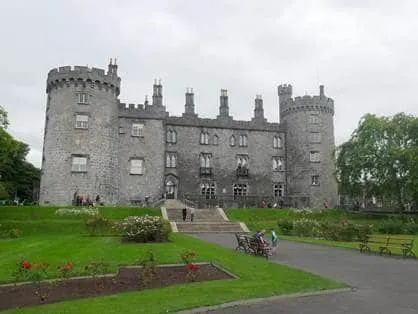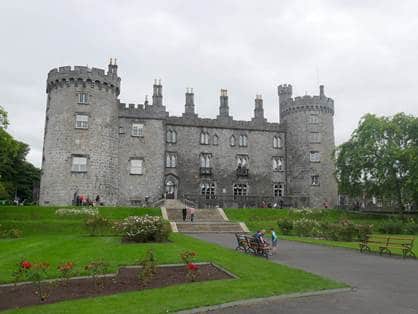 Day trip from Dublin to Kilkenny:
Location:
Co. Kilkenny, Republic of Ireland
Distance from Dublin:
130km
Travel time (each way):
1h50
Best for:
Medieval history,
visiting castle
, Irish cuisine and beverages
One of the easiest day trips for Dublin and one that packs a punch in terms of historical charm is a visit to the city of Kilkenny. Located to the South West of Dublin, Kilkenny is easy to reach from the city by bus, train or car: a motorway connects the two in less than two hours and the city is compact enough to be visited in one day.
There is plenty to see and do here and the city highlights all bear wetness to this beautiful town's medieval past.The best way to visit Kilkenny is to follow the so called Medieval Mile: this is a discovery trail that crosses the city centre and connects all Kilkenny's most important historical sites.
Along the trail, not to be missed attractions are the city's castle, with beautiful turrets and large grounds, St Canice's cathedral and round tower, the Smethwick's experience, for lovers of the famous Irish ale and Kilkenny's many shops and dynamic restaurants and cafes.
As well as for important buildings, Kilkenny is also famous for charming small streets with colourful houses, which are peculiar to Ireland and make this an iconic stop to add to any Ireland visit.
Rock of Cashel tour from Dublin:
Location: Co. Tipperary, Republic of Ireland
Distance from Dublin: 165km
Travel time (each way): 2h
Best for: History and heritage monuments, traditional Irish culture and folklore, unique views and photography opportunity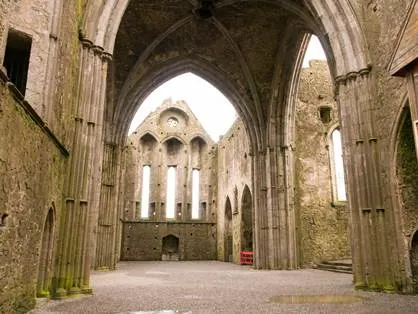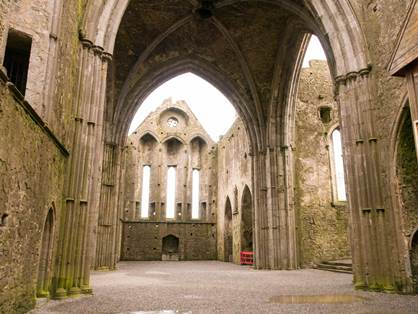 One of the most iconic Irish historical landmarks is the Rock of Cashel in County Tipperary and it is easily enjoyed as a day trip from Dublin. If you are a history buff, then this Irish attraction is a must. The oldest building of the abbey is the round tower and many of the buildings still standing originate from the 12th and 13th centuries.
The Rock of Cashel, the fifth-century home of the kings of Munster, is located less than 2 hours from Dublin approximately 167km (104 miles). There are tour operators who will include the Rock of Cashel on day trips from Dublin, usually as part of an itinerary that include another tourist site such as Blarney Castle or Kilkenny.
However, if you have a car, it is easy to visit and explore the Rock yourself as there is a public car park at the bottom of the hill.
Within the medieval abbey, there are 45-minute guided tours that run a few times a day which can introduce you to the abbey and its history. Remember to bring a raincoat as the abbey is open to the elements thanks to the loss of its roof and allow at least 1-1.5 hours to explore the abbey and its grounds.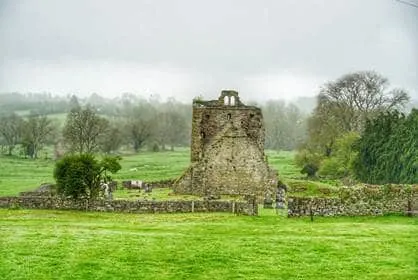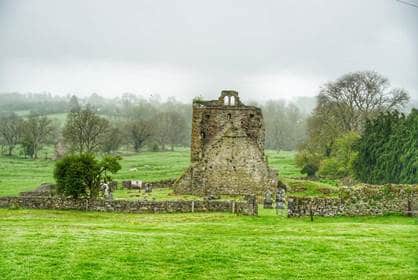 Day trip to Jerpoint Park from Dublin:
Location: Co. Kilkenny, Republic of Ireland
Distance from Dublin: 140km
Travel time (each way): 2h10
Best for: heritage, culture and historic monuments
A must see Dublin day trip is Jerpoint Park, two hours south of Dublin, and just twenty five minutes outside of Kilkenny. Jerpoint Park is a magical place to visit. Guests are welcomed at Belmore House, built by the 1st Earl of Belmore as a hunting lodge in the 18th century. The current owner is Joe O'Connell, a retired pig farmer, who is now leading tours of Jerpoint Park.
When Joe purchased the property some fifteen years ago, he bought it for the estate and the 115 surround acres. As he went out to inspect the property shortly after purchase, he discovered the trees, vines, and brush were hiding something quite significant, the ruins of a 13th century church.
Joe called up the Irish Heritage Council, who came out and immediately set to work uncovering the ruins. After everything was cleared away, they found not only the church, but also stones showing the outline of an entire town. Newtown was at its height in 1450 AD, but vanished from all records some time in the 1600s.
The story of the discovery is amazing, but touring the property with Joe is an adventure in its own right and definitely deserves to be a side trip from Dublin.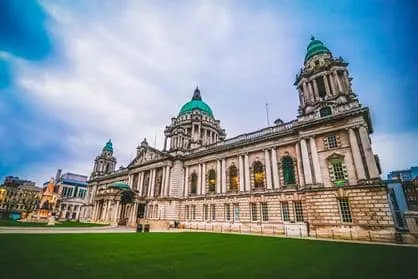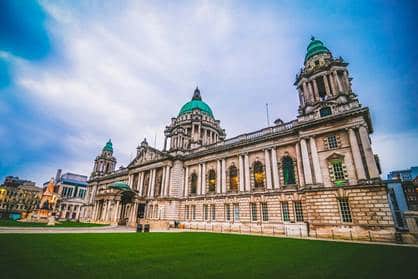 Day trips from Dublin to Belfast:
Location: Belfast, Northern Ireland
Distance from Dublin: 165km
Travel time (each way): 2h10
Best for: city trips, history and day trips from Dublin without a car
While you're staying in Dublin, why not visit the neighbor country, Northern Ireland? Belfast, the capital city of Northern Ireland, is only a 2h30 bus ride from Dublin, and this makes it an ideal day trip from there. Belfast is a very historically rich city, filled with interesting monuments and things to see.
The city center in particular is densely packed with epic monuments, such as the Belfast City Hall, architectural masterpiece and symbol of the city. The building is build in the Baroque Revival style, and has the characteristic feature of historic buildings in Belfast: the green domes.
Other buildings with this feature are the Church House, the John Bell House, or the Robinson & Cleaver building (see more ideas of things to see in Belfast here).
But more than its architectural beauty, that is discovered by walking in the streets, Belfast is also known for its food, deemed as an emerging food capital. A very good reason to come try the local cuisine.
How to get to Belfast from Dublin:
By car: 2 hours drive. Exit Dublin from the North on the N1, then merge on the A1 when crossing the border, all the way to Belfast.
By bus: 2h30 bus ride, 20€ return ticketTake the bus from Custom House Quay, 1 departure every hour.
Check times and book here: Dublin Coach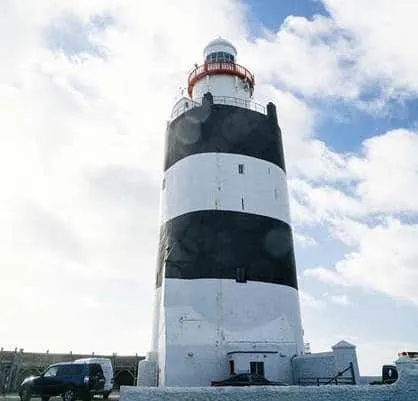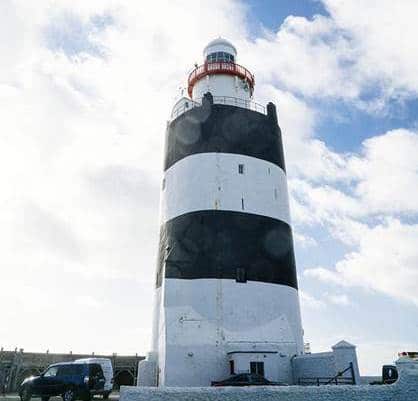 Day trip to the Hook peninsula from Dublin:
Location: Co. Wexford, Republic of Ireland
Distance from Dublin: 170km
Travel time (each way): 2h45
Best for: Beautiful views, Irish rural scenery and coastal drive, day trips from Dublin by car
If you're looking for a unique day trip from Dublin, consider the Hook Peninsula, also known as the Ring of Hook. The Hook Peninsula is a hidden gem nestled at the south of Ireland's ancient east just a few miles from Wexford.
This area of Ireland receives the most sun in the country. Aside from the stunning scenery, beautiful beaches, and great (for Ireland) weather, you can visit Hook Lighthouse, the oldest working lighthouse in the world! You will also find Ireland's most haunted house, Loftus Hall, where you can take a haunted tour.
Don't miss Tintern Abbey where you'll find the ruins of an old abbey as well as the ruins of an old mill that has been overgrown with beautiful vines. This forested area is a beautiful spot for a picnic and a hike. It's really one of the best places in Ireland!
The Hook Peninsula is about a 2.5 hour drive from Dublin along the Southeastern coast of Ireland.
Giant's Causeway, Rope Bridge and Dark Hedges
Day trip to Giant's Causeway from Dublin:
Location: Co. Antrim, Northern Ireland
Distance from Dublin: 262km
Travel time (each way): 3h
Best for: coastline views, unique geological formations, popular Irish sites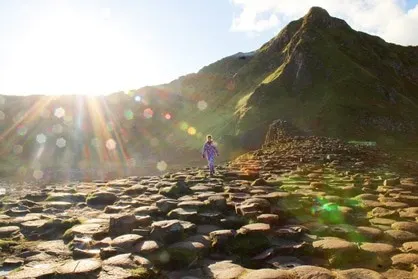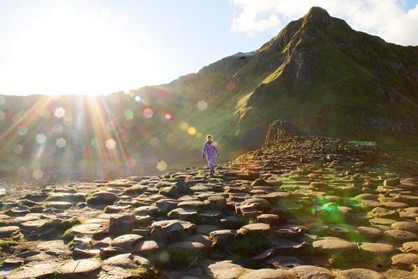 The Giant's Causeway is a gem on the beautiful coast of Co. Antrim in Northern Ireland. It was formed around 50 million years ago as a result of a volcanic eruption.
These 40.000 interlocking basalt columns, which together form this amazing UNESCO World Heritage site, are the habit of many rare animals and plants. However, beyond the geology there is a very interesting legend story of the Irish Giant, Finn McCool. Because these stepping stones reappear in the island of Straffe, the legend says that they were a road built by the giant to cross over to Scotland.
Apart from this stunning must see place there are a few other very interesting attractions rather close by to the Giant's causeway that you could visit in the same day trip: Carrick-a-rede rope bridge, Dunluce castle and the Dark hedges, all within 15 to 30 minutes drive from each other.
Carrick-a-rede is a rope bridge erected by fishermen to harvest salmon from their nets on the small island on the other side of the bridge. There is a 1km coastal path walk to get there from the parking area.
The ruins of Dunluce castle are also worth a visit, built over a cliff with incredible views.
And finally the Dark Hedges, the road with beautiful trees planted around 350 years ago, which have become rather popular after the Game of Thrones series.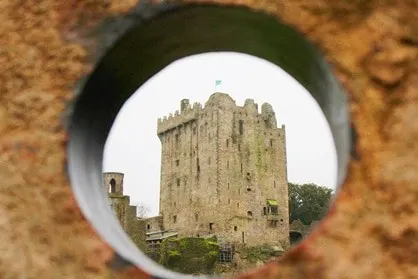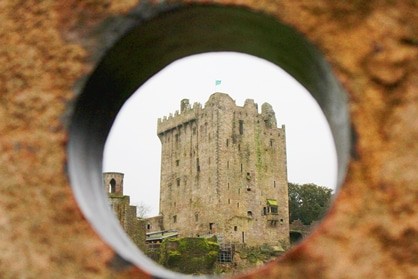 Dublin to Blarney castle and West Cork day trip:
Location: Co. Cork, Republic of Ireland
Distance from Dublin centre: 263km
Travel time (each way): 3h
Best for: Historic buildings, coastal walk, picturesque towns and day trips from Dublin to cork countryside
Blarney Castle in Co. Cork is famous for the history of the Blarney Stone. Legend says that anyone who kisses this stone will receive this "gift of the gab" and that is why the Irish are so good with words and story telling.
However there is a little challenge to be able to kiss this stone, you have to lie down on your back and bend your head backwards to be able to kiss the Blarney stone at the top of the castle tower.
Around the Blarney castle you can also enjoy the gardens of the Blarney Estate and learn more about the history of this property.
Day tour coaches offer this day trip from Dublin which could include a stop in the Wicklow mountains or the Rock of Cashel too. However you can also drive this distance if you rent a car and make your own route which should include driving the stunning countryside. If that is the case you could chose to visit Kinsale and Cobh, two of the most charming and prettiest towns in the coast.
Kinsale, about 16 miles south of cork city, is considered the gourmet capital of Ireland with plenty to see and do. While Cobh is also a very pretty little town in the habour area.
Day trips from Dublin to Cliffs of Moher:
Location: Co. Clare, Republic of Ireland
Distance from Dublin: 266km
Travel time (each way): 3h20
Best for: Coastline photography, unique views and seabirds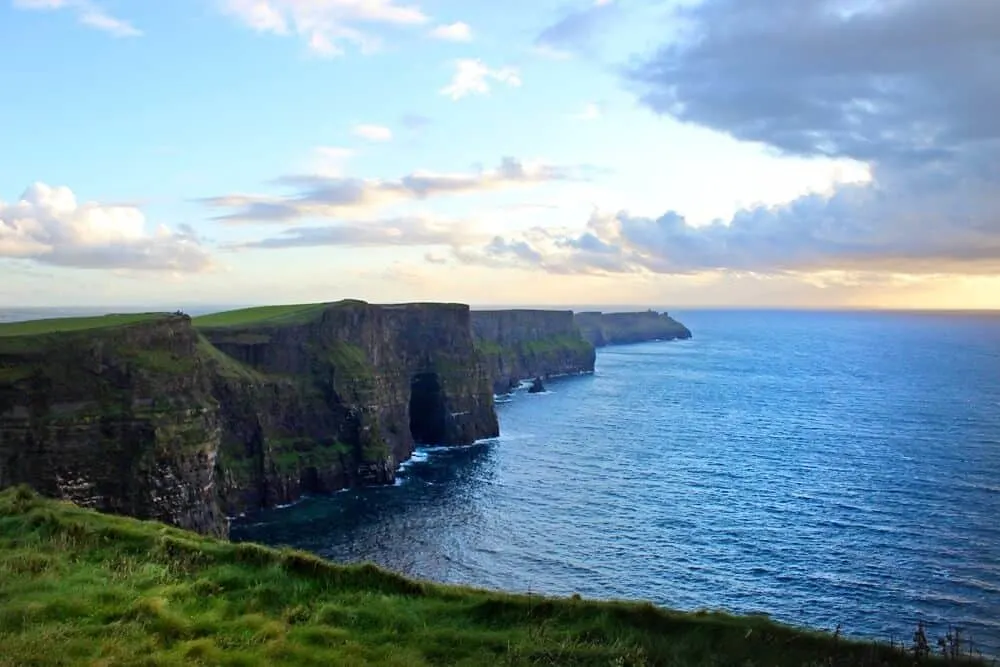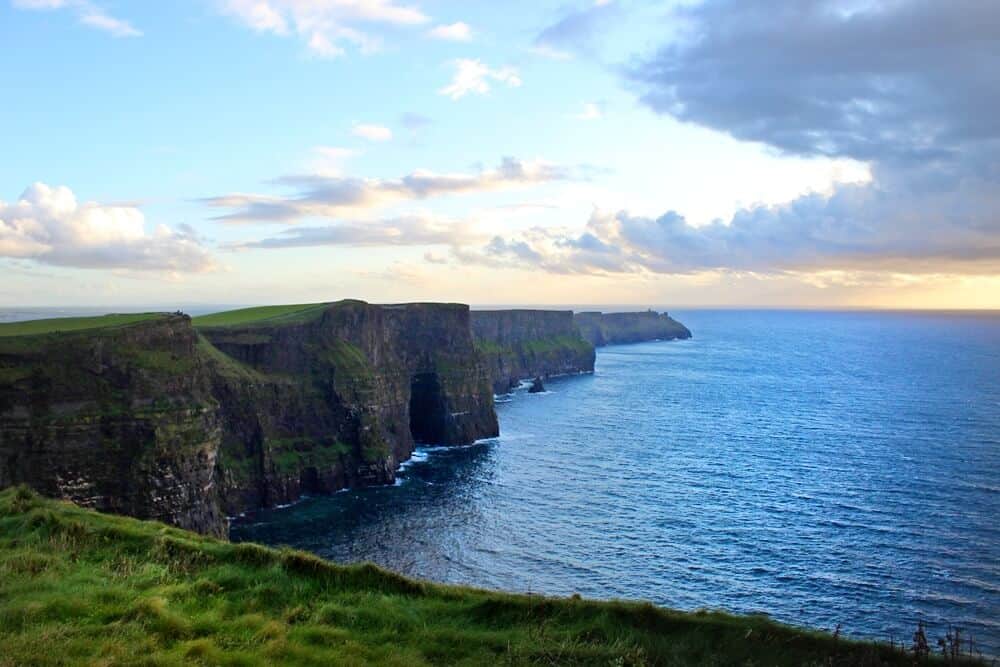 It's hard to go to Ireland and avoid the sheer beauty of the country, whether you are visiting Ireland for one week, or just one day.
One way to ensure to see a sight like no other is to make the day trip from Dublin to the famous Cliffs of Moher. You can easily rent a car and be there in just a few (3ish) hours or take a group guided tour.
While technically on the other side of the Island, if you have any time to spare, you can make a day trip to the Cliffs a priority and you won't be disappointed! The towering cliffs hang over the Atlantic ocean and stretch for miles and miles, making it a geological beauty.
And while the cliffs themselves are absolutely breathtaking, the Western side of Ireland provides so much rich culture, that a stop at a pub is a must in hopes of catching a live music show, to fully round out an amazing day.
If you are Ireland for a while and have time to visit more of the Wild Atlantic Way, have a look at Explore the Wild Atlantic Way for some free driving routes.
Galway and Connemara National Park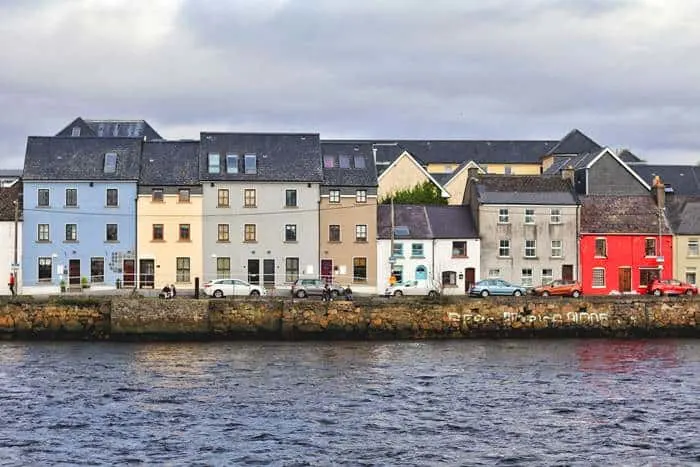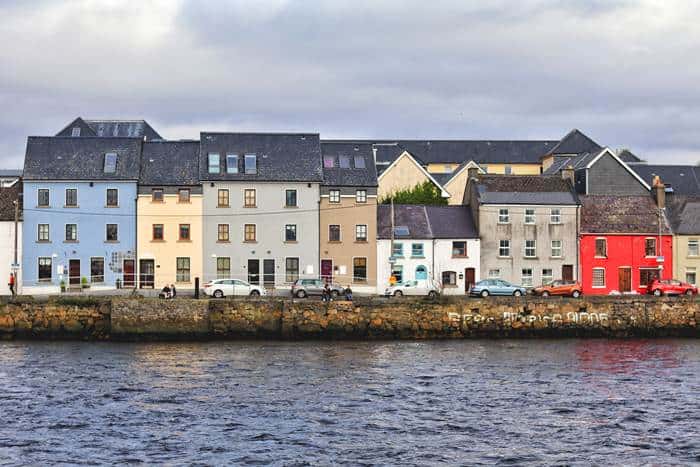 Day trips from Dublin to Galway City:
Location: Co. Galway, Republic of Ireland
Distance from Dublin: 288km
Travel time (each way): 3h35
Best for: City trips, outdoor
The Connemara national park is on the west coast of Ireland with incredible views of the Wild Atlantic Way and the mountains range.
This is a wonderful day tour from Dublin, especially if you are interested in nature, local flora and fauna and hiking on this beautiful area. It is also offer its visitors plenty of history and historical buildings such as the Kylemore Abbey which is a must see place if you visiting this side of the island.
You can also take some time to visit Galway city, have a 'craic' in one of the pubs or just shop while enjoying the street performers at Quay Street.
Galway is indeed on the other side of the island and if you are planning to have a day trip to Galway from Dublin you should plan it ahead to make the most of your day. Tours start very early in the day, you cold also rent a car and drive down.
---
There are so many opportunities to see Ireland from Dublin on a day or half day trip. depending on your interests you could go to the sea side and have a great cliff walk or explore a bit of the rich ancient history that can be found on the island.
What is your favorite day trip from Dublin, Ireland?
More Ireland travel guide posts: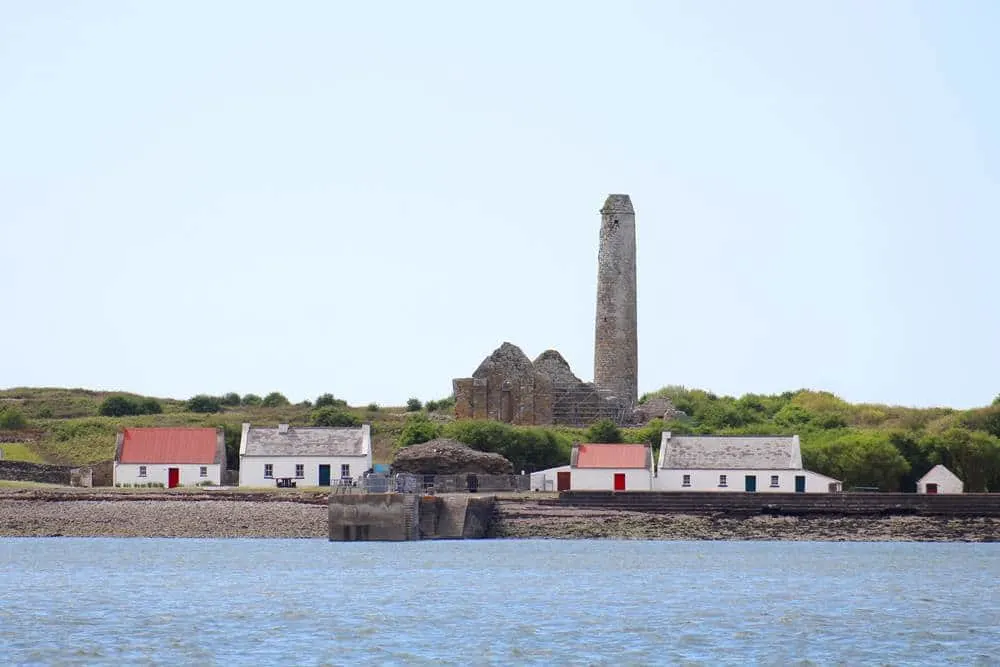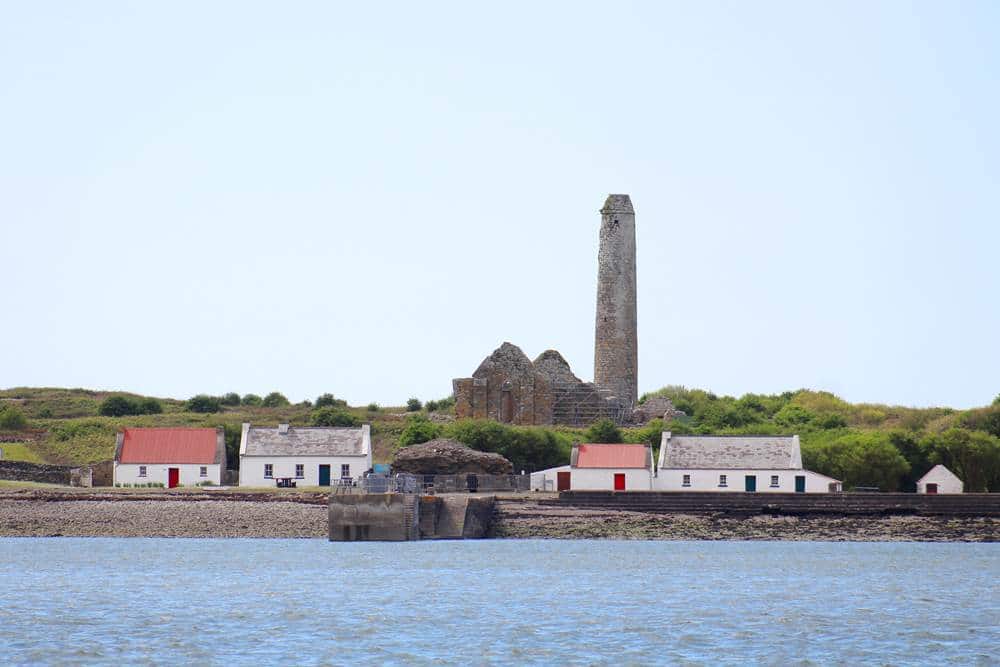 What to see on Scattery Island, Ireland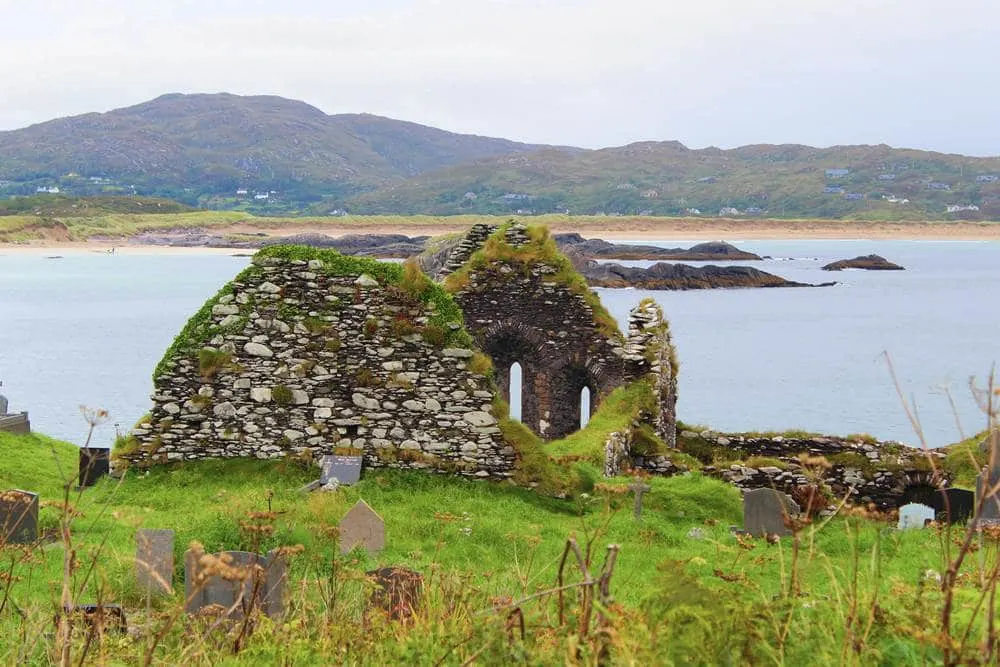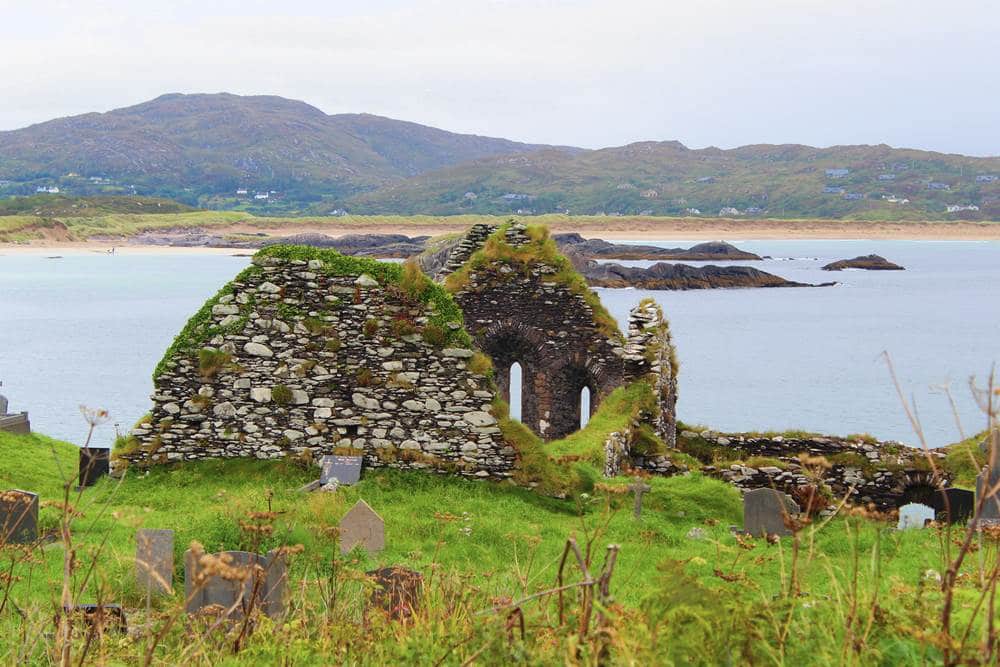 Things to do on the Ring of Kerry
PIN FOR LATER!


What day trips can you take from Dublin?