Best things to do in Dublin in 2 days
Follow our 2 Days In Dublin Itinerary to make the most of a weekend in Dublin or any two days in the Irish capital. Find out why this is the perfect Dublin itinerary for 2 days.
With many cheap flights from cities in Europe it has never been easier to take trips to Dublin. It is a fab place to visit for a weekend away.
In fact there are countless reasons to take short trips to Dublin if you have never been, whether it is for the fantastic atmosphere of the Scotland – Ireland rugby match during the six nations or a concert at Croke park (we saw the Stones there this May).
Make the most of your trip and follow our weekend in Dublin itinerary.
Is 2 days in Dublin enough?
How long should you stay in Dublin? This is a question we are asked often.
If you can plan for a long stay, of course you should do it! And you have many days don't forget to take trips out from Dublin or take a road trip around the East or West Coast!
But you need a lot more time to explore other areas in Ireland such as the beautiful Wild Atlantic Way and all its amazing attractions, like the Burren National Park and the Cliffs of Moher.
However, if you are only coming for a short period, 1 day trip or weekend away then there is still plenty you can and must do in Dublin on your short stay.
Also, check out my Dublin on a budget post for more ideas of what to do.
Dublin interactive map
Below I have map with the attractions you can visit in your 48 hours in Dublin.
If you are going to Dublin for a short stay then enjoy the city and follow our 2 Days In Dublin itinerary to experience these must do activities and cool things to do in Dublin, Ireland.
Read on to find out what to see in Dublin, Ireland in 2 days.
2 Days In Dublin Itinerary
Here is what to see in 2 days!
1. What to do in DAY 1 in Dublin
Our Dublin itinerary 2 days schedule will cover the following attractions and sights in the first day: the EPIC (The Irish Emigration Museum), Trinity College, Statue of Molly Malone and Temple Bar District.
To make the most of your two days in Dublin follow the sequence below. This is also perfect for anyone looking for a one day in Dublin itinerary.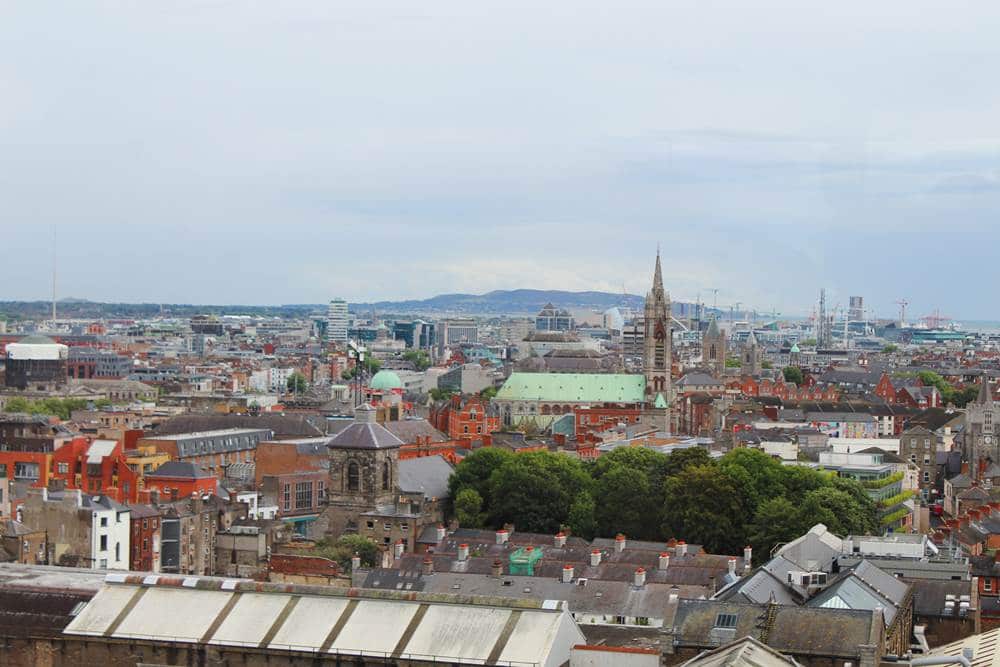 EPIC The Irish Emigration Museum
The Irish Emigration Museum is an interactive museum about the history of the Irish diaspora and emigration to other countries.
If yourself are an Irish descendant then this would be one of the best museums in Dublin to visit as it is a great way to learn about the Irish emigrant experience, history of the country and your own ancestral connections.
There is plenty of videos and stories told in a 'walk through' approach and their technologically advanced interactive options will sure catch your interest, making it a wonderful experience to the visitor.
The EPIC museum in Ireland is located in Dublin's Docklands and is easily accessible via the hop on/hop off buses. The museum itself is in the cellar of an historic 200 year old building with shopping mall with stores, coffee shops, bakeries and restaurants above.
All in all it is a favorite and definitely one of Dublin's top attractions.
Check out the EPIC website for more information.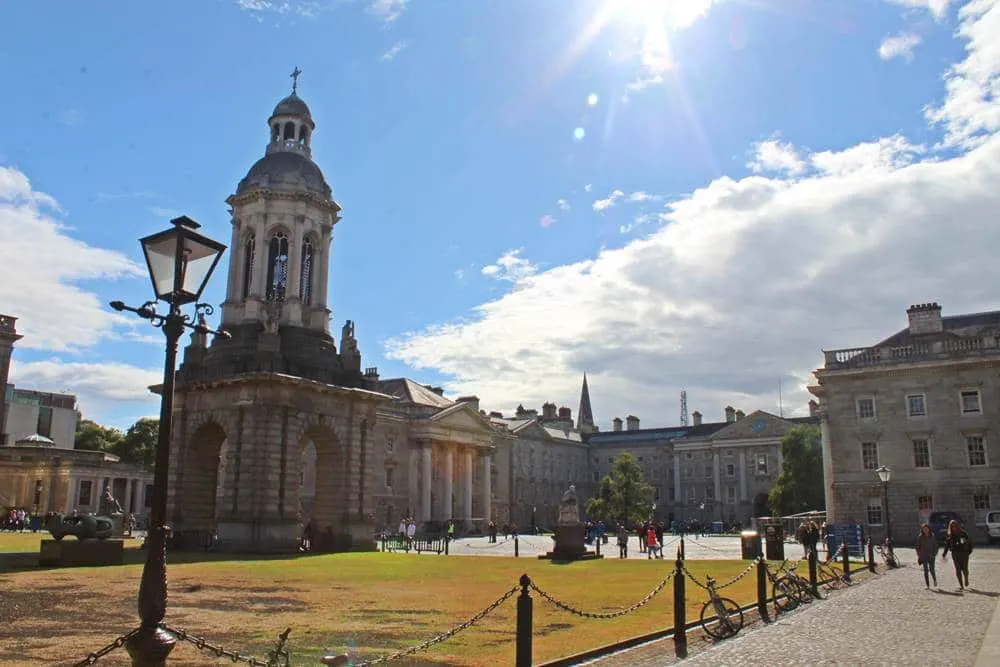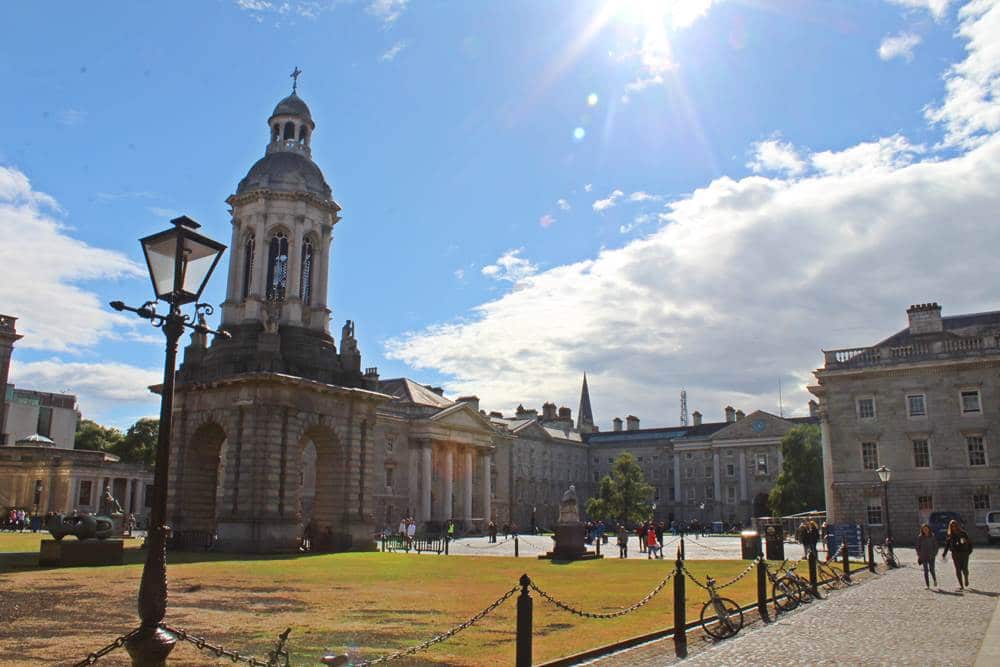 From the Irish Emigration Museum you can walk along the River Liffey and take a short walk to the Trinity College Dublin.
Dating back to 1592, and founded by Queen Elizabeth I, Trinity college is in effect the University of Dublin, and considered equivalent to the Universities of Oxford and Cambridge in the UK.
It is possible to walk for free through the grounds of the college located in the centre of Dublin, and is not that far from Temple Bar and other popular sights.
The library is the largest research library in Ireland. You can get a walking tour of the grounds from Trinity students (totally recommend it!) and get access to the old library (used in some Harry Potter filming) where the famous book of Kells is kept. A definite must see for Harry Potter fans.
The Book of Kells exhibits and the library are both impressive and educational. The exhibits and audio tour will give a great insight into the work and processes used to produce this masterpiece. be sure to take note of the times the library is open to visit and purchase your tickets beforehand to avoid disappointment.
Depending on your interests on what to do in Dublin for 2 days, you could also visit the Zoological and Ecological museum at Trinity College while there.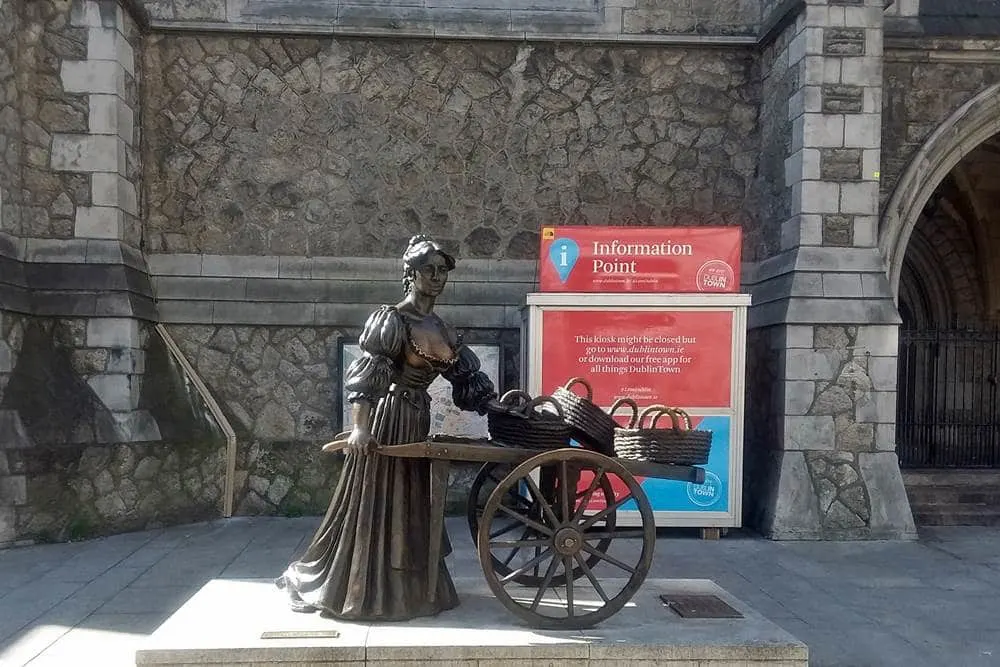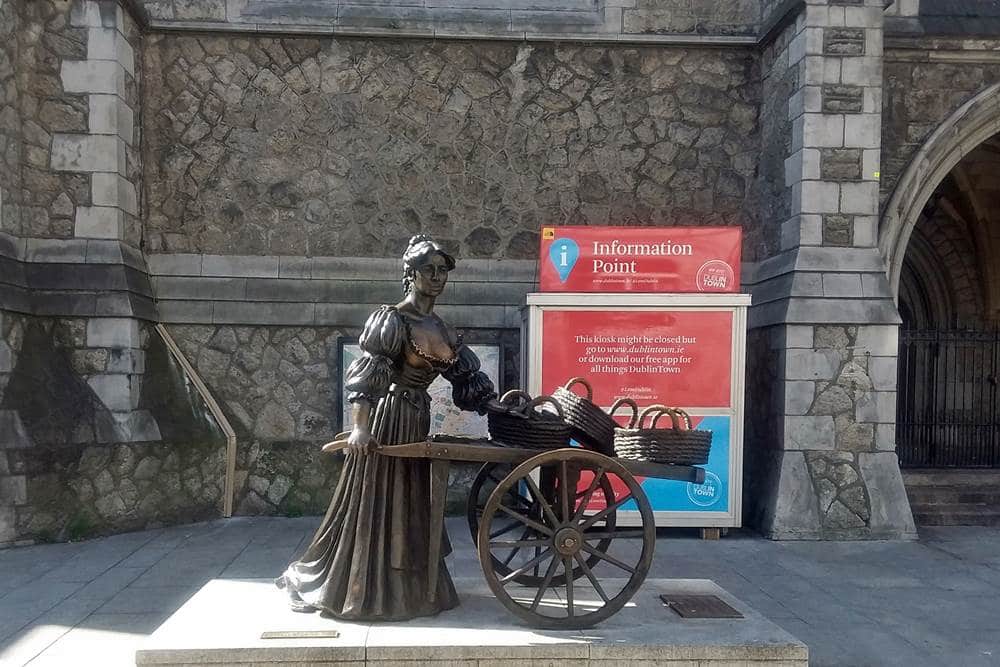 From the Trinity College it is also a short walk to the Molly Malone statue.
In Suffolk Street there is a statue of sweet Molly Malone from the famous song otherwise known as 'In Dublin's fair City' or 'Cockles and Mussels'.
The statue was relocated from Grafton St. in 2014 due to Luas track being laid at the old location.
Though a fictional figure, the song is well known and if you stay around in Temple Bar long enough you are bound to hear it:
"In Dublin's fair city, Where the girls are so pretty,
I first set my eyes on sweet Molly Malone,
As she wheeled her wheel-barrow,
Through streets broad and narrow,
Crying, "Cockles and mussels, alive, alive, oh!"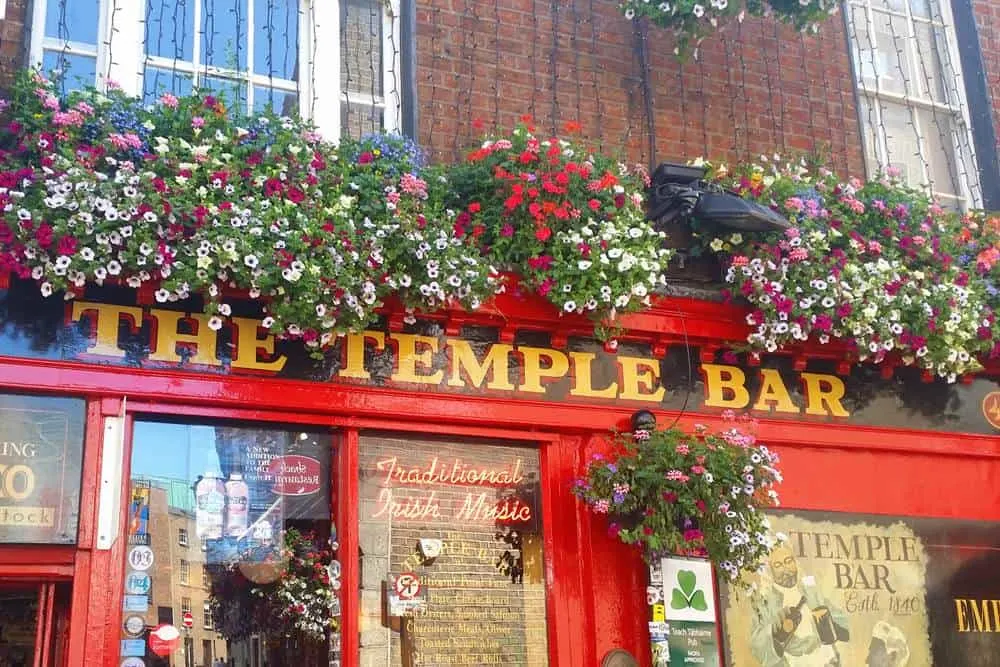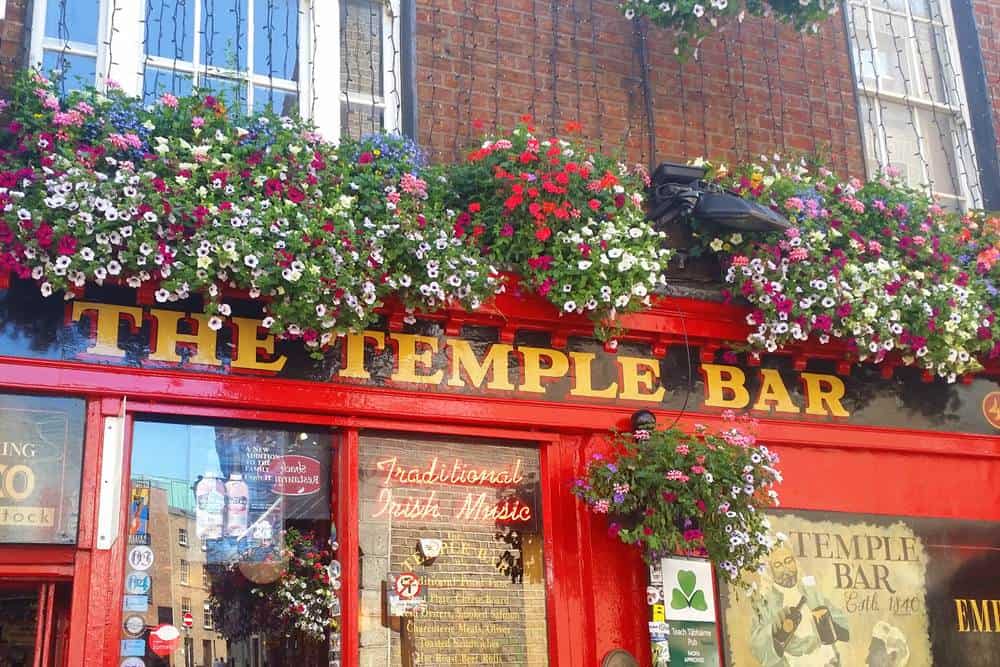 Of course the Irish are renowned for their drinking, so you cannot visit Dublin without having experienced the famous Temple Bar area, with its bars and live music.
The Temple Bar is actually an area and not only the pub that goes by the same name, but there is often a confusion about it.
Temple bar is filled with pubs, bars, restaurants and gift shops. The area is lively and very pretty with cobbled streets and decorations.
The place is heaving with people and be prepared to pay over the odds for a pint of Guinness, but the atmosphere is great and some of the musicians are excellent, plenty of Irish music playing inside the pubs and bars.
It is indeed one of the busiest Dublin tourist attractions but in my opinion worth the visit just to experience the Irish lively atmosphere. There is normally something going on, and plenty of little shops to explore and places to eat.
And with Temple Bar we finish the first day of our trip to visit Dublin in 2 days. I would also recommend following this schedule for a Dublin 1 day itinerary.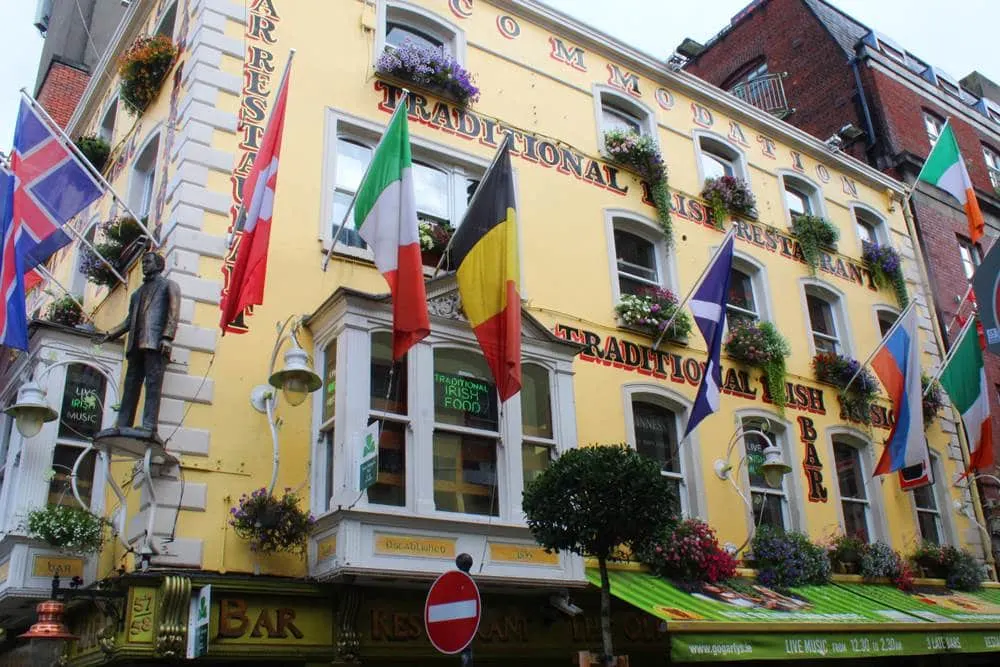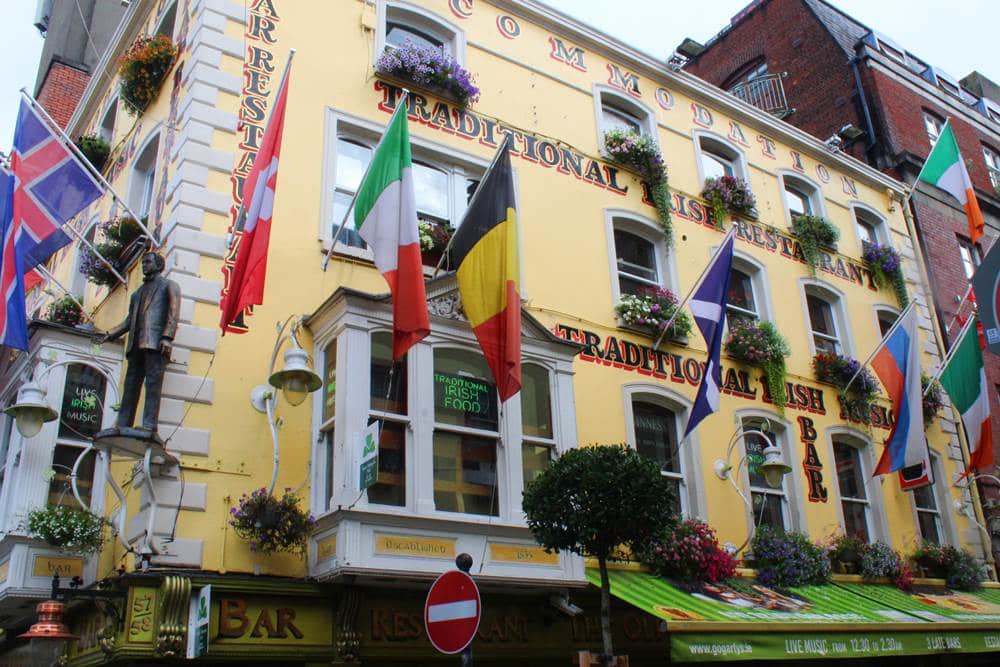 2. Things to do DAY 2 in Dublin
In our Dublin itinerary 2 days schedule this is what we recommend you doing in the second day: Kilmainham Gaol, The Guinness Brewery, Jameson Distillery and Dublin Castle.
Depending on your interests this is also recommended for you if you are looking for what to do in Dublin for a day.
Just be aware that this is quite a lot to see in Dublin in 1 day, be prepared for a long day or adjust it depending on your travel schedule.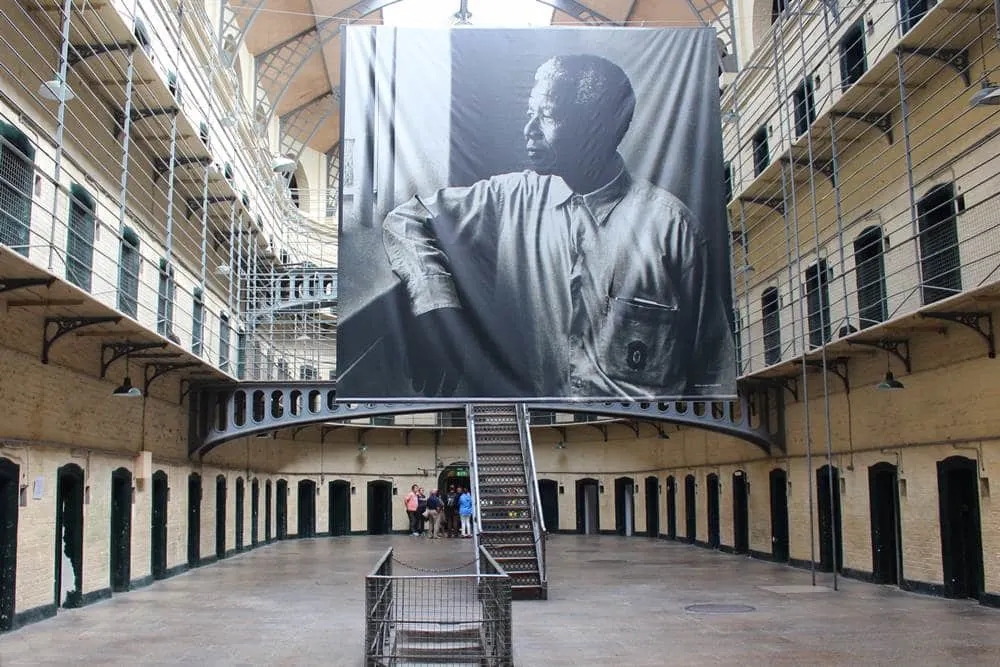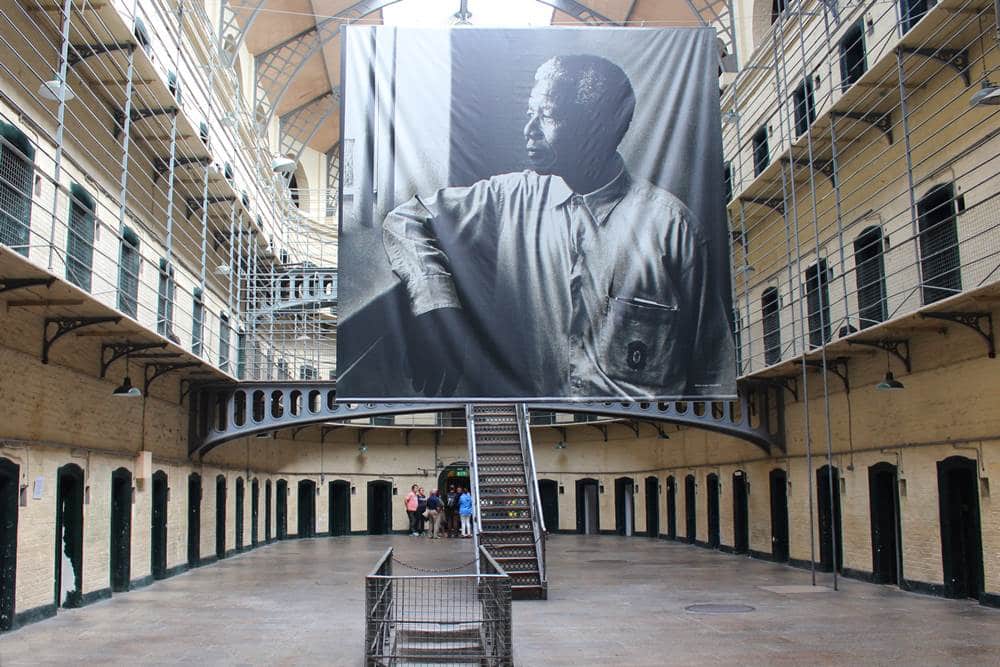 Remember the scene in the original Italian job (1969) when Noel Coward walks down the steps in the prison? That was filmed at Kilmainham Gaol Dublin, which was built back in 1796.
If you are interested in Irish history the Kilmainham jail is a must see on any trip to Dublin.
It was here that the leaders of the 1916 Easter rising against the British were executed, which in time led to the Anglo-Irish treaty and the creation of the Irish Free State.
At the gaol you can go on a tour around the place (which is fascinating) and there is also a museum that can be visited for free.
The museum is excellent and much is shown about the years before and after 1916 and also the restoration project that enabled the prison to be restored to its former 'glory'. Definitely worth a visit.
If you take the tour just be aware that this could be a half day attraction – it was well worth for us though. For us it was one of the best things to do in Dublin.
Check their official website for more info.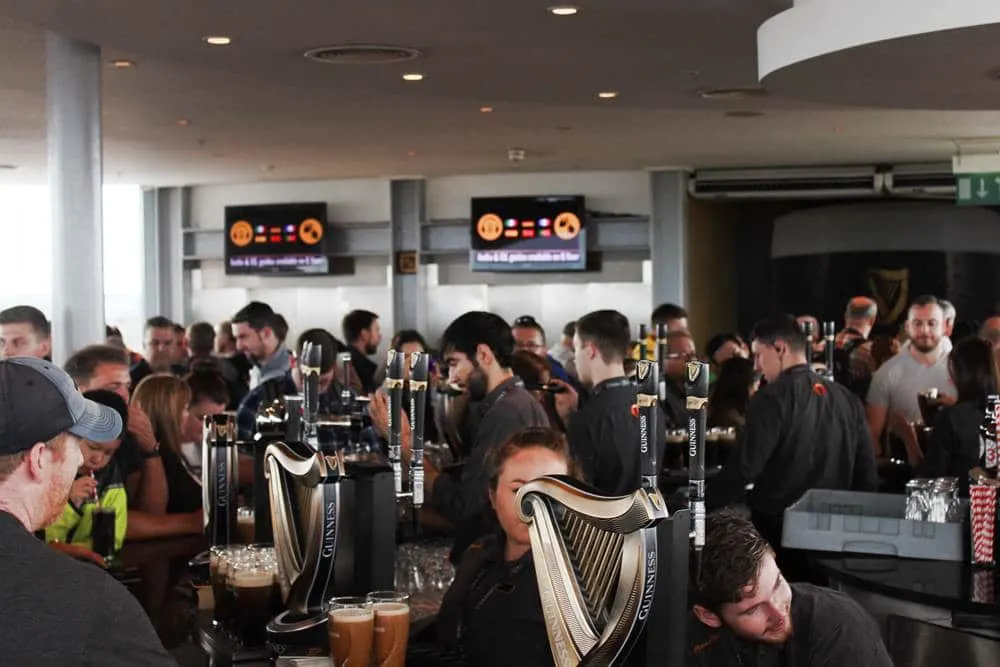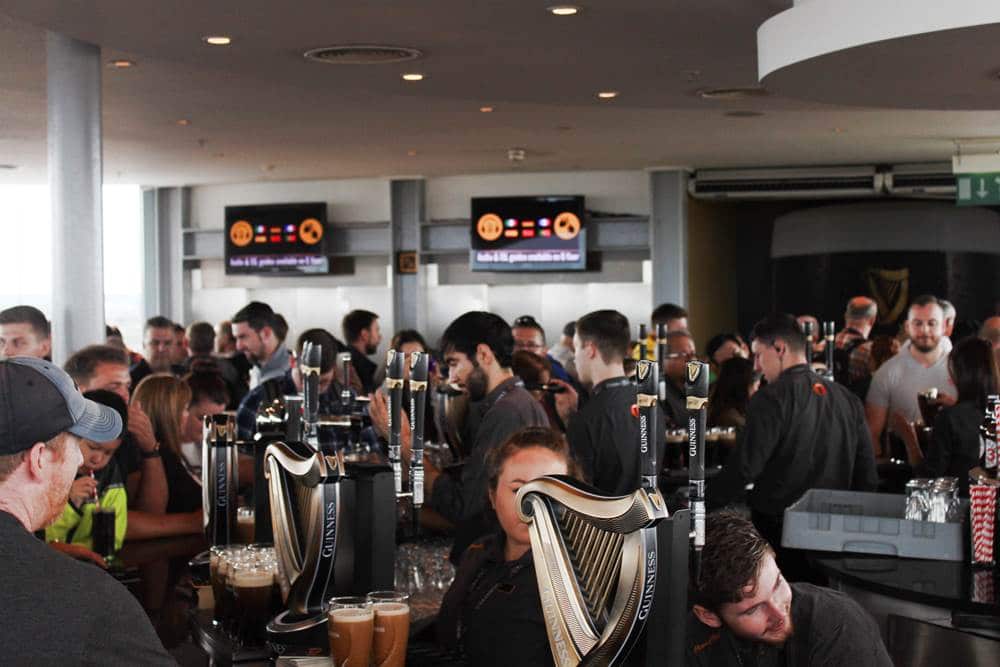 From the Kilmainham Gaol to the Guinness Storehouse you could take the public transport or walk, depending how you feel about the distance.
But no trip to Dublin is complete without a trip to the home of Guinness – the Guinness Storehouse at St. James' Gate.
Here you can follow the entire process of the Guinness brewery production from watching the water flowing from the Wicklow Mountains to the roasting of the barley to pouring your own pint and tasting the final product in the Gravity Bar on the 7th floor, where you can take in a 360o view of the city of Dublin.
The museum is very interesting for anyone interested in the production of beer and the history of Guinness – Arthur Guinness purchased a 9,000 year lease on the site in Dublin in 1759 and they are still going strong.
You can check this site for info about the Guinness Storehouse.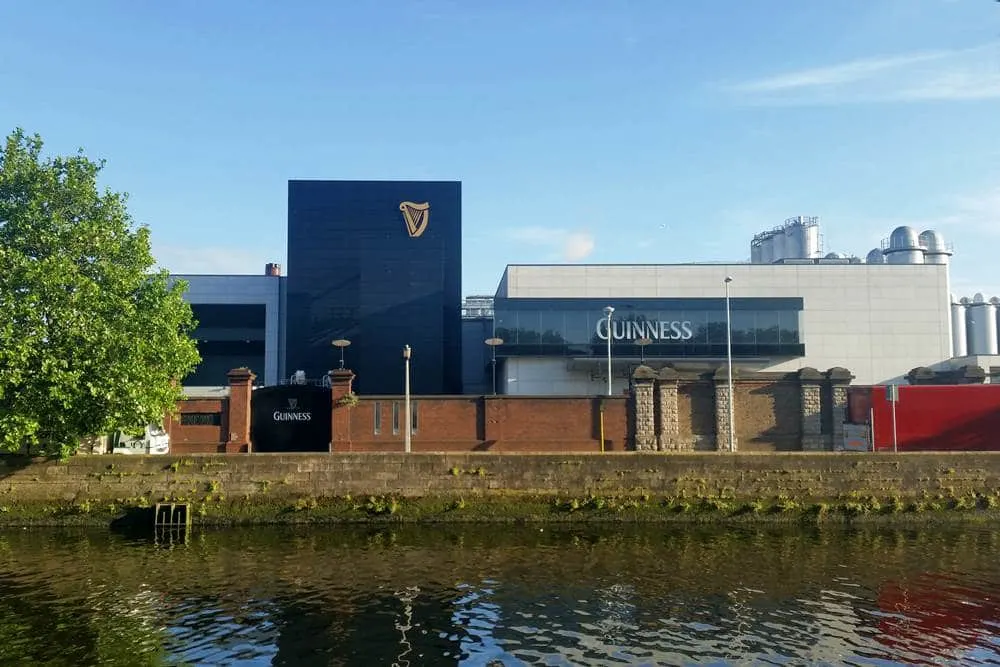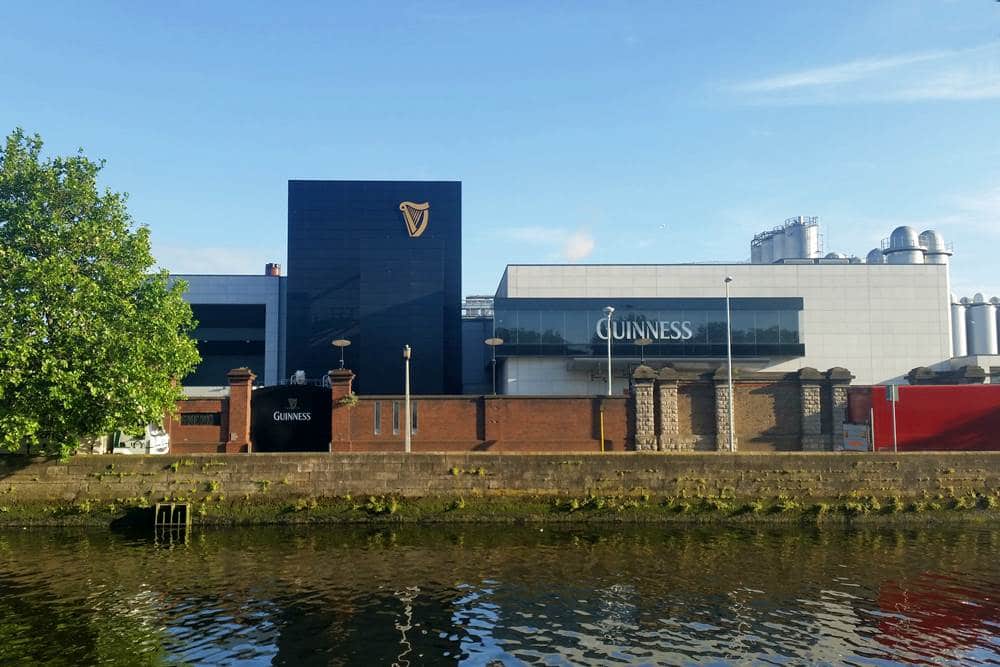 If instead of Guinness you'd rather know more about Jameson, then you can either replace the visit to the Guinness Storehouse to the Jameson Distillery, or do both!
In 1780 John Jameson opened the Jameson Distillery on Bow St. Here you can visit the original distillery on a 40 minute guided tour and take part in a whiskey tasting, or draw whiskey directly from a cask, or even take part in a blending class.
Though not really a kiddy friendly thing to do, it is an informative and interesting place to visit if you are interested in Irish Whiskey. It's also open 7 days a week so good if you are in Dublin for a weekend or visiting Dublin in a day.
Best to book online as it is a bit cheaper. Here is their site!
So it seems like the majority of the above are alcohol related, but then it is perhaps quite hard to avoid that on a trip to Dublin.
These Irish brands are worldwide famous and even if you don't drink you could just enjoy the experience. Otherwise you could spend more time in the Kilmainham Gaol jail or in our next attraction.
If you running short on time take the public transport to the Dublin Castle.
I think it is worth visiting the a castle in Dublin because Ireland has so many beautiful castles so why miss on the experience?
The castle is a government complex that has been erected in the early 13th century. You will be presented with history of the place from the old viking times up recent days. It is a great family educational experience, for children and adults too!
It provides a great overview of the history of Dublin and sites, some of which you might have seen during your stay.
The guided tour is very informative, you are taken under the castle to the medieval ruins. Also the state room apartments are interesting to see.
How Many Days In Dublin?
This is a question that many people ask themselves when visiting a city. So, how many days to spend in Dublin, Ireland?
If you love cities and busy streets you can spend quite a few days filled with entertainment in Dublin. However, if you are travelling Ireland for a longer period of time, such as a 2 weeks trip, I also recommend you to visit more places other than the city.
If you are prepared to pack in as much as possible you could see quite a lot of Dublin in 3 or 4 days. A weekend trip or other 2 days in Dublin is also enough if you don't have that much time off.
If you have a longer stay do visit the Ancient East area and the West Coast with the Wild Atlantic Way beautiful places are always worth a visit! County Kerry, Galway, Clare and Cork are all popular destinations in the West.
Where To Stay In Dublin?
We use Airbnb for most of our city trip accommodations. The beauty of Airbnb is that you will find an accommodation to suit your needs and budget.
You can use our link here to get a discount when you book with Airbnb for the first time.
Where To Park In Dublin?
If you have a car make sure you have reserved a place online at least a day beforehand otherwise you will get stung for parking in the city centre.
Normally the car parks have special deals for 24 hours or in the case of events at the stadiums you may get a discount so investigate beforehand to get the best deal. Could save you up to 50 euros a day! Check out this link here.
More Ireland travel posts that you will enjoy:
PIN FOR LATER!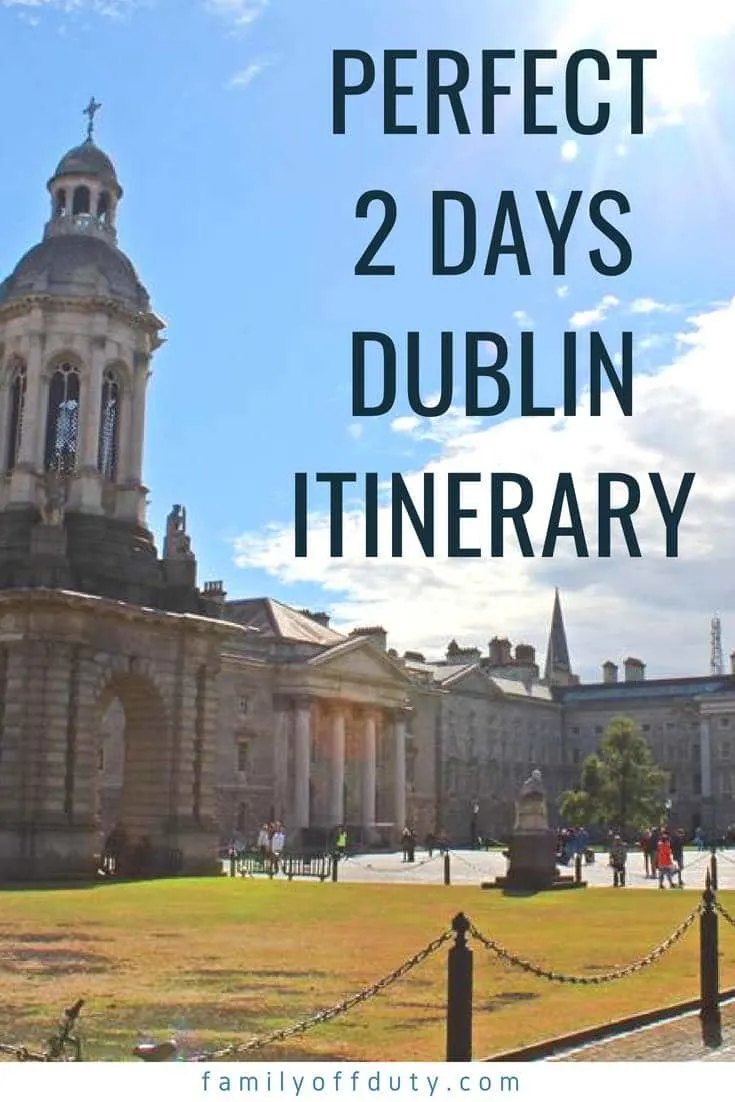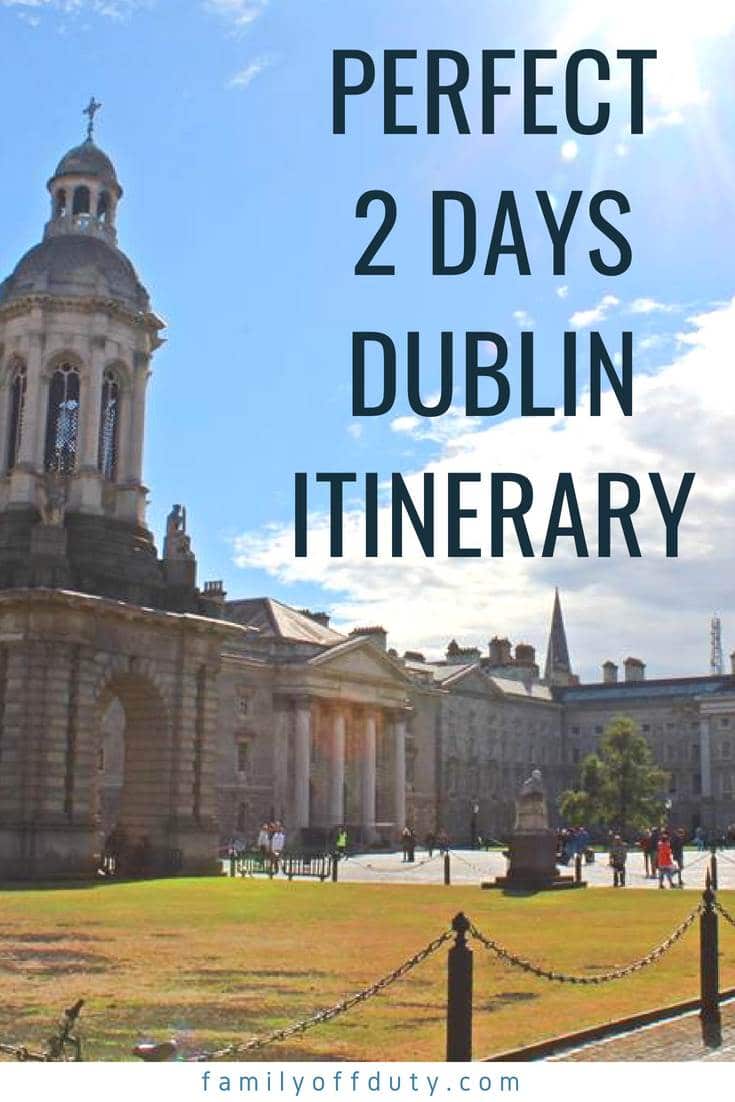 What to do in Dublin in 2 days