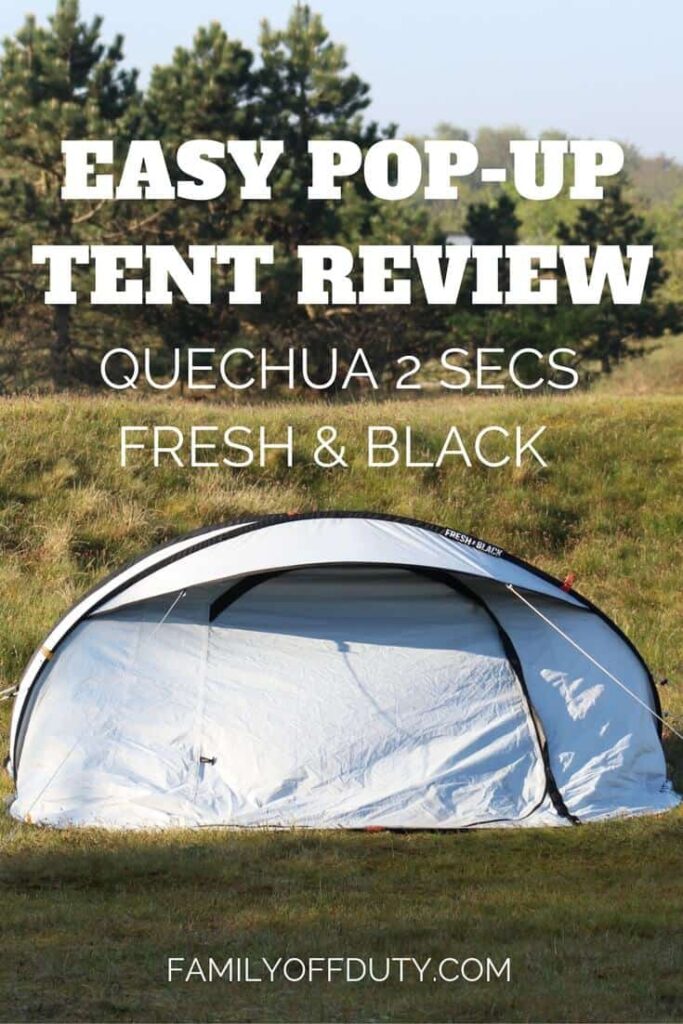 FIND THE BEST POP UP TENTS REVIEW HERE – THE BUYING GUIDE
Is the Quechua 2 seconds 3 man tent ideal for your camping? Find out in our review of the pop-up Quechua 2 secs Fresh and Black tent for 3 persons. 
Before we went on our road trip to Italy we decided we needed a new tent. We wanted something that was easy to set-up and not too heavy and that would not take up much room. In the end we decided on the Quechua 2 Seconds 3 Man Pop Up Fresh & Black Tent. The reasons for this were fairly straightforward.
Related post: Useful gifts for travel lovers
The Quechua Pop up Tent
If you haven't seen a pop up tent before you don't know what you are missing.
This Quechua 2 second tent is all about giving you an easy camping experience with its clever design and materials. Let us give you some details why this 2 seconds Quechua is such a great camping tent. It will make your next camping adventure so much easier.
Speed of set-up
This thing is fantastic – you pull it out of the bag and it just erects itself. You just have to secure it to the ground with about 8 tent pegs and you are done. It takes us about one minute to set up (the Quechua tent 2 Seconds in the name might be a bit of an exaggeration, but 'Easy' it certainly is!). Make sure you follow the set-up instructions as the inner and outer fabric are very close together, and if your set-up is not right and they touch, you will get wet! Check out our set-up video here!
Price
This Quechua 2 seconds easy tent was very good value for what you get. Check here to see the present day prices and better pictures. We purchased it online and think that it was great value for the money!
Black-out
The tent is very dark inside, that is why it is called Quechua Fresh and Black. When we bought it we did not realise what an advantage this would bring. Early mornings became lie-ins as our little one kept on sleeping! This makes this tent an amazing choice for families camping with small children. It was great not to be woken by the sunrise as often is the case when camping. If you are exploring in the summer it really is a must! Just go enjoy your long daylight days and let the Quechua Black and Fresh take care of the sleep time.
Space
Though a bit smaller than our other three man tent, this Quechua 3 man pop up tent was fine for the three of us – two adults and a seven year old. The only negative was that storage space was limited. There was no space to store stuff at the entrance. We solved this by taking a separate beach tent to store our bags. Also it comes in a bag of about 1 meter diameter meaning it is not that easy to carry around. Having said that, there is a strap on the bag so you can put it on your back, but as a hiking tent it would not get our vote. But for ease of set-up and pack-up on a road trip – the Quechua 3 man tent is perfect!
Ventilation
The fresh and black Quechua has plenty of places to allow air in – but without letting the bugs in as well. However when it is cold outside make sure the flaps on the side are shut or you may as well sleep outside – it gets cold then.
Storage inside
The tent has lots of little pockets for storing small stuff like glasses, toothbrush, ipad and water bottles etc. It even has a hook in the middle above the head area where you can hang a torch or a light to read. Some nice and practical little touches.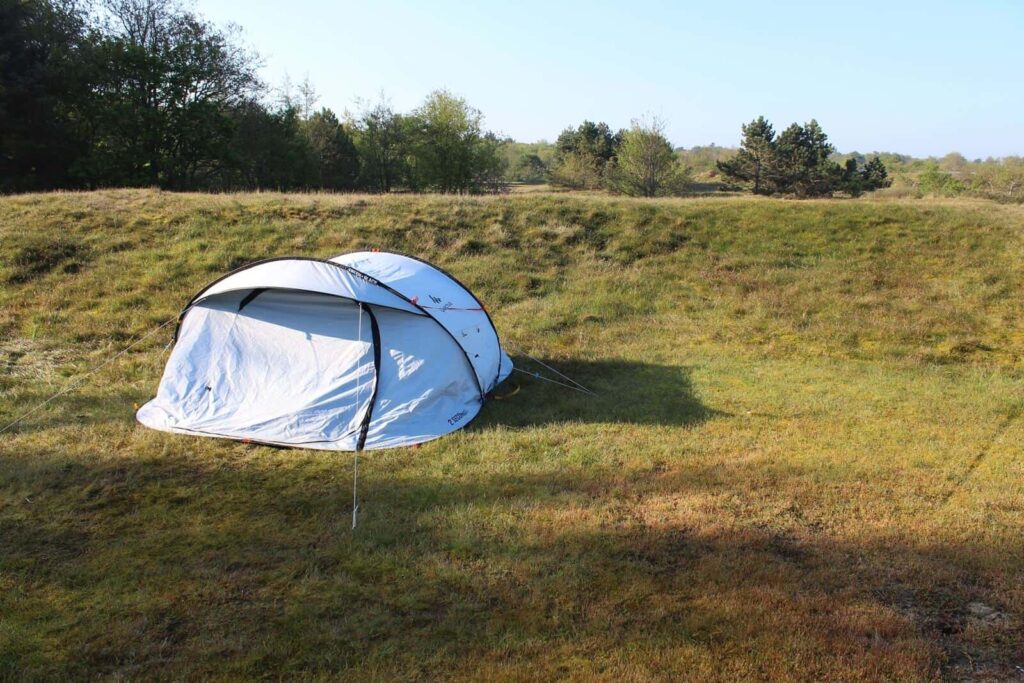 GET YOUR 2 SECONDS EASY POP-UP TENT NOW!
Packing-up
Packing up the tent took initially some getting used to – we had to understand that the bendy parts were designed to bend. But in the end we sussed it, as you can see in the video below!Once you have done the pack up a few times it only takes about a minute to pack, so much easier than a conventional tent!
Our recommendations
When it comes to pop up tent QUECHUA 2 Seconds Easy III Fresh&Black is one of the best tents around. If you are looking for something for quick and easy setting up and packing up, on a road trip, short camping trips or an extra tent for a caravan camping trip, then look no further. This Quechua tent 2 seconds easy 3 man is the tent for you! For longer camping trips where you may need more storage space it might not be the right tent. We have however camped for 7 consecutive days with this tent too using the car as storage space.
The tent is extremely easy to set up. Below you can watch the video of our Quechua tent review.
Get your Quechua 2-seconds pop-up tent now and save yourself some time and trouble camping.  Also read more about camping and camper vans you can read our guide for first time campers and our adventures in a converted camper van.