A  campervan (or camper van), also referred to as a camper, RV or motorhome is a type of recreational vehicle that provides both transport and sleeping /living accommodation. We had an amazing first time camper experience travelling through Scandinavia in a campervan. Check what you can learn from our first time motorhome trip.
In the beginning of 2016 we were having a visit from our Grandma from Brazil (Vovó Ana). Her bucket list trip was visiting Sweden; she had always wanted to go there apparently, since she was a girl. We were determine to help vovó Ana accomplish that dream trip and started researching places to visit in Sweden! Since we hadn't take our daughter to any Scandinavian country we thought to add Denmark to the trip too. As you may have guessed, it added up to the bill pretty quickly. After all, the Scandinavian countries aren't the cheapest ones to visit!
That is when we started investigating campervans!  Sweden is a dream place to camp and considering the high hotel costs for a family of 4 with 3 adults, a campervan trip looked like a great alternative for us! Camping in Sweden in February?! You might think we are crazy! But it really wasn't that bad.
First impressions of our campervan:
So we investigated and ended up hiring one near Hamburg in Germany and left our car there. The camper was a Bürstner 55 (model IXEO TIME it 726 G) which for our purposes was perfect. When we picked it up we had never even been in such a camper before, but we were not disappointed. The vehicle had everything, a real mobile home!
4 persons sleeping: there was a double bed above the driver seats that pulled down when you wanted to go to sleep. At the back of the vehicle there was a comfortable double bed with a sliding door. The design was beautiful and functional with air-co/heating system and even a heated floor!
Great kitchen: The sink and stove were well arranged in the space. There was even a fridge and freezer which we swear was bigger than the one we have at home! The utilities worked on gas or electricity depending on whether you were parked up with a power supply or not. All you had to do was to flick the switch!
WC and shower available: The shower in these campers are pretty small though and we didn't have the intention of showering there really, but it was available if needed!
Television with satellite: You could watch your fave programs in the middle of nowhere!(The satellite card didn't seem to work outside of Germany though).
Great storage: The vehicle has a fantastic storage space in the back where we could carry bikes, sledges, non-perishable food and drinks and anything else we needed to. Seriously, we could easily store all of our stuff, food supply and all the toys and camping gear we needed for a great holiday! All in all the camper was ACE. We loved it.
It all looked great, but we had no clue how all of it worked. So before we left for our journey, we received verbal instructions on how to use all the utilities, where everything was stored and how to unload the content of the black water (water that flushes the toilet) and grey water (all other water used in your camper, except the black water) containers etc.
On the road:
These modern campers have a great consumption and are pretty self-sufficient for a couple of days, meaning that we did not have to stay at camping sites every night. We spent maybe half the week in camping sites and half not. At the end of the week had only used one of the two bottles of gas we had with us. And bear in mind in February it was pretty cold at night, so we were using the heating most nights. The camper had a water tank holding one cubic meter, which you could fill at the campsites, and contained water for washing dishes, showering and flushing the loo. If you use it wisely you can go a long way before having to fill it again.
So our trip took us the first night to a parking stop on the motorway in Germany somewhere between Hamburg and Flensburg. The next day we were up to Denmark where we went to the Legoland in Billund, which was unfortunately closed in the winter. We ended up swimming there in the fantastic Lalandia water park just in front. From there we travelled to Aarhus and had dinner with a very good friend of ours who spectacularly provided us with a warm and welcoming dinner with his family. We spent the second night parked outside his house.
Next morning we left Aarhus and took the ferry from Grenaa to Varberg. A quick top up at the Kvantum and then found a quiet campsite (Espeviks Camping) for the night nearby. We knew that by then we should be unloading our containers to avoid overfilling. However, there was no-one present at the camping site. We parked up, cooked supper and went to bed but couldn't refill and empty the camper because everything was locked up. We left early morning – no camping fees!
The next day we were into Gothenburg where we stayed at a great camping (Lisebergsbyns) very close to the city. This was where we had our first experiments working out how to fill and empty the camper of grey/black and normal water. This was fun. Firstly we had overflowed the WC and learnt the hard way that you should avoid it if you can! As you can imagine we had a big mess to clean! Then we had to empty the grey water. We emptied the grey shower water all over the road not realising that they have other places to do that – to make it worse, it froze, making crossing the road a serious hazard.
Filling of fresh water went OK however, and we recharged our batteries whilst we had electric power there. All in all, a good stop while we explored the city and saw the sights. We took a bus into town from the stop at the end of the road – very convenient.
After Gothenburg we decided to travel inland to explore Sweden since we had a refilled the camper. We had understood that you could camp anywhere in Sweden as long as you do not litter and annoy the neighbours, so we thought we would give it a try. It turned out to be not as easy as we had thought. We wanted to camp next to a river but struggled to find a suitable spot that either didn't look like the perfect spot for an ambush or was on someone's back garden.We ended up in a quaint little fishing campsite next to the river that was closed. We drove in and parked and the owner very kindly let us stay the night for free as we did not need any of their resources.
The following day we awoke to snow which was great for vovó Ana who had never seen that before!  We were planning to stay near Halmstad originally but then decided we had enough time to get near to Copenhagen. So we took the ferry from Helsingborg to Helsingor, and camped up at the Absalon camping. This camping had very easy access to the city and again gave us the chance to explore Copenhagen. We spent a couple of days in this camping. Then, we drove back to Hamburg, dropped the camper and picked up our car to go home.
So all in all we had covered about 2300 km in roughly a week. We only paid for 3 nights in a campsite, one at a discount because we parked outside at the entrance.
Read some other tips for family road trips in a RV in this informative post. For inspiration check this excellent guide about hiring a campervan in Iceland with kids.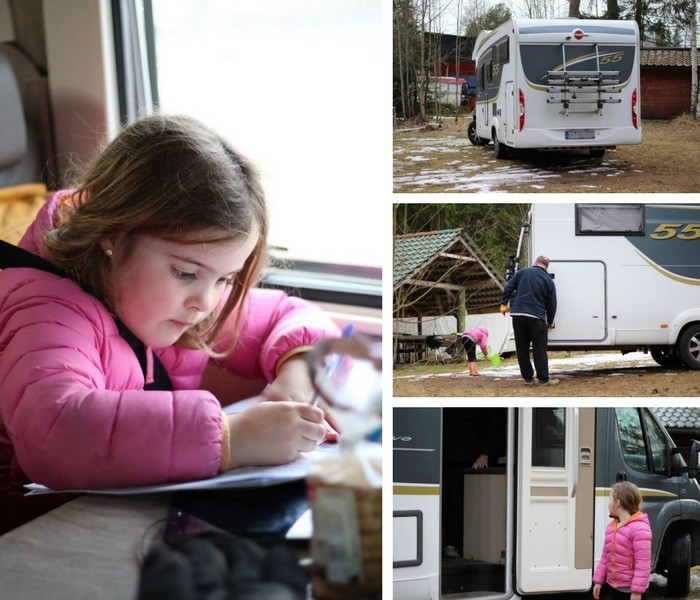 Tips for first time campers:
Understand how your camper utilities work. Every campervan is different and will work differently depending on what utilities it has. So take the time to ask all the questions if you are hiring a camper, or learn about the utilities before buying one.
Make a checklist of things to do before setting off and also at set up. Campers have many utilities and there are essential but little details that you can overlook in the rush of a holiday (specially with children around) such as to to turn gas off at the cylinder, and remembering to close the satellite dish before setting off , or switching the power supply to your fridge when setting up your camper at the location. This will become routine over time.
Check that your camper dimensions/weight fall within your driving license. In Europe, the B driving licence covers vehicle up to 3,500kg. So you can drive many campervans with that license.
Make your route and stop plans. We loved the flexibility of campers but you should know roughly the roads you are taking. Is it possible/easy to ride the campervan there? Also flag on your map where you could possibly stop overnight and/or camping site locations. You should also evaluate your consumption and think ahead of when you need to refill or empty your containers, specially in the summer where camping sites may be fully booked. Make sure you download the area you will be travelling on Google maps before you leave (if you do not have an internet connection when travelling) in case your navigation system stops working. Route Perfect is a great planning tool for getting your schedule right.
But also allow for unexpected changes in plan. chances are you are going to find somewhere really cool that you wish to stay another night, or you may realize that you don't actually need a full day to cover a particular attraction, so keep your plans flexible as much as possible.
Why travelling on a campervan was so much easier than camping:
To sum it up, it was great in a camper because we had:
Flexibility – generally you can stop where you want, drive as little or as much as you want.
Comfort – the sleeping arrangements really were fine and very different to being in a tent!
Heating – The camper had an amazing heating system. We had no trouble with the cold in February.
Convenience – Everything is designed for convenience, from the kitchen to the storage space.
And to make you more interested in campers, you can read all about our experience in a converted quirky campervan here.