Seoul kids attractions
Are you planning to visit Seoul with toddlers soon and wondering what are the best things to do in the capital of South Korea for kids? Read this post for the best tips for planning your family trip to Korea.
There is plenty to see and do in Seoul for a family, also with young children. I am excited today to share with you this guest post from Davina with so many great tips that will make your family city trip to Seoul so much easier.
When it comes to kids cafe Seoul has a lot to offer too and cater to families with young children, toddlers and babies.
Davina is a mum of two under 3 years old who has always been passionate about Seoul. Davina and her family aim to travel Seoul each year and find more fun things to do as a family, no matter what age of the kids. Their Seoul adventures has prompted her to start her Seoul travel blog at www.babyzinseoul.com and share all the tips with he world.
And today she is here to tell you more about some great places for kids in Seoul, and you won't want to miss that!
So read on for Davina's insider tips to make your travel to Korea with infant and toddlers a breeze and the best things to do in Seoul with kids.
The Family Friendly Guide To Seoul With Toddlers and Kids
Seoul has a lot to offer that many might not even know about. Though this capital is known for its fantastic shopping, music events and food experiences, Seoul offers plenty of free and budget attractions to its visitors too.
To many families travelling overseas with a toddler under two years old may be stressful experience yet we put ourselves out there as we really need a holiday after days of sleepless nights!
Popular Asian family holiday destinations include Japan, Thailand, Bali, Singapore and these are just a few that spring to mind.
Seoul in South Korea is not a common holiday destination that springs to most parent's mind. It is actually one of the most toddler friendly family holiday destination compared to the more popular destinations as many people just don't know how toddler friendly Seoul can be.
Hence, I call it the hidden path.
In Seoul, they have a lot of indoor play grounds, also known as Kids Café, that cater for toddlers under two years old and some even have areas for the crawlers.
In other parts of the world, they tend to focus on play centres or amusement parks such as Disneyland or similar for the older kids and so as parents, you end up taking your kids there and they don't even remember or enjoy it.
Being a parent who has spent two weeks in Seoul with a toddler one and a half years old, I was the envy of my mummy friends. So, I am here to share that secret family holiday destination with you.
Is Seoul Pram Stroller friendly?
Yes, Seoul is relatively stroller friendly. I went around Seoul with both a baby carrier and stroller. The reason I had the baby carrier is so I didn't have to do detours to get onto a lift.
I also carry a light and portable stroller, a Babyzen Yoyo Pram so my toddler can take a comfortable nap lying down when we are out all day.
I also used the pram or stroller as a change table when I didn't want to walk far to find a baby change room. Just a tip!
What to eat in South Korea with kids
Seoul has food that stimulates a different set of tastebuds.
Korean food is not exactly known for its subtle harmonies. It is more like a fiery riot in your mouth, where the burning sensations compete in finding new places to sear. Not something you want to expose your children to.
There are non-spicy foods in traditional Korean cooking, though. The dumplings, called mandu, are normally not spicy unless they are red, which means they contain the pepper-pickled Kimchi cabbage.
They are usually served in a broth, and soups are a mainstay of Korean cuisine – and they are not spicy. Most of the time. Samguetan is usually a safe option, and also heats you up in winter.
You should definitely try Korean BBQ and some of the cute cafes all over the city that are fun and entertaining with delicious food.
Where to get Baby Food in Seoul
Travelling with a toddler can be challenging as they no longer take milk as their primary meal and are between puree to soft foods.
Without a kitchen, this could get tricky. Fear not, I have some tips on how you can take the stress out.
Japanese restaurants – Udon, noodles and rice.
Korean restaurants – Egg soup or Tofu soup where you can mix with the rice. Otherwise, you can also try Ginseng chicken soup or beef soup as well.
Supermarket – a popular one is called "Lotte Mart" and "E-mart" – They are situated in various locations around Seoul so google for one nearby. There you can find baby porridge, baby snacks and much more.
YummiMeal – Gourmet Baby food – this was my favorite! It was a pleasant find where it was situated outside one of the kids café Littland. The food is freshly made risotto with various flavors such as prawn, vegetarian, chicken or beef. You will need to check this out to believe how impressive this home cooked gourmet food is. It's better than my own cooking! My toddler loved it.
At the food department in the large department stores (Shinsegae, Lotte) – You can find custard or red bean buns as well as other bread and pastry suitable for a toddler.
Baby Change Rooms in Seoul
Surprisingly, Seoul has really impressive baby rooms. They are usually situated within a major department store such as Shinsegae department store and Lotte department store.
The baby rooms come complete with microwaves, change tables, high chairs and feeding cubicles.
This is similar to the ones we have in Australia. But what they have in addition are sleeping rooms with baby cots! There are usually 3-4 cots within a dark room for babies and toddlers to take a nap in these cots.
The baby rooms are also supervised full-time by staff so it is constantly being cleaned up when there is mess. As a result, the rooms are kept clean all the time.
The baby change rooms I visited and was impressed by were situated at:
Shinsegae Department store – at "Express Bus Terminal" – next to the kids café Littland
Lotte Department store – at "Myeong-dong"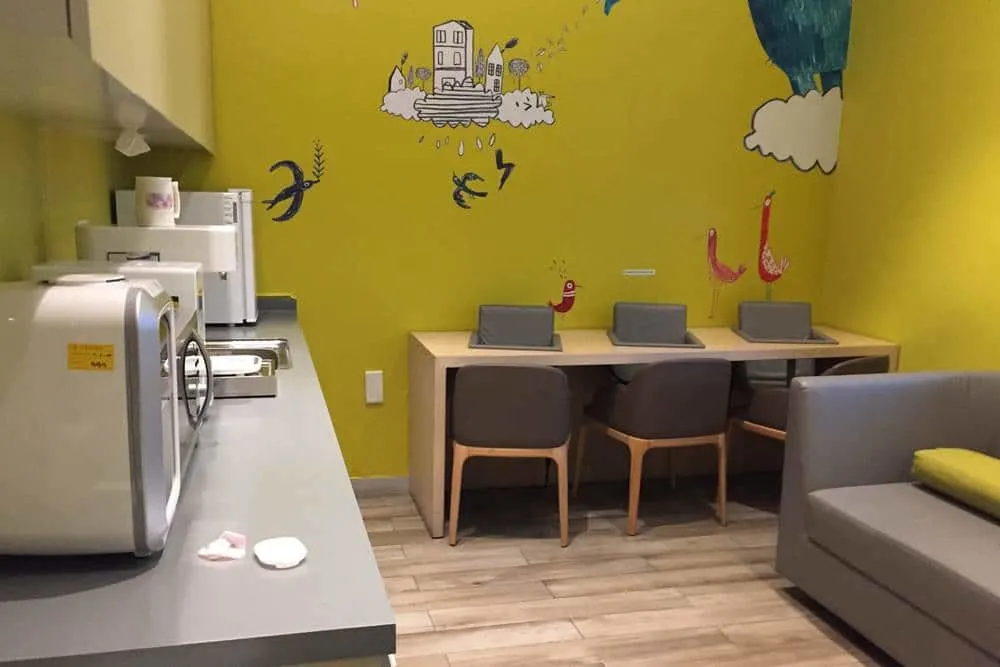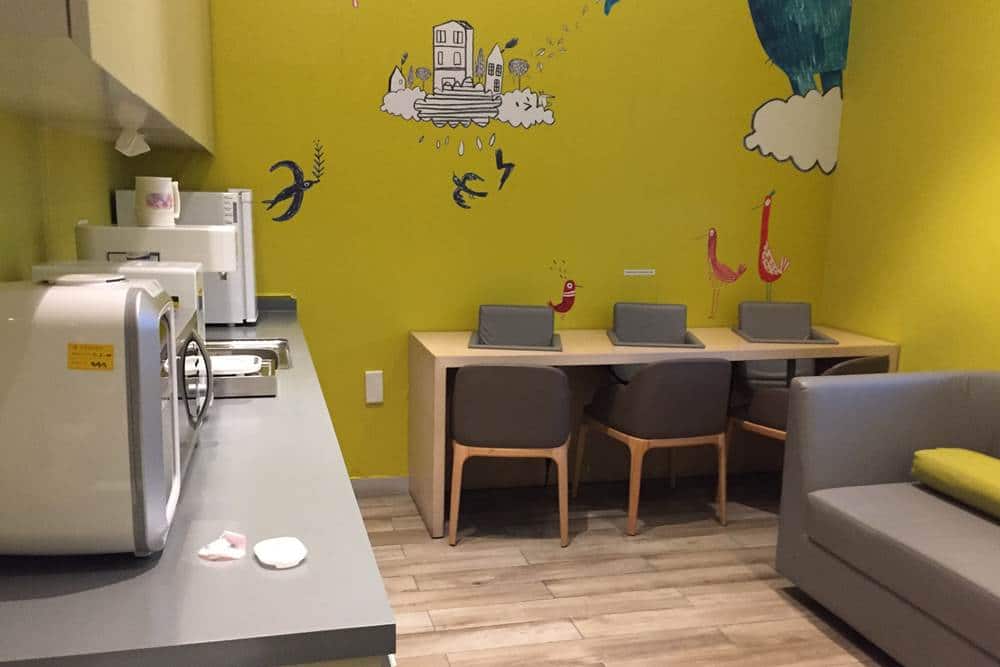 Seoul Accommodation For Family
It is best to find a family hotel in Seoul with a room that is large enough for the family as well as one that is in close proximity to food, shopping and public transport. So where to stay in Seoul with family?
I recommend the hotel I stayed at called "Savoy Hotel" in Myeong-dong, Seoul. It's quite a unique hotel in that it is situated right in the middle of the famous and popular Myeong-dong shopping hub but yet away from the busy shopping hustle as Hotel Savoy is situated inside a courtyard.
There is also a convenience store right outside the hotel so if you can utilize their microwave to heat up your baby food. There is also a café right outside Hotel Savoy that serves coffee and waffles in the morning. We had breakfast there most mornings! After a few days we got bored of that café and there were other cafes nearby just seconds away!
The room was also spacious with one Queen bed and a single bed all in the same room so my toddler and I shared a bed while my husband had his own.
But best of all which was the highlight of the stay and was unexpected was the huge bear that my toddler runs to every morning when he exits the hotel entrance. Savoy hotel happens to be in front of a flagship "Line" store which has a huge bear right in front of their entrance.
Every morning, my little toddler would exit Savoy hotel entrance and run towards this huge bear while calling out "bear bear oh bear bear." It was the cutest thing to see! Your heart just melts!
For those reasons above and with it's unique position, I highly recommend Savoy Hotel in Myeong-dong.
However, another possibility is to stay in a traditional guest house instead – called a Hanok. They are cheaper and since you get a feeling for the South Korean traditions. Most of them have family rooms which sleep up to six people.
Traditional Korean houses had floor heating, and during the cold Korean winter this is a huge advantage.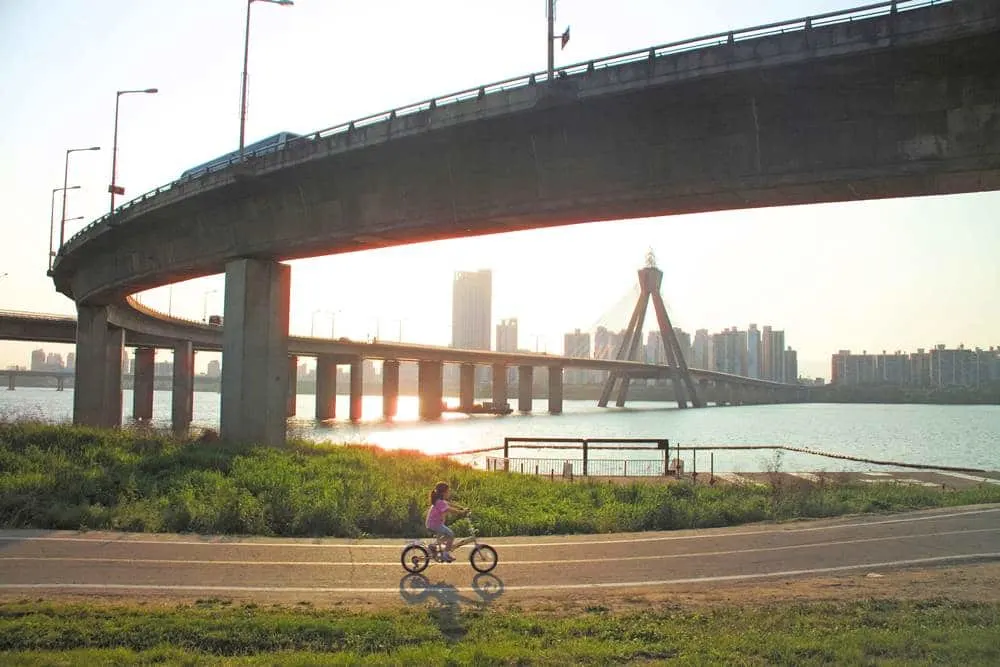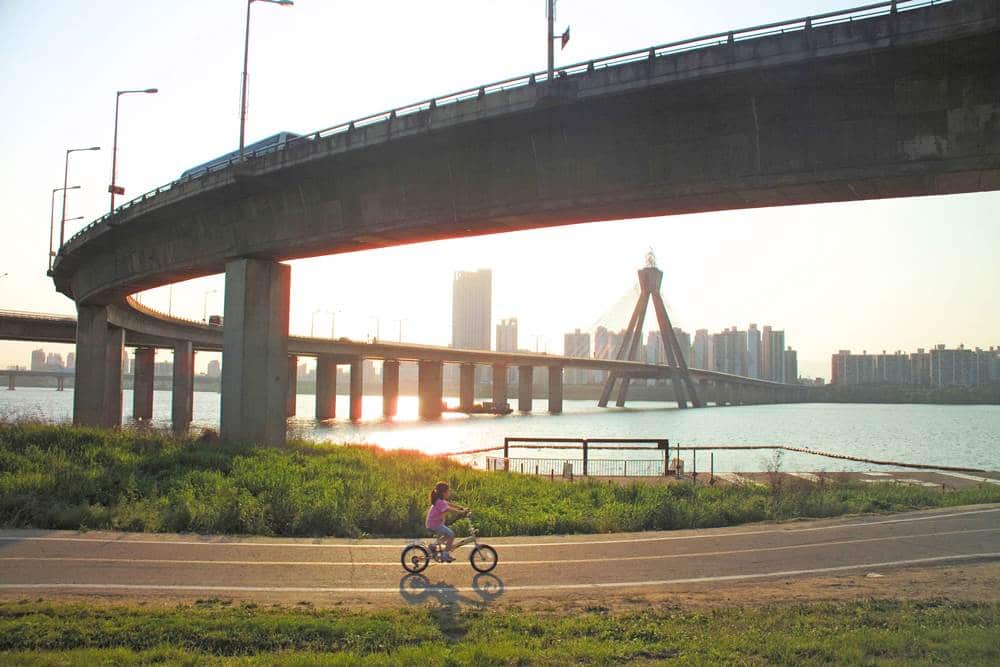 Toddlers and Kids activities in Seoul – Traveling tips
Traveling around Seoul is quite easy as they have a very efficient underground subway. I would suggest you keep a copy of the subway map on your phone so you can have it handy whenever you need it. It's very easy to understand.
There are elevators in all stations but the bigger stations can be impenetrable labyrinths, making you run around and around with your stroller in search of the right platform for the right line.
On the other hand, the central stations open to enormous underground shopping malls, where anything you can think of and some more things on top of that are for sale.
To take the subway, you will need to buy a pre-paid fare and you can do so on a touch screen which is also available in English.
To navigate around Seoul, it is extremely easy as you can utilize Google Maps on your phone and most cafes have free wi-fi whereby you can do your research while having your coffee.
Another tip is to carry with you a toddler portable high chair. I found the Benbat Yummigo Booster seat handy with my toddler. We were able to double up the seat as a baby bag as you can store your nappies, snacks, food etc in there.
With the portable booster seat, we were able to eat at any restaurants and not have to worry about whether they have high chairs or not. I would definitely invest in one of them.
If you are confused about what the best travel car seats are for toddlers and young children then check this post with several travel seat options that are light and convenient for traveling families.
Things to do in Seoul with kids
Read below for things to do and some great Seoul attractions for kids.
1 ┃Go to Kids Cafe in Seoul
In Seoul, café is a very popular place to visit.
A south Korean told me that Korea can get very cold in winter and very hot in summer, and with the absence of nice beaches and parks, they spend a lot of time indoors in cafes.
As a result, Seoul has really beautiful cafes and so it was natural that kids indoor playgrounds are usually situated next to a café.
With two weeks holiday in Seoul, we spent every second day at the kids café and would spend almost half a day at the kids café.
Below are the best kids café in Seoul that I have tried and tested. My toddler can spend over 2 hours playing in a clean indoor playground while mummy and daddy can relax nearby over coffee and free wi-fi.
As the playground is designed with soft flooring, it is less likely your child can get hurt. Additionally, kids who are at the playground are of similar ages so there are no rough older kids around.
I rated these as best cafes in Seoul for kids due to: Cleanliness, soft play, designed for under 2's and easy to get to as a tourist.
Best must visit Kids Cafés are: ("drum-roll"):
Lilliput
Pororo Lounge
Littland
Jungle Café
Playscape
Petite 5
When you visit, take lots of pictures and no doubt you will be the envy of your friends with or without kids. Those without kids wished they had kids so they could visit! It's that good.
The city also has many theme cafés that may become the kids favorite place to visit in Seoul. Here are some popular themed cafés that the kids will enjoy:
Line Friends Cafe & Store
Monster Cupcakes
Hello Kitty Cafe
Ryan Cafe
Thanks Nature Cafe
Banana Tree Cafe
BauHouse Dog Cafe
King's Cross Harry Potter Cafe
Cats Cafe
2 ┃Visit Seoul Children's Grand Park
This is one of the top things to do in Seoul with kids. This park has plenty of activities that are child friendly: playgrouns, a children's museum, a zoo, amusement park with rides, outdoor concert hall and a dazzling water-fountain music with lights show.
You can easily spend the whole day at the museum and the park while the kids enjoy. You should plan, at the very least, 3 hours to enjoy the place if you take the kids to museum because there will be plenty to see and do.
3 ┃Check out the Aquariums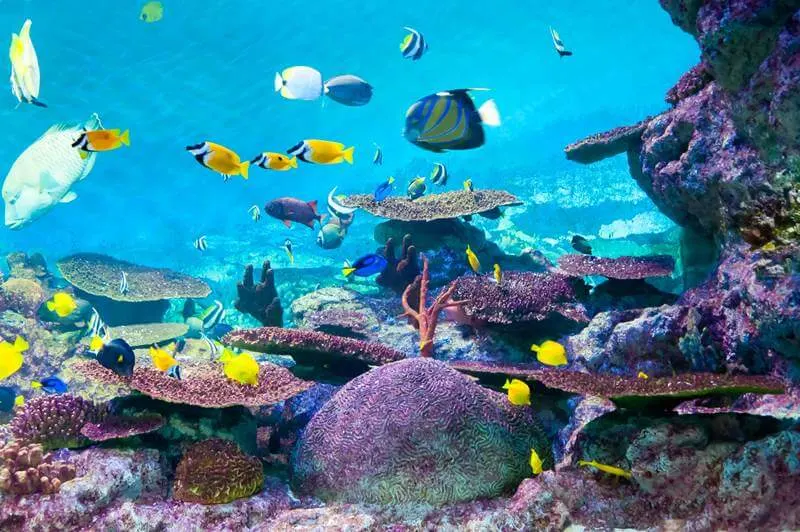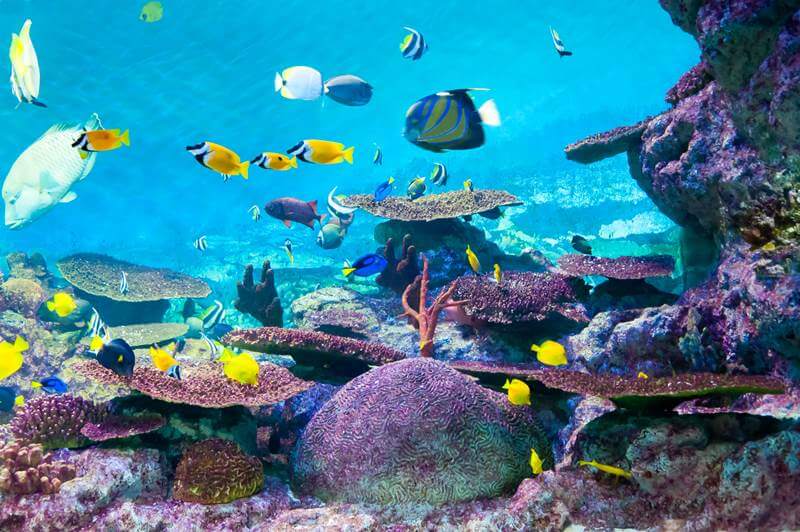 The Lotte World Aquarium is a great Seoul indoor activity for a rainy day.
Kids of all age will enjoy wide variety of animals such as penguins, glowing jelly fish and several types of fish. Great for the kids to learn about marine life.
Another popular aquarium choices in Seoul are the Coex aquarium in the Starfield Coex mall and the Hanwha Aquarium in Bulding 63.
Seoul is a very popular shopping destination and well known for women's cosmetic, face-care and fashion. Below are the must-visit popular Seoul shopping district:
Myeong-dong (this is where I stayed in a family friendly hotel and there is a nearby Lotte Department store with an impressive baby room)
Hongdae (cute cafes and delicious Korean BBQ)
Garosu-gil (cute cafes and local up-market fashion designers)
Dongdaemun (Wholesale fashion market by the building! Opens at 8pm until 5am! No typo here!)
Namdaemun (Kids wholesale clothing market)
Lotte Department store – visit the one at Myeongdong
Shinsegae Department store – visit the one at "Express Bus Terminal" (It's also where gourmet baby meal "YummiMeal" and Littland indoor playground is situated)
Lotte World Tower & Mall
Artbox store (for stationery lovers)
5 ┃Visit The Royal Palaces
The 5 Grand Palaces are among Seoul's most popular attractions. They are:
Gyeongbokgung Palace
Changdeokgung Palace
Changgyeonggung Palace
Deoksugung Palace
Jongmyo Shrine.
Korea was a Confusian and Buddhist absolute monarchy for more than 700 years, and the kings spent a lot of wealth on creating beautiful palaces for themselves.
The best thing about the royal palaces is the changing of the guards at Deoksugung palace, every day at noon.
The guards are not actual military (like in London), but actors, although that in no way diminishes the flair by which they execute the 400-year-old ceremony. It does not fail to impress regardless of the age of your kids (and your own).
6 ┃Learn and play at kid-friendly museums
You will find plenty of museums to visit with kids in Seoul. Here are some options to add to your Seoul itinerary:
Seoul Children's Museum
Trickeye Museum Seoul
Alive Museum
Grévin Museum
Figure Museum W
Seoul Museum of History
National Museum of Korea
The War Memorial of Korea
National Folk Museum of Korea
National Museum of Modern and Contemporary Art
A Hanok is a traditional Korean house, there are many Hanok villages throughout the city.
Very close to famous Gyeongbokgung and Changdeokgung palace is Bukchon Hanok Village.
This is a quaint village with traditional Korea houses, the Hanok. Here you will find several small alleys that preserve the traditional Korea village environment of 600 years ago.
Hanok villages you could visit in Seoul:
Bukchon Hanok Village
Namsangol Hanok Village
Eunpyeong Hanok Village
8 ┃Enjoy the amusement parks
In terms of outdoor and indoor playground Seoul also has plenty of great parks, including the Lotte World amusement park.
While the Children's Park Seoul can be very fun if the weather is good, a rainy day is better spent in the indoor part of the Lotte World kids park.
Here are some of the options:
Lotte World
Undersea Kingdom Theme Park
Seoul Land
Everland
Pororo Park
9 ┃Find the best panoramic views of Seoul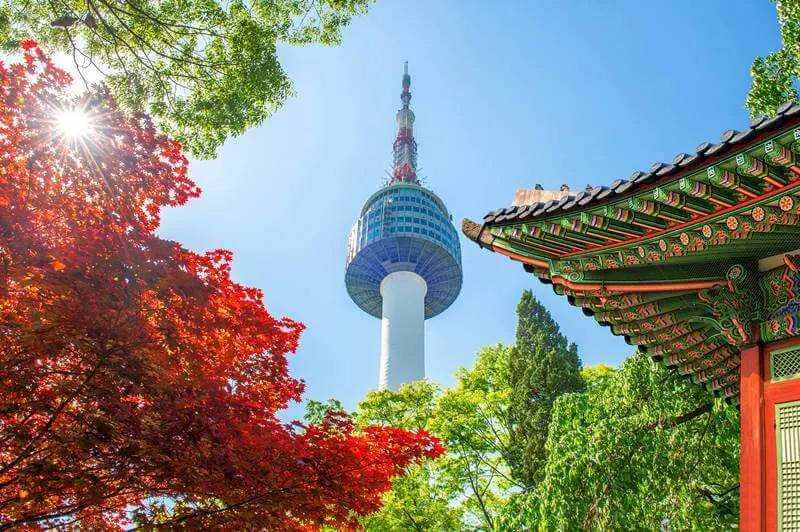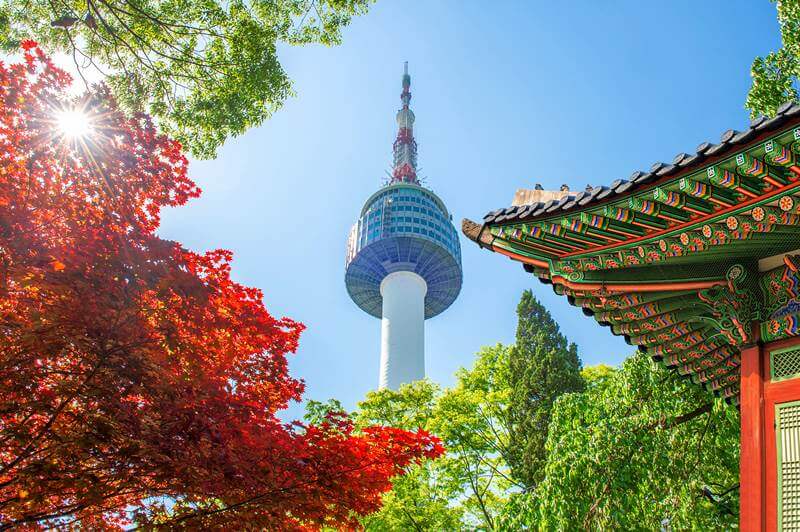 Seoul is a good mix of old and new looking buildings. In Seoul skyline you will find towering skyscrapers and many innovative architecture.
Many of these buildings will offer amazing panoramic views of the city. Here are a few to check out:
The Seoul Sky Observatory at the Lotte World Tower
Namsan Seoul Tower
Building 63
10 ┃Watch non verbal performances
You don't have to speak the language to go to the theater in Seoul.
Here is where you can watch non verbal performances:
NANTA Theater
The Painters
JUMP
CHEF Show
A Hanbok is a traditional Korean attire.
You can hire a Hanbok in Seoul for a few hours or for the entire day. This will allow you to wear and get great photographs in various touristic palaces and the hanok villages.
You can rent these traditional outfits also for children and there are optional add-ons such as hair styling, hat and shoes.
12 ┃Relax in Seoul's green areas
These parks and green areas are fantastic places for a family outing.
Many of the parks and open areas have activities for kids such as playground, cafes, sidewalks and sculptures and they are in general a great area to let the kids burn some of their energy.
Here are some places you should add to your bucket list:
Seoul Forest
Hangang Park
Namsan Park
Olympic Park
Haneul Park
Naksan Park
Cheonggyecheon Stream
Dream Forest
13 ┃Enjoy Seoul's Plazas and squares
These are perfect spaces for urban entertainment, attractions and cultural festivals.
Here are some of the plazas and squares you will want to visit with your family in Seoul:
Seoul Plaza
Cheonggye Plaza
Gwanghwamun Square
Dongdaemun Design Plaza
Are you convinced to visiting
Seoul
with children yet?
If you have a young toddler and are thinking of a family holiday or whether you should transit in Seoul, I highly recommend it. Don't miss this golden opportunity while they are still young.
The kids café or indoor playgrounds to the little toddlers are like Disneyland to the older kids. You will see their eyes lit up like it's Disneyland!
For my family, Seoul definitely ticks all the boxes and we would visit it again:
Kids Café (Indoor playground) – The Disneyland for young toddlers
Baby change rooms – luxurious and clean
Baby food – plenty of convenient options
Stroller friendly though best to have both the stroller and baby carrier
Shopping – suitable for the whole family
Food – Best Korean BBQ and cute cafes with delicious cakes and coffee. Definitely a foodie destination.
Accommodation – An easy to commute underground subway
Language – plenty of English speakers in Seoul
---
I definitely enjoyed this comprehensive guide with tips and what to do in Seoul with kids.
More family travel posts you will like:
PIN FOR LATER!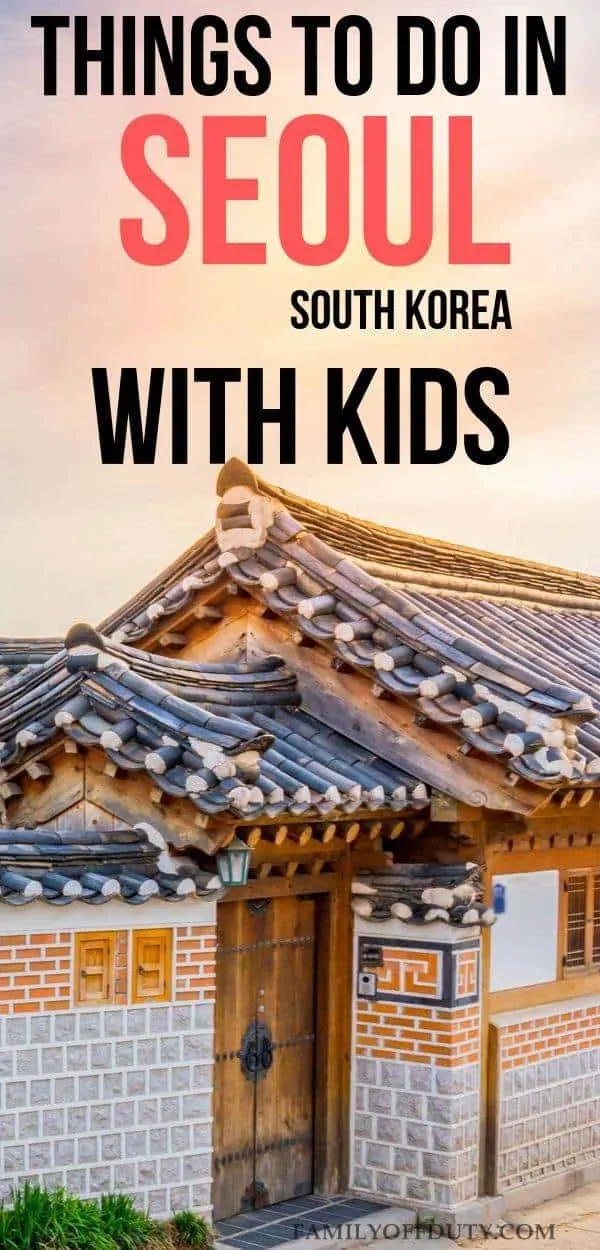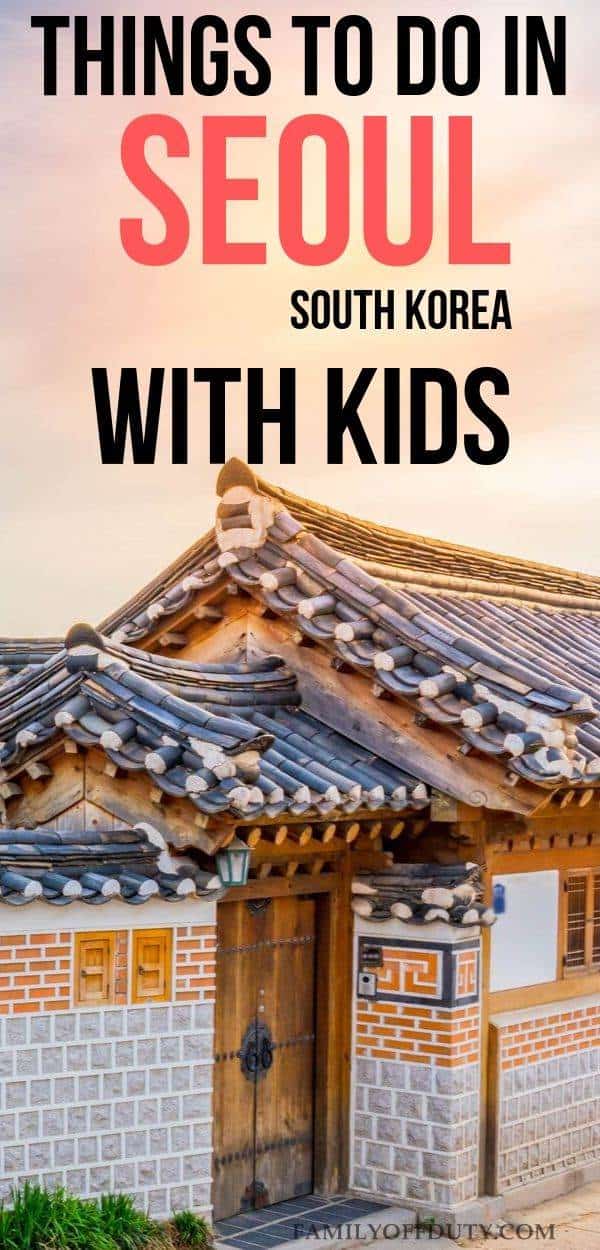 Places to visit in Seoul with kids