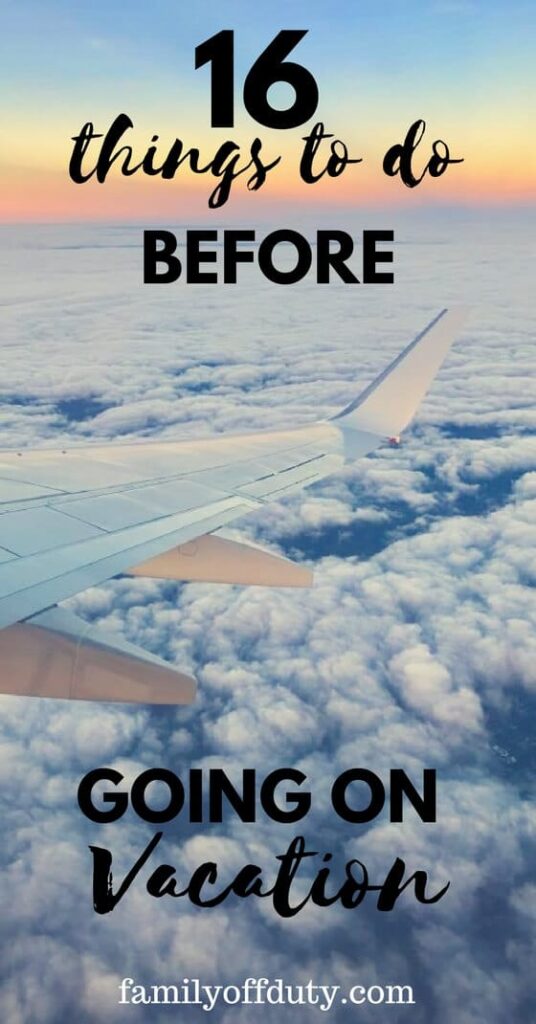 Looking forward to your trip? Preparing the house for vacation is a very important step. First check this list of things to do before vacation. 
Woot Woot, you are off on vacation!!!  Sometimes we get so caught up in packing our bags and getting to the airport that we over look some important things that we really should do before we leave the house.
To ensure you have a carefree vacation as well as homecoming I have compiled a list of 16 things to do before leaving for vacation.  It is an easy travel do to list of all the things you should do at home before you leave the house for that much-anticipated vacation.
Things to do before vacation
Cleaning the house

There is nothing worse than coming home from vacation to housework, so clean your house from top to bottom, give the floors a good vacuum, get all the pet hair and fluff off the floor, clean and change the bed linen.  Have your house spick and spam for when you come home so you don't have to do anything (apart from unpacking).

Arrange accommodation for your pets

Organize for your pets to stay with friends or family, or arrange for a pet sitter to come by.  There are some great house sitters online these days that will look after your fur babies for free in return for accommodation.

Don't forget to arrange accommodation for your pets.

Related article: How to get your first housesitting job

Get your Neighbor or friend to collect your mail

Make sure you have someone collecting your mail whilst you are gone.  A mailbox busting with letters just screams "we are not home"!!!  If you can get any newspapers or magazine subscriptions on hold.

Ensure all your bills are to date or schedule them

Ensure all your bills are either paid before you leave for vacation or schedule them to be paid whilst you are gone.  You don't want to come home to any nasty little late fees or even worse having utilities switched off.

Make copies of important travel documents

Take photocopies of all your important travel documents like our passport and any paper tickets you may have.  Better still scan the photocopies and either send yourself an email or pop it into Dropbox or somewhere similar that you will have access to whilst you are on vacation.

Clean out your refrigerator

Don't forget to add this one to your to do list before travelling! You don't want to come home to off milk or moldy left overs. So throw out any food that will go off while you are away or give it family and friends. Also make a plan to use your food and drink during the week before leaving.

Freeze a meal for when you get back.

Cook a meal and put it in the freezer

While you are organizing your fridge on the step above go and make a healthy meal using the food in your fridge. You don't want come home from vacation and have to cook a meal for the family or have to go grocery shopping, so prepare a meal and put it in the deep freeze, that way once you return from vacation dinner is already organized.

Unplug your electrical items

This is one of the things you might forget but I recommend you to put on your list of things to do before going on vacation. Save yourself some energy (and money) whilst you are away and unplug any appliances that don't need to be on while you are away.

Put out your rubbish bins

You don't want to come home to overflowing bins so ensure you put out your rubbish bins for collection day before you.  Better still if you are friendly with your neighbors ask them to do it for you on collection day rather than have your bins sit out the front the entire time you are away.

Arrange for someone to water your plants

Do you have a stunning garden or indoor plants? They also need caring while you are away. So arrange for someone to come over and water your gardens for you.

Water your plants or arrange someone to water your garden while you are away.

Clean out your Purse / Wallet

Take out all the cards that you won't need whilst you are away, the less things you have with you the better. Just take the necessary for that particular holiday. If you happen to loose your purse while you are on a trip, you won't need to get all those cards again.

Let your bank know you are travelling

This is one of the top things to do before travelling abroad. Due to security some banks block your card so it doesn't work abroad. I forgot to do it once and it was not fun. My bank requires 24 hours for the new settings to take effect (for security) so I must do this ahead of my travel otherwise I can't withdraw any money abroad.

Give your Neighbor or friend a spare key

If you have a spare key hidden around the house somewhere, put it away or give it to a friend of neighbor.  In fact make sure that someone you trust has a spare key to your house in case something goes wrong and you need someone to get into your home whilst you are travelling or heaven forbid you lose your own key whilst you are on vacation.

Ensure you have enough medication

Check everything is locked.

If you or anyone in your family take regular medication, ensure you have enough medication to last your entire trip.  If you are preparing the house for extended vacation don;t forget to get a script filled for extra days or arrange a doctor appointment if you need to get a new script.

Leave your itinerary with someone

This should be in your vacation travel checklist because it is best that someone knows where you are at all times. In the case of an emergency at least one of your friends or family member will know know where you will roughly be.

Ensure all your doors and windows are locked

Before you leave the house go around and do a quick check that all the doors and windows are shut and locked.
What do you think about our list? Anything else to add? Let me know in comments below.