Best travel activities for kids
Family holidays are always exciting but what to do with kids during the car trip, long haul flight or other waiting time? Here are few tips to entertain kids while travelling.
Summer holidays adventures are finally here and many of us are getting prepared for a long road trip or perhaps flying with the kids to somewhere cool.
As excited as everyone is for a family holidays, the long haul flights, the wait for the flight connection or the car trip can be challenging for the children. Challenging as they get bored!
We may dream that they will just chill and take a very long day time nap to pass the time but that dream hardly ever comes true.
They have loads of energy and need to be entertained, so what do we do? How to entertain kids during travel waiting time?
I asked a few expert family travel bloggers to share their secrets on how to entertain kids on down times during trips. There are so many easy ways! I used all of these tips on our campervan trip.
I gathered all their secrets and put them here for you to access the list easily. Plus these are great activities for any time really. Say you got unlucky with the weather or maybe there is a long wait in the restaurant? Well, we have you covered!
With that said, go ahead and pin this post or bookmark it to your phone… just in case you need to look at these ideas later. 🙂
Related post: Best gifts for travel kids and family members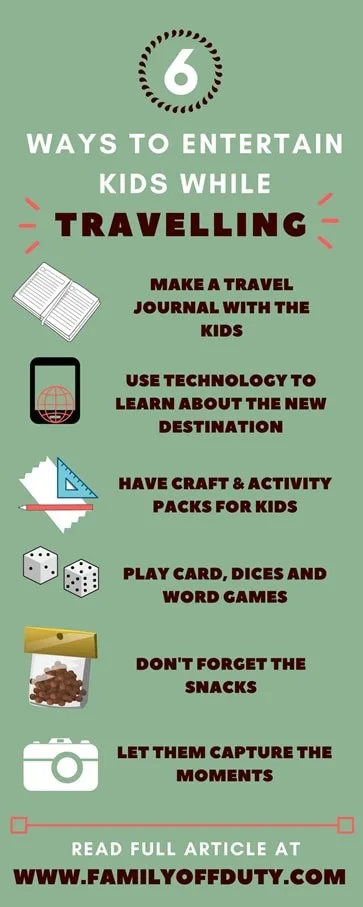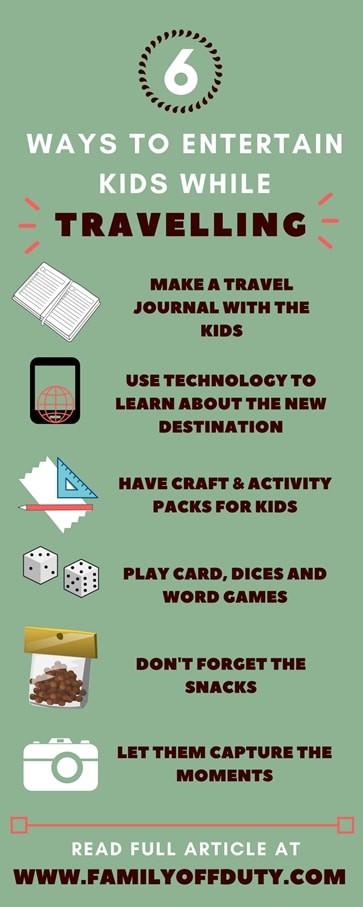 This post contains affiliate links to products I love and/or are recommended by people I trust. If you purchase through any of these links, I might receive a small percentage of the sale at no additional cost to you.
Best ways to entertain kids while travelling
This list is full of airplane hacks for toddlers, road trip activity ideas to keep kids entertained on a long drive and more.
1. Audiobooks
Audiobooks are easy entertainment for the whole family. With a membership from Audible you can find audiobooks that everyone will love listening too.
I have here the best audiobooks for families here.
Sign up for Audible today and get free books!
2. Write a travel journal
The kids will likely go through some incredibly remarkable experiences during trips and that is a handy if you have somewhere easy where they can write down the name of the places visited, draw the interesting things they saw, the people they met, or stick some finds, maps or cards from the destination.
Kirsty from Travel with Meraki says "I always put together a journal for our adventures too. Here I put in facts and points of interest about the places we are going as well as a diary section they can write, draw and stick special things they collect in. They're great to look back on".
You can download the travel journal here.
Marta from Learning Escapes also takes a simple travel journal for the kids.
"It has proved amazing to keep them busy on planes, in restaurants while waiting for dinner and even in the hospital waiting room! It has a mix of writing activities, stickers and drawings, all based on what we have seen or what we are expecting to see (why are we going there? What do you think it will be like, etc)."
Related: Tips for flying with toddlers
3. Use electronics to learn about the destination
We could debate for hours the amount of screen time kids get nowadays but it can be an educative and interactive tool to learn about the new destination.
For younger kids:
Christine from Tapped out Travellers suggests the Reading Rainbow app on the tablet. "It has games, books, videos, we love it! Learning all about Zermatt and the Matterhorn, on our way up the cable car. We love using this app; my son has learned so much and he really does enjoy it. It requires internet, unfortunately, but it is a nice way to calm down after a long drive in the car or keep them quiet in a restaurant."
You can download it for free on Google Play or App Store (app has an annual subscription).
For older kids:
Alternatively Leona from Wandermust Family uses electronics with soothing videos such as 'In the night garden' for young kids. For older kids Alex from My Life Long Holiday have some tips for long road trips.
"My kids are 8,11 & 14 and all have their own iPods/iPhones so we play 'DJ' and they take it in turns plugging the cable in to the car. This year we have an immense road trip ahead so I've compiled a list which includes things like 'a song to ride a bike to' 'a song to dance to' 'a song to listen to in the bath' and they've started preparing their lists and saving them in 'albums' so we'll take it in turns listening. Plus there's a few cool shot apps you can download with add in sound effects/speed up/merge songs. It kinda makes them look out the window a lot while they're listening!"
If you need to feel better regarding screen time you can also get normal books for kids to learn about the new destination. Dawn Nicholson from 5 Lost Together suggests the Cities Book from Lonely Planet Kids.
4. Get creative with your craft pack!
If you are looking for ways to keep the kids entertained during travel waiting times and also develop some fine motor skills try putting together a craft pack.
You can make one for each child (no fights, right?) and you don't need to spend too much money as you may already have some of the items at home. It's a super easy to keep your children entertained!
Here are some ideas on what to add to your crafty pack.
Ideas for DIY activity travel packs:
Jessica from Family in Faraway Places says: "We always make a trip to the dollar store before our flights. We stock up on cheap little toys. If they come in a multi pack it is even better. Then when we notice our son is starting to get restless we give him one of the little toys. It keeps him occupied for a while and then we pull out another. We tend to get him dump trucks and diggers and when we get to the hotel we give him some Playdough to use with them. When he was a baby we would do the same sort of thing but we would fill our pockets with interesting objects. Something shiny, a crinkly piece of paper, and so on."
Also Carrie from Flying with a Baby has ideas on what to add to the pack: "Window gel stickers for plane, car or train, Tomy water mats, Crayola magic pen colouring books, Playdoh, Stickers, even character plasters! Small toys from £1 store wrapped up to hand out in intervals. Cheerios and liquorice laces to thread and make necklaces – also good for fine motor skills".
Erin from Seven Wanderers has another great suggestion; balloons! "For long road trips the kids love balloons (the kind that clowns make animals out of). You can buy packets from discount shops and they come with a pump. Pump them up, pass them out and the kids have fun for ages making animals, swords, headpieces etc".
If you want to improve your pack to add healthy snacks for kids or other toys you can check this blog post from Holly from Four Around the World where she shows you how to DIY travel activity packs for different ages.
Buy travel packs:
But if you don't have time to make your own travel pack, no problem! Melissa from Olly and Hue sells travel packs consisting of word games, puzzles, jokes and more. You can find them on her Etsy store here.
Related: Tips for flying with kids: Best toys to take on airplanes!
5. Don't forget the games!
We know games are always a good idea to pass time and also something for the whole family to take part. Some people prefer card games, other dice games or you can play guessing games that requires nothing else but good imagination. So here are some of the favourite games from travel bloggers:
For toddlers and preschoolers:
Lindsay from Carpediem Our Way has a full list of essential activities for toddlers and preschoolers that you can pack for airplane travel (or any other long travel) to make journeys more enjoyable for everyone.
Card games:
Eileen from Families Go Travel always takes 2-3 card games for entertaining during travel down times. "Old Maid and Go Fish when my daughter was younger, then Uno and Spot It, now Twisted Fish, Coup, Mille Bourne, Settlers of Catan, Exploding Kittens and still Uno.
I like to have one game that goes quickly and one that takes a while depending on the situation (quick games for restaurants, longer ones for plane rides). If the box is much bigger than the card deck, I just leave the box home and keep the cards and instructions in a small ziplock for easier packing. This way we're entertained too and my daughter feels like she's getting quality time with us instead of just being managed. Also Travel Beat the Parentsand This or That are not quite card games but great for the car because they spur discussion."
Keri from Our Globetrotters suggests flash cards, stained glass windows (colouring in) and felt stick ons. "Almost anything Melissa & Doug!! I try to keep a new one up my sleeve for each kid before every long haul. Most of them are reusable games so they last throughout the trip too and the kids can swap around".
Dice games:
Nicole from The Passport Kids takes a dice game. "Our favourite to pass time and good for kids past toddler ages is the Tenzi dice game. So many different ways to play the game, easy for young kids to understand and easy to clean up. They can also play the game without adults which is a plus if we are busy trying to get other things done."
Games (no materials required):
Ariana from A World of Travel with Kids has many suggestions that require no extra material such as word games like I Spy, or Animals ABCs. "You can do the same with cities and countries. You can practice words in the language of the country you are visiting, or our absolute favourite which is Storytelling – putting together tall tales. We have so much fun telling stories, and such a positive spin off is that it builds their pre-writing skills."
6. Give them treats
Yeap! Let them eat cake!
Ok, maybe not cake, because it is messy, right? But a good snack or treat is great to entertain kids while travelling – who doesn't like a good snack on a long journey?
Yashy from Baby and Life call it 'snackertainment' as it keeps small children busy on road and in flights. "I have a bunch that I prefer for mess free eating sessions that we've been buying in various countries". You can check her toddlers approved travel snack list here.
7. Let them take pictures
And this is the final tip from us here at Family off Duty. Let them play with the camera!
It is extraordinary to see what the kids capture while travelling. In general they will be attracted and photograph different things that what the adults would.
We love to look back at the travel pictures and see what our daughter found mostly interesting and talk about it, revive memories! If you have an expensive camera and don't want to have kids handling it, this kid camera here is a very nice solution.
We use the Vtech Kidizoom kids camera which comes loaded with stickers and make photography super fun for the little ones. Plus it has some games and space to add songs so the kids are always entertained even if there isn't anything interesting to photograph. Click here to check out this camera.
Finally you made it to your destination and all the challenges during travel are gone! Now it is time to kick back and enjoy your family vacation!
Can you improve the list? Do you have any tried and proved way to help kids pass time on holidays that is not in the list? I would love to hear your tips on how to entertain kids while travelling, please comment below!
---
More Flying with Toddlers posts:
Travel tips with kids