Best Things To Do In Barcelona With Kids
Barcelona is a beautiful city, situated on the Mediterranean with good beaches, food, culture and many attractions and things to do. Read below to see how you can make the most of Barcelona with kids.
When you hear that Barcelona has it all, it is not an overstatement.
From beach to mountains, food, shopping, iconic architecture and heritage in combination with good weather all year round and relatively safe environment, this city can please a variety of tastes.
It is also perfect to visit with kids, making Barcelona one of our favorite European cities to visit as a family.
We visited the city in collaboration with Visit Barcelona. We went for a 4 days mid-week with our daughter and effectively had only about three days exploring the city plus one day skiing in the Pyrenees, so we had to be pretty efficient with our time.
There is so much to do and see in Barcelona that you really need to plan your days to make the most of it!
As always, we did our preparation at home and made a rough itinerary of what to do in Barcelona, check out map below.
We always download our destination on google maps so we can navigate offline as we don't have 3g-4g available on our phones. However it is not necessary in Barcelona; the City Council offers internet through free WiFi access points located in various public access points.
We arrived late in the afternoon and left early on our last days so our itinerary only shows the 4 full days we had in Barcelona. If you have fewer days in the city you can follow this itinerary post for 2 days in Barcelona.
Wondering what are some fun things to do with small children in Barcelona? Read on to find out what to do in Barcelona with kids.
You can check out Family Travel posts here!
Map For A Trip To Barcelona With Children
Here is a quick glance at some of the attractions that are family friendly in Barcelona, Spain.
We clustered these activities based on location, trying to check all the nearby attractions in a single day. We planned the routes in a way that we would not spend a lot of time in transit crossing the city but everyday we explore a different area.
If you are looking for what to do in Barcelona for 3 days you can follow our itinerary to the point here, only skipping the skiing day.
If you have less than 3 days pick one of our itinerary days and follow it. You can also check this post to find several tips for planning a trip to Barcelona.
How To Get Around Barcelona With Kids
Barcelona is a large city with plenty of attractions. The most cost effective ways to go from one side of the city to the other is by using either the public transport, rent a bike or using the tourist buses.
We used all 3 of these transport and can attest that they are possible with kids. However, with very young kids you might not want to rent a bike. Below I share some tips to go around Barcelona with toddlers, young or older kids.
The Barcelona Bus Turistic is a very convenient way to see the city. You can find all Barcelona bus turistic stops here.
This is the official city hop on hop off bus service and has three lines, taking you to most of the touristic spots worth visiting in Barcelona. The audio guide tour is available in 16 different languages.
The red and the blue route are the two main routes and are open all year around. The green line is a shorter route and starts up at the end of March till November.
But this is important:
Don't try to see both routes on the same day. In fact you might need a couple of days for each route. One whole circuit of the red route can take a couple of hours even if you don't stop anywhere.
Also remember that the Bus Turístic route doesn't go two ways, it only follows one direction.
So if you miss a destination it would take you another full round to get back to previous stops, which takes really long. Instead, research in advance the stops you would like to hop off in the Bus turistic map route.
The bus stop for the Bus Turístic is recognisable by a blue/purple colored bus stop sign which differs from the normal city bus stops.
So here is the deal:
You hop on and off whenever you want
The route is designed to take you to the best attractions
You don't have to learn which public transport bus will take you places.
You have audio with explanation on the attractions along the route (you don't even need to hop off everywhere to learn some fun facts!).
But it gets better:
You receive a booklet with discounts valued at more than €250 in many places including museums that we wanted to visit anyway.
So step on the city tour bus and check out all of the attractions Barcelona has to offer. Here is Barcelona hop on hop off bus route map.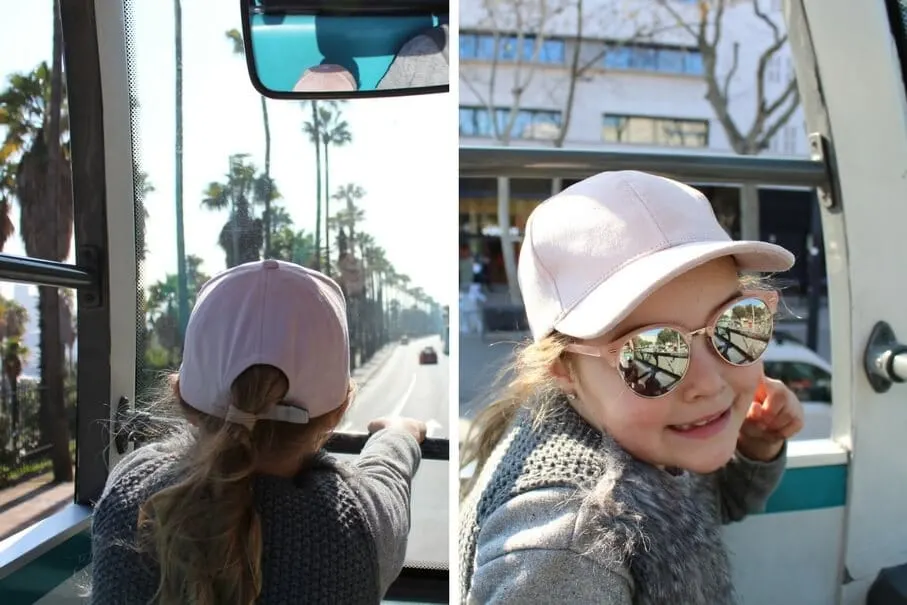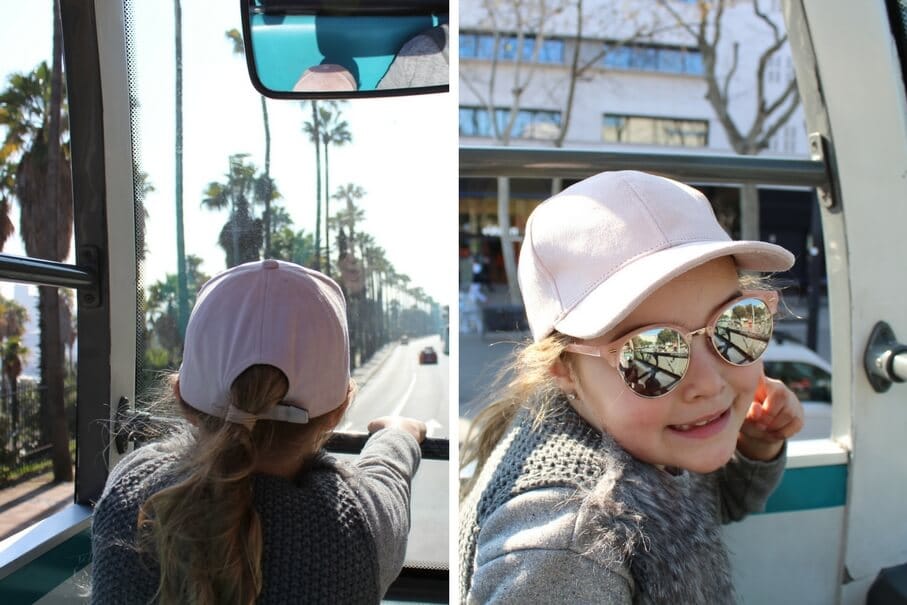 The city however has other bus tours available. Compare price below:
We used public transport to get to the city from the airport and also used the city bus on one occasion (without having the Hola BCN day ticket) so we know that the Barcelona bus tickets are about 2,15€ p.p. per trip and you can pay onboard – price from Feb 2017.
So depending on how many stops you plan on having during your trip you are definitely better off taking the city tour bus in Barcelona as you can stop in as many different places as you want for the same price.
You can also get Hola BCN public transport tickets for 48, 72, 96 or 120 hours. However, the price for paying for these tickets and the extra time it takes learning how to use the system may not be the most cost effective.
Barcelona has several council city bike stops. Those bike you can rent for a few hours and drop it at any of the collecting locations.
We did not rent the city bikes because there was no way where we could get a helmet or bike seat for a kid using that service.
The good news is that beyond the council bikes there are several other bike rental locations, which gives you the possibility of hiring kid safety helmets and seats.
Compare prices below:
What To Do In Barcelona With Kids
The itinerary below is an example of things you can do with kids during an entire day in Barcelona. You can follow one or more of our itinerary days.
We made sure to visit attractions close by to each other to avoid transit times and make the most of our visit.
Barcelona in a day with kids (or day 1 of our 4 day itinerary)
At a glance this itinerary will follow the Red route of the hop on hop of Barcelona Bus Turístic.
Using the bus touristc is a great option because it already goes to the route of the most famous attractions. Once you get on the bus you can jump on and off and maybe walk to the attractions really close by.
If you happen to need to go to the other side of the city then you can grab one of the buses and change lines too.
The first day itinerary for Barcelona with kids explores the following: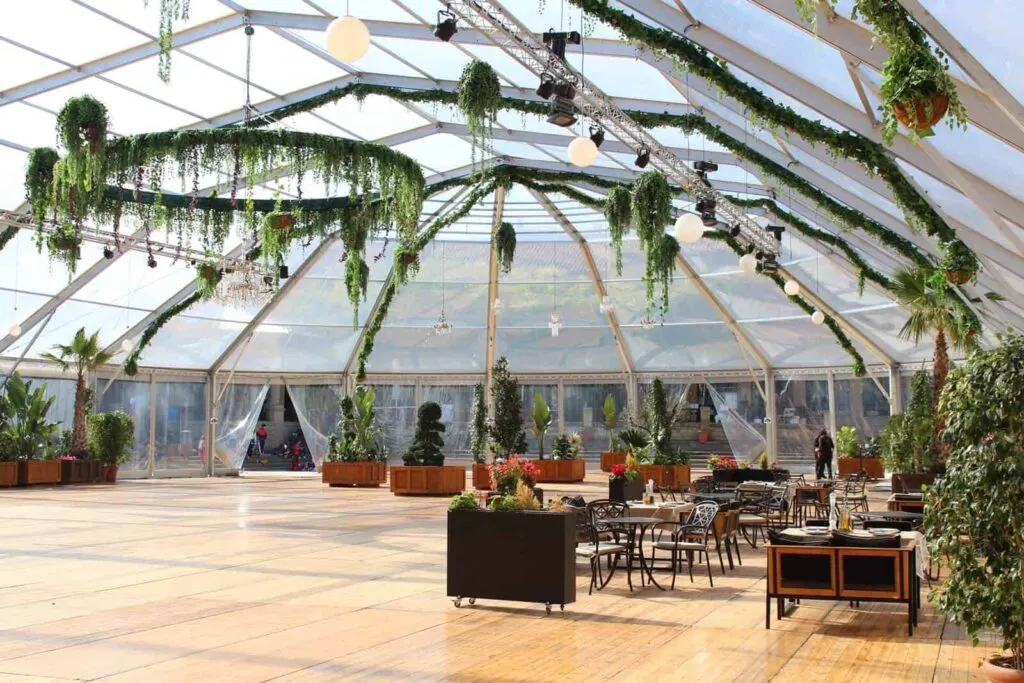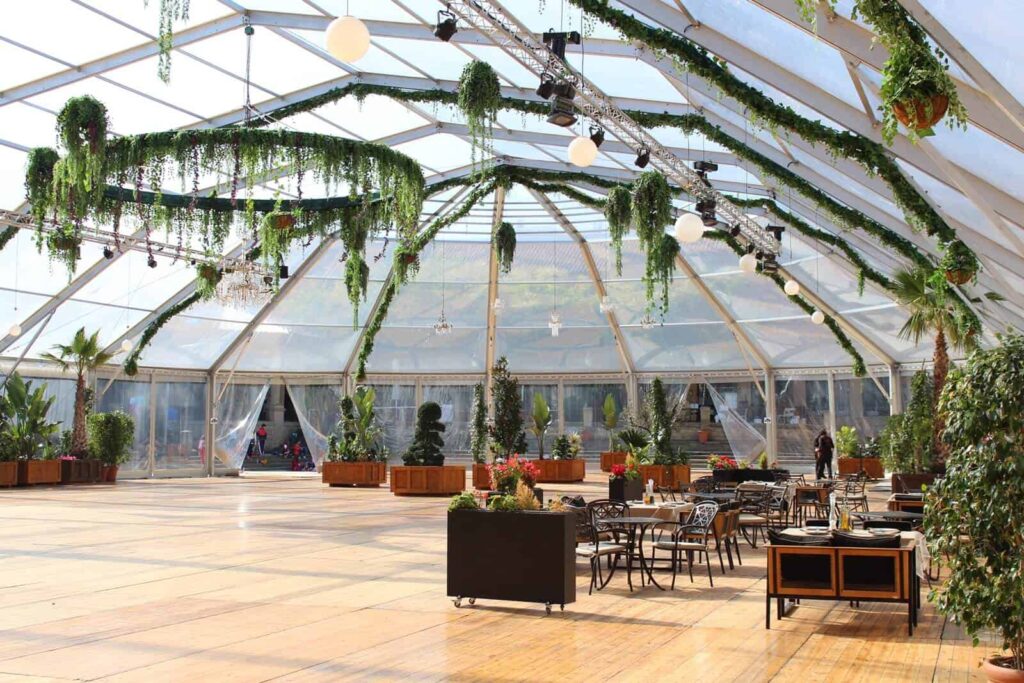 First of all we walked to the Plaça d'Espanya where we caught the first red route bus to take us to the Poble Espanyol, where we hopped off to explore.
We were glad we had taken the bus because this attraction is located up a hill.
The Poble Espanyol is an open-air museum which reveals the diversity of Spain through a combination of architecture, contemporary art, traditional crafts, shops and gastronomy.
It was created back in 1929 for the Barcelona International Exhibition and it has over 100 replicas of building from different parts of Spain. So it is super interesting spot to visit in Barcelona with teenagers eager to learn more about Spain in general.
It was all built in 16 months – it made us wonder why Sagrada Familia is still under construction….
The village is not inhabited but is used to host a variety of events throughout the year. The area is free of traffic, toddler and baby-friendly, so you can stroll with the family and enjoy shopping 365 days a year.
There are lots of touristy shops and restaurants to visit and there is a good view of the city from behind the Monastry. You can also watch craftsmen working on unique pieces in their workshops, the glass blowing was especially instructive and fun to see for the kids.
Telefèric de Montjuïc & Montjuïc Castle
Next we hopped back on the Bus Turístic and followed the red route up the mountain past the Olympic Ring, the Fundació Joan Miró and the Telefèric de Montjuïc.
All these are great stops to explore depending on what you prefer seeing. The Telefèric de Montjuïc can take you up to the Montjuïc Castle where you can enjoy stunning views. We didn't stop at this time and followed on the red route the harbour area and past the Barcelona Zoo and various other stops. But you can read about visiting Montjuïc in this informative post here.
The bus does take its time to get from A to B and follows a schedule so when it is ahead of schedule it does wait at the stops sometimes to ensure it leaves on time.
Therefore it is important to note that the bus trip does take quite a while to complete a full route, and we advise you to think of it when planning your route to prioritize the things you really want to do.
This was a recommendation from Visit Barcelona and we knew our daughter would love it!
The Chocolate museum illustrates the art of figurine making from chocolate that they are pretty good at around here.
One nice touch was the chocolate bar as an entry ticket, it was a delicious welcome. The chocolate tickets did not last very long!
Inside of the museum you can see some amazing statues and the videos and presentations were informative. The process of chocolate making was also described in detail which was interesting to learn.
The museum also offers guided-tours with the Xocoexperience; a workshop teaching you techniques of master chocolatiers to develop the most original, creative and delicious chocolate pieces.
Doesn't it sound like one of the best kids activities in Barcelona that the whole family will enjoy?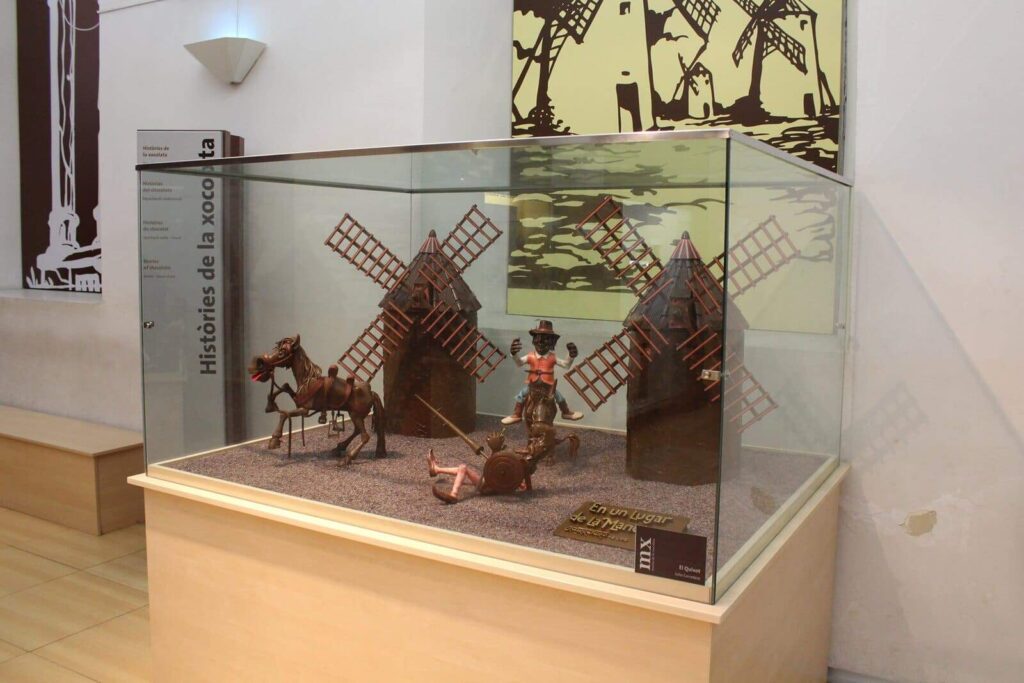 The Parc de la Ciutadella (Citadel park) is only a block away from the Museu de la Xocolata so we walked there.
This is a great place to visit with kids as there is a lot going on – there are bands playing, street artists doing their thing and lots of things to see. A vibrant place and definitely our most favorite park in the city.
We visited in February but imagine that it must get quite busy in the summer. It's a lovely place for a picnic, to rest and enjoy the outdoors and let the kids run abit.
We love scheduling park time during our city breaks with kids.
Because let's be honest; After such a busy day you might just want to stop somewhere and take in the atmosphere. Ciutadella Park is perfect for this.
The Barcelona Zoo is located in this park and on the other side of the park you can see the Arc de Triomf.
We did not go inside Barcelona zoo for lack of time but it is definitely one great spot in Barcelona for kids. We are listing it here because it is located nearby some attractions we did on today's itinerary following the bus red route and depending on your kids age and interest you might want to skip other attractions and go here instead.
Zoo Barcelona ranks amongst the top zoos in Spain and is one of the city's most popular family attractions.
Their mission is educate, carry research and to protect their animals from over 300 species who live in their own open enclosures recreating their natural habitats.
Click here for prices and tickets.
If you check Barcelona tourist attractions map it is easier to see that the red bus Barcelona route takes you through many of Gaudí's work such as Sagrada Familia, Casa Batló and la Pedrera.
We decided to stop at La Pedrera because we had planned Sagrada Familia for another day. You can however stop in any particular place you are interested to see.
The Barcelona hop on hop off bus route was designed to give you access to the best attractions in the city. Once you are done sightseeing you just have to hop on the bus and it will take you right back to your start point, in our case Plaça d'Espanya.
Magic Fountain Show (Font Màgica)
TIP: If you get back to the Plaça d'Espanya at night you will want to check the Barcelona magic Fountain show – time of the show varies through the year but it is normally between 20:00 and 22:00 (8 and 10 pm).
Check out the timetable here!
Barcelona itinerary with kids DAY 2
Today's itinerary is by foot and on the bike!
Barcelona is reasonably bike-friendly, maybe perhaps not as much as any city in the Netherlands but overall it was easy to ride along. If you have the chance in Barcelona we suggest you try cycling through the city – it's a great way to get around and makes you very flexible.
Here is out itinerary at a glance:
Take a bicycle tour and explore the city in a different way.
In beautiful weather, cycle down La Rambla street towards the seaside.
Visit the Barcelona Aquarium in the harbor area.
Continue cycling afterwards to Platja de la Barceloneta (the beach!) and have a swim in the sea.
Here you find nice restaurants and cafes in Barcelona by the seaside.
Cycle back through Parc de la Barceloneta, then Parc de la Ciutadella and up to Arc de Triomf.
As I mentioned before Barcelona has a city bike system that you can hire for not so much, it is called Bicing.
But here is the kicker:
Those bikes don't have a rear seat for carrying an extra passenger (the kids) and also we couldn't hire helmets.
Maybe that won't be a problem for you but we wanted to have an appropriate seat and helmets for our daughter. We decided to rent a bike from one of the many renting shops available in the city.
Our daughter is a good cyclist but Barcelona is a busy city and she was 6 at the time of our visit. Also the bikes here have hand brakes but she is used to the back pedal brakes as we are used to see on most bikes in the Netherlands. For these reasons we decided to get a seat for her on the back of our bike.
You can hire bikes for the day like we did and just explore on your own or if you have interest in a certain part of the city you can book a tour on the bike.
Renting a bike for 24 hours is cheaper than booking a tour but if you have limited time it is a great solution. Plus you don't have to cycle the whole day as tours can vary from 2 to 6 hours normally.
You can check some of the cool tours available here:
We advice you to book in advance to make sure it will be available for you.
The weather was excellent and we just wanted to soak in the atmosphere and do everything on our own pace.
We picked up our two suitably modified bikes and off we went.
First to the Ramblers which was nearby to the bike shop – we cycled down La Rambla taking in the food stalls and street artists, and then navigated our way along the promenade to the Aquarium (L'Aquàrium Barcelona) in the harbour.
The Aquarium is a must go if you have kids.
There is a large collection of marine life and a large display tanks where you can spot the fish and their details plus information about them on available signs.
Inside you will see a great variety of fish. Nemo and Dory can be seen in the same tank. There are some sand sharks and various other fish, rays and marine life that make it an interesting visit.
You can have a quick bite or relax while the kids explore the available interactive panels and activities.
And just beside the aquarium you will find the Imax Cinema if you want to watch a movie.
After the aquarium we headed around the harbour onto Platja de la Barceloneta. This beach was fairly busy (considering everyone was fully clothed and it was winter!), but how great to have a beach at the front door of the city?
Of course our daughter had to be the exception so she was the only one in there swimming – it was cold – but really she has always loved cold water since she was a little baby.
She was in her element. No one else went in the sea! It was February after all.
The views along the beach are great, too. You can walk on the promenade and find yourself a nice spot for a quick snack or lunch.
If the weather permits you should definitely visit this beach in Barcelona with your family.
After the swim we had something to drink and an ice cream in one of the bars along the front before heading to Parc de la Barceloneta.
Barcelona has several public parks and this one had a good play area for kids and sport facilities for adults – the teens were playing basketball whilst Vicky played on the swings.
Eventually we decided to cycle back and just before delivering the bikes we went back to Parc de la Ciutadella to chill out like the day before – we loved that park!
We were also finalizing the plans for the following day while we were there (a little bit last minute) as we had access to a Barcelona wifi hot spot.
Next stop was the Arc de Triomf, close by for some more photographs before the sun dropped again and it was time to return the bikes and go back to the apartment.
Barcelona kids activities Day 3
This was the day we had a day trip skiing in Masella in the Pyrenees.
This needed an early start catching the bus at 06.45 in Plaça Catalunya, but gave us a full days skiing up in the mountains and we were back in Barcelona at 18.00 in time for dinner.
Oh, this is where our itinerary gets amazing: From the beach yesterday we went up the mountains today!
Visiting the Pyrenees is an absolutely amazing day out and a chance to burn off some of the extra calories gained in the tapas bars.
It was an incredible day we will never forget, taking a bus from Barcelona to the mountains. You don't often connect Spain as a skiing destination but this couldn't be any further from the truth!
The skiing area of the Spanish Pyrenees are only 2 hours away from Barcelona and you don't need any material. This day-out trip includes everything you need for a fantastic skiing day!
If you arrive in Barcelona with your hand luggage and no skiing gear at all, just like we did, you can still enjoy skiing. How convenient is it?
Also you can purchase your skiing day-out trip on Visit Barcelona website during the whole skiing season.
If you want to read further we wrote an entire post about our visit to the skiable domain Alp 2500 in the Pyrenees.
Alp 2500 is home to the two ski resorts; La Molina and Masella, and offers 135 km of ski runs! It is Catalonia's largest skiable area!
With a vertical drop of 935 m and 117 ski runs you will sure find suitable runs for all skiing levels.
Obviously this tour is available only during winter months but nothing stops you from visiting and hiking the mountains during warm months either!
Check out some tours that you can take from Barcelona to the Pyrenees:
And watch our video skiing in the Catalan Pyrenees:
Things to do with kids in Barcelona (Day 4)
The final day was again an exploration of the city, this time on the blue Bus Turístic route.
On our final day we wanted to see everything Gaudí. Antoni Gaudí was a Catalan architect who is worldwide known for his distinctive Modernism style.
You can find his works all around Barcelona and they include La Pedrera, Park Güell and the Sagrada Família. He was truly genius and we wanted to give at least one day to visit some of his work projects.
For that we took again Barcelona hop on hop off bus turistic, but this time on the blue route.
At a glance our final day itinerary looked like:
First we stopped at Sagrada Familia, without waiting in the queues to get in.
We then stopped at the Park Güell bus stop and walked up the hill (beware the climb) to the Gaudi Experience.
We then proceed to explore the iconic Park Güell, and afterwards got the blue bus route back around the city, via sights such as the famous FC Barcelona.
Then changed on to the red Bus Turístic on the Avenue Diagonal which brought us back home.
Our first stop was Sagrada Familia, Gaudí's masterpiece!
However it is a building site! They are still building it almost 100 years after Gaudí's death.
So you might be wondering:
"Why should I visit a building site?"
This building is worth seeing close up just to be impressed by the grandness and 'gaudiness'of it all. What an imagination to be able to come up with something so unique.
Unfortunately queues to get in are so large you might just give up if you arrive there without your ticket. That is why I must stress you to get your ticket online beforehand!
This is not a suggestion, it is a MUST! Get your tickets beforehand and know your entrance time!
This will same you so much time and make your experience more enjoyable. You don't want to miss this place.
Get your tickets here:
We stopped at the Park Güell bus stop on the blue line of the Barcelona city tour Bus Turistic and walked out way to the Gaudi Experience.
Beware though:
It's quite a climb from there to the park itself (1/2 km up hill). So be warned if you are with small kids.
The good thing is that on the way to the park there is Gaudi Experience, which is actually very worth a visit.
This place has nice interactive screens which give you the history of Gaudí and his various buildings and achievements. We saw the 4D film which gives a bit of background and the effects were rather entertaining. The animation was quite good, too.
While waiting for the film there is plenty for the kids to do; coloring papers and interactive computers. You only have to pay if you want to watch the film (and you get a discount with the Bus Turístic vouchers).
From Gaudi Experience we headed up to Park Güell.
Güell was Gaudi's main admirer and client. There is lots to see, such as the monumental steps, the Porter's lodge, the Portico of the Washerwoman, the nature square and of course the iconic mosaic salamander (el Drac).
Also a good place for the kids to play and run around. They do not really like you climbing the artwork though as you can imagine!
The Park has a limit of how many people can visit at once to protect the art. So be aware –reserve your tickets beforehand online for the time you wish to visit and plan the trip.
After the park visit we hopped back on the blue bus route, which took us past FC Barcelona. For the football (soccer) enthusiasts it s a place to stop.
You can visit the museum and tour the stadium with the Camp Nou Experience. If you are lucky you might be able to get tickets to a match and see the first team of Barça football playing.
Check some of the tours here:
We then hopped off at Avenue Diagonal to change on to the red route to bring us home again. This meant we had followed pretty much both blue and red routes during our visit only missing a very small part of the blue route.
More fun things to do in Barcelona with kids
So all in all we did a fairly comprehensive tour of Barcelona in a short space of time taking in most of the important sights.
But there is SO much more to see if you have time. I can imagine it being a great place to have a summer holiday where you could combine the beach with trips through the city and perhaps enjoy the gastronomic part of the city more than we did on this trip – though the restaurants we did visit were fantastic!
So to make this list complete I adding below more family attractions ideas that we did not have time to visit.
The Port Cable Car (Teleférico del Puerto)
Picasso Museum
La Boqueira Food Market
Casa Batlo
Montserrat Mountain
Portaventure Theme Park
Tibidabo Amusement Park
Parc del laberint D'Horta (Horta Labyrinth Park)
Cosmocaixa Science Museum
Illa Fantasia
Catalunya en miniatura
Aqualeon
Marineland
Natupark
Our biggest tip for visiting Barcelona
But the biggest tip for anyone travelling there with kids is to plan your trip beforehand – investigate what you want to visit – book your tickets up front on internet to same time and money – and configure the trip to suit your company.
All kids are of course different – ours is a seasoned traveller already with Spain being her 21st country (and she's only 6!) – so she is used to the travel and is very easy to take almost anywhere. But other kids may need more entertainment or have other interests and you should plan your trip around them and their needs. There is plenty to see and do and what a great time you should have!
We thank our partner Visit Barcelona for the amazing care and help! If you need any other information you will find it in their website.
Disclaimer: I received one or more of the products or services mentioned above for free in return for providing my honest and unbiased review. I only recommend products or services I use personally and believe will be good for my readers.
Frequently Asked Questions About Barcelona Family Holiday
How many days for Barcelona?
There are so many attractions and activities in Barcelona that we often get asked our opinion on how many days to see Barcelona.
Even though it is a subjective opinion I can guarantee you a week may not be enough depending on how much of the city you want to see. When travelling we like to get immersed in the culture and lifestyle of a city, we often take a lot time learning the historical aspects of the city and learning about their local lifestyle.
It also depends on the speed of your travelling. We like to take it easy because travelling with children normally requires a slower travel pace. However we packed 4 days full of activities (including one day skiing in the mountains) to make the most of the city and now we wish we had at least 3 more days to explore the city.
So you might be wondering: "How many days in Barcelona?"
From our experience 6-7 days in Barcelona is a good number but you could definitely spend more!
However, you might not have a whole week available to explore Barcelona, how many days should you give it then at the very least? Not less than 3 days.
If you are looking for what to do in Barcelona for 3 days you can follow our itinerary to the point here, only skipping the skiing day. If you have less than 3 days pick one of our itinerary days and follow it. We planned the routes in a way that we would not spend a lot of time in transit crossing the city but everyday we explore a different area.
---
More Barcelona Travel Guides:
PIN FOR LATER!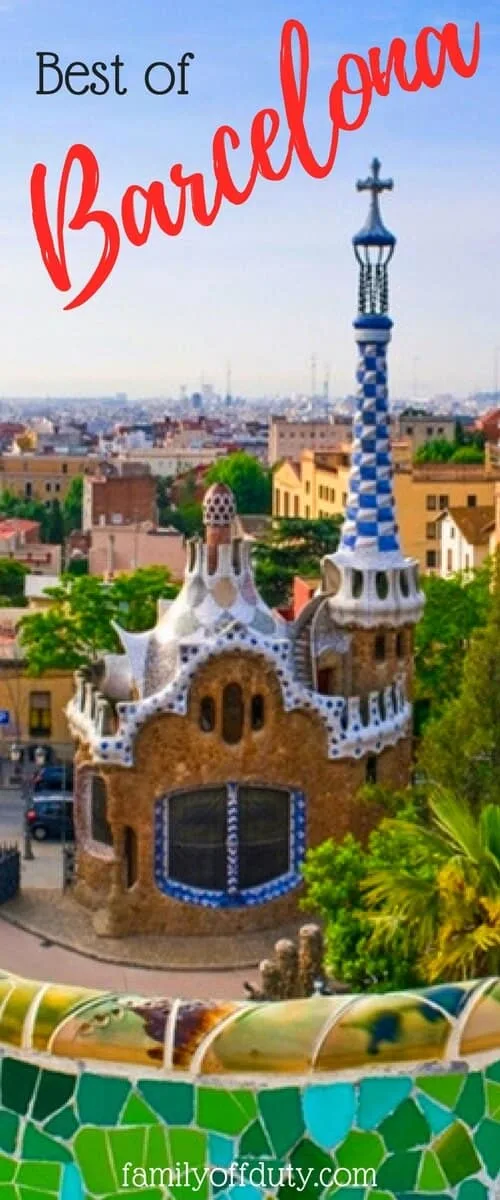 Barcelona for kids