When it comes to best family holidays Europe has so much to offer. Sometimes it is hard to decide where to go. We know it by experience! That is why we decided to write this article on the best European cities for kids.
We are big fans of taking city breaks with children. Maybe it is because we live quite remotely but going to the city always feels like a big adventure. We don't like big surprises though so when searching around for another city close by to visit we pick first the most kid friendly European cities out of our bucket list. That makes things so much easier! After all, happy kids equal happy parents, right? So here I am sharing my top 5 best cities to visit with kids. You just need to go and make some awesome family memories.
We have a lot of experience visiting European cities with kids. So we looked back at our own family city trips in Europe and what made us like some more than others. The city trips we liked most always had a few things in common.
Here are a few things we considered to make the list of best cities to visit with kids in Europe:
The city has plenty of public parks and green spaces: Our city breaks are packed up and quite intense. We visit public parks to relax and let our daughter run freely in between sightseeing.
It feels safe: danger can be anywhere really but if some city didn't feel safe for us I would never recommend someone else to go, especially with their kids.
It offers a great range of activities and attractions for both adults and children: family city trips are all about the balance. If we wanted to just please children we would go to a theme park. We love that city trips offer so much cultural, historical and local lifestyle learning experience. But we can't go sightseeing and talk about history for the whole day with kids. We make sure to plan attractions for everyone in the family during our stay.
And finally; it doesn't cost us an arm and a leg to go there: Some places are worth every penny but let's be honest; some others are just overpriced, over-hyped and often overrated. Of course every city will have their share of free things to do but some cities are just overall (a lot) more expensive than others to visit. Even though the cost is not directly related to a place being child friendly, when considering family travel you cannot really ignore costs. In a family there are more people to feed, more people to accommodate and more tickets to attractions to pay. If you are like us and have a budget, then price is going to determine what you can do and see as a family. So we think it is important to consider.
Now to the list, check below for our best cities to visit with kids.
Top 6 best city breaks with kids in Europe
Prague
Prague never disappoints. The gorgeous capital of the Czech Republic is just the most beautiful city I have ever been to in Europe (and yeap, I have been to Paris). From its historical sights and amazing architecture to the contemporary art, culture and entertainment activities of a modern city, it one of the best city breaks for families. It offers amazing food and drinks, welcoming people and is reasonably priced compared to other European capitals. How not to enjoy a day sitting in the beer garten of the Letna Park enjoying a drink and the panoramic views of the river and the city below while the kids play in the outdoor play area? Another highlight for us was going to the ballet for the first time with our daughter and we all enjoyed it so much. Also very enjoyable was the cruise through the Vltava river, looking at the main waterside sights of the historical centre without having to wander through the streets. Definitely one of the best city breaks with children.
Don't miss:
Petrin Hill & funicular
Letna Park and beer garden
A boat cruise
Barcelona
Barcelona is one of the best family holiday destinations in Europe. It has it all. From beach to mountains, from heritage to theme parks, excellent gastronomy and shopping experience, iconic architecture and beautiful green areas. Add the good weather all year round and you have a perfect place to visit with kids. Despite some advice from friends that we should watch for pickpockets we found that Barcelona felt like one of the safest cities in Europe. This city has so much to do and see that a whole week might not be enough. We found great day trips out of Barcelona too! We have selected the best family activities in Barcelona and definitely recommend it as one of the best European cities with kids.
Don't miss:
Bike tour around the city
Cable car to Montjuïc Castle
Parc de la Ciutadella
Berlin
Berlin is the ultimate urban experience, the has this vibe that we can't quite explain but you feel once you are there. No wonder so many people love living in Berlin as expat. It has been one of our best city breaks with kids and has plenty of activities for children and the whole family. Berlin has many playgrounds and green areas, lots of attractions, theatres, child friendly cafés, rich history culture and sorts of tours for children. No matter the age of your children, this is one of the best city breaks for families.
Don't miss:
Tiergarten
East side gallery
Holocaust memorial
Tempelhof Field
Tallinn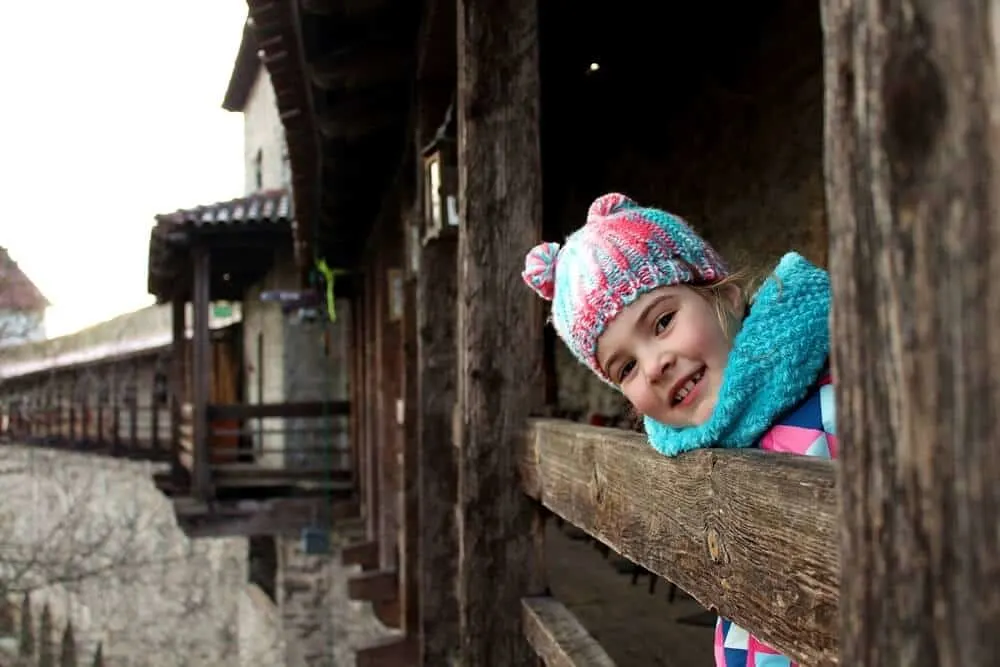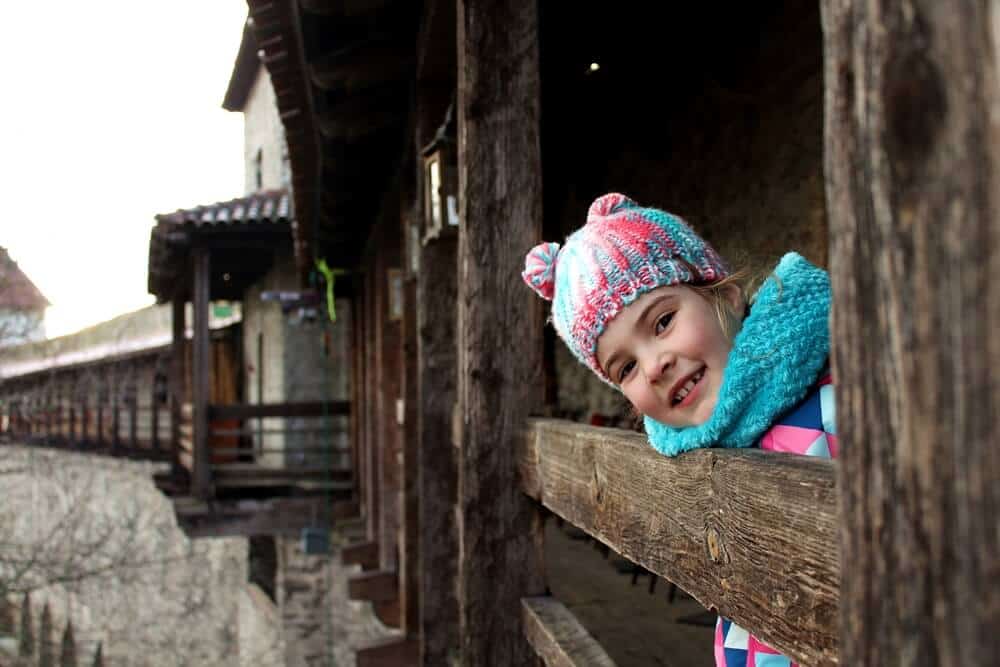 What is not to like about Tallinn, the capital of Estonia?
Tallinn is simply one of the most beautiful European capitals. It is also very old and offers many preserved historic architecture for the visitor to see.
It is a great choice for families because apart from the Old Town, which is partially shut to traffic making it a good place to wander around with kids, it is very safe and also has several family-friendly museums and attractions that kids will enjoy.
In fact, the best museum we have ever been is there in Tallinn, the Seaplane Harbour Museum.
You can read more in our guide post about things to do in Tallinn in winter with kids or without. it is also perfect for food and architecture lovers, culture buffs and solo travelers.
Don't miss:
Seaplane Harbour Museum
The Old Town
Kadriorg Park
Budapest
Another one of our most loved family city breaks in Europe is Budapest. It has many touristic attractions to fill your days but if you need a more relaxing travel pace you can head to the parks, gardens or baths. There are playgrounds all around the place, great parks and many kid-friendly restaurants. Not to mention the outdoor pools and baths, which this city is so famous for, that are great fun for members of the family. All other touristic attractions we saw were great to do with kids too and it is so easily accessible with public transport. A well deserved place in our list of best European cities for toddlers (plus we stayed in the most charming airbnb over there). You can read all about our favorite places to visit in Budapest here in this comprehensive guide.
Don't miss:
The thermal baths
City park
Gellért Hill
Warsaw
I think Poland is an understated European travel destination. The Polish are very friendly and welcoming.
The capital of Poland is an exciting and diverse destination for families. It has many parks, museums and attractions for the young visitors. It also has a sad history which you can learn so much about around the city.
The Old Town is also very interesting to walk with children; plenty of street artists and attractions to see. Warsaw was almost completely destroyed during WWII and rebuilt under the Russian influence so the architecture is very particular, with a blend of old and new. The best meal we have ever had in a restaurant was in this great city.
You can check the best things to do in Warsaw with kids:
Multimedia Fountain Park
Old town and castle walk
The Saxon Garden
While in Poland you should not miss Gdánsk, a charming city full of history. Check this post on the best places to eat and stay in Gdánsk.
---
These are our top 5 best European cities for family trips!
Now my question to you: which best city breaks for families would you add to the list?
Let me know in comments below.