Family Friendly Activities While Visiting Warsaw
Are you planning a trip to Warsaw with kids? Read this guide with 8 cool family friendly attractions in Warsaw, Poland.
Warsaw is a beautiful city and the capital of Poland. Filled with amazing parks, wonderful architecture, and a really fascinating blend of historic and modern.
In general we feel that Poland (and other Eastern European countries) are massively underrated when it comes to tourism for families traveling with kids. Most families visiting Europe for the first time choose to check big cities such as Paris, London and Amsterdam.
While these famous touristic areas have many family attractions, they also come with a higher cost of traveling.
Warsaw is a city that has plenty to offer to visitors and locals alike. If you are traveling with a family, you won't want to miss out on many of the truly outstanding options that big cities provides it will feel a lot more affordable.
Another thing to note is that the history in Warsaw is horrific and only by visiting the city and going through the museum and memorials we had a better picture of what truly had happened there during the war years under the Germans, and after under the Soviet regime. It was eye-opening to us as adults and an opportunity to talk to our daughter about the sad past.
But on top of the history lesson you will find a vibrant city with friendly people and delicious food, which felt safe and welcoming (btw, check my tips for easy city trip with kids).
Apart from Warsaw we also visited Gdansk and were so well received wherever we went. We enjoyed so much that we have plans to go back we would like to visit Krakow in our next city trip with kids in Poland.
The following list just scratches the surface of all the many places to visit for families traveling with children in Warsaw, and yet these eight places will provide plenty of memories for any family and learning experiences.
Things to do in Warsaw with kids
Copernicus Science Centre
An interactive science museum that features many experiments that allow hands-on activity. These cool experiments excite kids and are entertaining for parents to watch and experience, as well.
The Planetarium has a truly incredible show that is famous with local residents as well as receiving rave reviews from tourism-based sites across the Internet.
With a lot of focus on the wonders of space and the universe, this is an educational spot that brings fun, wonder, and a tangible experience to a very intangible idea to young minds.
Most popular in the months of May to September when it is working at full blast. This impressive fountain park is a place where residents and visitors mingle freely to cool down during the summer.
There is a large water park for small children close by while the fountain park itself combines water works, lights, and music to create a really remarkable show.
On Fridays and Saturdays during these months are the finest shows that bring in many hundreds if not thousands of visitors who sit on the hillside and enjoy the best view in the area on an ever-changing but amazing show.
The Warsaw Uprising Museum and the old town were incredible and probably the day that left the most impression on us.
Definitely worth a visit for any history lover and is a great place to begin the conversation about world history, about things that have happened in the past, and how we can learn from them in the future. It is not easy to talk to small kids about the terrible history that unfolded during the war but we must!
The Warsaw Uprising Museum includes a moving outdoor monument and is dedicated to the 1944 uprising where the Polish rose up against Nazi occupation after several years of occupation during World War II.
Located in the Wola District of Poland it creates a very interesting picture of that time. Weapons and battle maps are side by side with love letters and survivor stories of day-to-day life painting a truly unique historical experience.
The Warsaw ghetto and the uprising is a historical event that is well covered by the brilliant Polanski movie 'The Pianist' from 2002.
In the museum they had a film in 3D showing what the city had looked like after the Germans sacked it in late 1944, after the Warsaw uprising and it is devastating to see and imagine such suffering. You can see it here too.
Generally speaking, when you hear a city has a popular Old Town or Old Town Square that is a place you want to visit and Warsaw is no exception to that great trend!
But first a little history on what happened after the Warsaw uprising: By January 1945 about 85/90% of the buildings had been completely destroyed. At one point the city was almost completely deserted. It had been decimated.
What was incredible is that since then the city (especially the old town) had been completely rebuilt in the style and architecture it had been in before the war. It is quite a sight to behold and quite an impressive achievement, especially when you think this was done during communist rule in Poland.
Featuring cobblestone alleys, this is now a faithful recreation of the original destroyed square during World War II that was reconstructed using pictures, photographs, surviving building plans, and more to capture that same beloved look.
Many of the homes show a Medieval style or feel to them, and the most popular monument in the city is the Syrenka (The Mermaid) which is appropriately flanked by water fountains that are great for kids to play in the Summer. When we visited in the winter there was a skating rink there.
You will have no trouble taking quality Instagram pictures here.
While visiting the Old Town Square, why not visit the Royal Castle? This impressive structure had long been the residence for the royalty of Poland back when they were a kingdom, although after the failed 1944 uprising a good portion of the original was destroyed.
But luckily the Royal Castle is an example of one of the many buildings that were rebuilt, and it was only reconstructed as late as 1971-1984.
The remaining pieces and those of important nearby buildings that survived the war were carefully protected and there was an impressive reconstruction program to restore them in good faith, with the original designs and as many similar to original materials as possible. This is a truly interesting place to visit and will get looks of wonder from adults and children alike.
We spent quite an emotional time walking around here, knowing what had happened during the ghetto period during the war. How terrible that something like that could have happened not so long ago.
If you walk around the area you will see many old churches that were rebuilt too – some of the stories behind some of the buildings are really horrific. Every now and then you will see bronze plaques at locations where people had been executed. Very, very sad.
Lazienki Park is an incredible place to visit, as you might have clued in by the almost 44,000 reviews on Google at this point, the overwhelming majority of which are positive.
This is the largest park in Warsaw, featuring 76 hectares which is just under 188 acres. That is an impressively sizeable park and features many famous statues and monuments that can be found throughout the wooded city park.
The Palace on the Isle and the Chopin Monument are two of the more popular examples of such amazing sites within the park that are definitely worth the visit – and lets the kids run off some energy.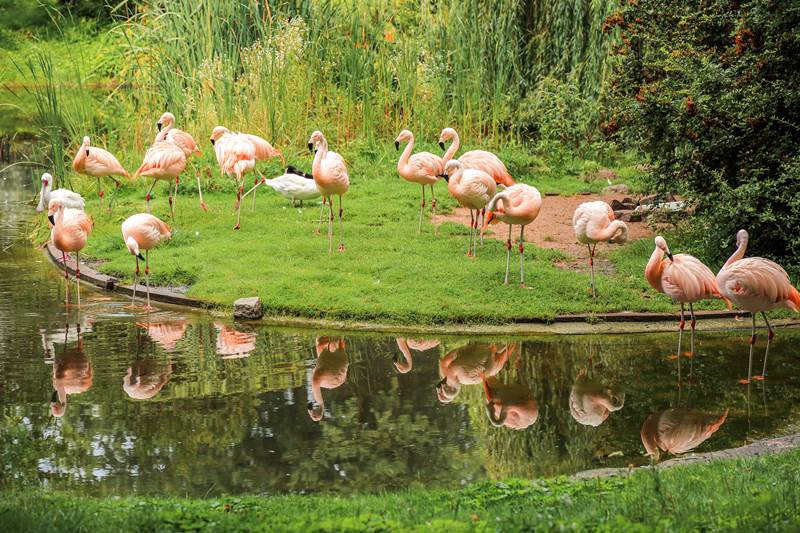 The Warsaw Zoo is truly amazing in its size and scope. There's a reason it is world-famous. This zoo is home to literally thousands of animals from around the world.
The zoo itself brags of over 12,000 animals from 500 different species. That is an impressive number for any zoo and helps go to show why they have such a top-notch reputation.
See the major predators like tigers and bears, watch seals getting fed, or check out a remarkable collection of fish and birds in the aquarium and terrarium, respectively. This will be a really fantastic stop that the entire family can appreciate and enjoy.
Palace of Culture & Science
You won't have a hard time spotting the Palace of Culture & Science in the city of Warsaw. At 778 feet high it is one of the tallest buildings in Europe and the tallest building in all of Poland.
It was built in 1955 and was a gift from the Soviet Union to the people of Poland. It is a hugely imposing building and is really quite impressive. There are great views of the city from the top.
True to its name, this is a building that features multiple theaters, shows, special exhibitions, cultural shows, as well as hundreds of offices of organizations dedicated to the arts and sciences. This is a thriving part of Polish culture and you will want to check it out with your family for an amazing tour, and maybe even a great show while you're there!
Why visit Warsaw with kids?
Warsaw was a truly educational city trip for us. We suggest that while enjoying the city and creating memories with your family, make sure to take a look at these spots and start the conversation about the history in a manner that the young ones can understand. Without knowledge of history, we can't prevent those terrible things from happening again.
The interesting part about visiting Poland was the resilience of the Polish people after all the oppression they have suffered over the years.
The food in Poland is fantastic. We had some super meals, with lots of meat and vegetables, and wondered how the whole population seemed to manage to stay so slim. The restaurants were also very good value with good service we found in general.
With a bit of planning, you will manage to organize some very affordable hotels and cheap flights too (we paid 13 Euros for three return tickets from Gdansk to Warsaw, total!!).
All in all visiting Warsaw with kids will be a truly special vacation, with modern and historic family-friendly attractions.
---
More European City Trips With Kids: