Discover the best things to do in Ring of Kerry with kids including Killarney National park, Derrynane beach and Fairy hunting in Rossbeigh.
We were fortunate enough to spend a little less than two weeks travelling in our camper van along the Ring of Kerry, part of the Wild Atlantic Way and a known tourist region of County Kerry in Ireland.
What a wonderful part of the world. We took our time to go around but could have taken a lot longer to do it if we had really been in exploration mood.
If you are looking for things to do in Ireland with kids I would definitely advised driving the coast and the west part is just stunning.
If you are short of time you could probably drive it in about 4 hours (it is about 120 miles), without any traffic – don't expect that in the Summer. Then it is advisable to go clockwise around the route, to avoid hold ups from tour busses that have to go anti-clockwise.
This would be fine to appreciate the views but for the full experience we recommend you take some time to explore and enjoy some of the activities along the way and enjoy the hospitality of the Irish.
This blog will hopefully give you some ideas of things to do in Kerry, Ireland while touring the peninsular. We will start at Killarney and work our way anti-clockwise (this is how we did it).
From Co Kerry, drive north to Co. Clare where you will find great attractions and family friendly destinations such as the Scattery Island and the Burren National Park.
Check our page with more Family Travel posts!
Things to do on the Ring of Kerry with kids (or without)
Below you find a list of what we think are the best places to visit in Kerry (on the Ring of Kerry).
Killarney
Killarney is a bustling town at the gateway to the ring of Kerry, and a lovely town to visit – you really can't possibly miss this place and all the the great things to do in Killarney with kids and around the town. I recommend you to stay at least a couple of days.
If you are feeling peckish try a great fish and chips at Quinlans Seafood Bar, or grab a quick lunch at Der O'Sullivan on Main St. where we had a super and very affordable seafood chowder.
The town is great to explore and nearby there are plenty of activities and things to do in Killarney for families. Check the gorgeous surroundings of the town to find activities such as fishing, horse riding, golfing etc. Plus you have plenty of historical sites nearby such as the Ross Castle and Mockross House with a huge garden that kids will love to play and spend their energy.
Camping along the route (and detours)
There are some great campsites along the ring to stay in.
Some are right on the sea and have usual camping activities. We stayed for about 5 days in Glenbeigh at Glenross Caravan & Camping Park, which was a great location from which to explore.
We had a car with us so were able to nip across to the Dingle Peninsular to visit Dingle, Inch Beach and the Conor Pass, which if you have time is just spectacular. It is off the Ring of Kerry but definitely worth a detour if you have time and easy place to visit other areas of Co Kerry.
We loved Inch beach as it is just SO long, and the surf was fantastic. We had surfing lessons there and have since been back to drive the length of the beach in our car (which is also an awesome experience – make sure you do not get stuck!).
Fairy hunting in Rossbeigh
While we were at Glenbeigh we discovered a fairy trail just around the corner in Rossbeigh on the way to the beach.
There is a short (but hilly walk) where the little ones can discover fairy houses in the woods, and if they are really lucky they may see a real fairy. We certainly heard a few!
To get to the Fairy Forest drive from Glenbeigh Village along the R564 Rossbeigh road to the Picnic Area at Faha Wood.
While you are there, Rossbeigh beach is a little detour from the Ring of Kerry but very close and worth a visit afterwards.
This is a sandy peninsular that seems to try and meet up with its larger cousin on the opposite side (Inch Beach). Generally good for surfing and horse riding on the beach, and lovely for walking when the tide is out.
Driving west from Rossbeigh there is also a wonderfully scary cliff edge drive going up the mountain. It is a single track road but if you are an adrenaline junky it is worth the trip!
The Skelligs
Eight miles off the coast of Kerry you have the Skellig islands, which featured heavily in the Last Jedi Star Wars film.
Definitely one of the best known County Kerry points of interest with interesting history. It was one of the first monastic settlements in Ireland as long ago as 600 AD.
The islands are home to a huge variety of seabirds. Skellig Michael towers 218 meters above the Atlantic and is mightily impressive.
Tours leave from Portmagee at around 09.00. Obviously you can only travel to the islands when the weather permits, but it is worth the trip.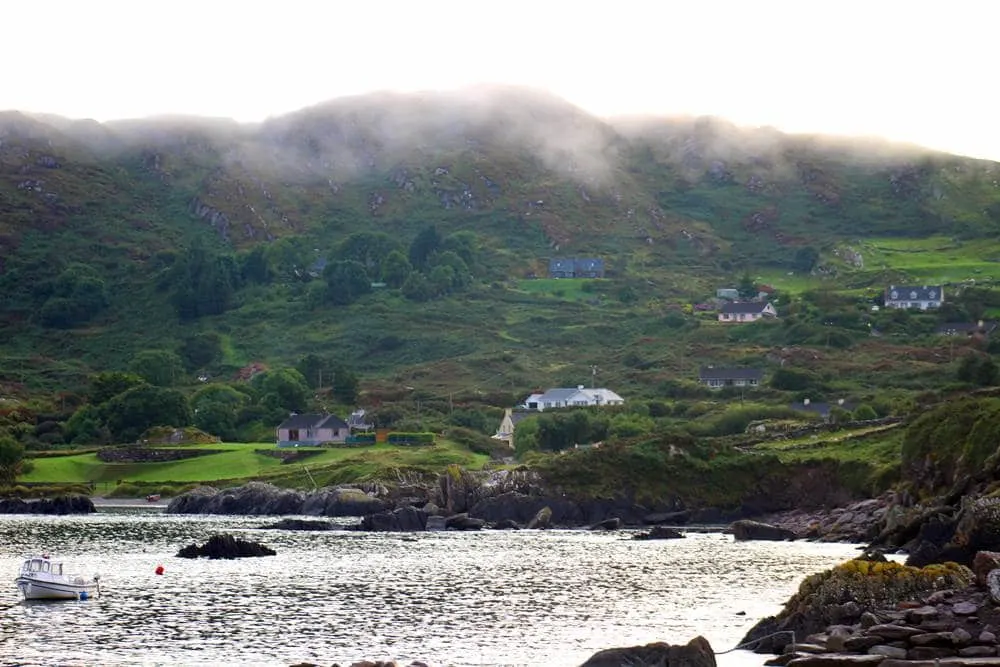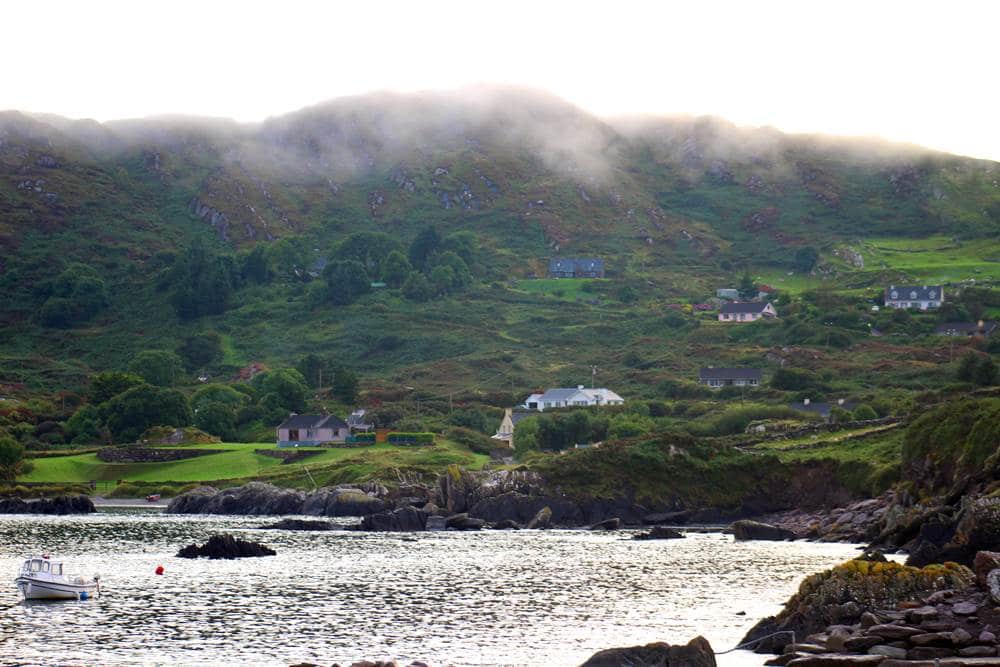 Waterville
Waterville is the only town in Kerry situated directly on the ocean, whilst on the other side of the town there is a huge lake, which many people visiting do not know about.
Indeed we did not realize when we travelled through. Waterville has a connection with Charlie Chaplin who used to come here on his holidays for more than ten years and enjoy the ring of Kerry attractions.
There is a statue of him in the town in his memory. Every year they hold a festival in August to remember him.
Derrynane / Caherdaniel
Derrynane beach (from above) is one of the most recognized views in Ireland.
This is a wonderful place to visit and one of our favorite Kerry tourist attractions, down a partly single track road that leads to Derrynane house.
The beach has as huge expanse of sand, especially at low tide, and there are great areas to explore or relax with kids when the weather is fine.
Great swimming and scenery including a house that looks like a boat on the other side of the bay.
If you carry on down beyond the beach you will discover a little gem of a pub (that inside is like sitting in someone's front living room) and at the end a watersports area where you can hire kayaks and the like.
We visited this place when we were staying for a few days at Wave Crest caravan park near Caherdaniel. This campsite is fantastic – you can park next to the sea and the views are stunning.
Staigue Fort
If you are interested in some of Ireland's ancient history, then Staigue Fort is a location certainly worth a visit.
This ancient structure can be found by turning off the N70 near Castlecove and driving for about 4 kilometers.
The ruin dates back to 300/400 AD and is an extraordinary building, having been built entirely without mortar.
Molls Gap
On the N71 as you drive towards Killarney again, you come across Molls Gap where there is a fantastic café/shop built on the corner.
The location is named after Moll Kissane who ran an illegal pub there during road construction 200 years ago.
The café is upstairs and there are stunning views into the valley from upstairs. This was a great place to stop and take a break, as the food was delicious and the views serene.
Downstairs there is a shop selling local produce.
Killarney National Park
As you drive on the last stretch towards Killarney after Molls Gap on the N71 you drive through the Killarney National Park.
Some of the scenery is breathtaking and the roads are great fun, especially in a camper (!), as you wind into the valley on roads indicating breakneck speed limits that would be impossible to achieve!
If walking/hiking is your thing then this is the place to stop for longer and explore the hills and lakes.
The park attractions extend all around Killarney so you visit them while staying in town. Explore the views from the Lough Leane on a boat tour or the views on the Gap of Dunloe. Visit the beautiful attractions such as Ross Castle, one of the castles you should visit while in Ireland, and Muckross house gardens.
We hope some of these ideas of what to do in Kerry will assist you in planning you trip to one of the most beautiful parts of Ireland, the Ring of Kerry.
If you are looking to explore other parts of County Kerry, have a look at some of the routes in this link: County Kerry Driving Routes.
From Co Kerry, drive north to Co. Clare where you will find great attractions too such as the Scattery Island and the Burren National Park.
Related: