Top 10 Castles To Visit In Ireland
Looking forward to see some castles on your next trip to Ireland? read our guide with the absolute best castles to visit in Ireland to take a trip back in time!
Ireland is among the few places in the world that has still preserved its misty, green and alluring landscape boasting a treasure trove of castles.
A trip to Ireland definitely fits the profile if you are thinking about going on vacation to learn more about ancient and medieval times.
This country has a rich history in its sleeves, with many ancient sites to visit, medieval castles and monastic settlements from centuries ago. Each site having its own unique story tell, so prepare yourself for a trip back in time.
When it comes to castles one may argue that Ireland has some of the most iconic castles, many of which have been fully restored to its old glory making it a must see experience to anyone looking forward to dive in Irish history and culture.
Even though there is not one exact number on how many castles there are in Ireland, it is estimated that over 300.000 castles and castles ruins can be found all over the place, making Ireland and Northern Ireland perhaps the best place to travel to see castles!
It would be impossible to check all of them out on your trip but in this post I intend to share a list of castles in Ireland that are significant in their sizes, well known for their history and present an easy to follow exhibition to visitors.
So what are the best castles to visit in Ireland? Check below some of the castles you can visit on your next trip to Ireland that I believe every tourist should see.
Best Castles To Visit In Ireland
Here is the map of castles in Ireland that are perfect for a visit, either on a half or full day trip from Dublin or other large city in Ireland, but also perfect to visit on route to your next Irish destination.
The Best Irish Castles To Visit
Bunratty Castle, Co. Clare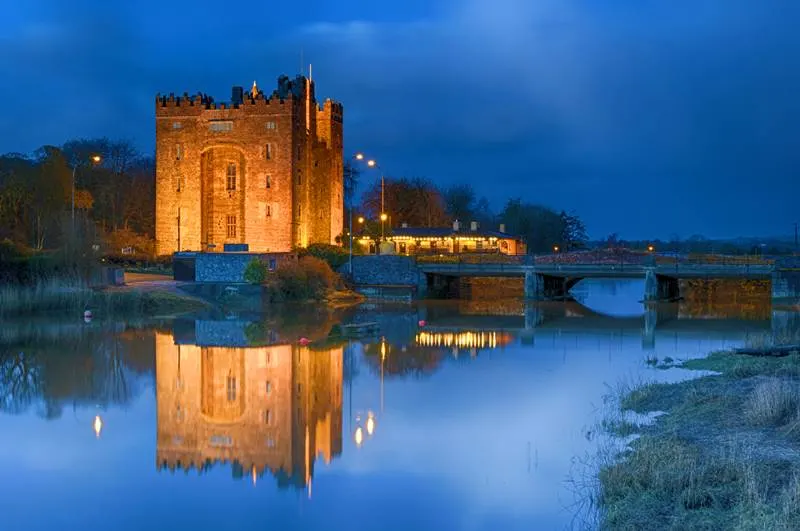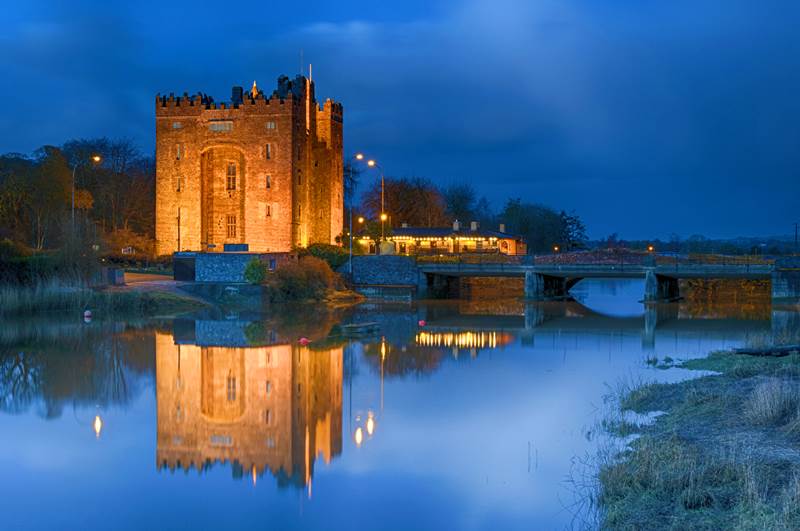 This 15th-century medieval castle is one of the best known castles in county Clare.
Bunratty castle and folk park provide the visitor with one of the most authentic and complete Irish history experience, ranging as far as over 1000 years ago from Vikings, Irish Earls, Normans to the noble Lords and Ladies.
You can book the hugely popular medieval banquet hosted during the summer to make memories and get to relive the past as you sing, dance and dine in the Great Hall.
Bunratty is very close to the Shannon airport so make sure to schedule a visit if you are arriving or leaving from Shannon.
Get your ticket to Bunratty Castle here:
Glenveagh Castle, Co. Donegal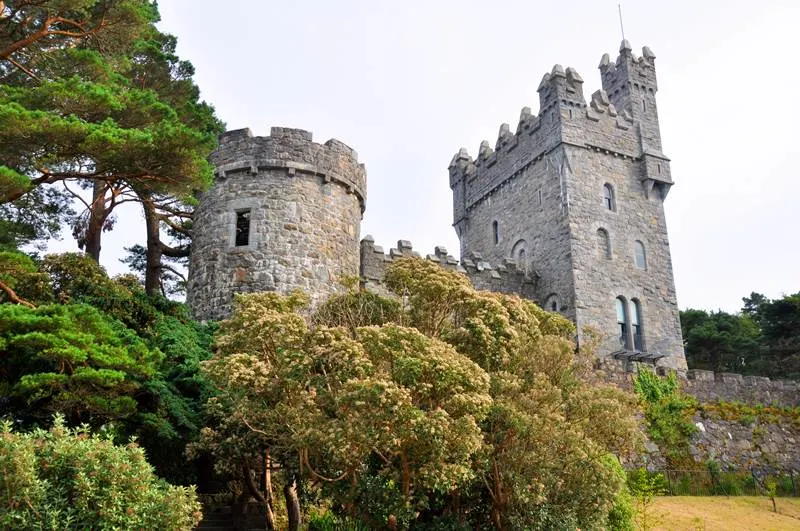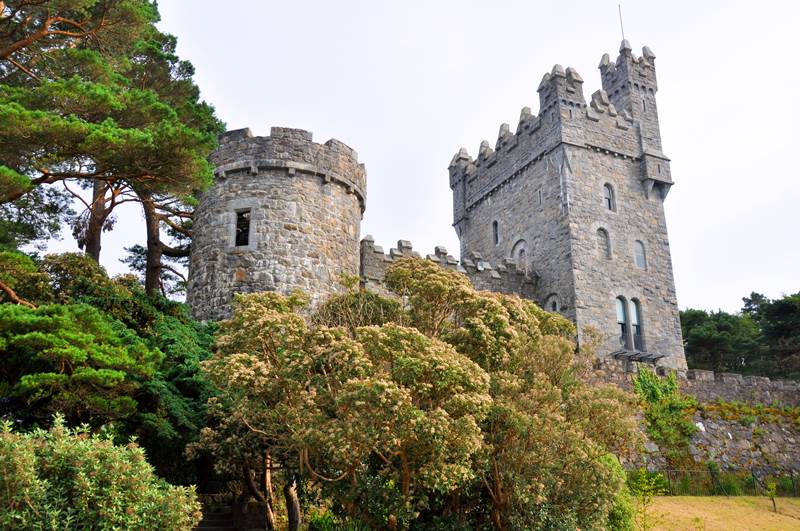 This castle is a more recent addition as compared to others in this list. Captain John George Adair built it the 19th century, between 1870 and 1873.
The castle was constructed in the Scottish Baronial-style consisting of a rectangular four-story keep, surrounded by gardens and having a 16,500 hectares backdrop woods, glens, mountains and lakes.
Glenveagh castle is located within the stunning environs of Glenveagh National Park and has a visitor center with exhibits explaining the park in depth together with an audio-visual show to make the experience unforgettable.
The Glenveagh gardens surrounding the house have a free-flowing style and consist of exotic species ranging from Chile, Madeira and Tasmania making it a major attraction on its own.
Captain Adair was known to be cruel because when choosing the location for the castle, he evicted 244 tenants off their lands just to improve the aesthetic view from the castle.
Get your ticket to Glenveagh castle here: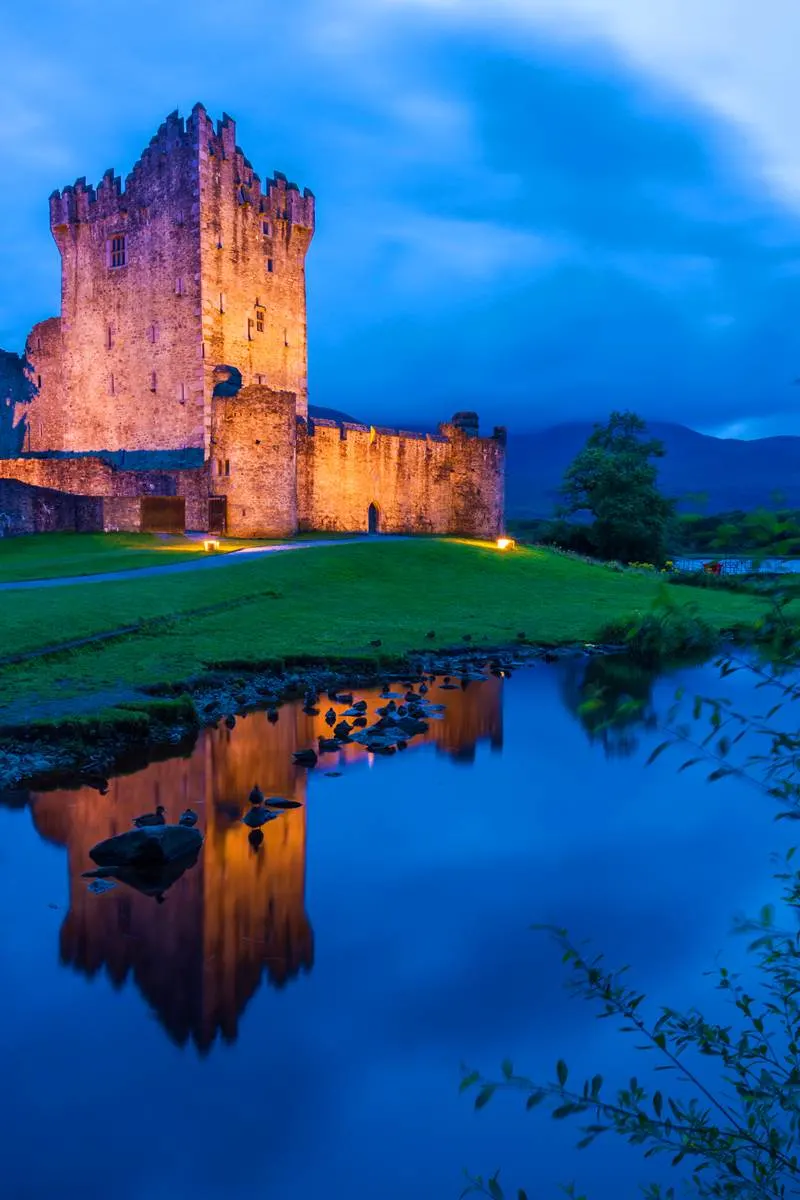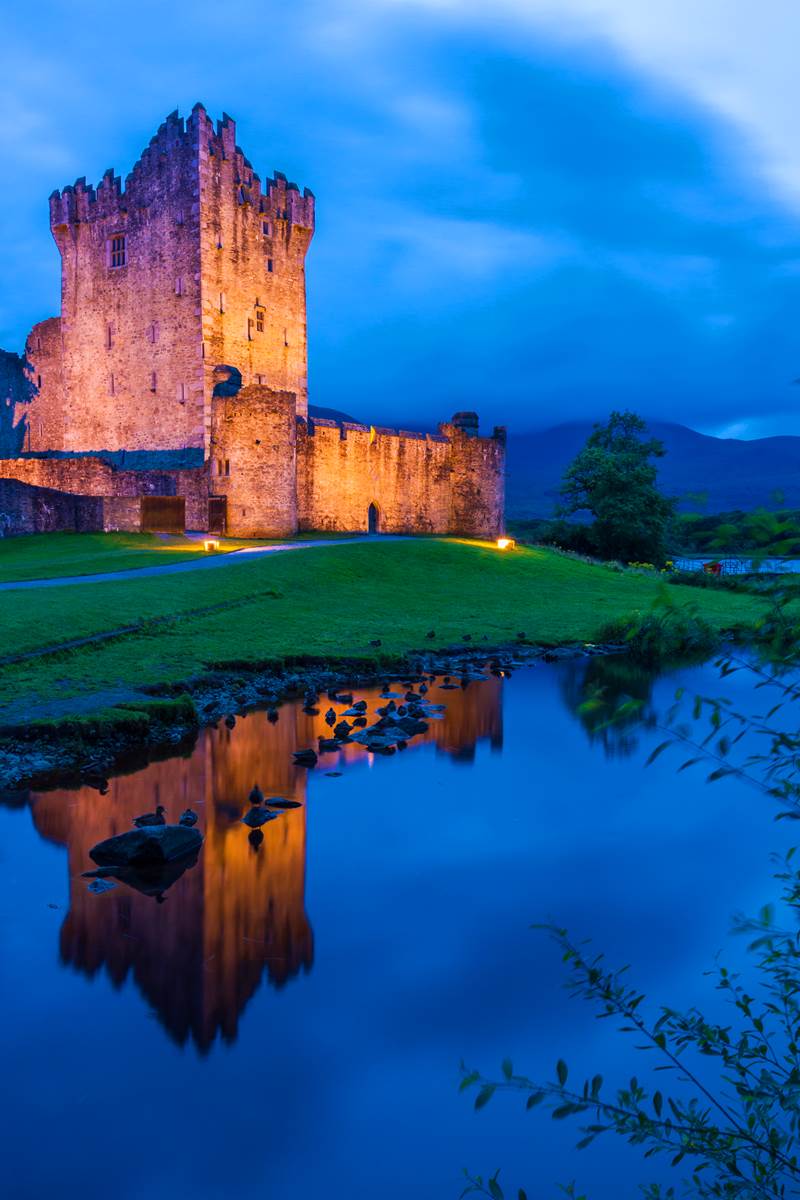 Ross Castle was built by O'Donoghues Mor in the late 15th century on the shores of Lough Leane.
Its tower house and keep has a history of wars and rebellions with the castle being among the last stronghold in defending Ireland against the Cromwell invasion.
The castle is loaded with historical myths that are both fun and very informative. A ghost is even said to be roaming its halls.
When you're in Killarney, Ross Castle is a must visit place to explore. It's a popular stop that's only accessible to the public via guided tours who will for sure bring the past back to life.
You can also take boat rides around the castle and the Lakes of Killarney, in county Kerry.
Get your tickets to Ross castle and attractions here: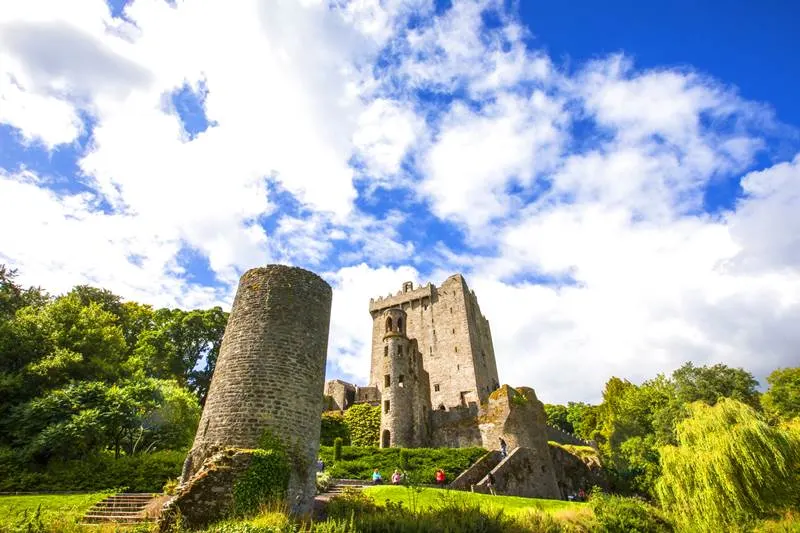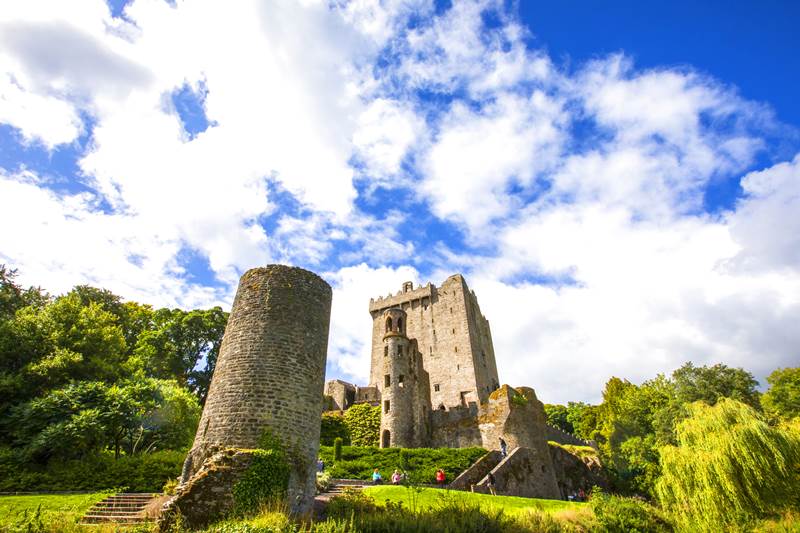 This medieval castle fortress is next to River Martin and is surrounded by extensive gardens with path trails all through the grounds to other attractions like the natural rock formations named Witch's Cave, Druid's Circle and the Wishing Steps.
Blarney Castle in Ireland is a popular tourist destination considering it hosts one of the greatest treasures of Ireland, the Blarney Stone.
Legend has it that if you climb to the top of the castle then hang upside down over the sharp drop off to kiss the Blarney Stone, you will be granted the gift of the gab (great eloquence skills).
Grab your tickets to visit here:
Best Castles To See In Ireland
Malahide Castle, Co. Dublin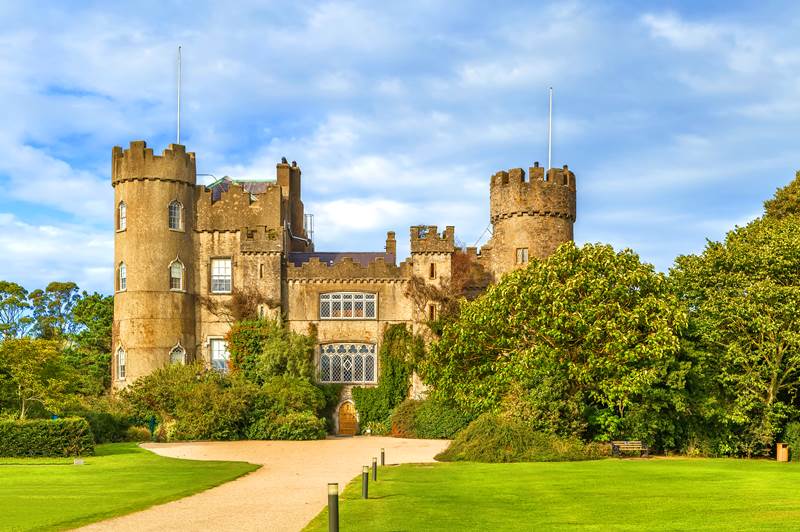 If you are looking for castles near Dublin to go on a day trip then Malahide castle is a great option!
This 12th-century castle was built by the Talbot and was called home for over 800 years through the generations. It is among the oldest castles in Ireland dating to as far back as 1175.
The castle has a rich history in its veins surviving several wars and death of its owners inside the walls.
Book a guided tour and get to hear the dramatic 800-year heritage and the role they played in medieval Ireland. Get a glimpse of their rooms, the Gothic Great Hall and the Oak Room as well as the array of artwork collections and the gorgeous vintage furniture.
There are also loads of family-friendly things to do like the interactive Fairy trail or taking a stroll through the Talbot botanical gardens.
Check out some of the best tours to Malahide castle here:
Lismore Castle, Co. Waterford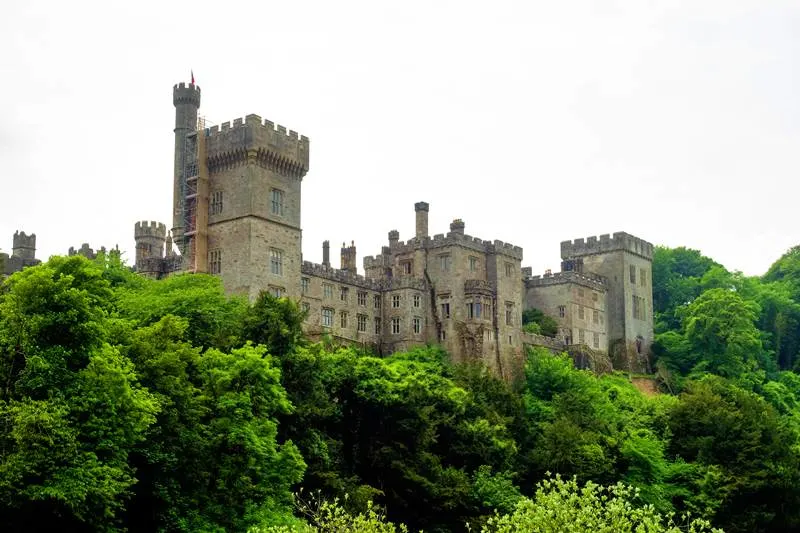 Initially built in 1185, this Gothic-style castle is now the residence of the Duke of Devonshire.
However, the castle is not open to everyone, but space can be rented out to groups of up to 27 visitors. Its gardens on the other hand are open to all and come with a captivating allure that is breathtaking.
It features different plant species like camellias, Rhododendrons and magnolias that give the garden its fantastic beauty.
To visit find out more information at Lismore Castle Gardens website.
The Rock of Cashel, Co. Tipperary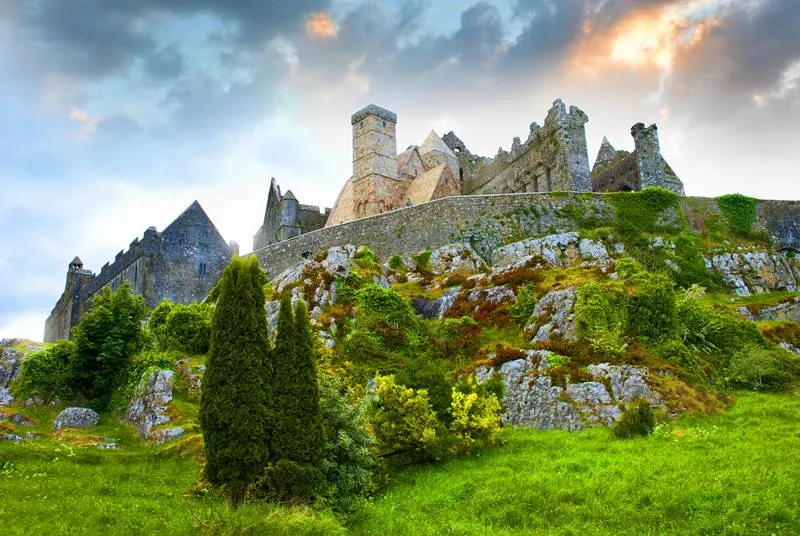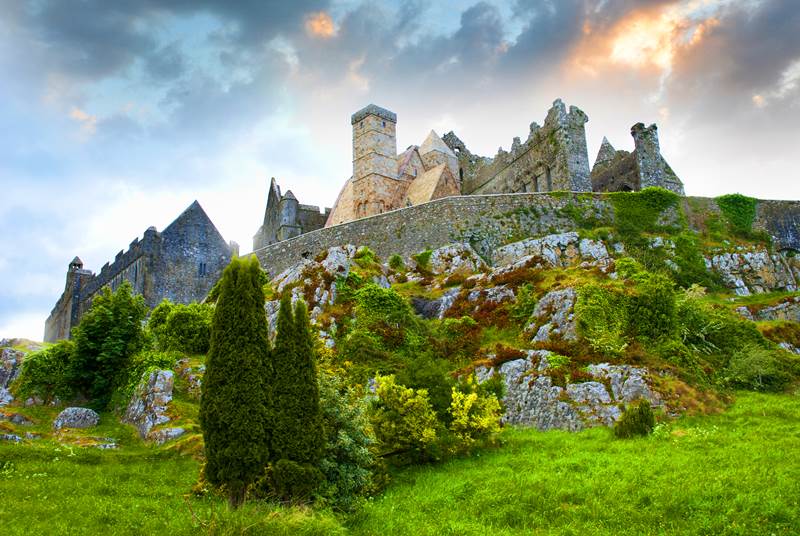 Also called St. Patrick's Rock and Cashel of the Kings, this medieval structure is among the most recognizable and visited castles in Ireland and is located at the edge of Cashel, in county Tipperary.
Local myths suggest that the Rock originated when the devil bit off a section of the mountain when St. Patrick was banishing him from a nearby cave.
It's also known as the site where the King of Munster was converted to Christianity.
Grab your tour tickets here to see the Rock of Cashel and other amazing attractions:
Dunguaire Castle, Co. Galway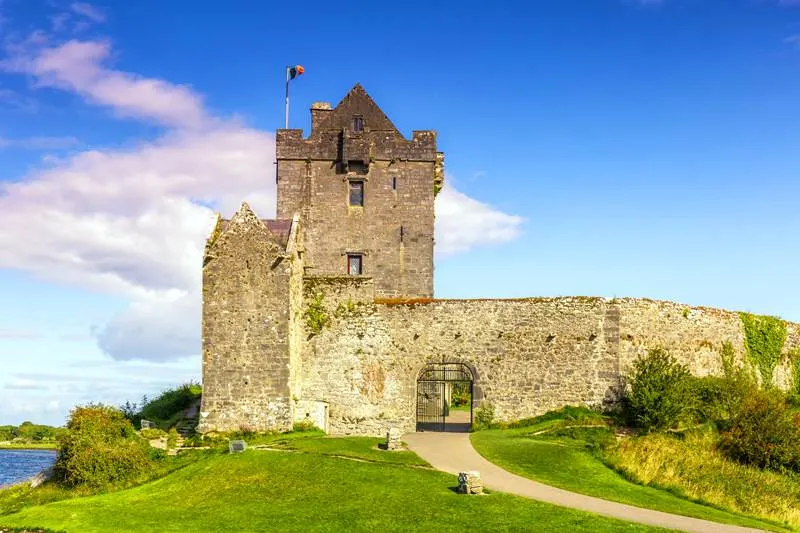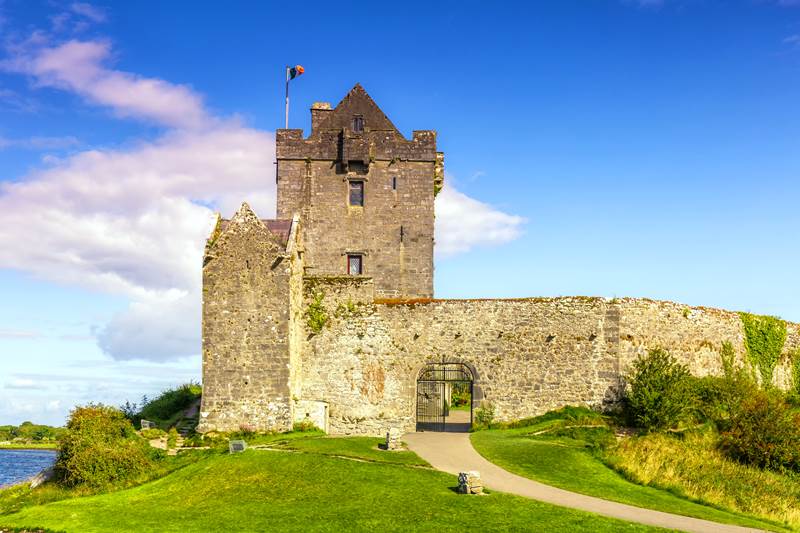 If you are visiting Galway City then make a stop at the Dunguaire Castle.
Situated along the shores of Galway Bay, this fortified tower house was constructed by the Hynes clan in 1520.
It's open to the public during the summer months so ensure to book your medieval banquet tickets to experience the lavish lifestyle, entertainment and exhibits hosted inside the castle halls.
The backdrop at the top of the 75-foot castle tower is amazing!
Get your tickets to Dunguaire Castle here:
Must See Castles In Ireland
Kilkenny Castle, Co. Kilkenny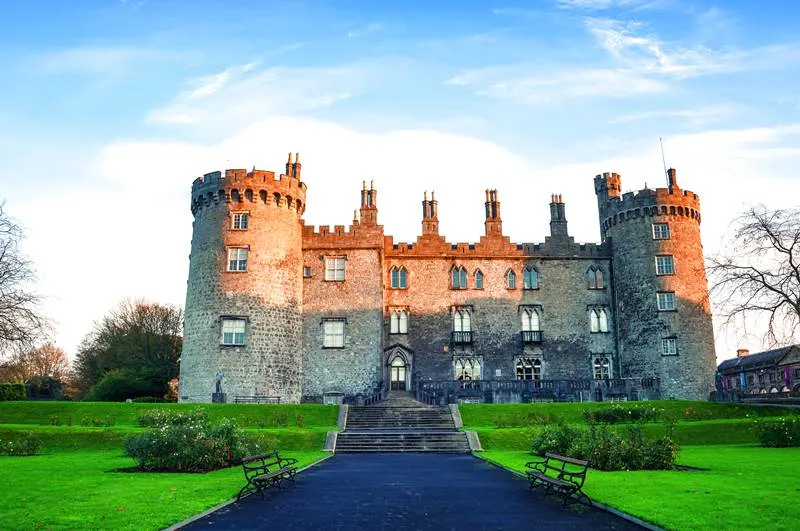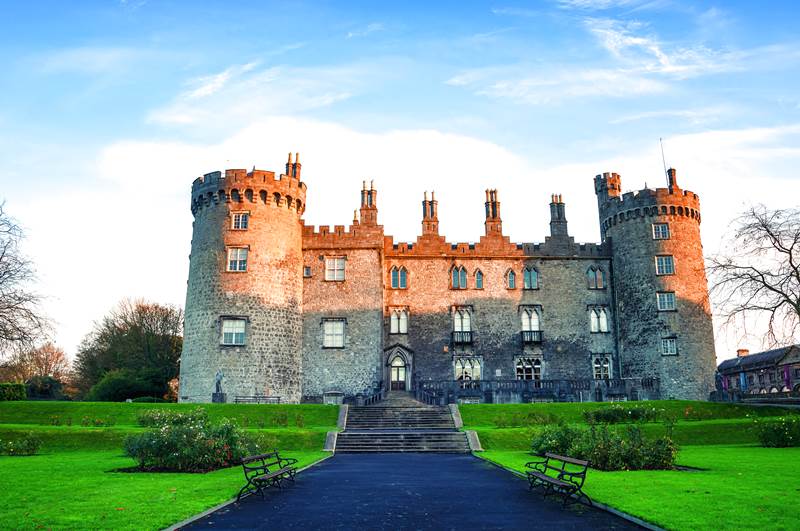 This is yet another formidable Norman castle structure which was built in 1195.
It was meant to consolidate and fortify Norman power as well as having control over a fording location of the River Nore.
The castle complex has lovely ornamental gardens and parks that are open to the tourists. It also showcases stunning art collections from the Butler Gallery and the National Art Gallery.
Get your tickets to Kilkenny Castle and nearby attractions here:
Cahir Castle, Co. Tipperary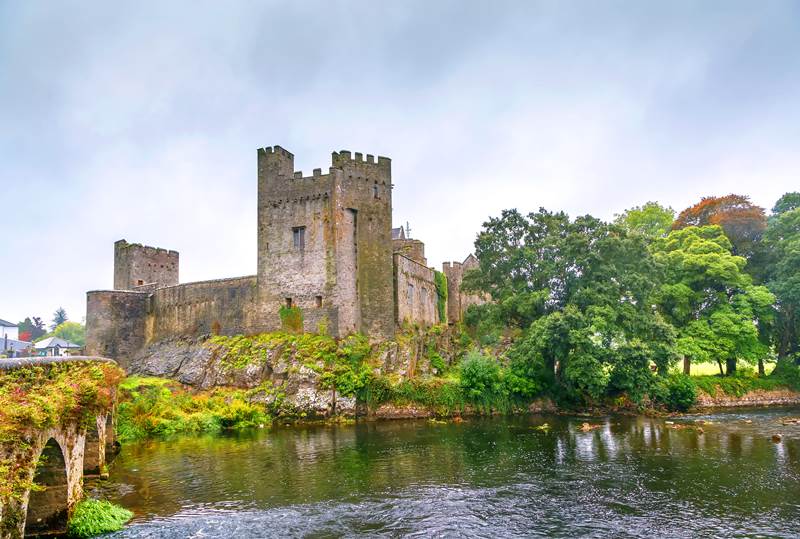 Cahir Castle ranks among the best and largest castles in Ireland.
It's situated along the banks the Suir river in county Tipperary. It was built as a defensive fortress that withstood several battles, and if you go to the northeast tower wall, you can still see a cannonball stuck there.
Its defensive design is what has helped the keep, tower and its defense structures remain intact for centuries.
The castle has been well preserved, providing guided tours and awesome audiovisual shows that explain the castle's long history. You can also go to the top of Cahir Tower and check out the incredible countryside view.
Get your tour tickets to Cahir Castle here:
Knappogue Castle, Co. Clare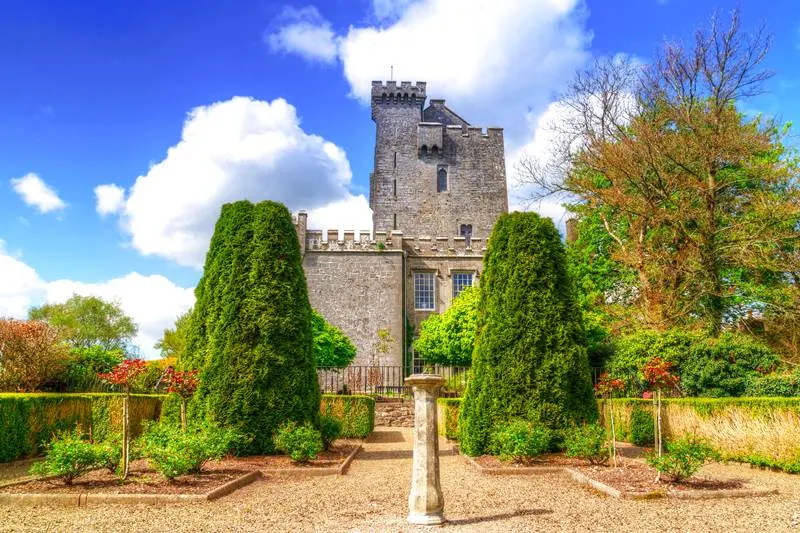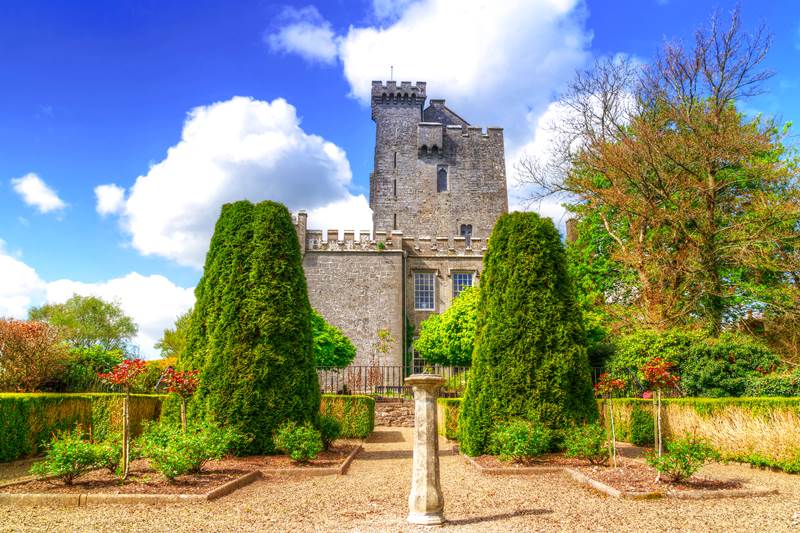 This 15th-century tower house is located in the rolling hills of Quin and can change your visit into an adventure.
Knappogue Castle today hosts captivating medieval banquets that honour the tradition of hospitality and entertainment of the Irish as they take you back through time.
The formal gardens provide an excellent setting for wedding ceremonies.
Get your medieval banquet tickets at Knappogue Castle here:
Visit These Amazing Castles In Northern Ireland
Dunluce Castle, Co. Antrim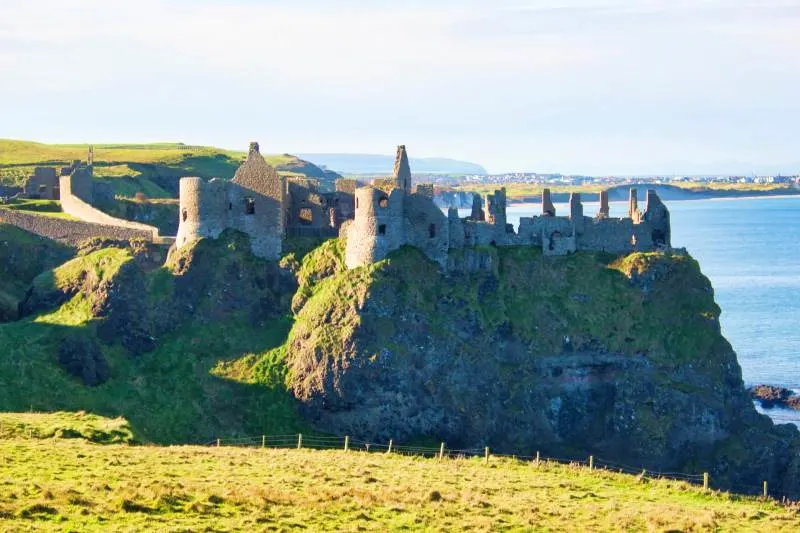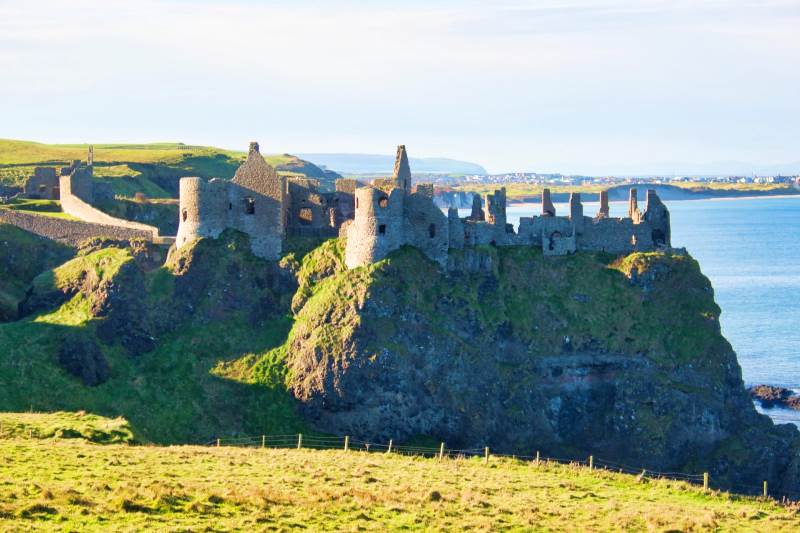 This castle is situated on top of a cliff on the coast of Co. Antrim, very close to the Carrick-a-rede rope bridge, another popular destination in Northern Ireland.
If you are a Game of Thrones fan you'd think that this is one of the most famous castles in Ireland. Did you know that it was used as the actual film location for the 'Seat of House Greyjoy of the great castle of Pyke' scene used in the HBO hit series Game of Thrones?
That alone is enough to draw in millions of fans from across the globe. You can conclude the day perfectly by watching the sun set behind the castle towers.
Get your tour tickets here:
Carrickfergus Castle, Co. Antrim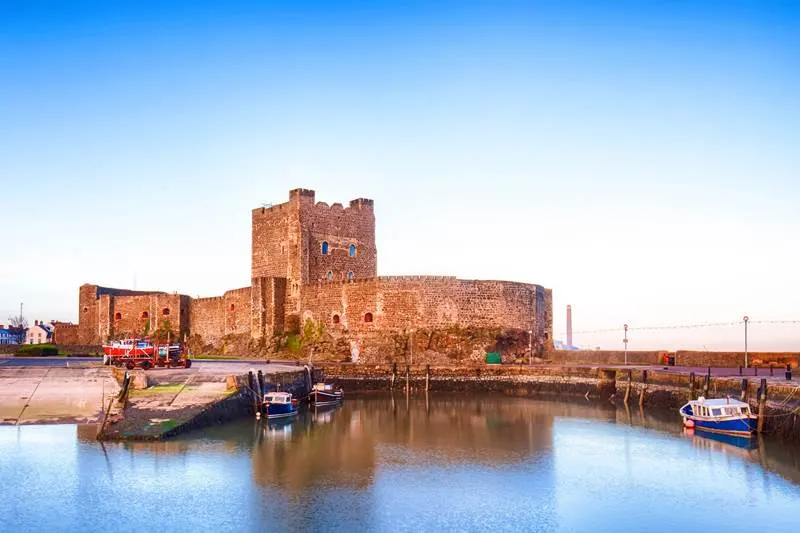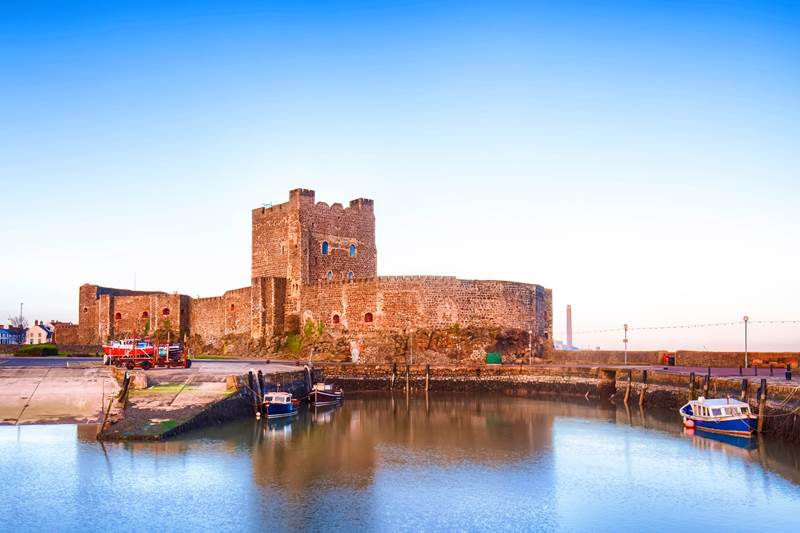 This Norman castle was constructed on a rocky spur overlooking Belfast Lough in 1178.
It has bee an imposing monument dominating every approach to the town either by air, land or seas for more than 800 years.
Carrickfergus Castle remains among the well preserved medieval architecture structures in Northern Ireland and is open to the people for exploration.
Here you can find more information about Carrickfergus Castle and ticket price.
---
You can stroll through the various castles admiring their beautiful medieval architecture that are amazing and make Ireland the number one tourist destination.
Don't forget your camera!
Other Ireland Travel Posts You Will Enjoy:
PIN FOR LATER!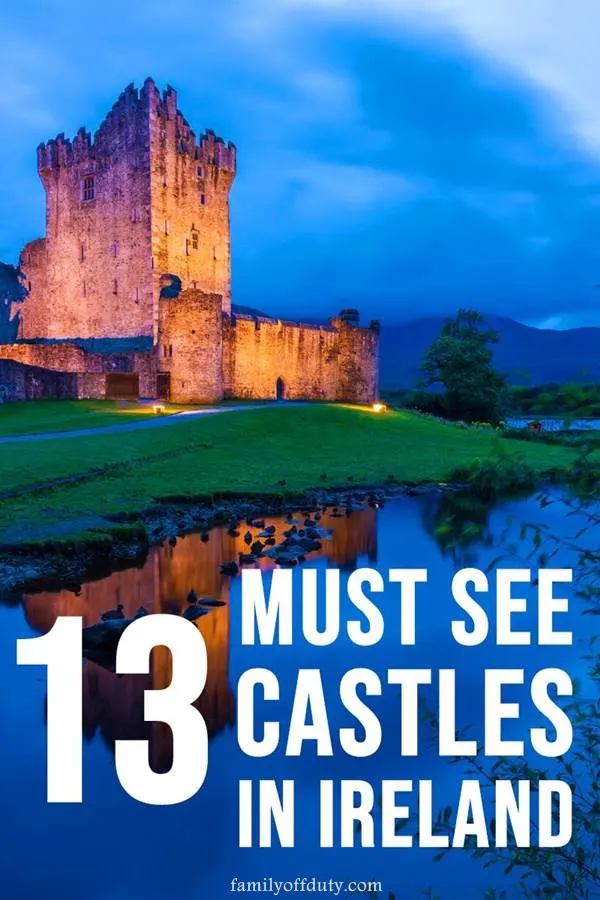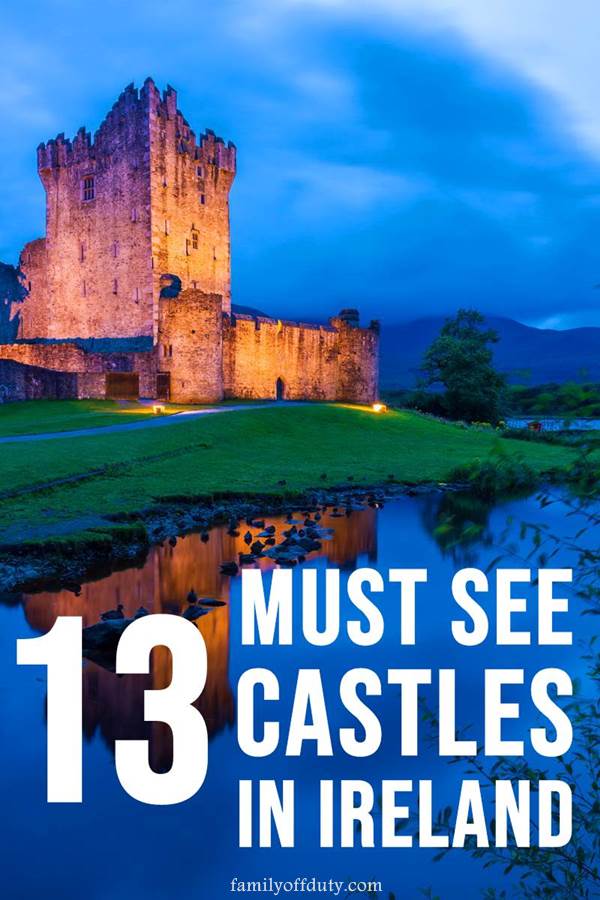 Best Castles In Ireland To Visit