Traveling to Vienna with Children
Vienna is one of those cities that are super interesting to visit. It has culture, history, music, architecture and many other attractions that a vibrant city full of opportunities can offer.
But you shouldn't worry about taking the family to visit this cultural destination. Apart from historical sights and classic music there is plenty more to do for the little ones, including gardens, interactive museums and the oldest amusement park in the world which is still open today, 24/7 in fact!
We spent 3 perfect days in Vienna and were able to cover a lot of these attractions, below we will discuss further the ones our daughter enjoyed the most and we will also share some tips on how to travel to Vienna with kids.
We were kindly gifted the transport public cards from Vienna Tourist Board.
How to go around with kids in Vienna
First, let me tell you that Vienna is stroller friendly and so are its public transport vehicles. Everywhere has lifts, ramps and all the facilities for families with (young) kids.
In Austria you will find that everything is super well organized and the public transport system is a real treat to use.
We went everywhere by public transport which wasn't late any time at all. We used the buses, the trams, the metro and the train. All amazing, clean, on time, easy to navigate and fairly affordable (especially considering that Vienna is not the cheapest of cities). I recommend you to use the Vienna City Card like we did.
The
Vienna city card
offers unlimited uses of public transport but also several discounts in many of the most popular attractions in town – and the best part:
kids under 15 ride free with the parent's Vienna city cards.
This was a huge deal as our daughter didn't have to pay for any transportation but her entrance tickets to attractions were also discounted by just showing our Vienna cards (some where even free too, depending on the place).
Vienna felt safe and the transport system works like a gem so no point whatsoever in spending more with taxis or Uber.
And you also don't have to worry whether you will get lost. First of all, the signs outside of the vehicle and the ones inside let you know where you are and how far before the station you need to get out.
But here is my best tip for using public transport on a new city: Download the map of the city in google maps ahead of your trip and save your locations you want to visit (You can download my one below if you don't want to make your own!). Then you just need to open Google Maps and search for the directions to your next location. Google maps will provide you with the exact number for the bus/tram/metro you need and what station to get out!
My family and I use local transport public like pros with this simple tip and never spend a lot in transportation!
Here is where you can grab your Vienna city card!
Absolutely worth it, not just for transport but for the discounts too.
Family accommodations in Vienna
We searched high and low for a good affordable accommodation because Vienna is not one of the cheapest cities we have visited. That being said, we eventually found accommodation for 5 days for only 280 euros (for 3 people) in Vienna's 2nd district which is a good price in our books.
We stayed at the Ibis Budget Wien Messe Hotel which is located in the same neighborhood as the amusement park Prater (10 minutes walking distance). If you, like us, have been to one of the Ibis Budget Hotels you know that they make it budget by just being more functional than stylish – and we are fine with that because we spend so little time in the hotel room anyways.
I think 280 euros for 5 nights of accommodation for a family at the Ibis budget was a fantastic deal! We had good beds, good shower, TV (that we didn't use once), basic amenities but everything we needed and we were really close to public transport connections which is an important factor for us. So I would recommend it for families, click here to check prices!
If you don't need to go budget like we did then here are some other, highly rated, apartment accommodation ideas for families:
If you like to stay in Airbnbs with your own kitchen and more space, I have made this list here with some of the favorite accommodations for families.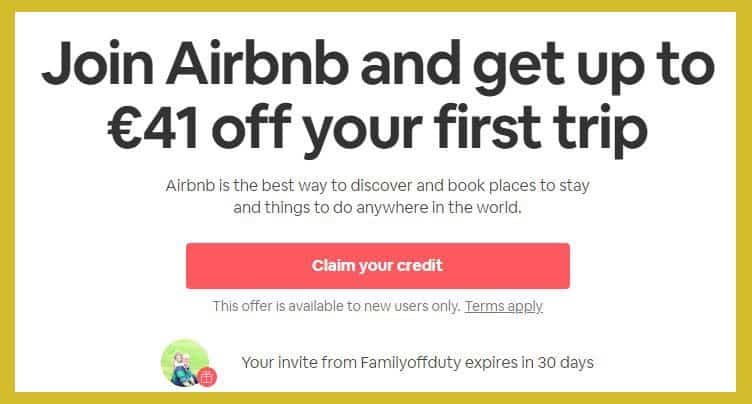 Use this code to get over 45 dollar discount on your first booking!
Top Things to do in Vienna with kids
Now let's go through the best things to do with kids in Vienna. This is a great city to visit and I hope you enjoy ti as much as we did.
So here are the best things to do in Vienna with kids:
Enjoy the Prater amusement park
The Wiener Prater is a very large area in the 2nd district of Vienna which features a variety of attractions including the Prater amusement park, the Madame Tussauds wax museum, the Praterstadium, several restaurants, cafés, cinemas and more.
The amusement park, "Wurstelprater", is where you will find the theme park attractions which is open 7 days a week. Here you will find the old Viennese giant Ferris wheel (Wiener Riesenrad) built in 1897 and is one of the landmarks in Vienna, but there is in fact 2 giant wheels in the park (you can see from the distance).
The area is really large – I don't think we saw the entire park and we spent hours there! But you don't have to worry about not finding a favorite attraction because you will find similar repeated attractions as you walk along. For instance there are a few ghost/horror houses, a few rollercoasters and also many bump car rides. Literally hundreds of attractions.
Entrance to the park is free, so you can wander as much as you want without spending anything but it is unlikely when visiting with kids….. Each attraction has it is own ticket price that can vary from 2 to 5 euros per person per ride. Not all attractions were opened when we visited in February in a afternoon but it is probably busier in the summer months.
Learn about the greatest composers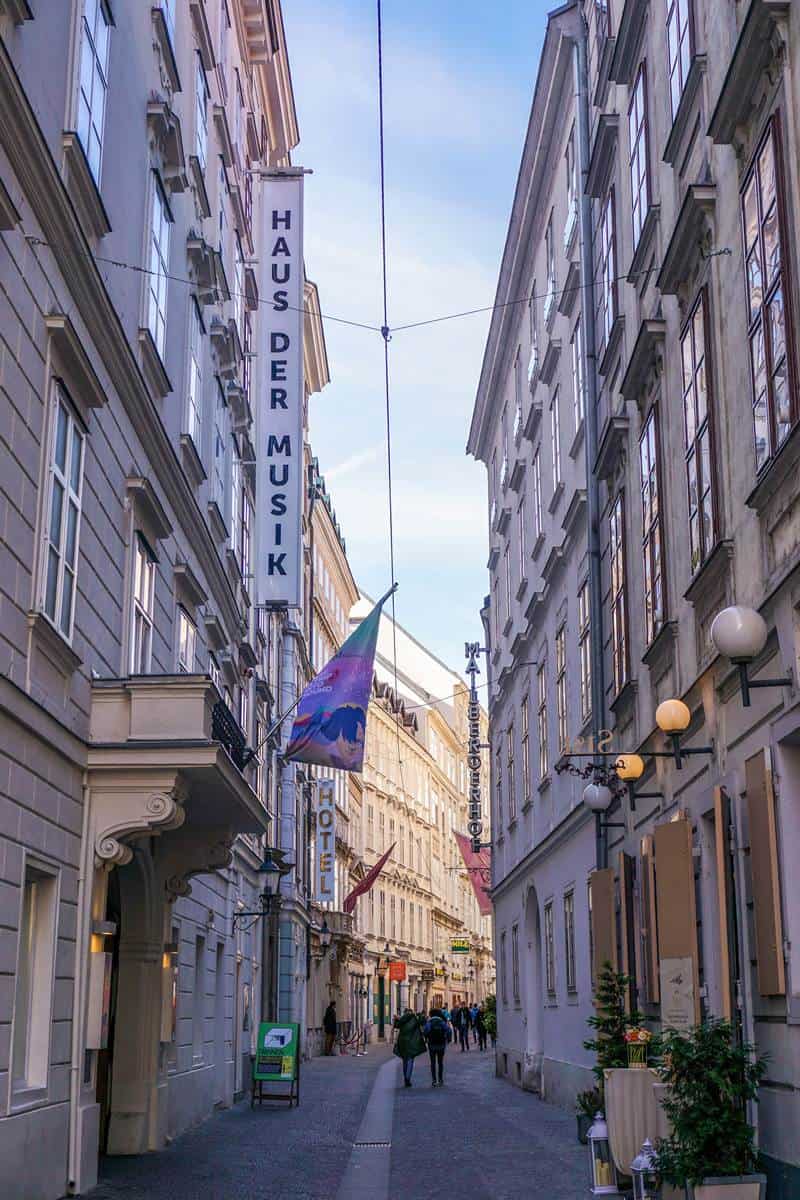 Austria was home of some of the most notoriously talented composers such as Mozart, Strauss, Haydn, Schubert and many others. In the House of Music Museum (Haus der Musik) you are able to learn about music, instruments and some of the most famous composers through interactive displays.
I must say that they did a fantastic job of creating an environment that was felt both educational and entertaining for kids and adults to inspire curiosity about classic music, the composers and the types of instruments in general.
The interactive aspect if the museum means you can easily spend hours in this 5 floor museum with plenty of things to do and see, including the very popular "Conduct an orchestra" display at the 5th floor where you learn a few basics and then conduct the philharmonic which speeds up or slows down based on your baton's movement.
That, and many other attractions inside the museum are super fun for kids and parents. I recommend families with kids of all ages to visit this museum.
Wander through some of the city's greatest gardens & park
Vienna has some beautiful gardens all across the city, which is fantastic for kids because they need space to run and spend their energy.
We visited quite a few of them, as we do in most city trips, because it is an easy way for parents to relax and for the kids to have the freedom to wander and spend energy outdoors (specially important after visiting indoor sights and museums in my opinion).
One of the mos beautiful gardens are found in the area of the Palace Schönbrunn (Schlosspark Schönbrunn). This is a little outside of the city center but easy enough to get to with the public transport we found.
The park at Schönbrunn Palace has several cultural and historical attractions, including the Palace itself, the Palmhouse, the Zoo, the Maze, the Gloriette and lots of beautiful gardens. The park is so large it is over 1 km in width, you could spend a hole day here with kids.
Another beautiful park was the one found around the Belvedere Palace. This is the Palace where the International Art Museum is hosted with hundreds of priceless art on display but if you don't feel like your kids would enjoy that, the gardens are still worth a visit and there is another larger city park opposite to these gardens that is great for a stroll and for playground fun.
In the city center you can find the Burggarten and the Volksgarten, both pretty close to the Rathaus and the Museum of Natural History that are hard to miss. These will give you the breaks in between visiting museums and also a great place to get instagram worth images!
Visit the oldest zoo in the world
The Vienna Zoo (Tiergarten Schönbrunn Zoo) is the oldest continually operating zoo in the world, started in 1752 as an imperial menagerie back then.
While we were in the Schönbrunn grounds my daughter, a lover of all animals, asked to visit. I actually wasn't really interested in spending a couple of hours in the zoo as we had already visited a zoo in the previous month while visiting Lisbon. I must say that from the outside it didn't look that appealing either (you can see parts of the zoo through the gates as you walk around Schönbrunn park).
But eventually we bought some tickets (discounted with the Vienna city card) and what a surprising treat it was. It is definitely worth a visit! It is much bigger than you imagine from the outside. There are walking paths to the higher grounds where you get beautiful views of the city and you can walk along the treetop path.
They preserve hundreds and hundreds of species there and the animal habitats are large and well taken care. One of my favorite things were the birds house where you walk through the habit and the birds fly around you with no fences, it is something I have never seen before in other zoos.
You can see the feeding times here, several times throughout the day so you won't miss it.
Explore the Natural History Museum
This is possibly the most amazing thing we did in Vienna as a family. Definitely the best Natural History Museum I have ever been and I have been to quite a few! The architecture itself is mind blowing, you will find some of the most beautiful historic buildings in the world here in Vienna and this must be one of them!
Also the collection is vast and interesting, from a variety of thousands of rocks and gemstones, dermoplastic exhibitions of animals from all over the world to dinosaurs, earth sciences and prehistoric objects, the museum's database is incredible! And only a small part of the museum's collection is actually on display for the public!
The only thing I can fault in the experience is the fact that some exhibitions were lacking the English translation signs (not all of them) and that left us without the ability to learn further as we do not speak German.
But just witnessing the collection is a incredible experience and one that kids will definitely enjoy!
These are the authentic (German style) soft and fluffy pretzels that in Austria are called Brezels (or Breze). They come in a variety of filling, from sweet to savory and you will have no problem finding a place to get one of these around the city as they are served in cafes, bakeries and street stands.
It's definitely one of the most delicious local eats and a trip to Vienna won't be completed without trying one of them (you should also try the Wiener schnitzel, a super kid-friendly local dish too).
I am sure you will find one you will enjoy as these pretzels can come plain (with no filling), with fruits, other sweet fillings or savory such as pizza pretzels.
View the city from the dome of Charles Church
We always visit churches in our trips and that is not because we are religious (because we aren't) but mostly because the architecture is normally mesmerizing and these peaceful places always seem to have a deep connections with the history of the city we are visiting, and that we find extremely interesting to learn.
I recognize that churches aren't perhaps a place that everyone would consider to take their kids, or you might have your own personal reasons not to go which is obviously fine. But here in Charles church the experience is beyond that of any church we have ever visited.
Not only is the church's interior absolutely amazing to see, but there is a lift taking visitors all the way up to the dome where you get absolutely beautiful views of the city. The dome is really high and it gives an incredible perspective of the city but also of the church interior. You suddenly appreciate how hard it must have been for artists to paint those ceilings.
The kid's lift ride is free and only adults need to pay 5 euros to take the ride to the dome window.
A note on churches in Vienna: Like every historic building in Vienna the churches are grand and impressive. We have visited some fantastic churches in Italy, Portugal, Spain, Poland – you name it – and many other countries but the churches in Vienna really impressed us for their majestic buildings. So that is saying something about them!
Visit the Great Palm house
The Great Palm House is a large botanical glass building erected in 1881 located in the Schönbrunn Palace Gardens. The building is divided into 3 houses; a warm and a cold environment, and a temperature-controlled house, that are linked by tunnel passages.
Having these varying temperature houses allow botanical specimens from all over the world to grow here.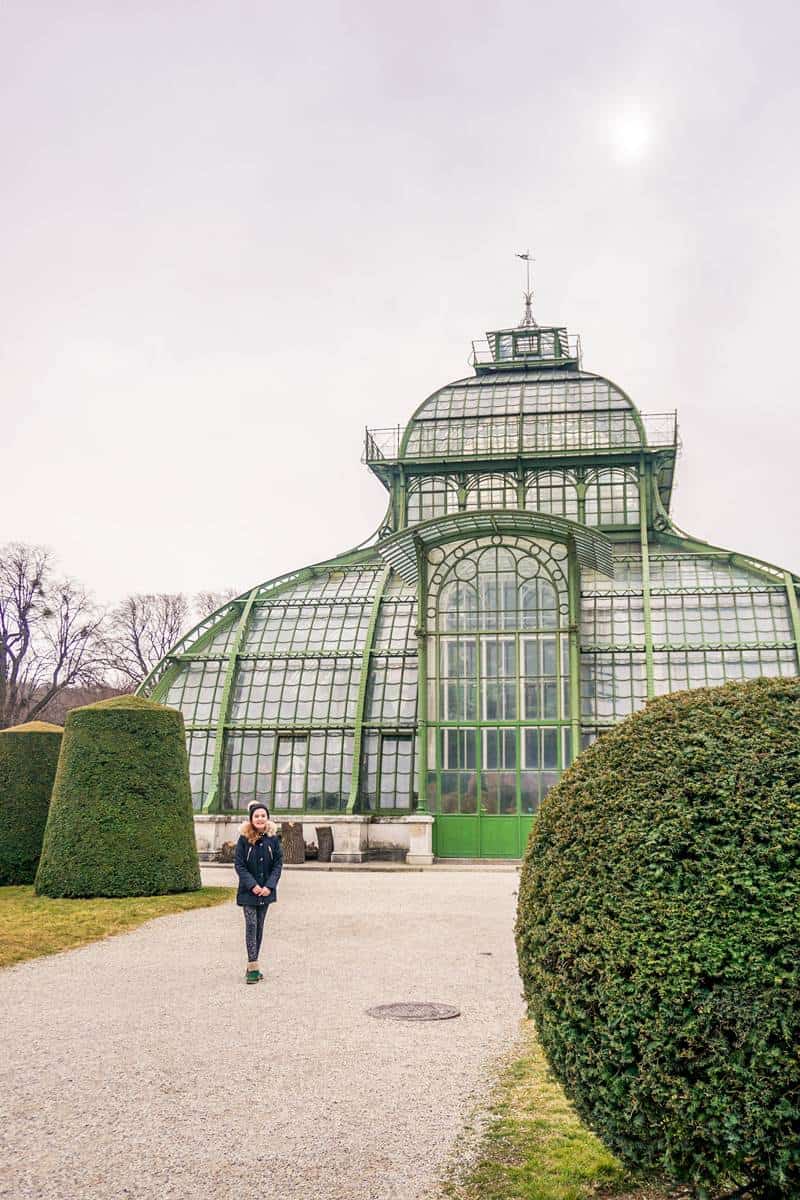 The high-quality plant collection started centuries ago from the research trips of members of the Habsburgs empire family, in the 18th and 19th centuries. It currently comprises around 10,000 individual plants from over 3,500 species and around 500 hybrids.
You can purchase combo discounted tickets for both the Palm House and The Vienna Zoo.
See the city on a horse and carriage tour
One of the most popular things to do in Vienna is to watch the beautiful Lipizzaner horses 'dance' at the Spanish Riding School morning exercise. However, depending on your schedule you might not be able to watch their morning practice.
You still can enjoy a horse riding experience on the horse and carriage tours throughout the day. In front of the Spanish Riding School there are several fiaker (fiacre) coachman with their horse-drawn carriages that you can book for a ride.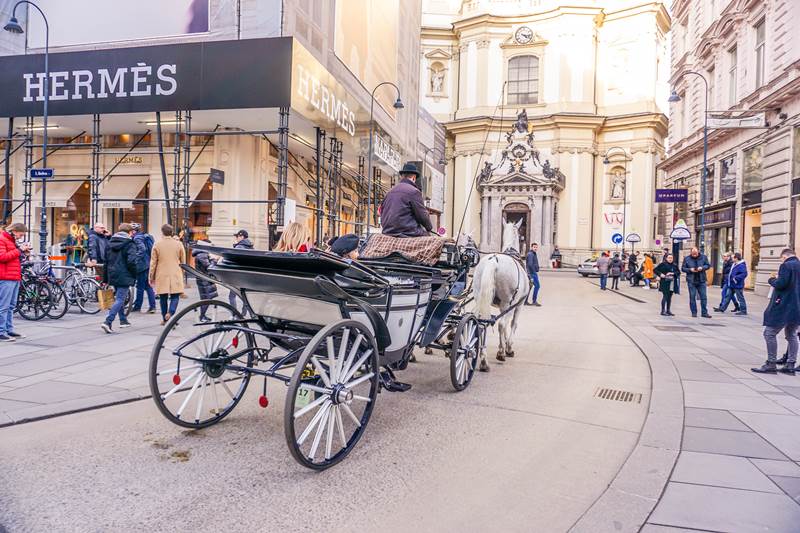 It is a great way for families to discover the beautiful old town of Vienna and spot the local landmarks from the carriage.
Ice skate o the most amazing rink ever!
We visited Vienna in the winter and that is the reason we got to skate here but in case you visit in the summer you could take a dip in the Danube river instead!
Vienna hasn't disappointed in terms of architecture, culture or history but even the Vienna Eistraum ice skating rink was well above average. We travel often in the winter and have ice skated in so many different capitals throughout Europe but no ice rink we have ever seen compares to this 'Vienna Ice Dream' in front of the Rathaus in Vienna.
The track is massive (around 9,000 square meters!) full of loops and you can skate up and down little hills. It is well signed and full of instructors/assistants around. the experience was incredible.
And don't worry; you don't need to visit around Christmas (though the Christmas market is one of the best in Europe!) because the rink stays open all the way to March. Your ticket is valid all day long – no such thing as an hour ticket – and it stays open from 10am to 10pm.
Everything is around to guarantee family fun for hours. You have stands with food and drinks, lots of picnic chairs and tables for parents to relax in between skates, good bathrooms and a great ice skating track that is really large.
We thoroughly enjoyed it here and recommend to any family.
More family attractions in Vienna
I hope this has made clear just how family friendly Vienna is. We did spend 3 full days but there were still many attractions that we wanted to see and just didn't have enough time for, so here is a list of other well rated attractions that are perfect fro families visiting Vienna too:
Interactive museum to learn the history of Vienna.
This is the Aqua Terra zoo to learn about sealife and animals that live on water shores.
The ZOOM children's museum Vienna has hands-on arts, crafts and display exhibitions that small children will love. We were pretty close to it in fact but decided not to go because it looked like it was better fro smaller kids than for my daughter's age. I would recommend visiting if you are traveling to Vienna with toddlers.
Vienna museum of technology
A museum with 22,000 square meters of hands-on exhibits, from the past to the future technological developments.
To see exotic butterflies from all over the world flying free inside the Butterfly House.
---
And this is just a scratching the surface really. Tell me, have you been to Vienna, Austria with kids? How did you enjoy your trip? let me know in comments below.
More European city breaks with kids: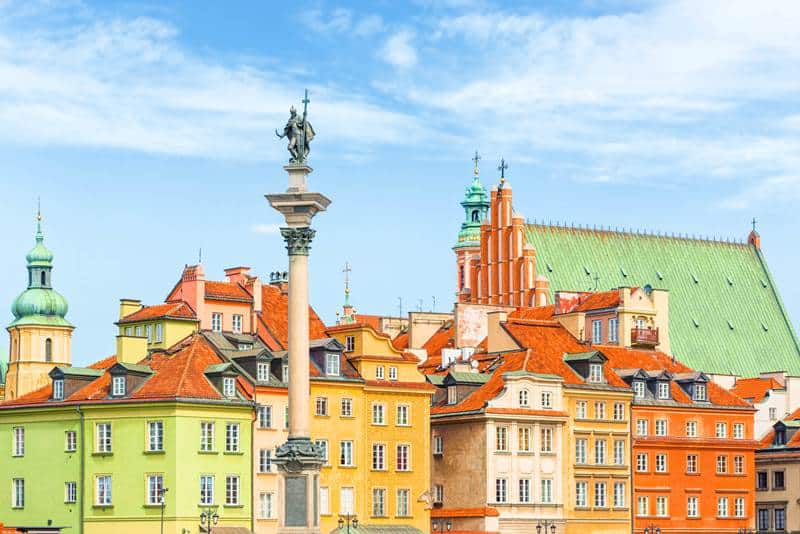 Warsaw with kids
Family fun Vienna Austria