The Best Fairytale Towns In Europe
Looking for fairytale cities in Europe? In this list we show you some of the prettiest place in Europe that should belong on a fairy tale story. The best European fairy-tale small towns, villages, cities and destinations.
We have all read the stories of magical places with castles, charming squares, scenic lakes, and horses running in the meadows when growing up.
Most of us think places like these can only exist in our fantasy but we couldn't be even more wrong.
What if there are actual towns and cities in Europe that look like they are out of a fairy tale storybook? Don't believe it? Here's a look at some of the unreal Fairy-tale towns in Europe you just have to see.
Beautiful fairytale towns in Europe
Check out below the beautiful places and cute European cities that made our list.
Located about an hour's drive due east of Salzburg, Hallstatt is for sure a charming city to visit.
Tucked in between a mountain and lake, Hallstatt has been described to be among the most aesthetic lakeside towns in the globe.
The town, in general, is very small but where it lacks in size, it compensates with charm, glamour, and romance that are sure to excite all. You can take a stroll along the narrow winding streets and lakeside houses that give off a fairytale village kind of vibe.
During winter, the town turns magical with picturesque snow-capped mountains surrounding the town and complemented by the stunning lakeside that provides a dramatic backdrop.
Rothenburg-ob-der-Tauber, Germany
Rothenburg-ob-der-Tauber is better described as the postcard destination and is among the most charming villages in Germany and of course, a magical destination.
The medieval walled town is still compact and standing such that when you're inside the wall, it will seem like you're in a 3D storybook version with real fairytale houses.
Did you know that the town's sketches are what inspired Walt Disney's Pinocchio? You can also go to the Christmas Village that's open all year round to shop for ornaments.
You'll even think you're in Santa's workshop. The streets layout and features will do wonders for your Instagram.
Located in the beautiful town of Amalfi, Positano is the prime Jewel of the Amalfi coast.
t's just a train ride from Naples with breathtaking viewpoints, gleaming coastlines and not to mention the cliffside dotted with pastel-colored houses that are a just a scene from a book.
This place is genuinely a coast paradise if you want to breathe fresh air and want to feel the wind blowing against your body. Just amazing!
Cesky Krumlov, Czech Republic
With its medieval castle, cobblestone streets and the charming town square, this place is straight out of a storybook.
Cesky Krumlov is a cute beautiful town situated in the Czech Republic's Bohemian regions.
It's a UNESCO World Heritage zone having earned its place as a historical center with most of the Rennaissance architecture and medieval streets still intact, pedestrianized, and easy to navigate through.
During the summer, the town is vibrant with an array of picnic spots and riverside bars whereas at winter, it changes into a magical scenery of white blankets of snow over the rooftops.
European Fairytale cities
Budapest, the capital city of Hungary, is a city with several cultural and historical sites and museums to visit. The atmosphere is warm, inviting and friendly and there is a huge range of activities and places to visit in the city no matter the weather, from historic sites to thermal springs.
Even though it is a big city the monuments, historic buildings and museum architecture will tell the tales of life from hundreds of years ago.
You can't deny that the image with the main tower of the famous Fisherman's Bastion from above with Parliament building and River Danube at background looks like taken from a fairytale book.
Tallinn, the capital of Estonia, is a winter fairytale town and fantastic destination to visit in December or in any other winter month (especially because it hosts the most amazing Christmas market in Europe).
The Old town is a UNESCO World Heritage site that looks like it belongs in a fairy-tale offering its visitors plenty of historic building and sightseeing opportunities.
The beauty of the city is enhanced by the soft snow layer that is expected at this time of the year.
Sintra is the epitome of what can be described as fairytale land. Located about 33km from Lisbon, it can make for a fantastic day-trip.
The main feature here is none other than the Persian dream given by Pena Palace. This bohemian beauty of a castle really brings the fairy tale to life with candy-colored facades, incredible details, and sweeping vistas.
Head over to the Palace of Regaleira and get to experience the Rapunzel vibe as you walk through the enchanted woods and grounds filled with fountains, grottoes, towers, lakes, and gargoyles.
Best fairytale places to visit in Europe
Dark Hedges, Northern Ireland
Located in Ireland, this picturesque tree lane was actually part of the setting used to shoot HBO's hit series 'Game Of Thrones' with the place receiving massive traction over the years.
Visiting this fascinating fairytale destination will transport you to 'Westeros' where the Great Game of Thrones was played at. This place is ideal for photo and nature lovers who want to experience and explore places featured in the series.
There's no need to get scared, the forest is totally safe and charming– there are no Dragons or White walkers lurking here.
Plus the location of the Dark Hedges is less than 30 minutes drive to other very popular touristic destinations in Northern Ireland; The Giant's Causeway and the Carrick-a-rede rope bridge.
Just like a fairy tale scene, Lake Bled is by far the most romantic and magical lake in the globe.
This is owing to its iconic, picturesque lake and impressive snow-capped mountains in the backdrop. This Slovenian town is perfect for families, honeymooners, and nature-lovers who want to experience numerous outdoor opportunities available by the lakeside.
On Bled Island, there's a small church where you can make a wish by ringing the bell thrice. You can alternatively explore the medieval-looking Bled castle and see the breathtaking views of the lake and a little history lesson of the place.
You can also hike to the Osjonica and Ojstrica viewpoints at sunset for a postcard-perfect panorama.
---
So if you're looking for postcard-perfect streets and towns to marvel in during your visit, the aforementioned places are definitely the go-to destinations.
Great European destinations to visit:
PIN FOR LATER!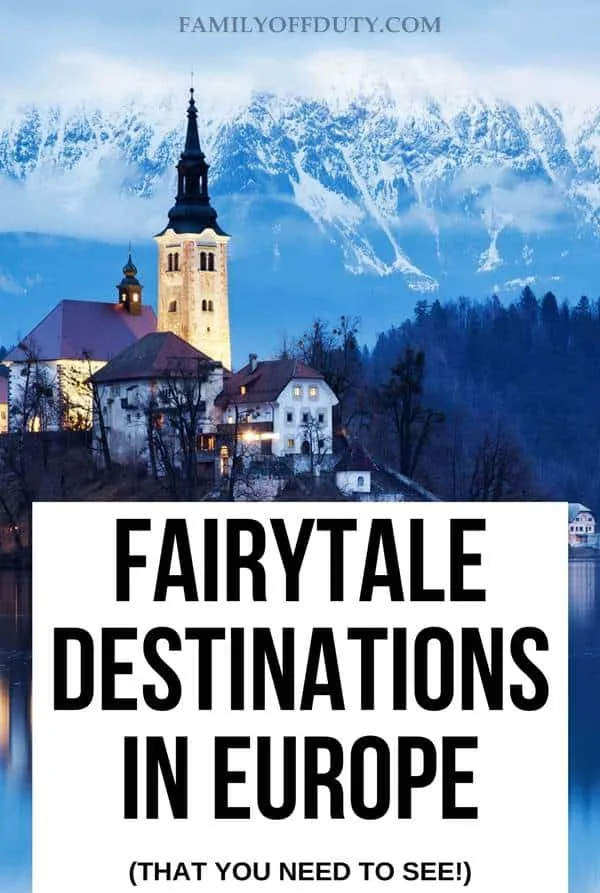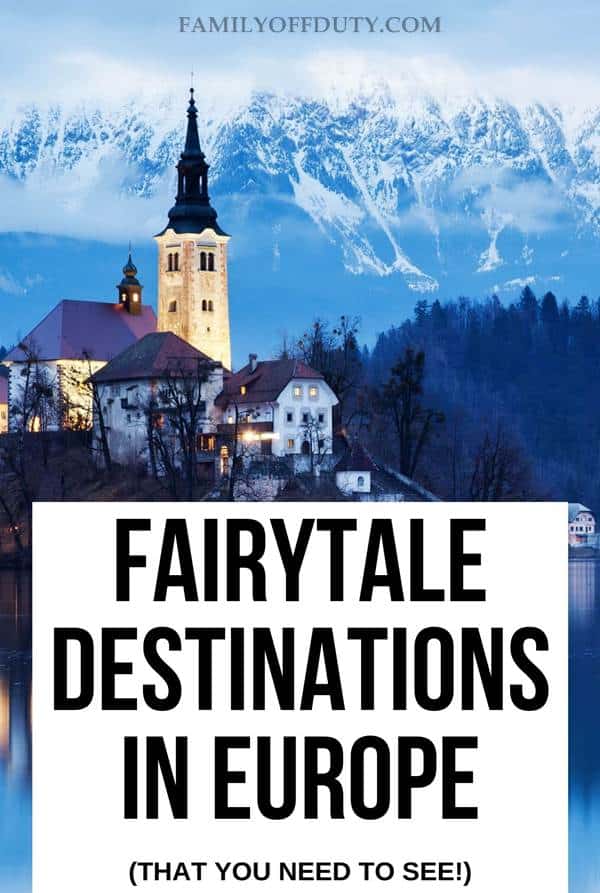 Fairytale Destinations in Europe