How To Plan A Day Trip To The Aran Islands
The Aran islands are 3 islands in the west coast of Ireland, off the shores of County Clare and Galway. Learn how to plan a day trip to the Aran islands (or one of them) and the best things to do and see in each island.
The Aran islands are a great getaway on the west coast of Ireland.
A day trip to one of the Aran islands is an opportunity to dive deep into the old Irish culture as Gaelic (along with English) is spoken in the islands. What is more is that you can see some real pretty villages with Irish cottage and walls dotted around the landscape, the real Irish experience you could say.
However, depending on your trip time and expectations you may be wondering which of the Aran Islands is the best for a vacation day trip. Also perfect if you a road tripping and driving through Ireland.
As locals living not far away from the islands and with that in mind we plan to give you all the details to make an informed decision about which island to visit.
Read on to find out what to do on Aran Islands.
What are the Aran Islands
The Aran Islands are three historical Irish islands which house some spectacular vistas and ancient archaeological sites.
The three islands are called Inisheer (Inis Oírr island), Inishmaan (Inis Meáin island) and Inishmore (Inis Mór island) in order of size.
Inishmore island is the largest measuring around 7,635 acres
Inishmaan measures 2,252 acres.
Inisheer is the smallest island measuring 1,400 acres.
Apart from the forts and churches, there are cliffs to see and things to do that will keep you busy for days and ensure you get a real feel for old Irish culture.
The Islands are famous for their Aran sweaters that have been around since the 19th century.
Due to the proximity to 'Gaeltacht' Connemara in Galway, Irish (as well as English) is still spoken on the Islands and you can visit there to learn Irish.
Where are the Aran Islands
They are located off the West coast of Ireland opposite the famous Cliffs of Moher and the Burren in county Clare and adjacent to Connemara in county Galway.
The Aran Islands Map
Here is a map of the islands:
Which Aran Island To Visit
Planning a day trip to the Aran islands means that you will have to pick only one place to go for a day.
Each have different things to do and see which will keep occupied for many hours. If you decide to go around the islands with the rental bikes you have to consider the the time it takes to ride around the place.
In all 3 islands you will find beautiful rugged landscape, ancient and pre-historic relics, early Christianity sites and of course the opportunity to learn moreabout Gaelic folklore.
Which Aran island is best to visit is really up to you, and you do not have to limit yourself to one if you have a few more days to spare. The only thing that will limit you is time and money, and what you want to see.
You may be visiting for a special activity, such as a language course, or you may have a special thing you wish to see such as the Wormhole or Dún Aonghasa, one of the incredible prehistoric forts located on Inishmore dating back to around 1100BC.
Or maybe you wish to explore the MV Plassey, the shipwreck visible in the introduction to the Father Ted episodes, which is located on the Eastern shore of Inisheer (or Craggy Island we should say!)
Our first trip was a day trip to Inishmore. It was a long day and in fact we regretted we had not gone for longer as we did not get to see everything we wanted to.
One of the things that surprised us was the time of the journey by boat to get to the islands. It took about 1 hour and 20 minutes from Doolin (it is a little bit less from Galway) which only really gave us 4,5 hours on the island. So take that into account when you plan your trip.
You can even do a combined trip to the islands and a boat trip to the Cliffs of Moher to see them from the sea, which must be great when the weather is right (bit difficult to plan around here unfortunately).
Read on as I will share more information about each island to help you decide which one to visit.
How to Get to the Aran Islands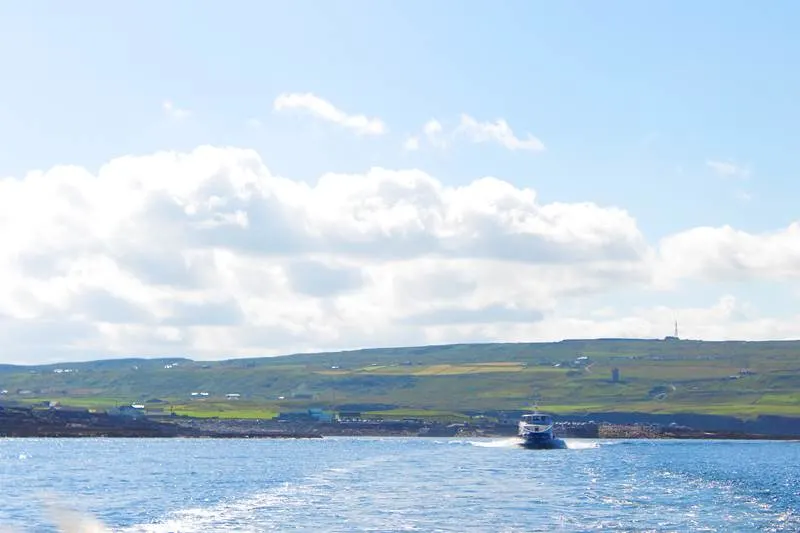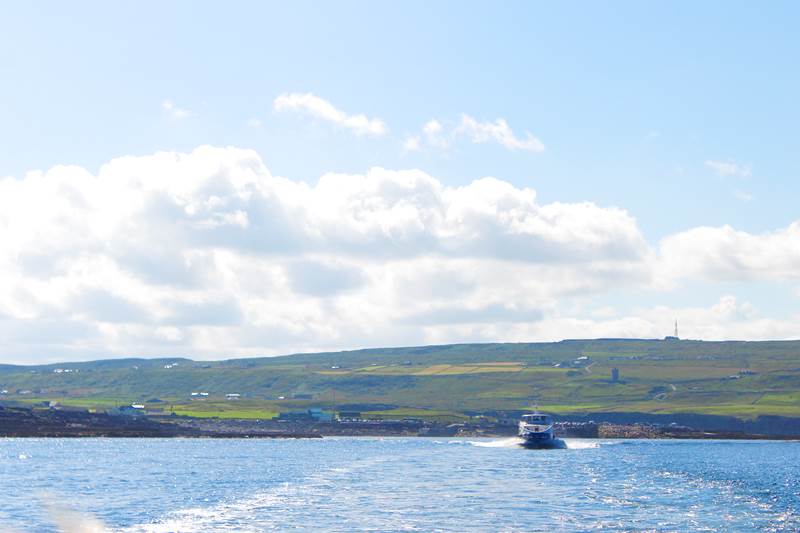 There are several ways to get to the Aran Islands from the mainland. The most common used by tourists is to get a Aran islands ferry from either Galway or Doolin but you can also fly to the islands.
Below are some of the best Aran Islands day tour services.
Aran island day trip from Galway
The Aran Island Ferry boats actually leave from Ros a' Mhíl Harbour which is 23 miles west of Galway. Allow an hour's journey from Galway depending on time of day. However if you take an organized tour they might have a different meeting in town.
Apart from the Galway to Aran islands ferry there are also other tours that may combine this destination with other attractions around the are such as the Cliffs of Moher.
Here is a list of Aran islands tour from Galway, click to compare price and book:
Aran island day trip from Doolin
The Doolin2Aran Ferries and the Doolin Ferry company set off from Doolin pier. There is plenty of parking space, but you need to pay 4-5 Euro's for a day trip for the parking.
They provide trips to the 700 ft Cliffs of Moher as well as inter island transfers and combi tours to the Islands and the cliffs.
Check out some tours to the Aran island from Doolin here:
Aran islands day trip from Dublin
There aren't many Aran islands tours from Dublin but you could still get a scenic flight to Galway and Inis Mor from Dublin:

Although a visit to the Aran Islands make a great day trip from Galway it is not one of the best day trips from the Irish capital, especially if you are only going to stay a couple of days in Dublin.
If you are strapped for time and and want to make the most of it you may find that flying to the island is more effective for you.
Aer Arann Islands flights get you to all three isles from Connemara airport. The airport is about 19 miles from Galway city, but allow time for traffic. The prices are not that expensive compared to the added ease afforded plus you get to enjoy some aerial views of the islands.
How to get around The Aran Islands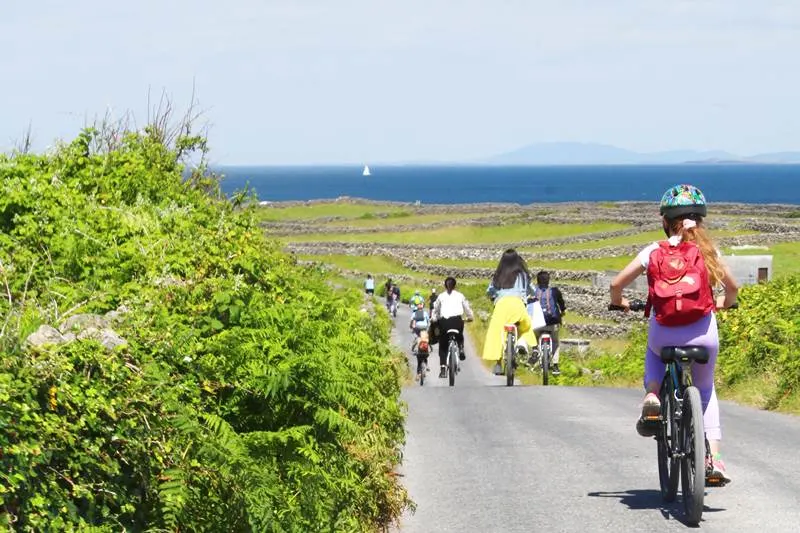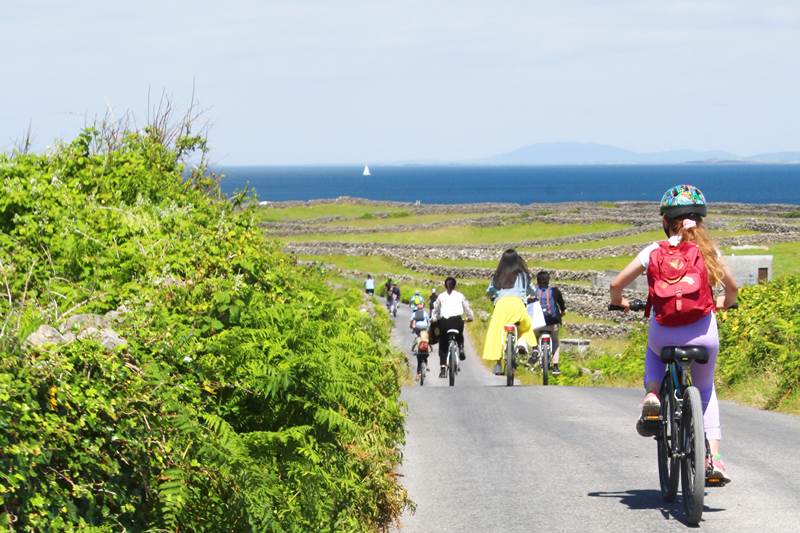 There are a few ways that you can get around to sight-see the islands. because the size of the islands are different you have to decide what t
o do depending on your time and physical ability.
So how do you get around the Aran islands? Below I have a little chart to help you see the available options for three Aran islands:
Pony & Trap (Inishmore only)
Bike hire
Mini bus
Walk
How to get around Inishmore:
The majority of people cycle around Inishmore. You can hire bikes from near the ferry port when you arrive.
We paid 10 Euros for the bike hire plus a small deposit of 5 euros per bike that was refunded when you return the bikes (this price is for Summer 2019).
Having bikes gives you the freedom to explore where you wish, though there are not that many roads off the beaten track.
Alternatively, during the summer months, you can hire a minibus (start at 10 Euro for a tour) which will give you a guided tour. Kilronan to Dún Aonghasa takes about 45 minutes.
Another authentic way of seeing the Island is with a pony and trap which might cost you between 50 and 100 Euro for up to 4 persons.
There are not many cars on the island, but on a busy day the roads can get full of bikes, so be careful you keep to the left hand side of the road to avoid accidents if you are cycling.
Be aware also that it is about 6 km to get to Dún Aonghasa from Kilronan, and it is not exactly flat. The 'low road' is the best way to cycle to avoid the worst hills. They say you will cycle this in 30 minutes, but be aware you will want to stop to see the sights and maybe stop for a drink.
It took us about one hour to cycle back from Dún Aonghasa. Admittedly we are not the fittest but we had a 9 year old with us as well.
And make sure that you choose a bike with a good saddle if you are not used to biking!
Finally of course, you can always walk around the Island, and many people do. If you have time and good legs, this may be the best way to see it all.
What to See on the Aran Islands
There are different things to see in each island, below we have a list of things to do in the largest island Inishmore.
What to see on the InishMore Island
Inishmore has plenty to see. When you travel by ferry they give you a map of the island which will show the attractions.
However you WILL NOT be able to see all of these things in one Aran Island day trip! Choose what you would like to do on your visit to Aran islands or then plan a longer stay.
Here are some of the best things to do in Inishmore:
Dún Aonghasa (Dún Aengus)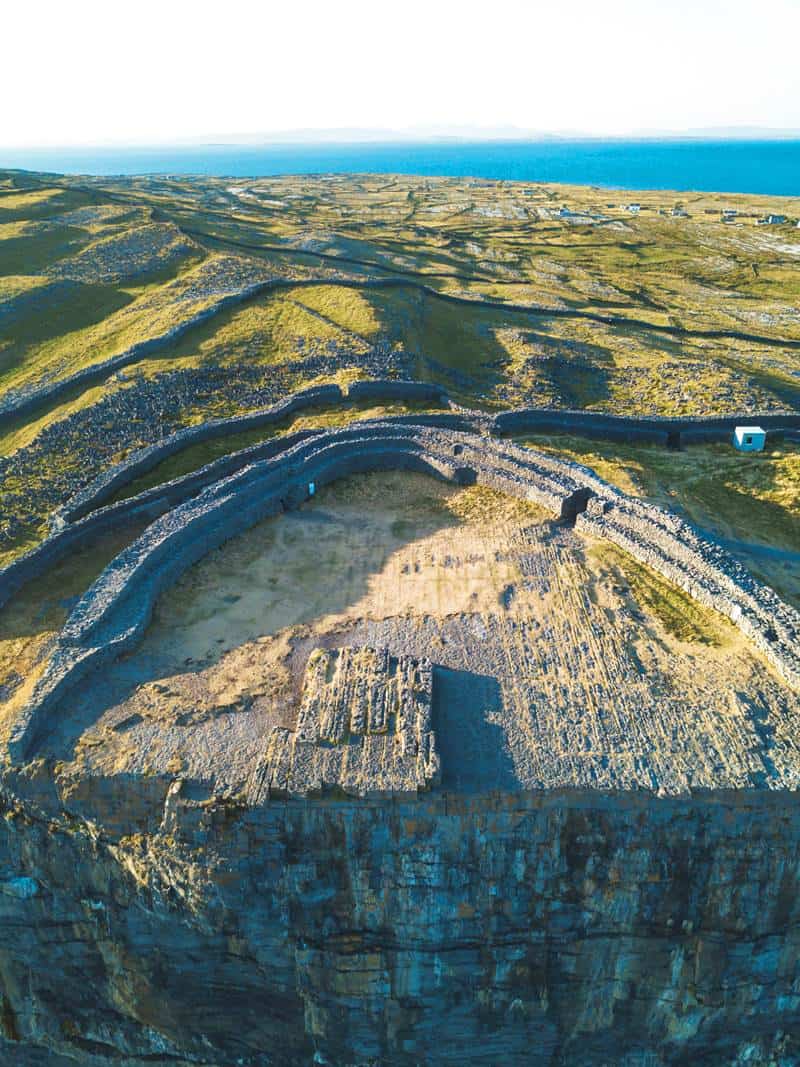 Oldest stone fort in western Europe, it is a semicircular fort situated on top of 300 ft cliffs.
Extremely impressive views, and stay away from the cliff!
You have to pay to visit this location, and you also face another 30 minute climb to get there, so take that into account in your trip planning.
Templel Chiaráin is a monastery village from the 6th Century founded by St. Ciaran of Clonmacnoise, one of the 12 apostles of Ireland.
Here you will find ruins of a church and cross slabs and standing stones. If you are interested in ancient Irish sites you should definitely visit.
Dun Eochaill (Dun Eochla)
This is a stone ring fort situated in the middle of the island high up on a hill giving amazing panoramic views.
The fort has 2 rings and the inner walls measure roughly 5 meters (16 foot) in height and over 3 meters (12 feet) in depth.
It is a hidden gem on the island with fewer tourists than the other forts. On the way there you pass through the old lighthouse which adds to the experience.
The Wormhole (Poll na bPeist)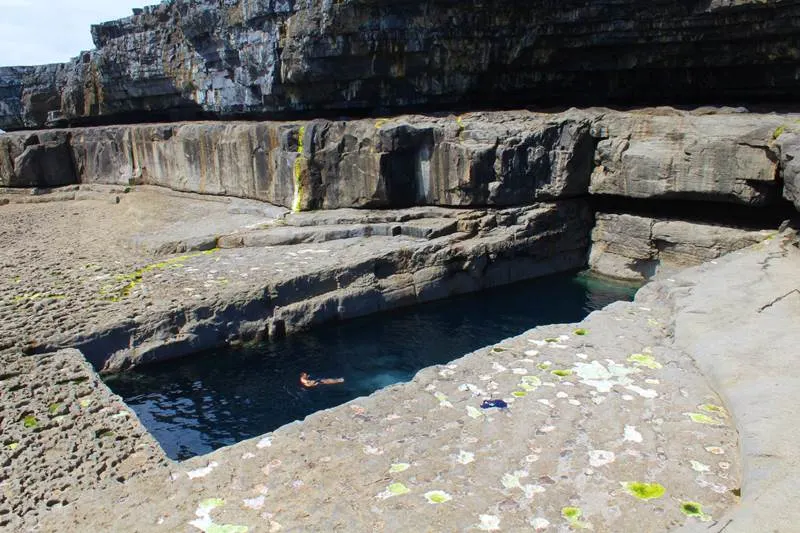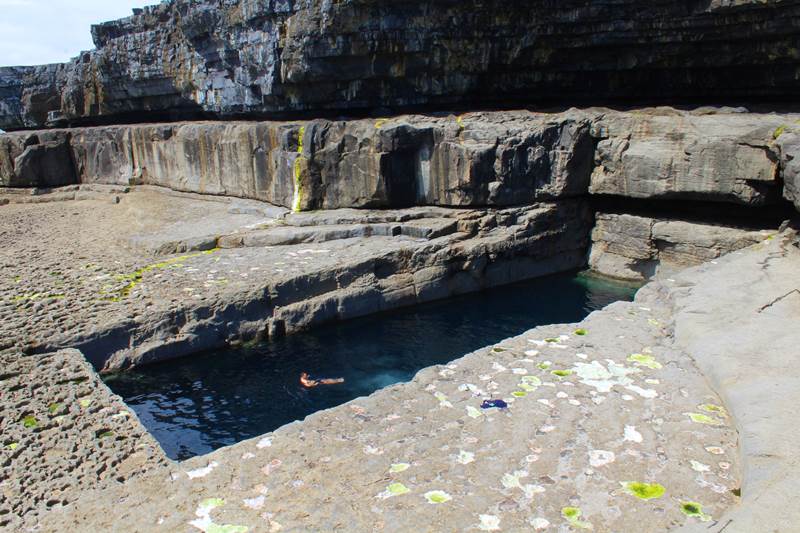 This is located quite close to Dún Aonghasa, but it still takes quite a walk to get there.
You have to park your bikes down a small track and then walk about a half kilometre across Burren type rocks to get there. But wow, it is worth it.
You have to follow the red marks in the ground that gives you a direction of where the wormhole is. It is definitely not accessible for disable people and those with very young kids will probably have to help them across the rocks.
The worm hole is a rectangular pool that was naturally formed in the rocks. They have had the Red Bull cliff diving in the past, where diver jumped from the Serpent's Lair (the cliff above the wormhole).
It is quite a sight. If you are adventurous, take your togs! And watch for the tide coming in if you are going to swim there.
When we got here we did not see seals at first but then suddenly the buoys started moving and what we had thought were buoys or seagulls suddenly turned out to be seals languishing in the water.
It was amazing to see and it is also in the way along the coast where most people cycle through and where the bus tours go through too!
The Seven Churches (Na Seacht dTeampaill)
For those interested in the medieval history this site will be fascinating. It was once a large monastic foundation and centre of pilgrimage.
The 'seven' in the name is possibly related to a pilgrimage circuit in Rome which also included seven churches.
The Black Fort (Dún Dúchathair)
Inishmore has 4 stones forts and this one is a lot quieter compared to the famous Dun Aengus.
This is only about a 2,5 km walk from the ferry and is more likely to be less visited as the buses cannot reach it.
The stone walls and fields
In addition to these interesting sites the island is covered with old stone walls, built without using mortar which are just amazing.
And of course the beaches, other ancient ruins, and the pubs in Kilronan are all extra things which could be enjoyed if you have the time and the weather (though you do not need the weather for the pubs).
We had the most perfect day for our day trip – the sun was shining all day and we reckoned we had cycled about 14 km and walked about 2 miles by the end of it.
The Aran islands are the of the Irish Aran sweaters. They are famous for producing quality sweater since 1892. In the Aran sweater market you can buy an authentic Aran sweater and Irish knitwear.
Another stone fort present in Inishmore. This is a circular fort measuring around 27 meters (90 feet) in diameter, with walls that are almost 5 meters (16 foot) and over 3,5 meters (12 feet) thick.
The exact age of this fort is unknown but it is estimated to have been built around the 5th century.
What to see on the Inishmaan Island
Inishmaan is the mid sized island that has plenty of mythological legends.
This island is a botanical paradise with over 300 plants natural of different parts of the globe, from Arctic to the Mediterranean region.
Here are a few things to see and do in Inishmaan.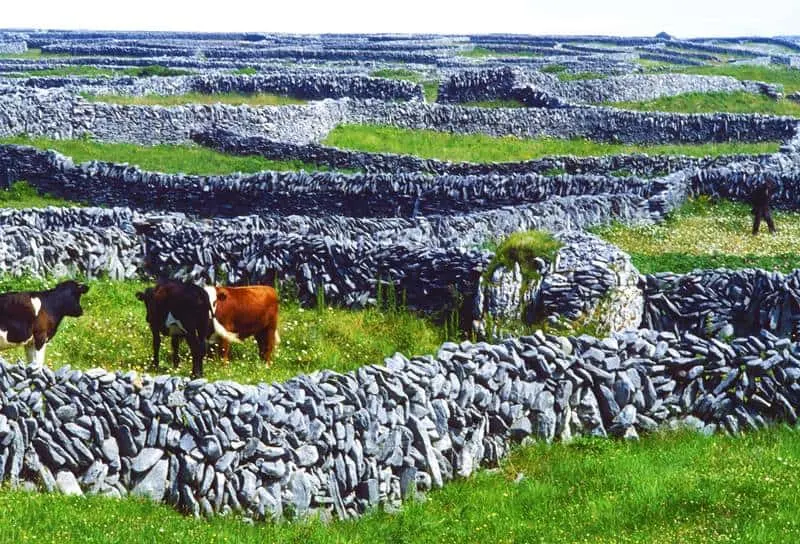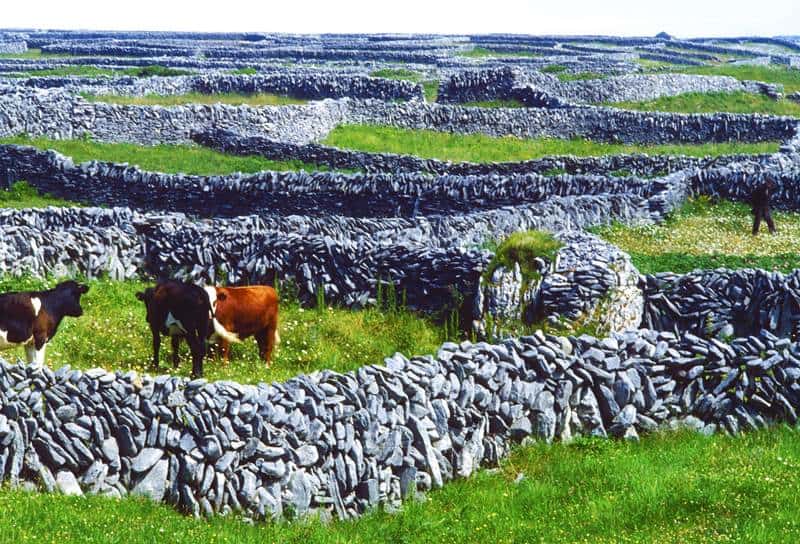 Dún Chonchubhair (Conchobhar's fort)
This is a magnificent oval stone fort, the largest of all Aran islands, containing a number of hut formations. It stands at the highest point of the island offering beautiful dramatic scenery.
The place has several different name spellings, like most Irish names, such as Dún Crocbhur, Dun Concobhair, Dun Convovier, Dunconcovar and Dún Conchubhair.
Leaba Dhiarmuid is Gráinne (The bed of Diarmuid and Grainne)
This is a collapsed megalithic stone that formed a wedge tomb dated back to from 4000-1400BC. It was named after the Irish Mythology legend of Diarmuid and Grainne.
Dún Fearbhaidh (Ferboy's Fort)
Another stone fort dated all the way back to the 1st century and great views of the north of the island.
Séipéil Eoin agus Naomh Muire gan Smál
This is the Church of the Holy Mary of the Immaculate Conception erected in 1939 with stain glass windows.
Teampall na Seacht Mac Rí
Ruins of a church from early Christianism, graveyard and a holly well.
What to see on the Inisheer Island
This is the smallest of the islands, however Inisheer has plenty to offer.
Apart from the historic sites that you can expect to see in all Aran islands, Inisheer has an abundance of flora, fauna and wild birds that makes it the perfect place for nature lovers.
Here are a few things you want to check out on your visit to Inisheer:
This castle was built in the 15th century on the highest point in the island providing superb views.
It was built within the Dún Formna, a ring fort, from the 1st century.
This is a Bronze Age burial mound dating from around 2000 B, the earliest evidence of civilisation in the island.
Here you will find the ruins of a church that was built in the 12th century to celebrate St. Caomháin, the patron of Inissheer.
This is a wrecked freighter that was thrown on to the rocks and washed ashore in 1960. This is the shipwreck that you see in the start of the Father Ted series.
This lighthouse was first built in 1857 and became automated in 1913.
---
Our first day trip to Aran islands from Doolin was amazing and we had a great time but in reality we only managed to see the seal colony, the wormhole and Dún Aonghasa (from a distance) while cycling all the distance with a kid on her own bicycle.
To see more you should choose another transportation method or stay in the island longer! I suggest a weekend at least!
More Ireland Travel Posts:
PIN FOR LATER!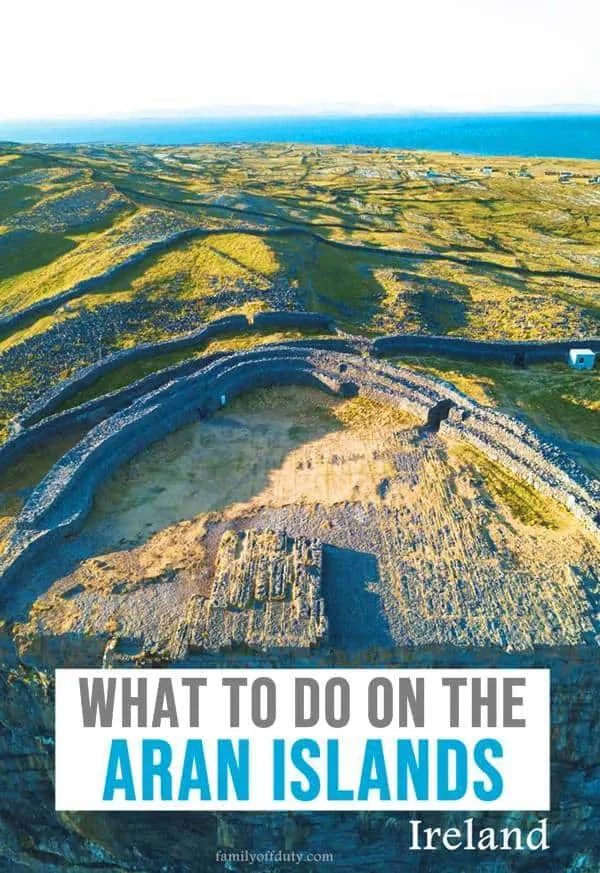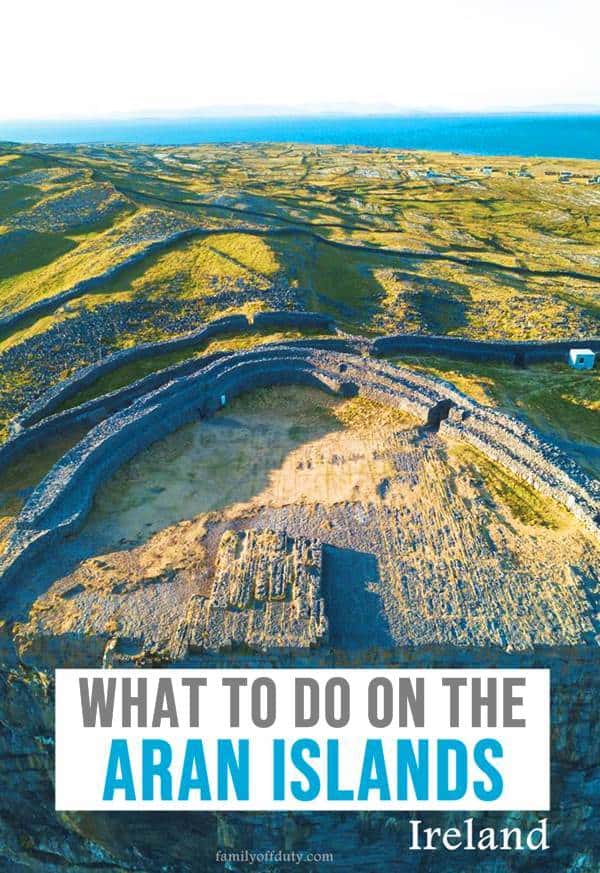 Things To Do On Aran Islands