Easy Single or Solo Parent's Guide to Camping
If you are a single parent, or are going camping with the kids as a solo parent, you will enjoy this guide with tips to make camping alone with kids easier.
Going on a camping adventure alone with kids can be a bit daunting. Not only you may be worrying about camping safety but also struggling with ideas for making this vacation fun for everyone.
Going camping is a great family experience but not without its challenges. However, as long as you are well prepared and make some decisions ahead of time, you have nothing to fear.
The good news is that in this post I will share this simple guide to getting you on your way to the best single parent camping holidays ever! Ready? Read on!
Why you should go camping with your kids
I know that going camping is not everybody's first choice of a vacation, especially if you are going to do it alone without the help of another adult and having kids to care for.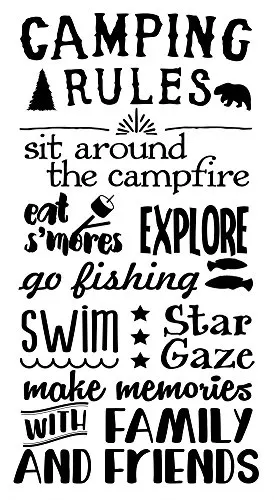 Believe me when I say I have not always been a camping enthusiast, and I am notoriously bad dressed for outdoor activities, but it is an activity that my daughter loves and it is always a pleasure seeing kids outside, playing with simple things and using their imagination.
Camping is a must-do experience for families, and that includes families with a solo parent, of course.
Camping does not have to be just for men. It can be for women too. If you are a woman camping will enabled you to share something with your children that fathers usually do.
Kids have great fun being outdoors and exploring new things. Camping may be a little more work than other type of holidays and require some good preparation, but it is worth the time you spend with your kids. And it is something they will always remember.
Another great advantage of camping is that is a cost effective alternative for family vacation. As a single mom or dad, it won't put you into debt because it is reasonably inexpensive.
Single Parent Camping Tips for Beginners
Here are a few quick camping tips to make camping with kids on your own an easier task:
Because you are camping solo with the kids it does not mean that you actually have to be alone. Camping with friends is always much more fun. Try to find other parents interested in outdoor adventures and do something together.
A few places to start is at your kids' school or search on facebook. You could even start a single parent camping group in your area.
Start with a few days only
If you and the kids are not that used to camping you can start with a weekend away first before going for long family camping trip. From a couple of days in nature you will have an idea of what you should bring next time and what you can leave at home.
This is a great way to also experience different styles of camping, using a tent or renting an RV and see what works better for you.
This helps having an easy mind if you are unsure about camping and only getting started. If anything goes wrong you can reach your home soon and don't need to go through hours of drive.
Prepare what you can beforehand
Anything that you can do at the comfort of your home should be done there. Try to pack smart and have everything laid in a logical way to avoid having to go through everything to find an item at the campsite.
In regards to food prep snacks, chop ingredients and even cook meals if you can keep it refrigerated at home to avoid having to bring more stuff with you or just to avoid having to do it in a less optimized space.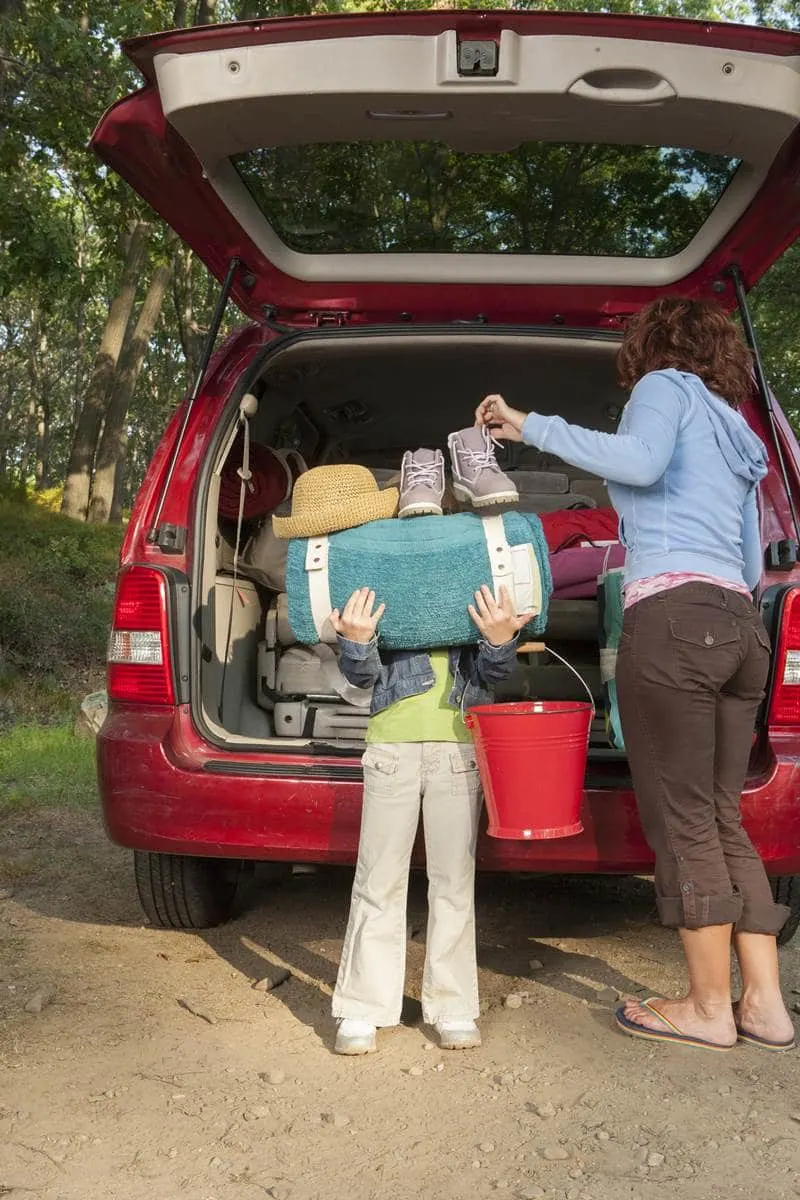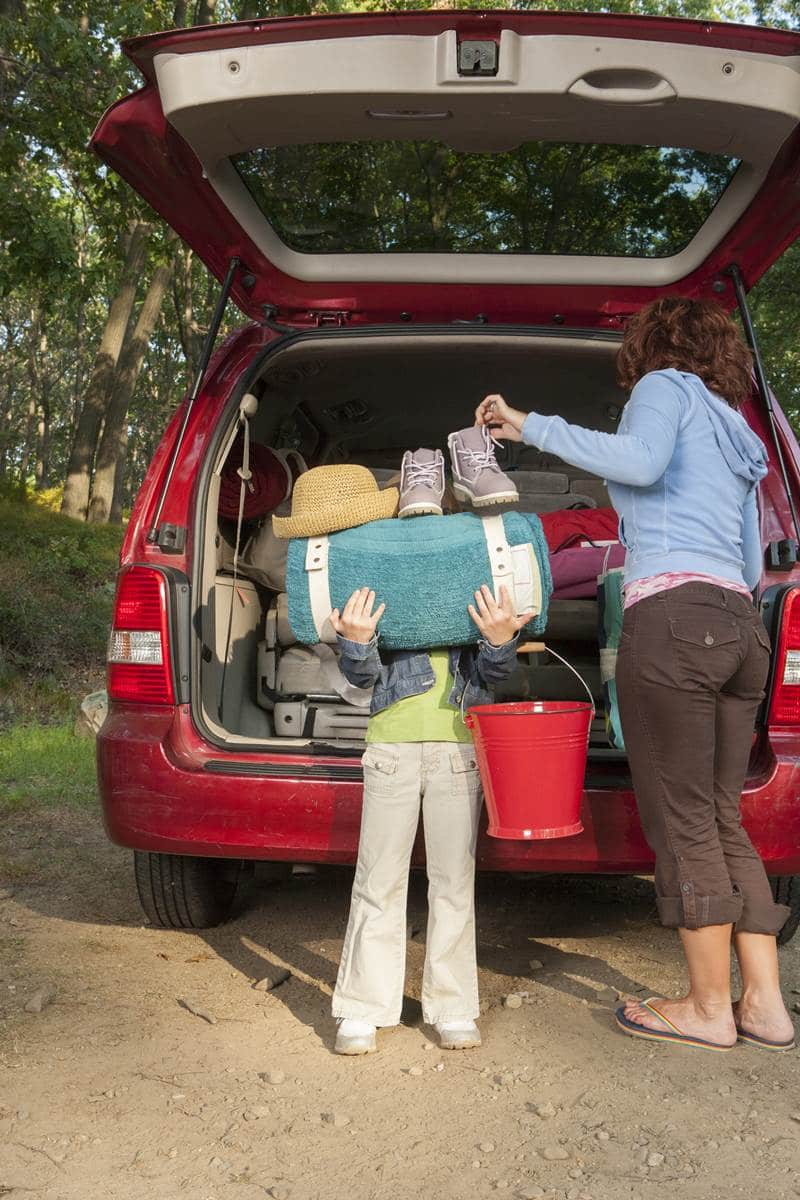 Take your time setting up a tent
I used to find tent setup the most troublesome part of camping. The kids are normally too excited and are never much help!
My life is now so much easier since I discovered the beauty of pop up tents! I seriously cannot recommend them enough.
Some conventional tents take a ridiculous amount of time to setup! No joke! And depending on the size you actually can't set it up on your own. What do you do when the kids are help?
Luckily other campers are happy to help normally but it still takes time.
Setting up the tent is one of the first things you do upon arrival and having a million pieces to put together after a long drive, while keeping an eye at the kids running around, is not my idea of fun! Seriously, save yourself some time and sanity and get one of these tents that are up inno time. In my opinion they are the best tents for single parents.
Things not always go as planned while camping. Sometimes the weather changes and it rains the whole time. Other times something breaks and you have to improvise.
The kids usually also get really messy and spray dirt all over the tent, on the food and clean clothes. These will all be good stories to tell one day but when they happen they don't seem like fun! Just relax and let go of pressure on yourself and others.
How to go camping as a single parent
Now, are you ready to plan your camping trip alone with the kids? Below I outlined the steps to help you plan a great vacation:
1. Choose the type of camping
Before we even get to the packing list let's talk about the kind of camping you want to have.
Are you going to a campsite or will you camp in the wild? Do you want some modern conveniences or will keep it basic? Are you a tent camper or a beginner motorhome camper?
Depending on your style and experience you can chose from many different camping types.
If you are inexperienced, beginner or traveling with small children you may feel more comfortable camping somewhere with a few basic amenities to make life easier. A campsite might have entertainment for kids which may mean that you get some relaxing time for yourself too.
But of course nothing stops you from going hiking and camping with kids, making it a super fun and adventurous trip. In that case you need to be prepared with all the essentials items and be experienced to take the best decisions.
Whatever style of camping you want to have, the next step is to get packing and planning.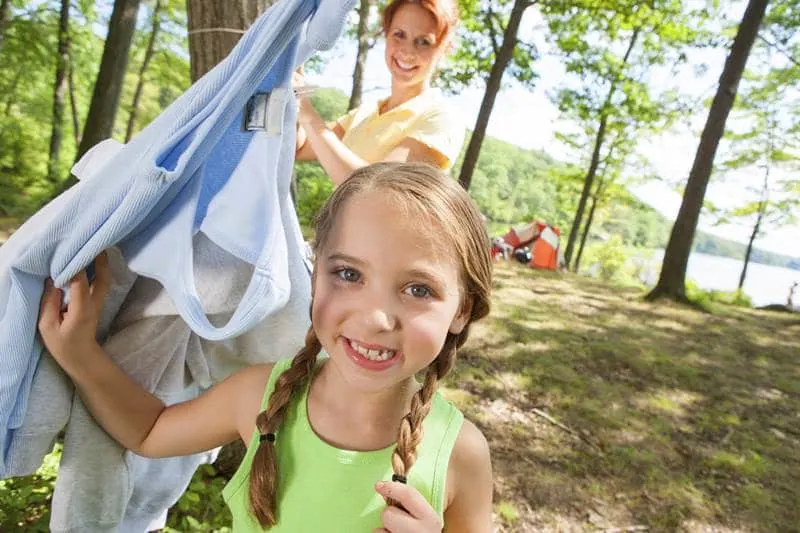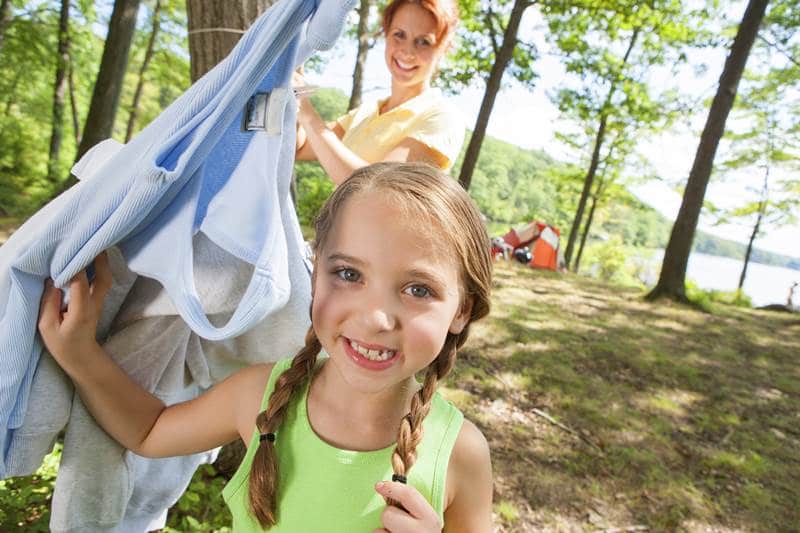 2. Choose your camping location
Next step is deciding where to go for your family camping trip.
A camping trip with kids is a flexible vacation because you can virtually go anywhere. So, think if you want to travel out of the state or stay close to home.
A great option for you may be going to a state park in your are. In my opinion State parks have more to offer.
There is obviously the array of outdoor sports and entertainment such as hiking, swimming, fishing, trails for dirt bikes, bird watching and boating. Also the camp sites are further apart and more spacious, they have sunny and shady sites and campers also tend to follow the rules more.
State parks are also normally clean, safe and quiet. You can reserve your site beforehand or take a ride and check out the campsites. If you go camping a lot, get an annual parking permit. Tent sites aren't expensive and they have electric sites too.
The best advice when looking for a campground is to tryout state parks first and see what they have to offer. Check out prices, distance from your home and then go check out the sites.
It is nice to get a site that has privacy, one that is close to the bathroom, large enough, but most important get a site where the sun does not rise in the morning. Choose sites where the sun sets in your area that way you can sleep longer.
3. Packing for your camping trip
Packing for your camping trip is easy as long as you plan and organize.
First you will need a tent unless you have a motor home. If you don't know much about tents then I have all your questions answered in this post here!
If you have gone camping before then usually you know what is important for you when it comes to camping. For me the most important thing of a tent is quick setup, so I now only use my trusted 3 second pop up tent. I use this tent here that fits 3 persons. For more pop up tent reviews you can read my article here.
A few things to consider when packing for camping:
Camping packing essentials
Apart from a tent, other essential items for camping are: sleeping bags, barbecue grill, camp stove, kitchen utensils, camping plates, silverware and cups, lanterns and flashlights (plus batteries), weather appropriate clothes and toiletries.
For sleeping, you can purchase an air mattress for more comfort or just bring a sleeping bag, comforter and pillows.
These are the very basic items you definitely need but you should not forget entertainment such as games, fishing poles, bikes etc.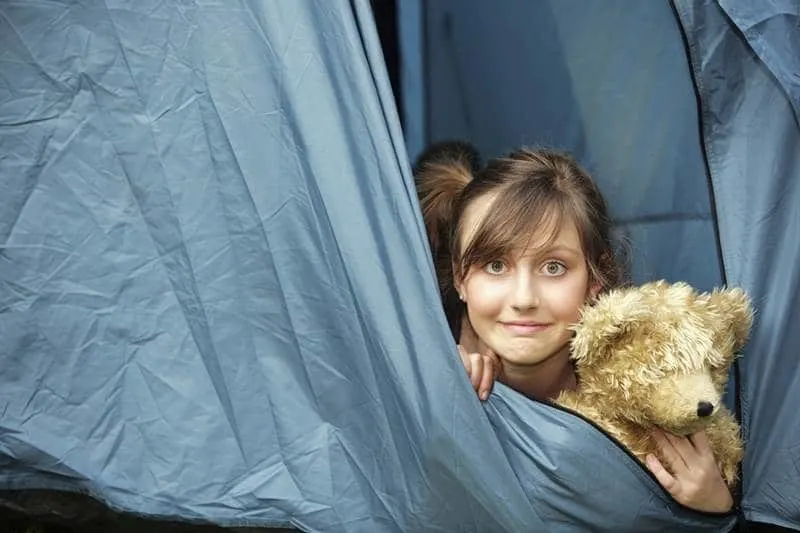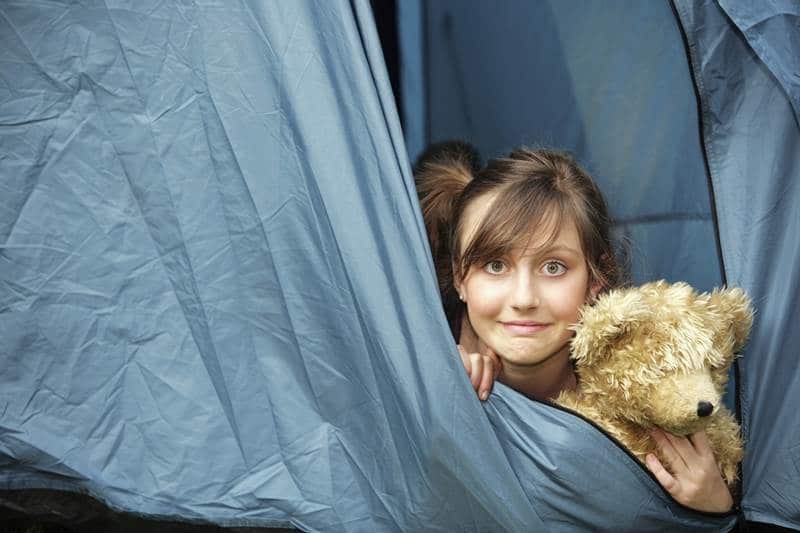 Camping usually brings out an appetite in everyone. So pack those coolers with easily prepared foods and plastic bottles or cans.
Some great items to bring to cook are hot dogs, hamburgers, corn on the cob and marshmallows. Prepared salads, chips, pork and beans are great side dishes for camping.
Don't forget your condiments like ketchup, mustard and salt. Whatever you bring, make sure it is easy to prepare and doesn't require a lot of work.
For breakfast, I usually bring bacon and eggs or pancake mix that you just add water to.
Don't forget pots and pans to cook in. Dish soap to clean your pans and buckets.
You can get water at the pumping wells in the park. If your worried about the water, bring your own. Most park water is safe for cleaning and showering.
Bring plenty of garbage bags, a table cloth and always stop on the way to get firewood. That is the best part of camping, toasting marshmallows and watching the fire burn while telling stories, singing and playing games at night.
Clothes to pack for camping
When camping, you want to bring plenty of clothes in case it gets cold. Towels, body soap, shampoo, bug spray and swim wear.
Be prepared and bring something to protect your tent because you never know the weather. A tarp works well for rain.
It is also a good idea to bring a radio for music and weather emergencies. You need to be prepared for anything.
4. Follow safety rules
There are a few camping safety rules that you must follow to make sure your trip is just fun and enjoyment without any serious occurrence.
If you are allowed to light a fire in your camping location always be sure to put the fire out before you leave or go to sleep. You can cover it with soot or sand.
Always throw your garbage away in the proper containers. Otherwise, you will attract animals to your site and of course pollute the environment.
Remember how to put your tent together or read the directions first. Weather can change and you don't want to run the risk of your tent blowing away (true story!).
---
Summarizing, you can have fun and take advantage of camping as a frugal family travel experience even if you are a single mom or single dad.
As long as you get prepared in advance and follow these simple tips I mentioned above you should be good to go and create memories with your kids that will last a lifetime.
More camping with kids articles:
PIN FOR LATER!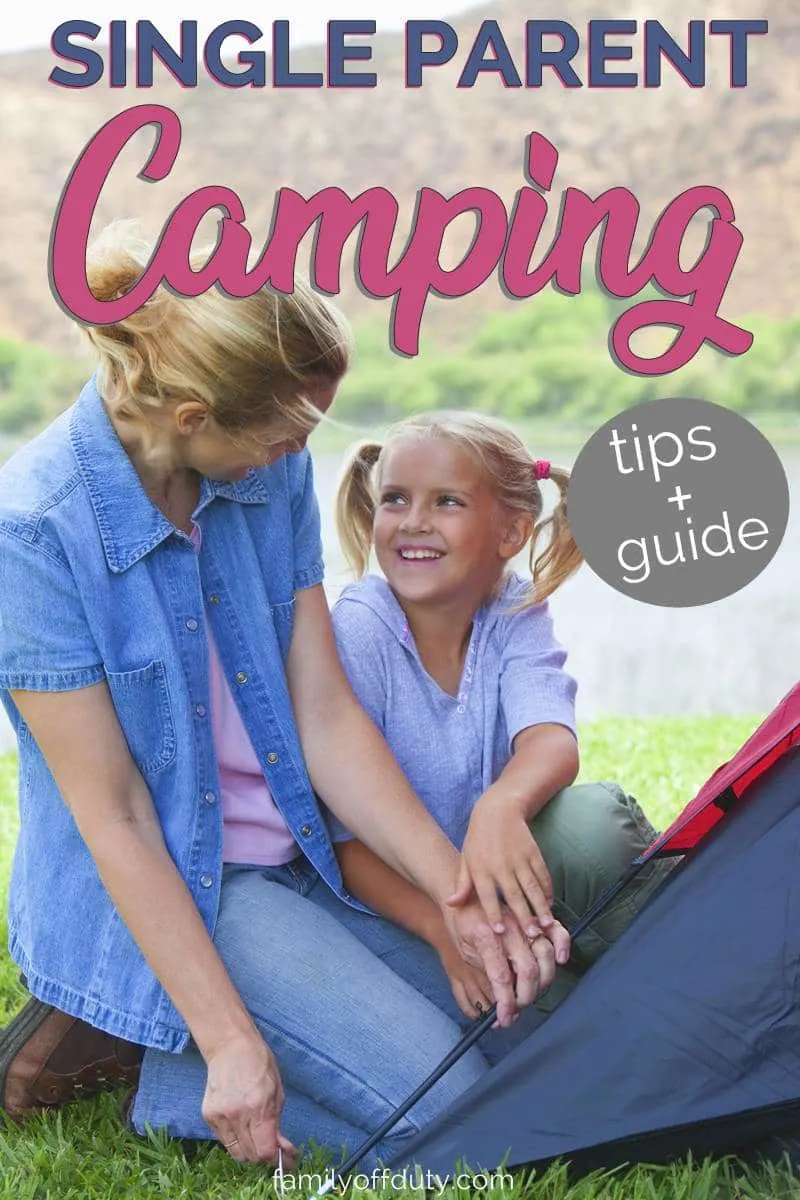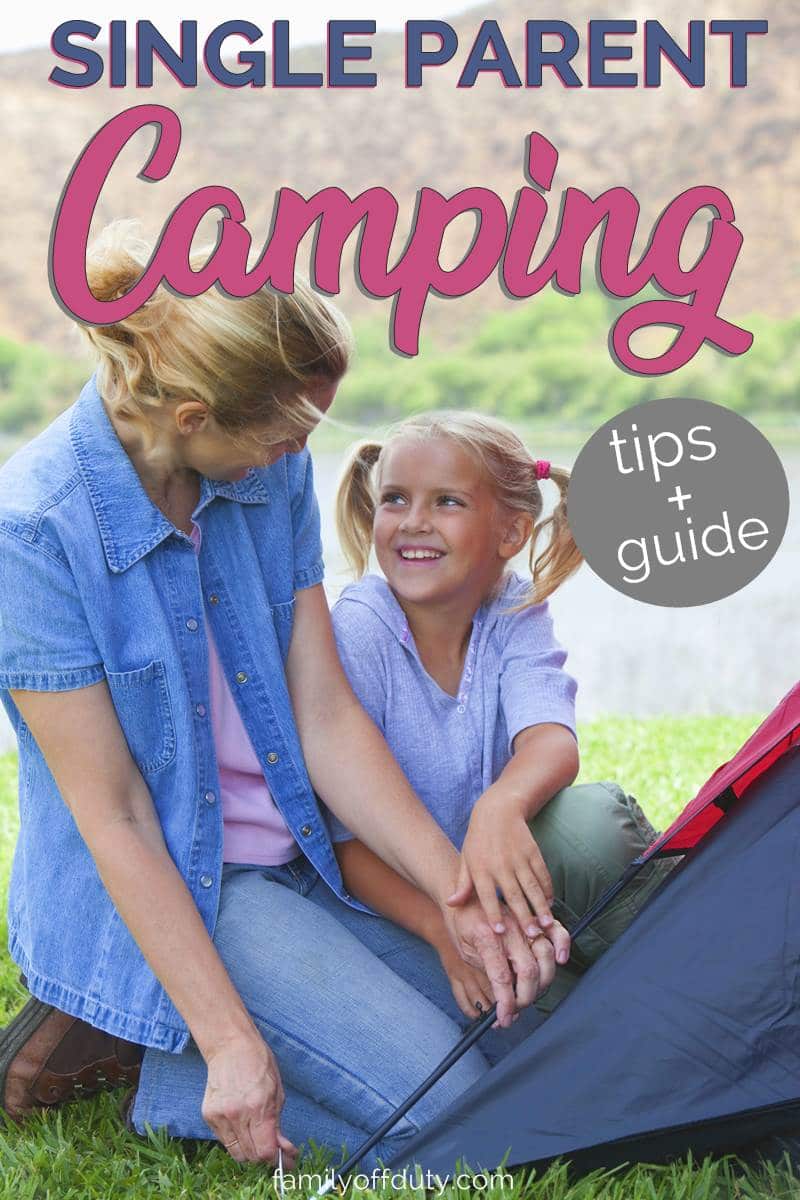 Single Parent Camping Holidays