Famous quotes about travel and tourism
Looking for travel quotes famous authors said? Read on to get inspired by these beautiful quotes with travel in mind!
I am a collector of travel quotes. I think quotes have the power to change our mindset and attitude very quickly.
Just like songs, books and movies quotes can make us feel strong emotions from cry to laugh, inspire and motivate.
Personally I find them super useful when I am feeling down and need a few positive words to lift up my moods.
Are you going through some post-trip blues and need a little pick me up? Or maybe you are planning that next adventure and cannot wait for the day to come?
Either way, I think we can all do with some traveling quotes to brighten up any day and waken our exploring instincts.
So I am sharing famous quotes on travel and adventures paired with beautiful photographs to feed your wanderlust or just bring a smile to your face.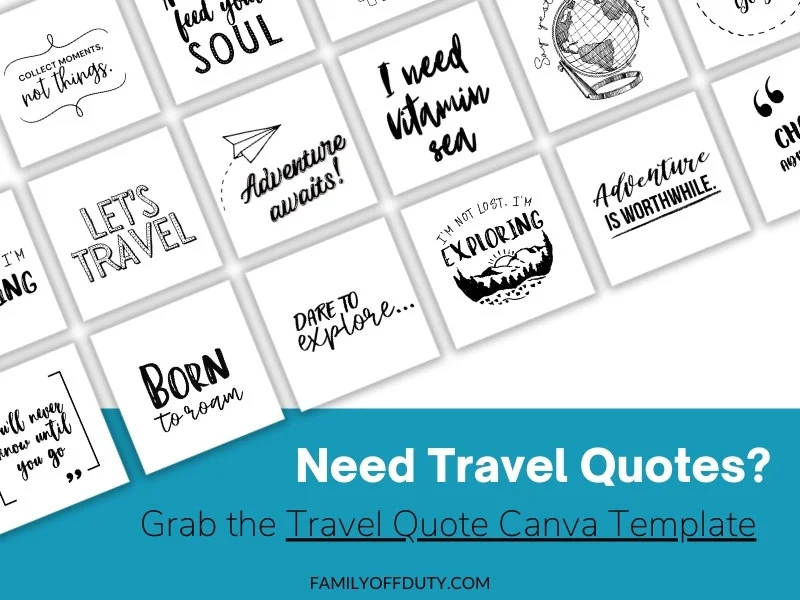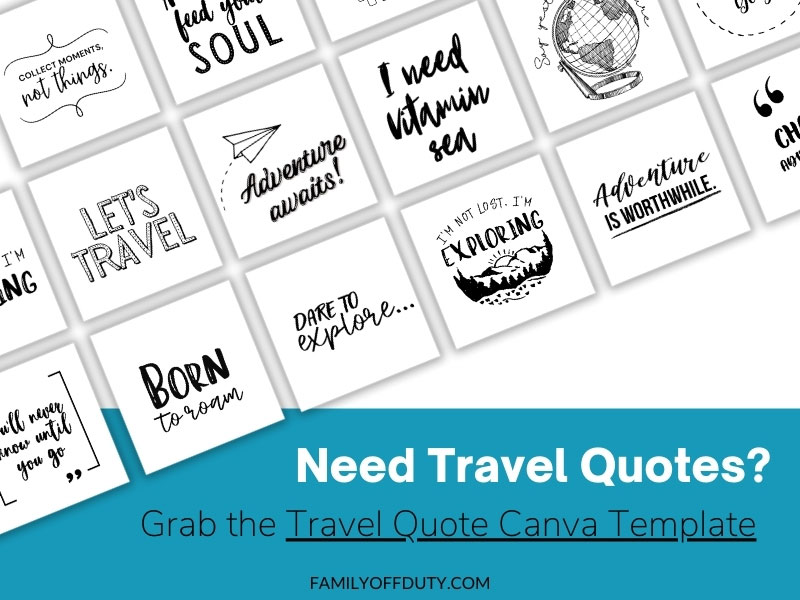 25 Most famous travel quotes
Some of these famous travel quotes may be familiar to you, but others may surprise you, introduce you to a new author or give you a new wanderlust boost!
I hope you find a lot of inspiration in these travel words, travel poems and posters below.
Love these popular quotes? Spread the world. Share it now with your travel friends and family, also post on your social media channel!
1. Famous adventure traveling quotes
"It feels good to be lost in the right direction."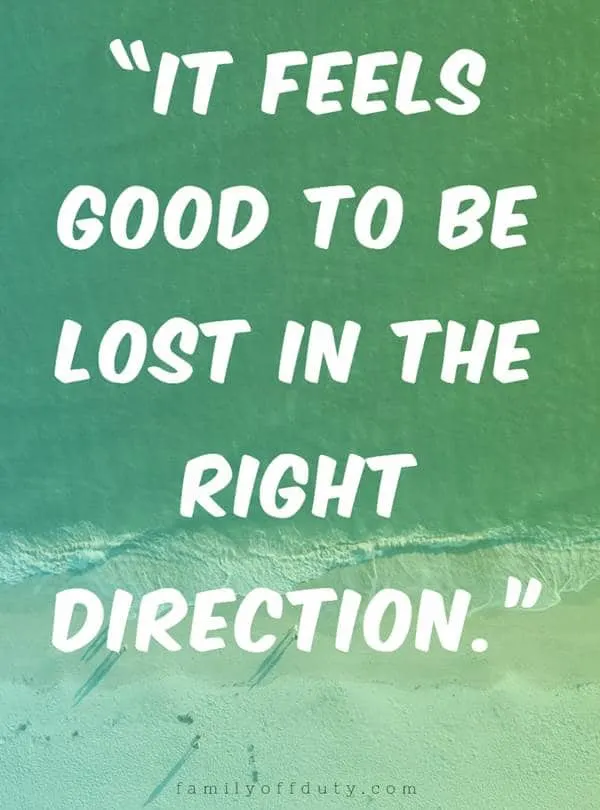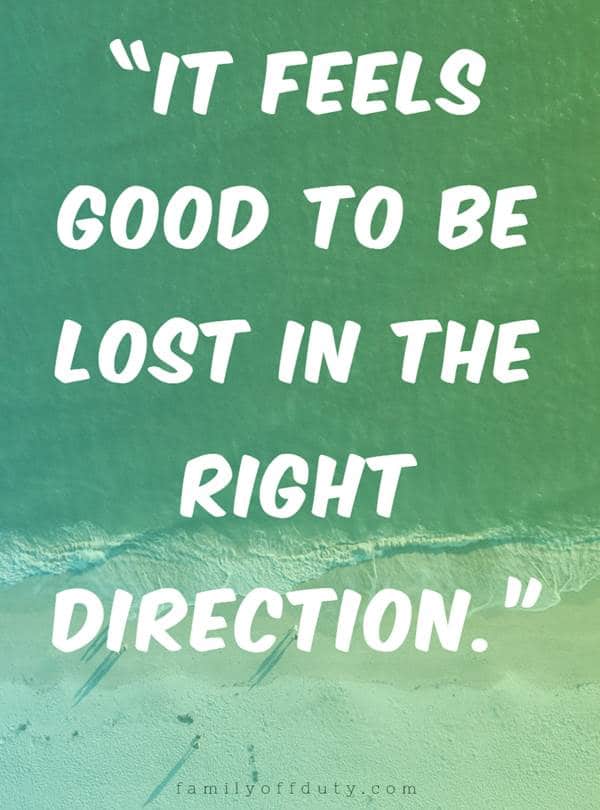 As a traveler you will know how this feels.
Not know well the place you are and or where you are going but knowing somehow it is the right place to be headed to. It is a great feeling of adventure.
"I haven't been everywhere, but it's on my list."
– Susan Sontag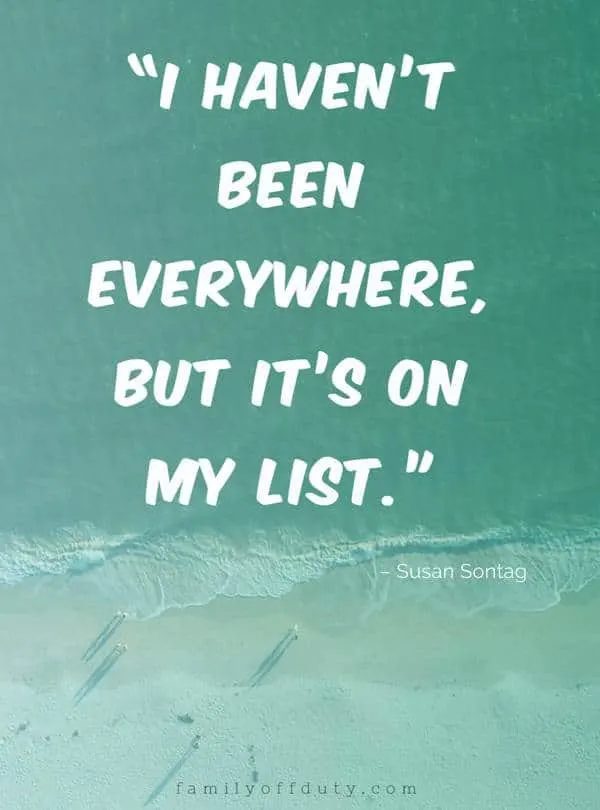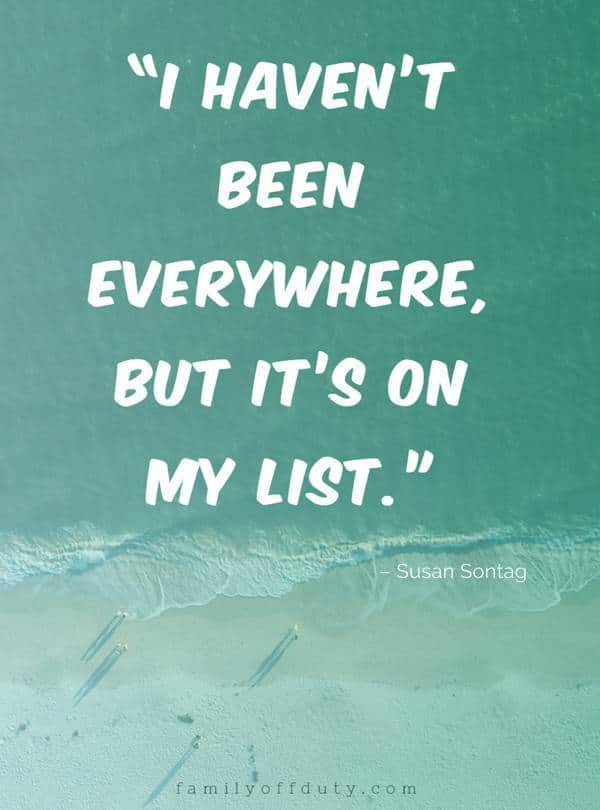 I bet you have heard this one. Definitely one of the most well known world traveling quotes!
"The journey not the arrival matters."
– T.S. Eliot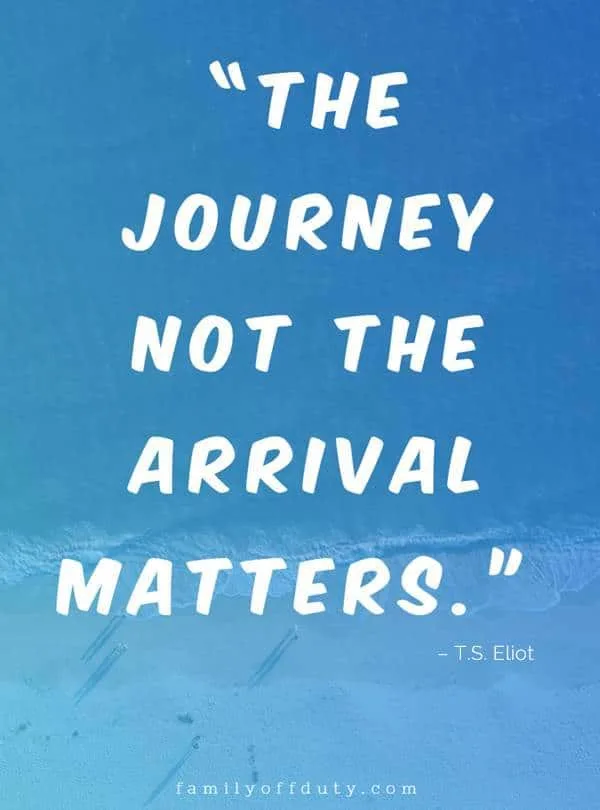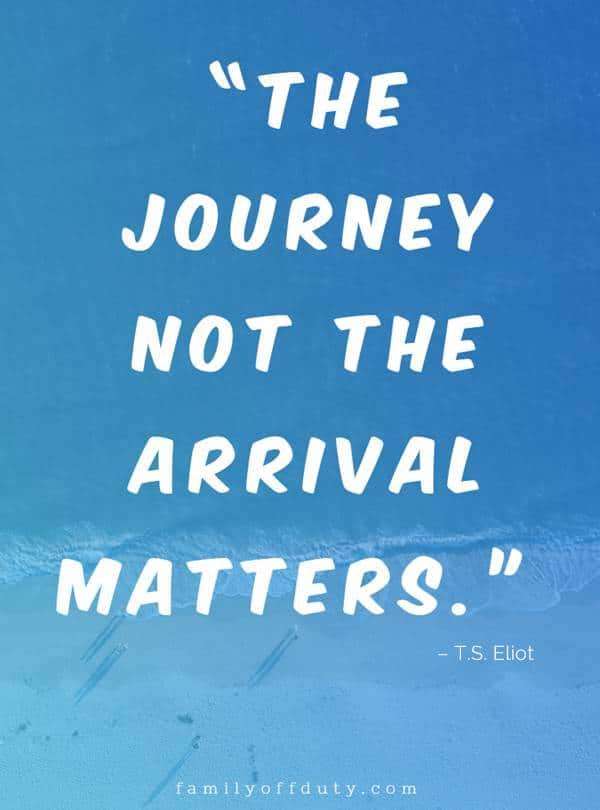 It is all about the journey. The journey is not always easy, it can feel like a burden and challenge you in many ways but it always makes you improve and learn.
"Man cannot discover new oceans unless he has the courage to lose sight of the shore."
– Andre Gide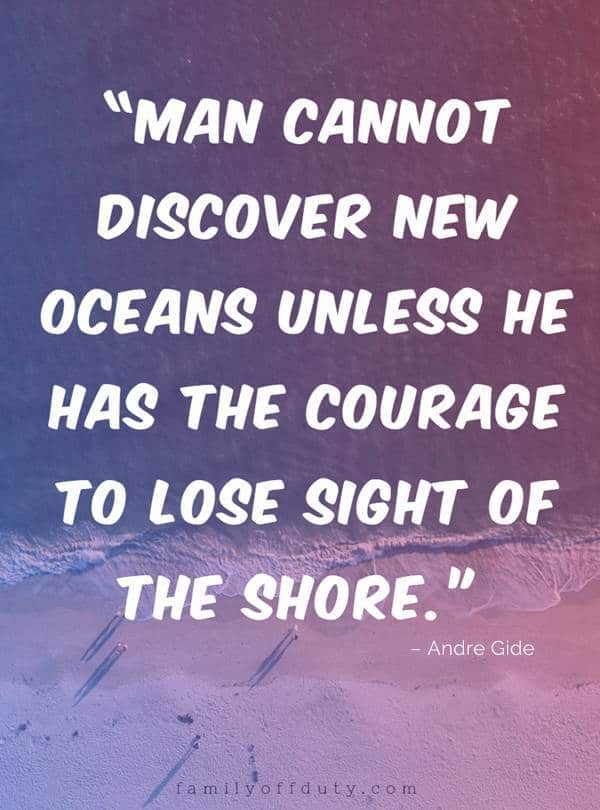 If you don't through yourself in that adventure you will never know how it feels.
"Better to see something once than hear about it a thousand times"
Asian Proverb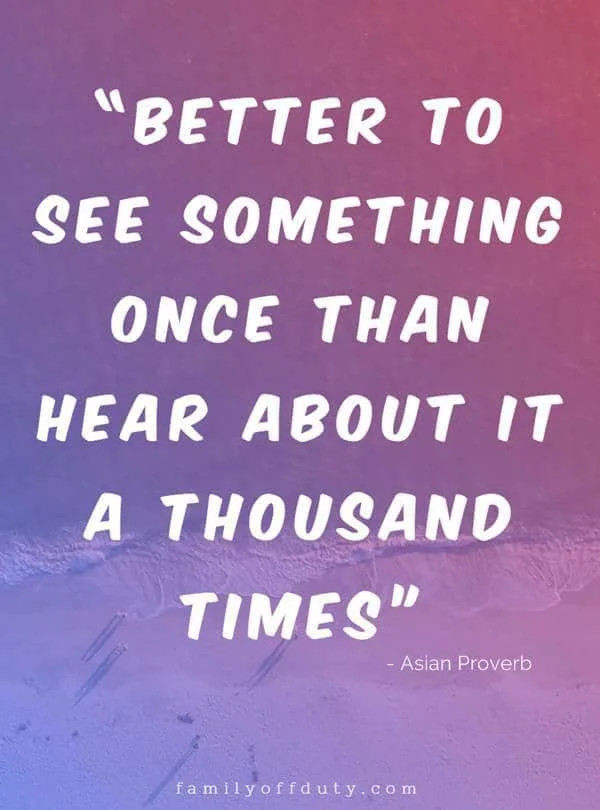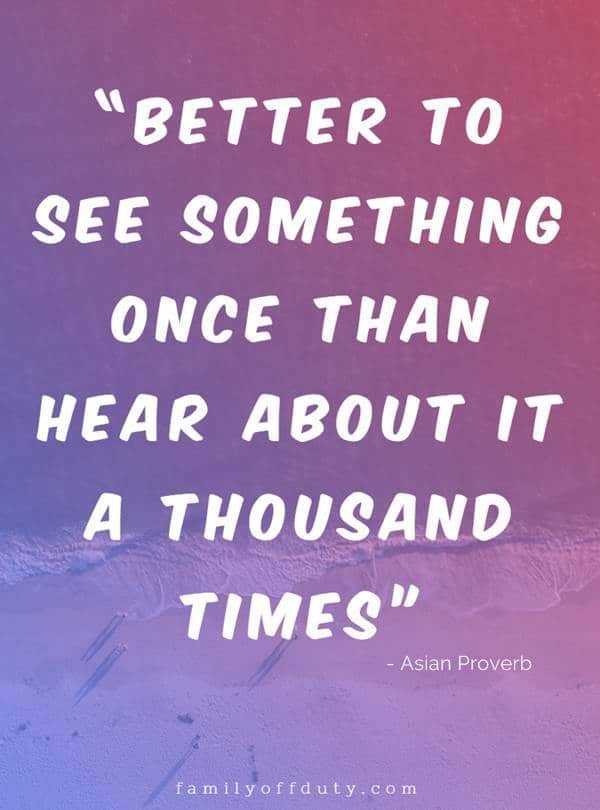 What you capture with your eyes and experience personally will have a much bigger impact in your life than just hearing about something.
"Blessed are the curious for they shall have adventures."
– Lovelle Drachman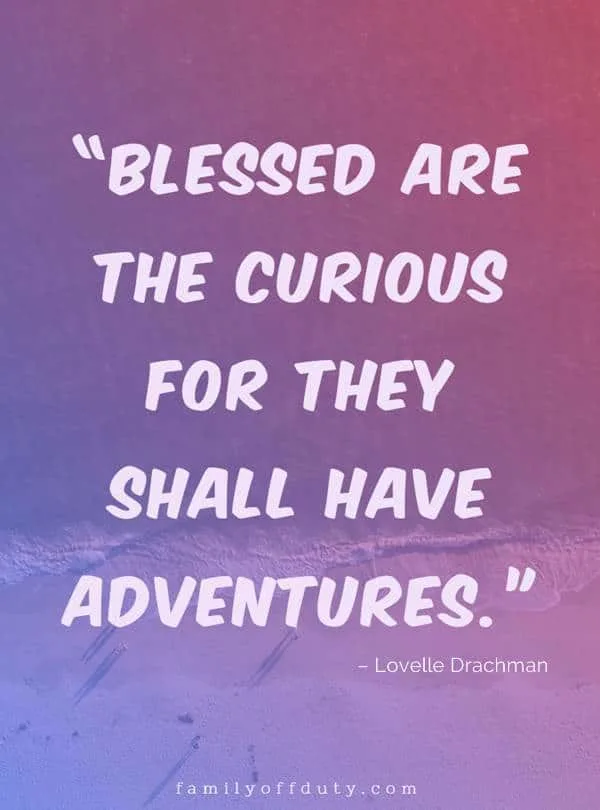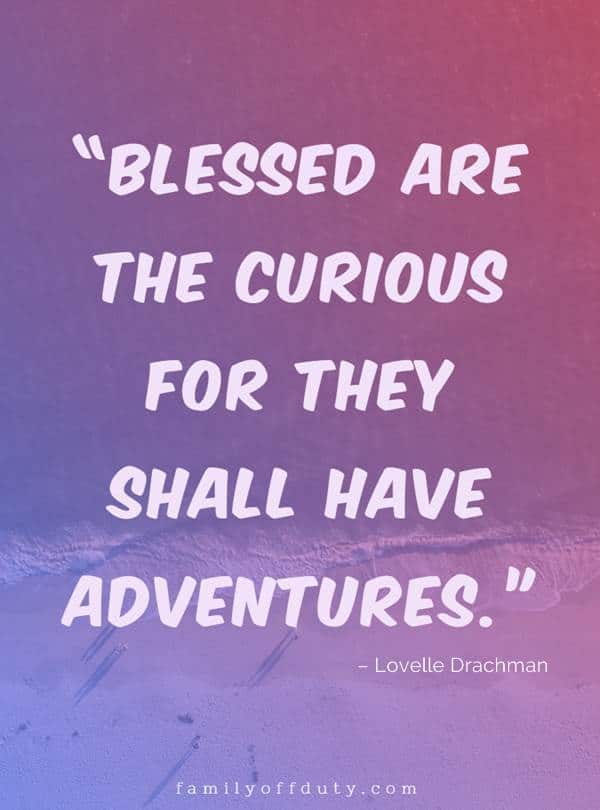 I love this inspirational quote about curiosity and adventure.
"I would rather own a little and see the world than own the world and see a little of it."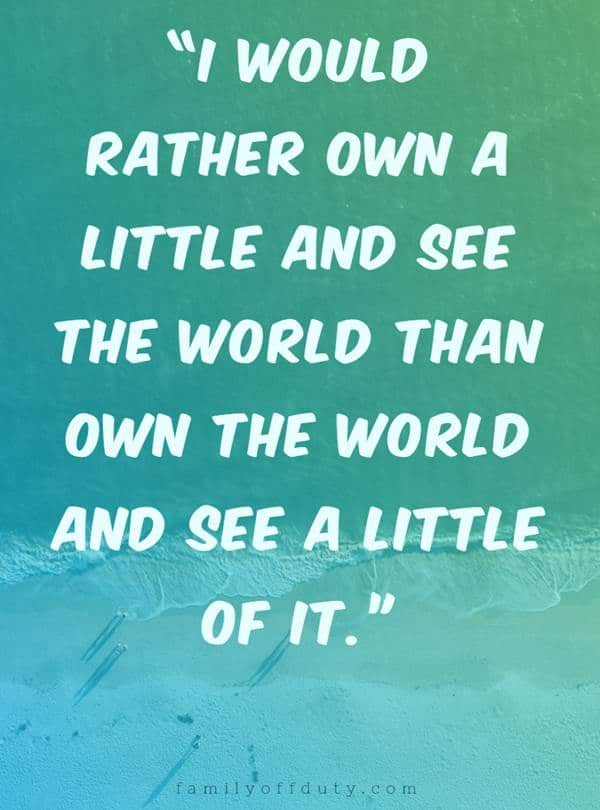 In the world there is plenty of beauty and all you should do is to go admire it.
"Because in the end, you won't remember the time you spent working in an office or mowing your lawn. Climb that damn mountain."
– Jack Kerouac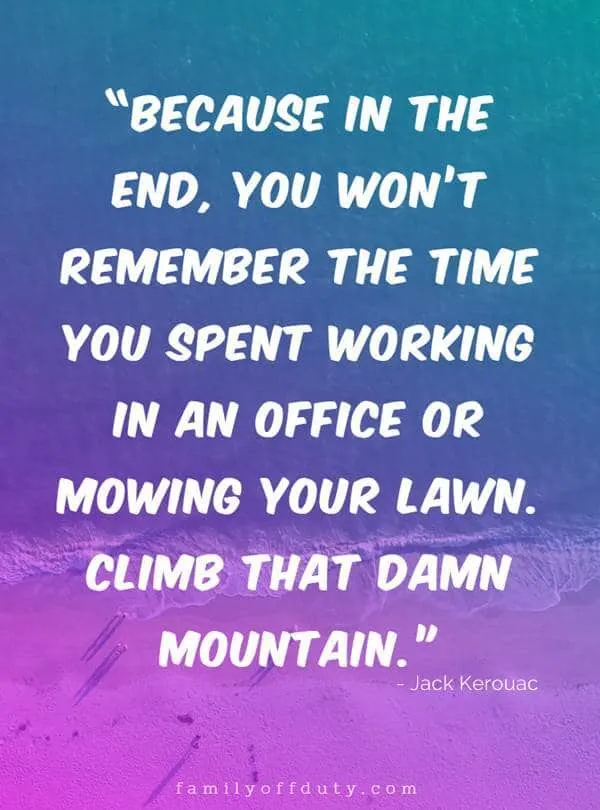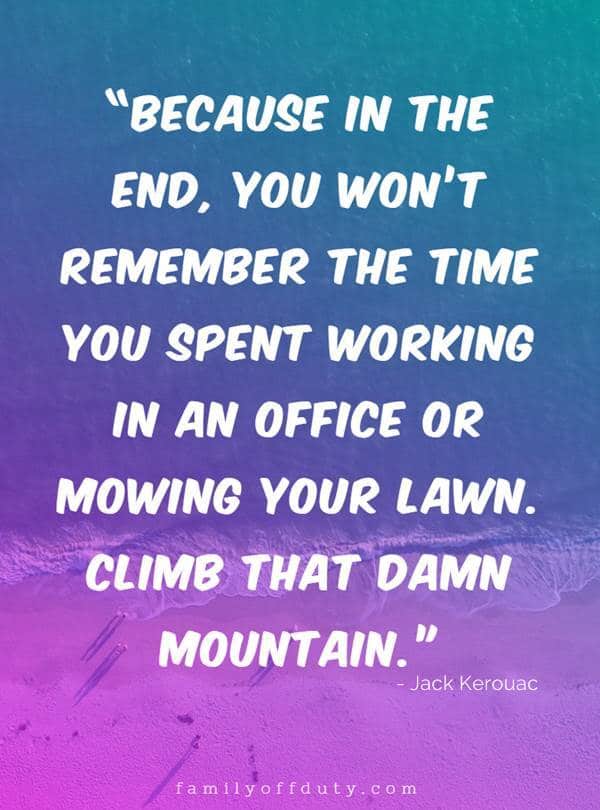 This is a great reminder to go make your days count.
"I'm in love with cities I've never been to and people I've never met."
– John Green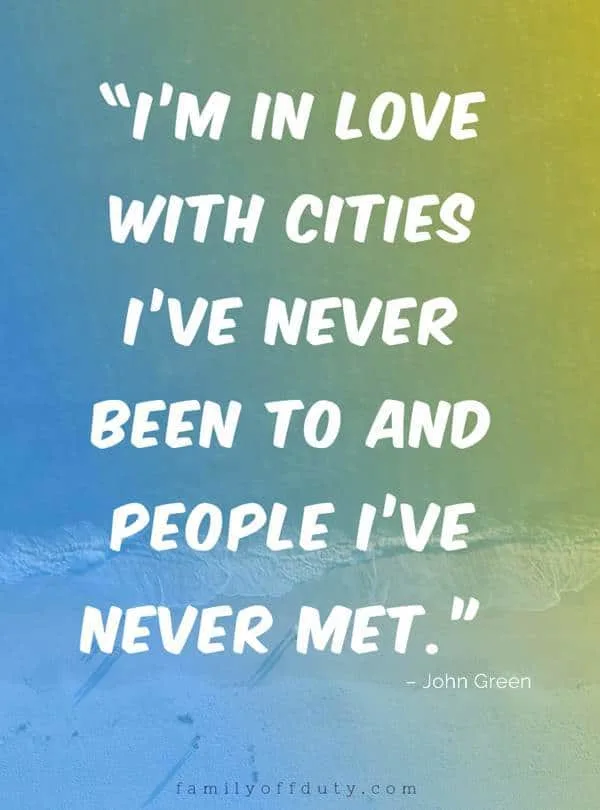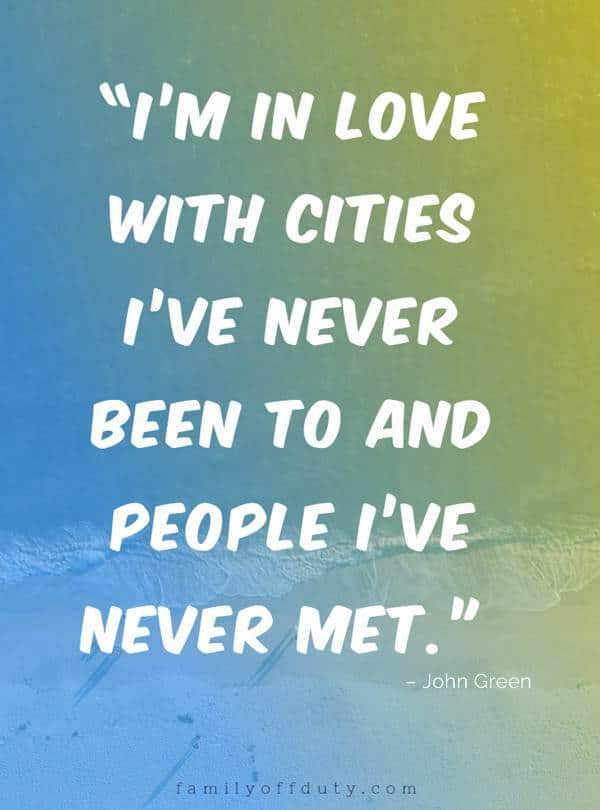 This is a very popular quote to fins in shirts and posters.
"Be fearless in the pursuit of what sets your soul on fire."
– Jennifer Lee.
Another famous quote from unknown author but good nonetheless.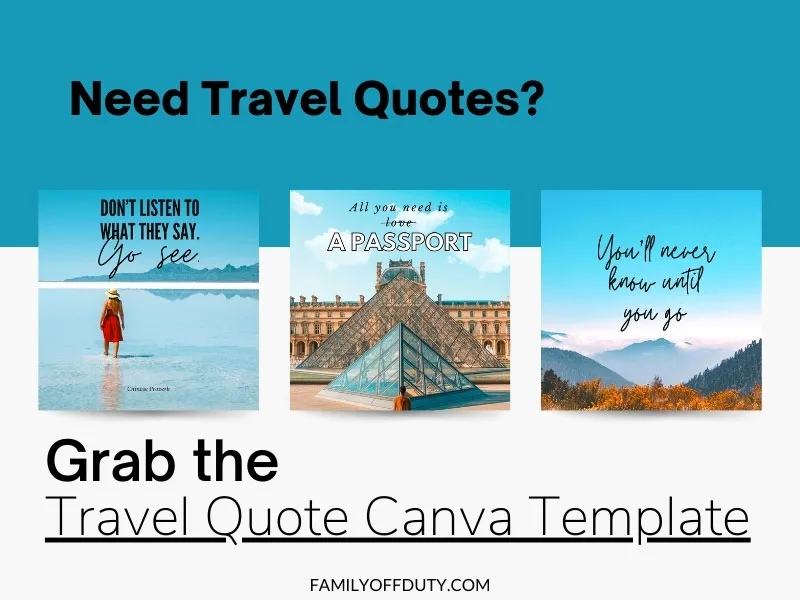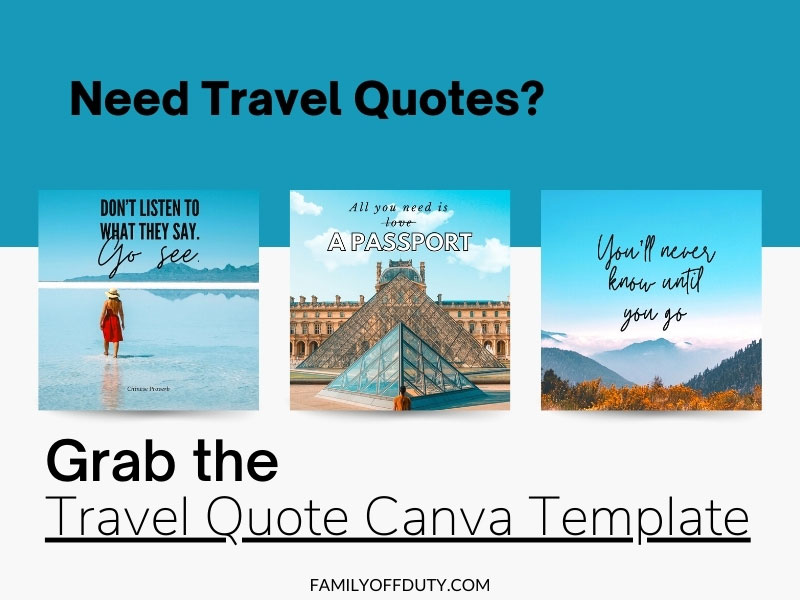 2. Famous quotes on world travel
"Travel is the only thing you buy that makes you richer."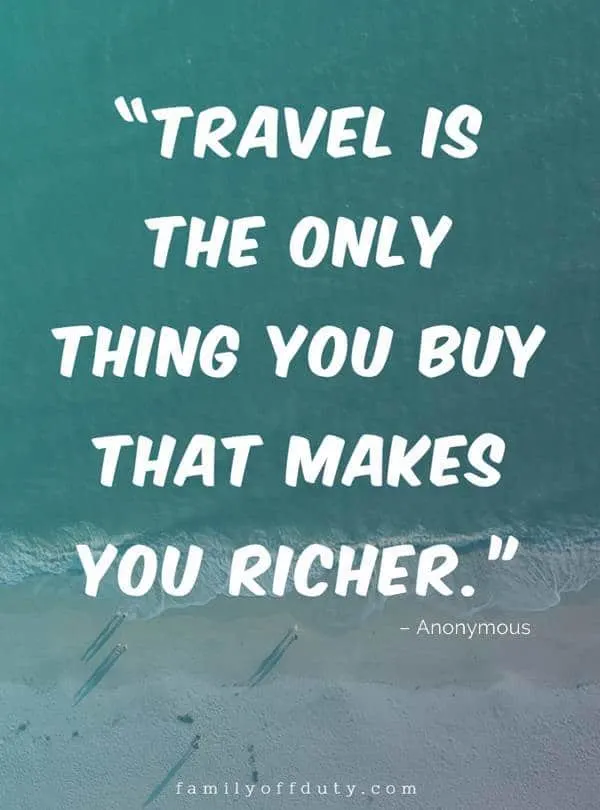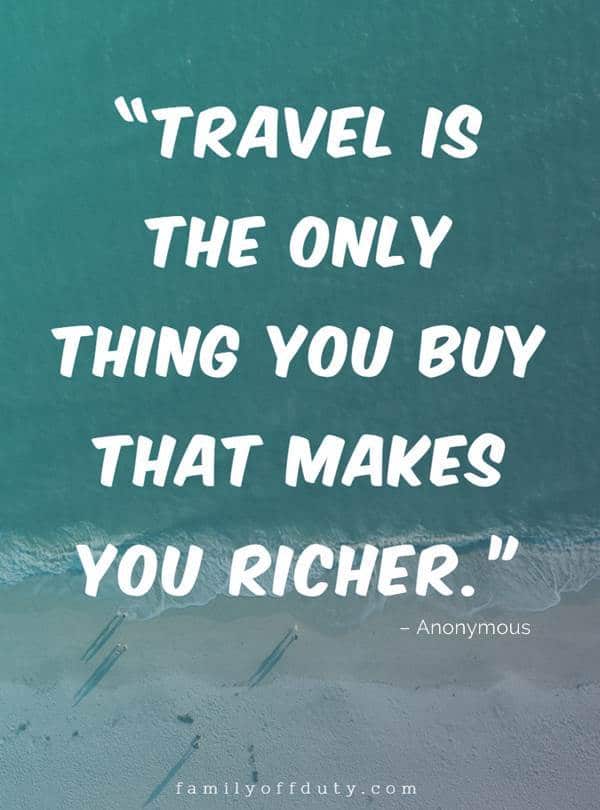 To travel is to live. Travel is the best investment in life!
"Travel makes one modest. You see what a tiny place you occupy in the world."
– Gustav Flaubert.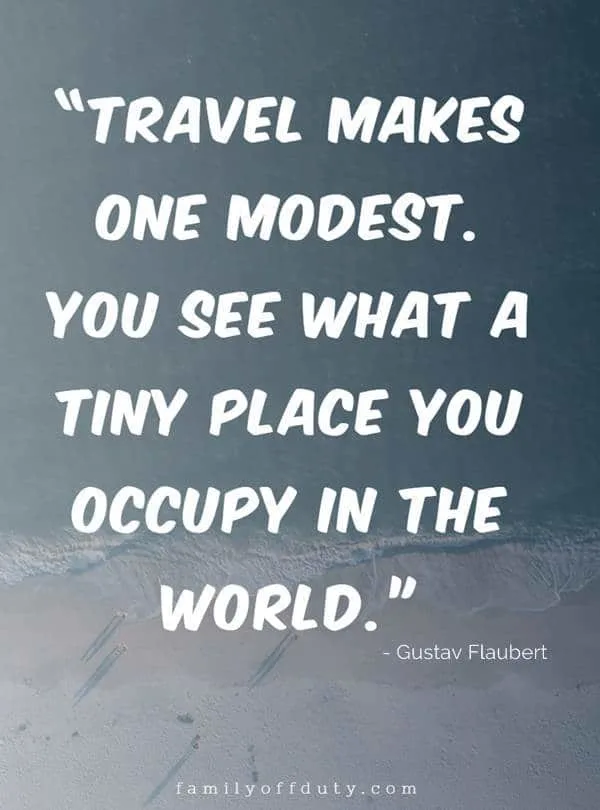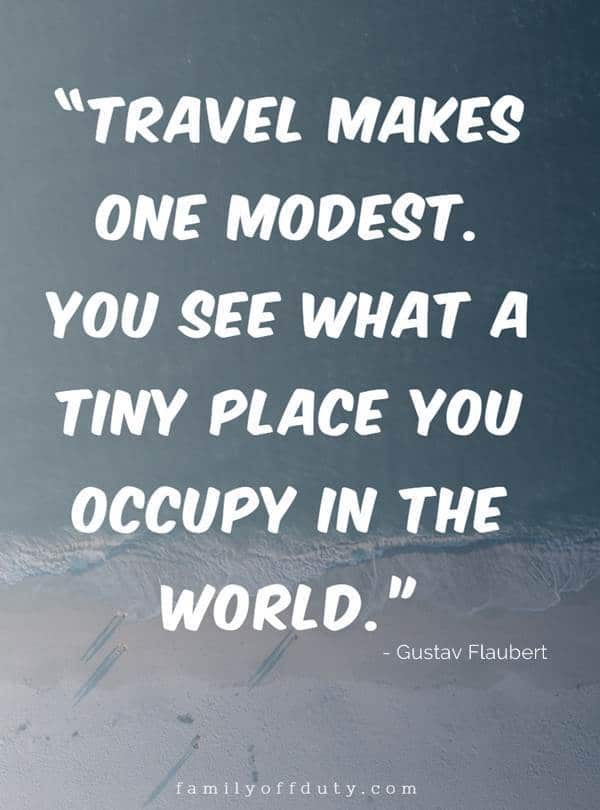 We are so small compared to the grandiosity of the world.
"Once a year, go someplace you've never been before."
– Dalai Lama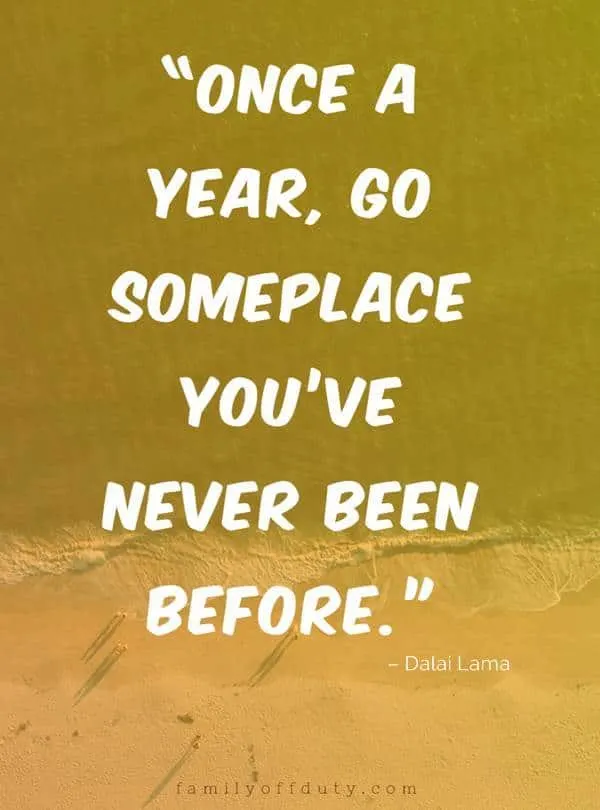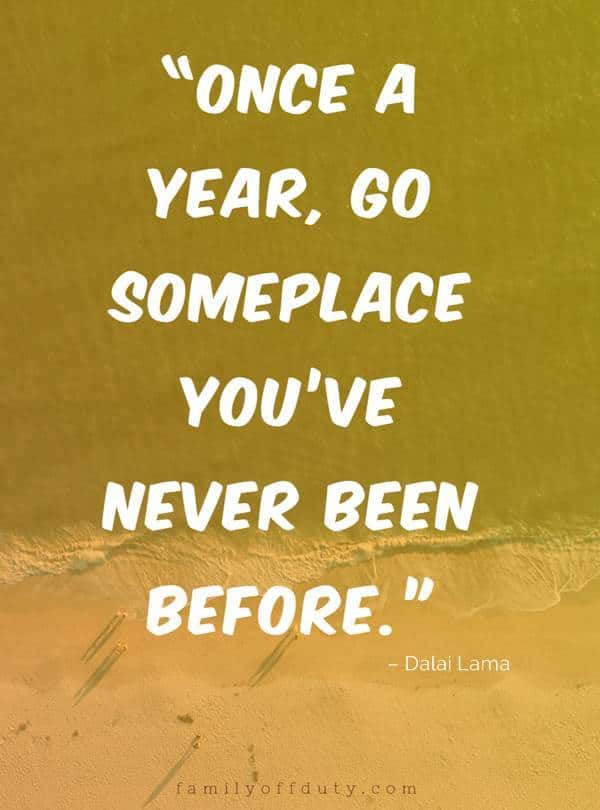 Travel is my therapy! Going to new places makes me regroup from the everyday life.
"It's a big world out there, it would be a shame not to experience it."
– J. D. Andrews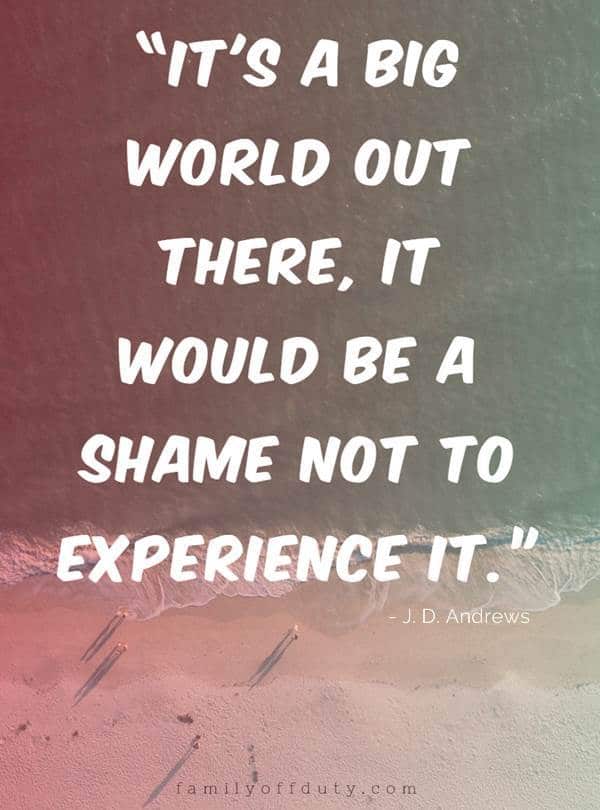 Don't miss the chance to see some remarkable places. That is why I love these quotes about traveling, they encourage us to conquer our fears of travel alone and live life to its fullest.
"We travel not to escape life, but for life not to escape us."
– Anonymous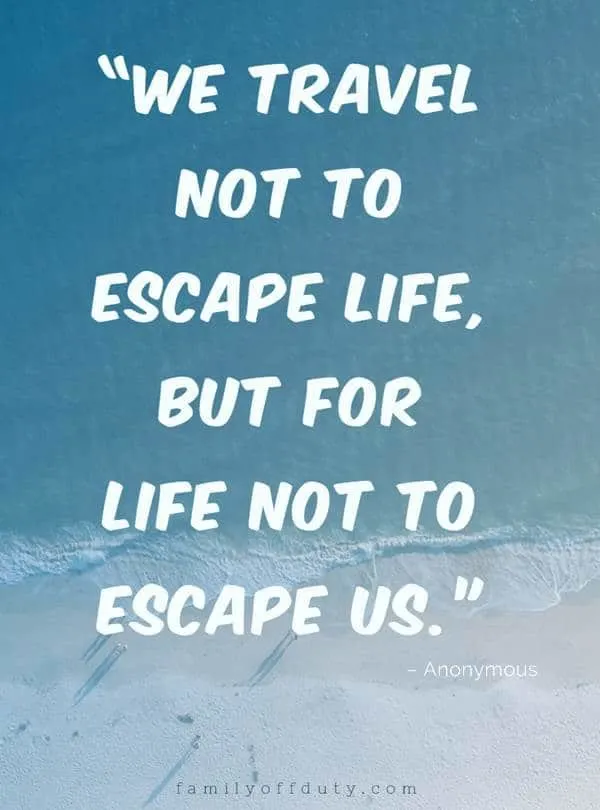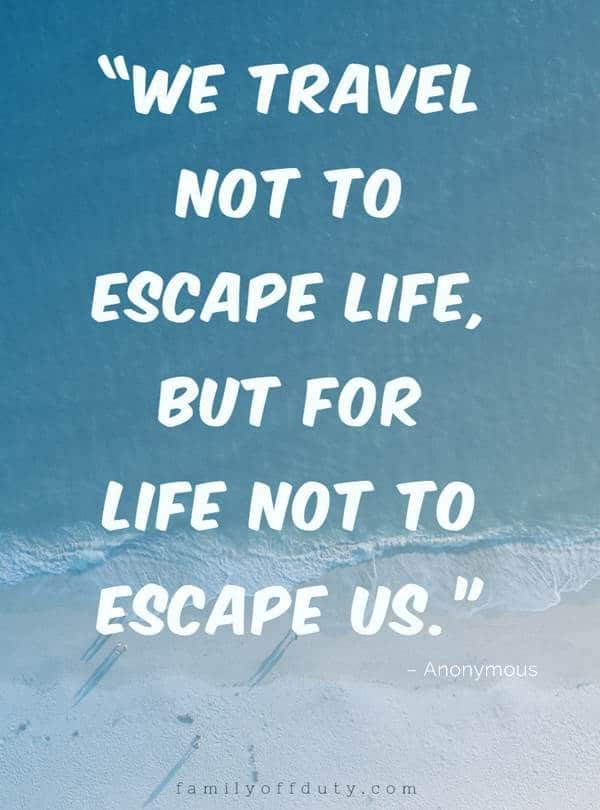 When your heart is made for travel and adventuring you travel to enjoy life and take a break from the routine.
"So much of who we are is where we have been."
– William Langewiesche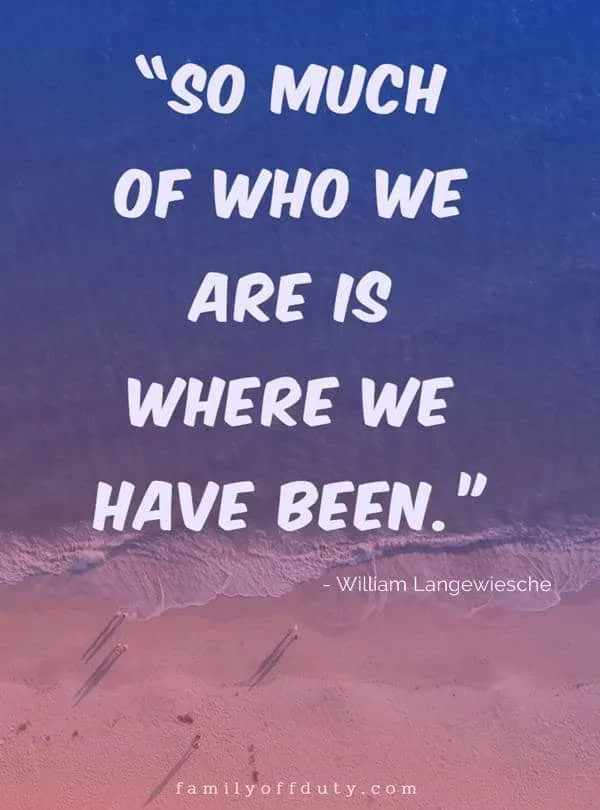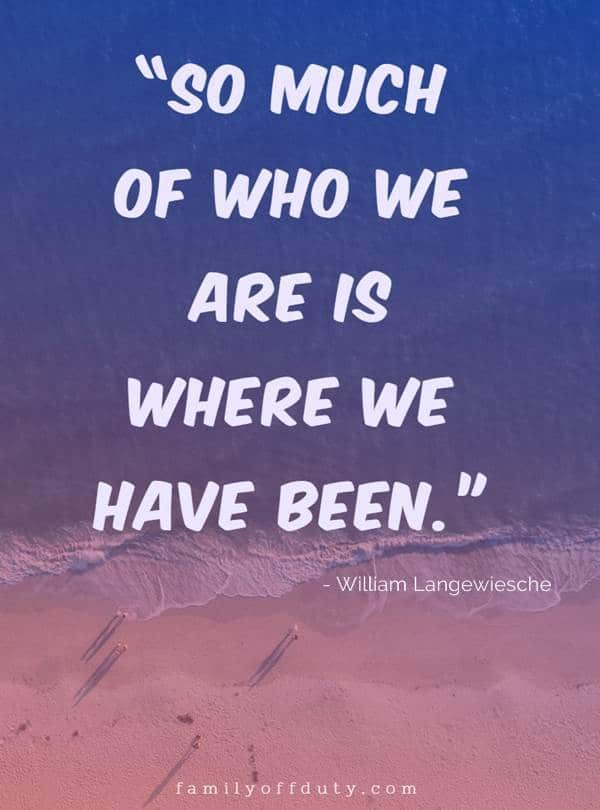 This travel quote really hits home to me. I have been living and traveling abroad for over a decade and I can tell you that I am a much improved version of my younger self for the things I have learned during my travels.
"We travel, some of us forever, to seek other places, other lives, other souls."
– Anais Nin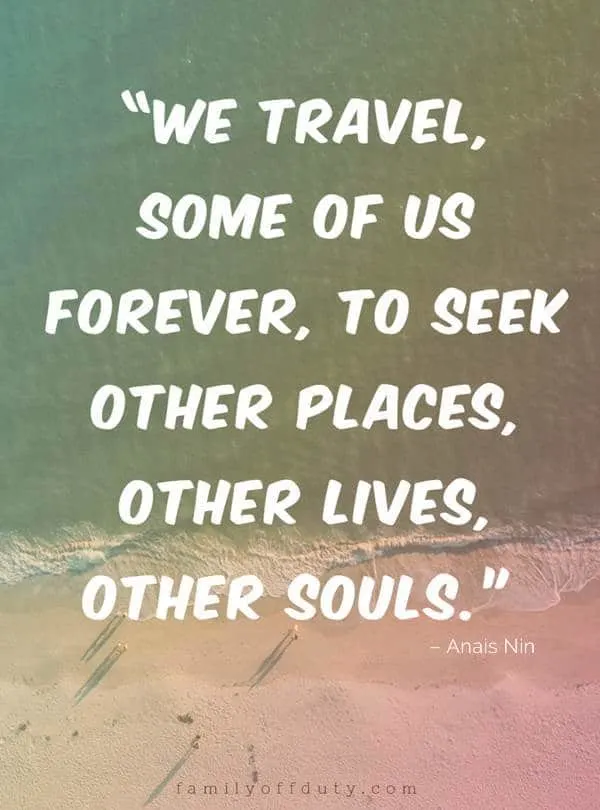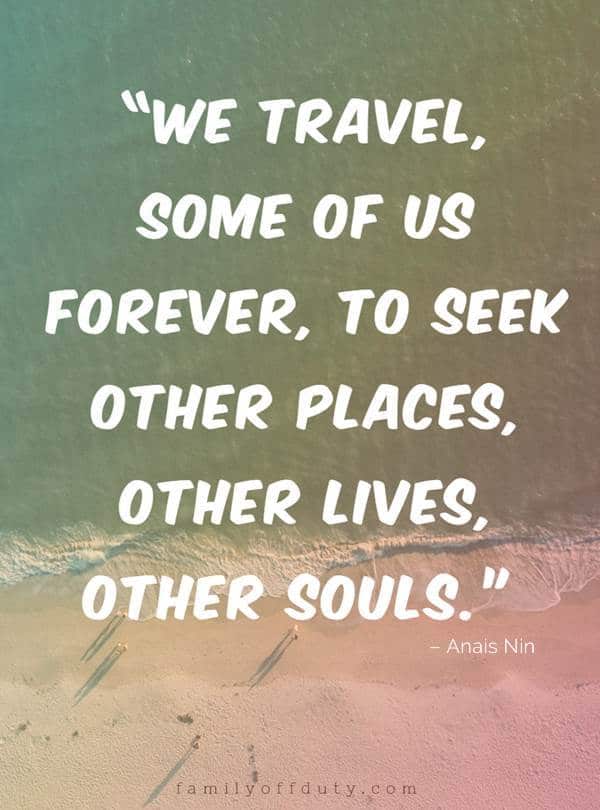 A quote with a profound meaning. Travel can be a search for something you don't even know and in the journey you will find your answers.
"The Impulse to Travel is one of the hopeful symptoms of life"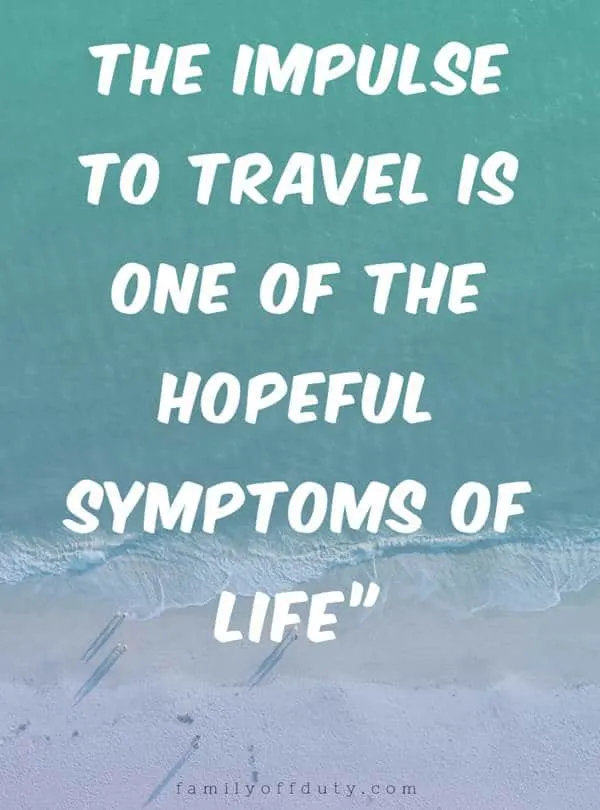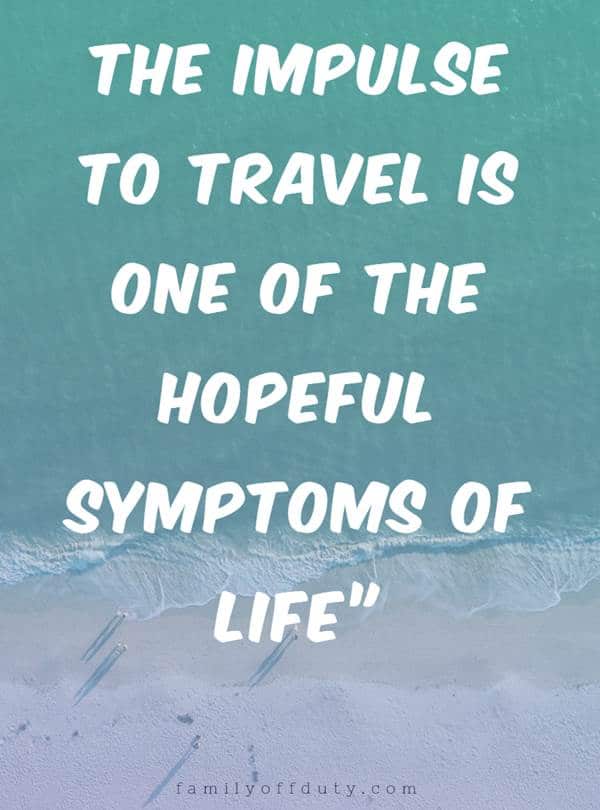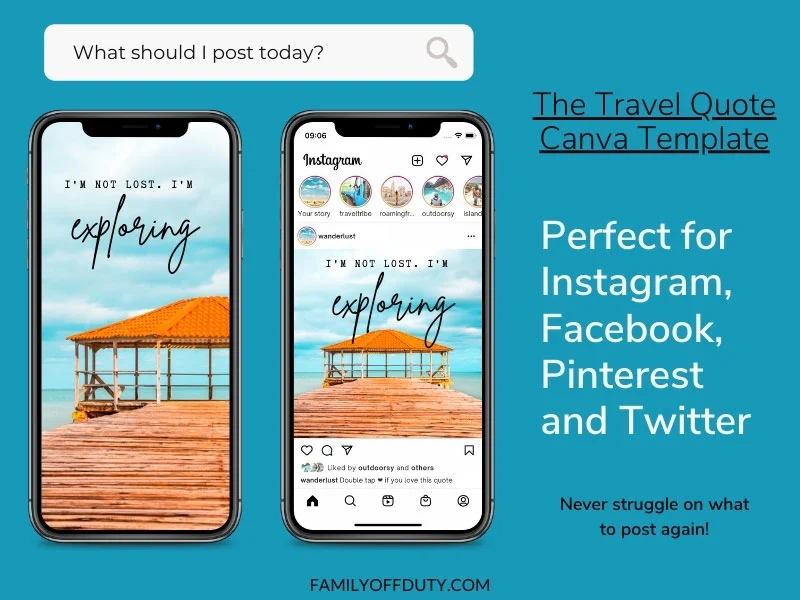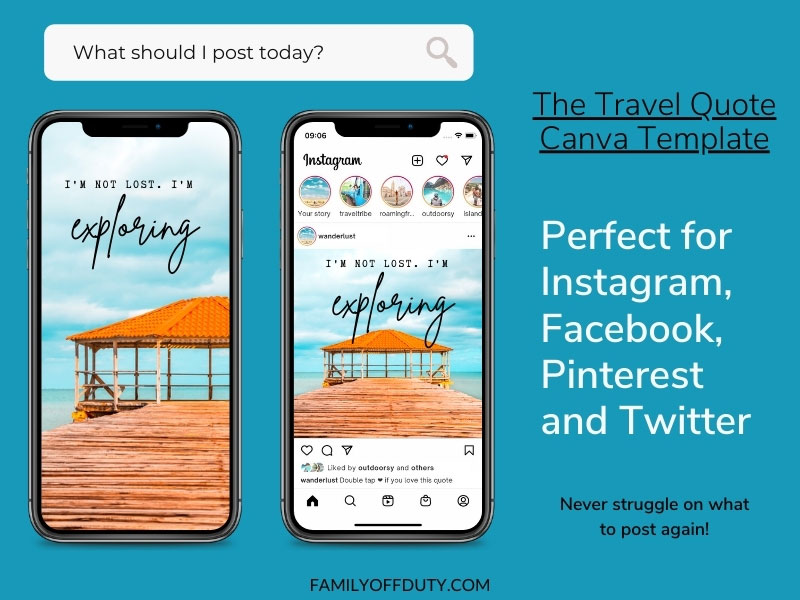 3. Travel quotes from books
"Not all those who wander are lost."
– J.R.R. Tolkien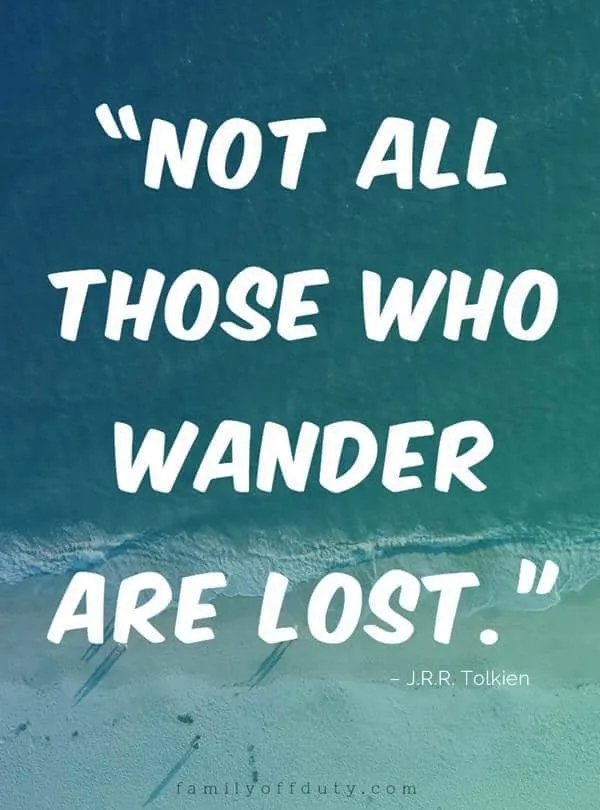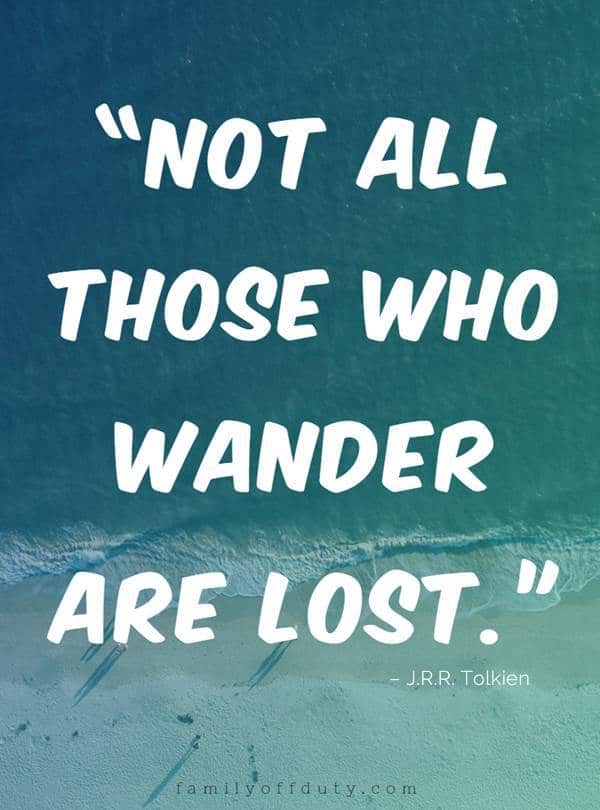 I love this wandering quote written by J.R.R.Tolkien in 'The Lord Of The Rings' book. You might live a nomadic life but it does not necessarily mean you are lost, quite the opposite in fact.
"Oh the places you will go."
– Dr. Seuss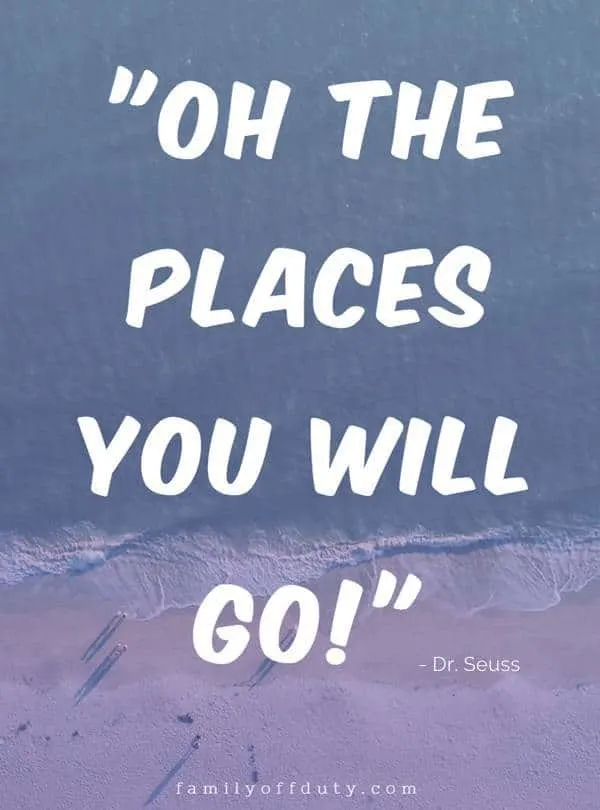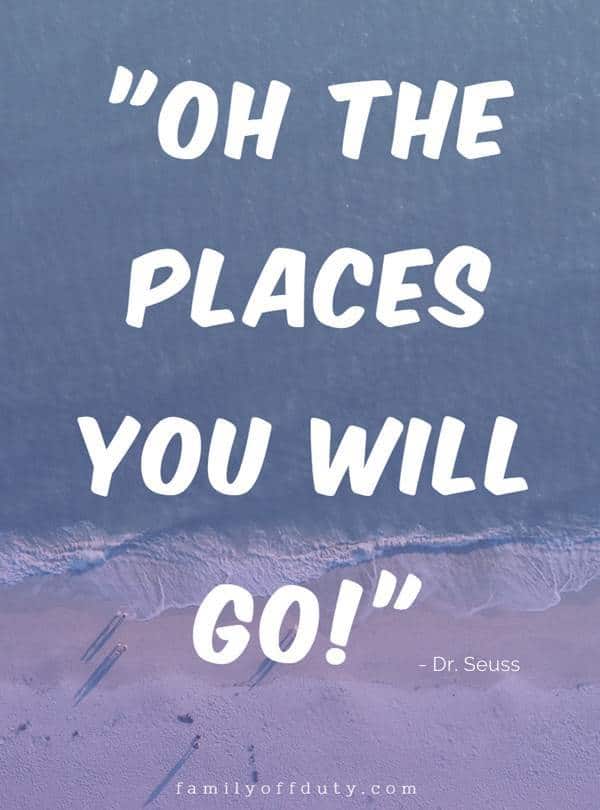 This quote from the beloved book of Dr. Seuss is meant to encourage children to try new things and overcome ups and downs in life. This is my favorite family travel quote.
"The world is a book and those who do not travel read only one page."
– St. Augustine of Hippo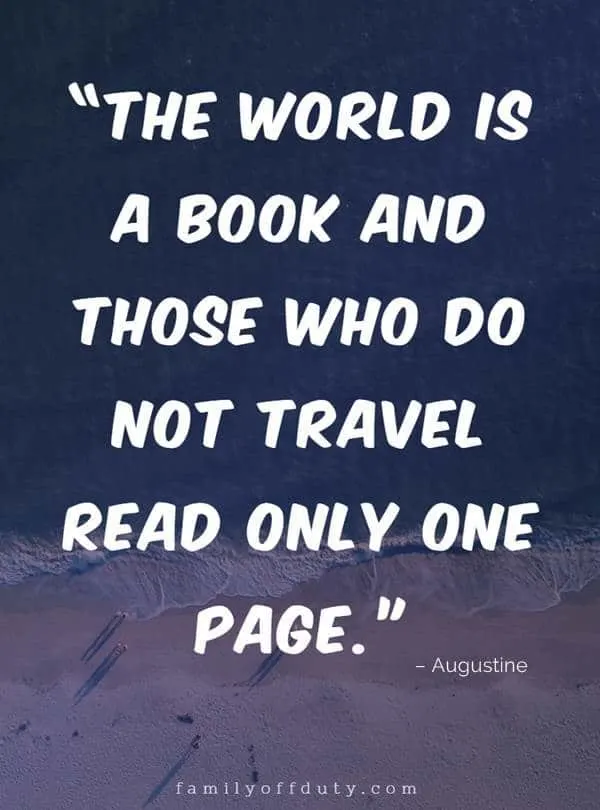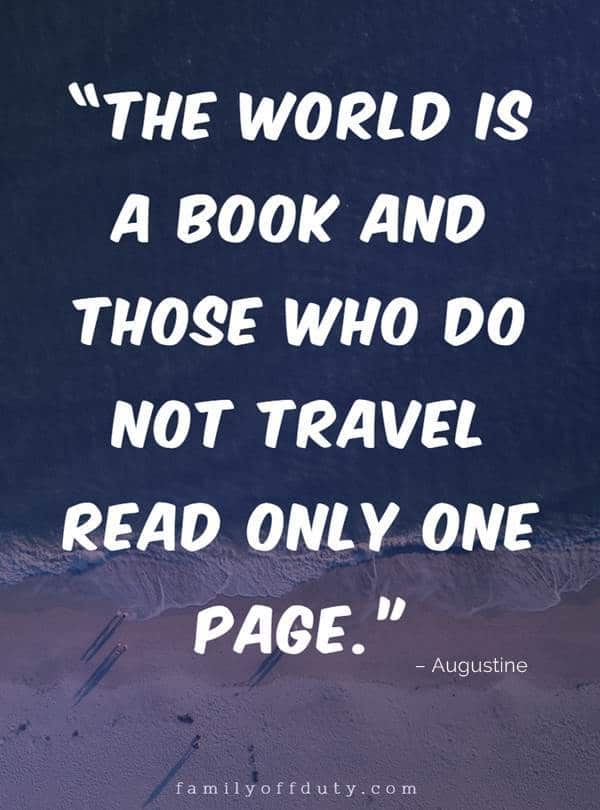 No one study this wonderful book that is the world we live in as much as a traveler! Not exactly from a book quote but I thought I would add under this section due to the book comparison.
4. Famous writers' quotes about travel
"Traveling – it leaves you speechless, then turns you into a storyteller."
– Ibn Battuta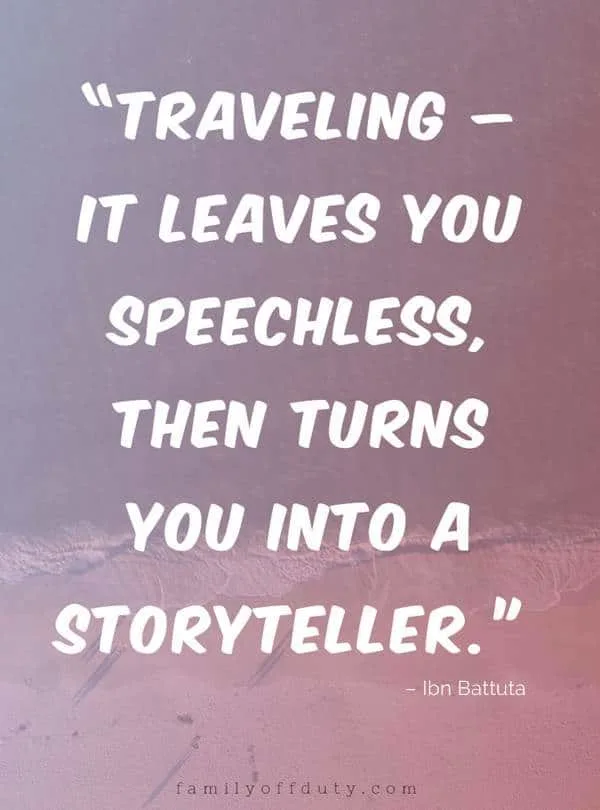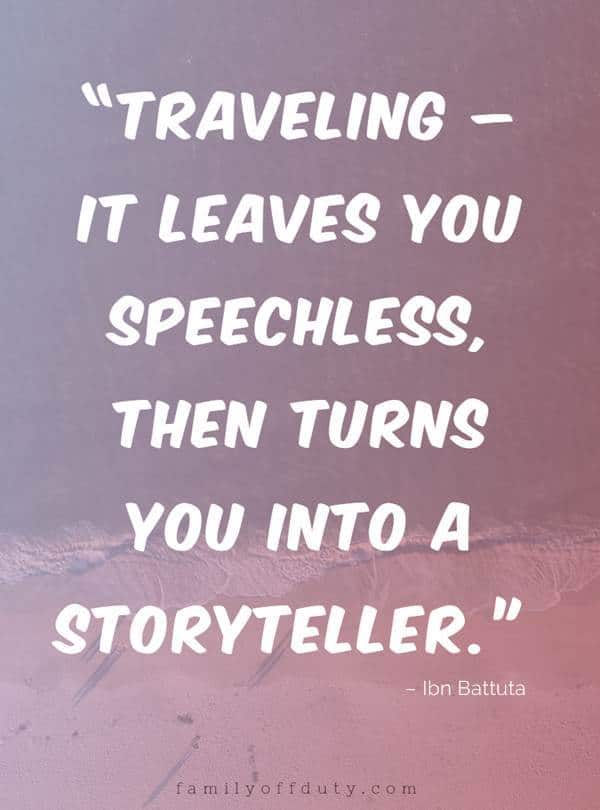 Following from the quote above this one also addresses how taking a journey, learning about new cultures, customs and languages will expand your mind in ways you could not imagine.
"Live life with no excuses, travel with no regret"
– Oscar Wilde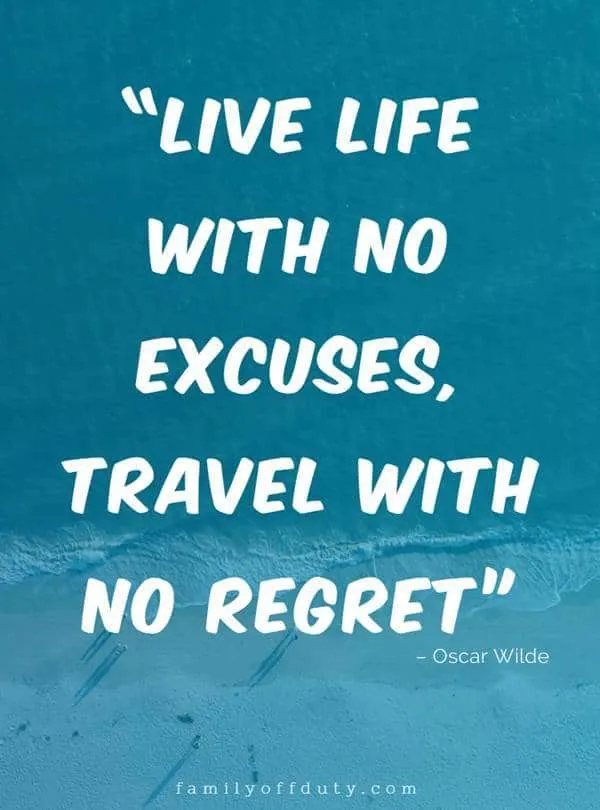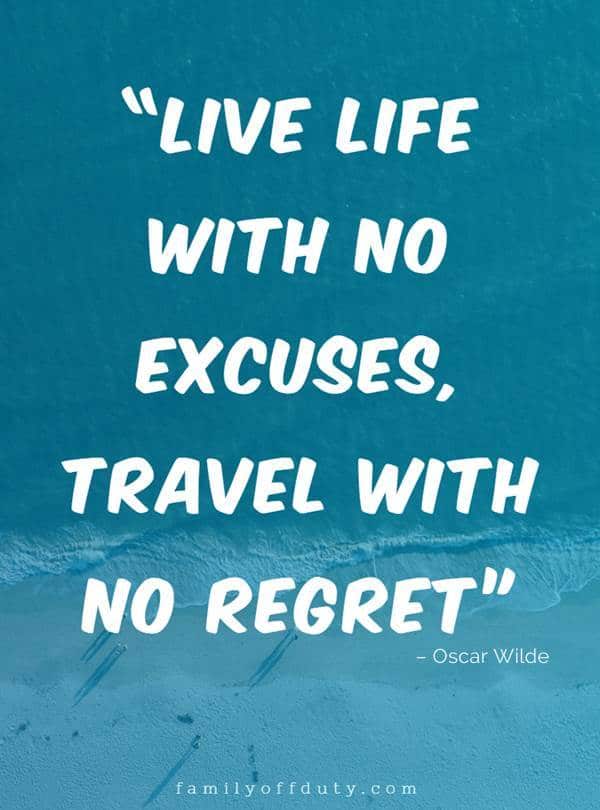 We all make excuses for not doing the things we truly want but in the end you will regret all the things you didn't do. Get your travel partner and go!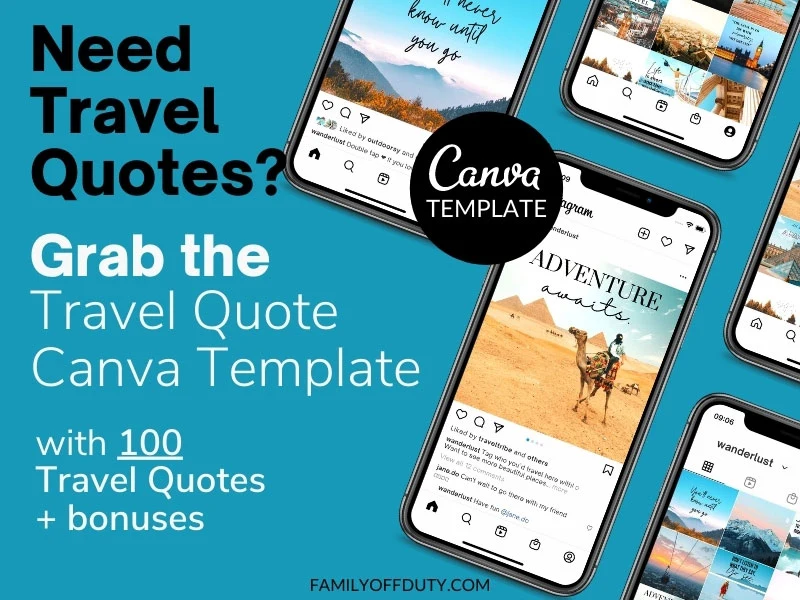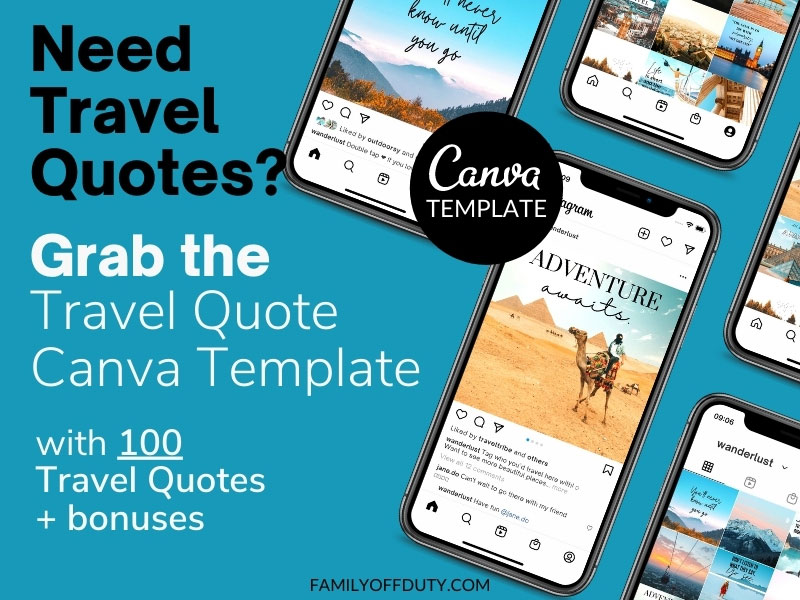 "The real voyage of discovery consists not in seeking new landscapes, but in having new eyes."
– Marcel Proust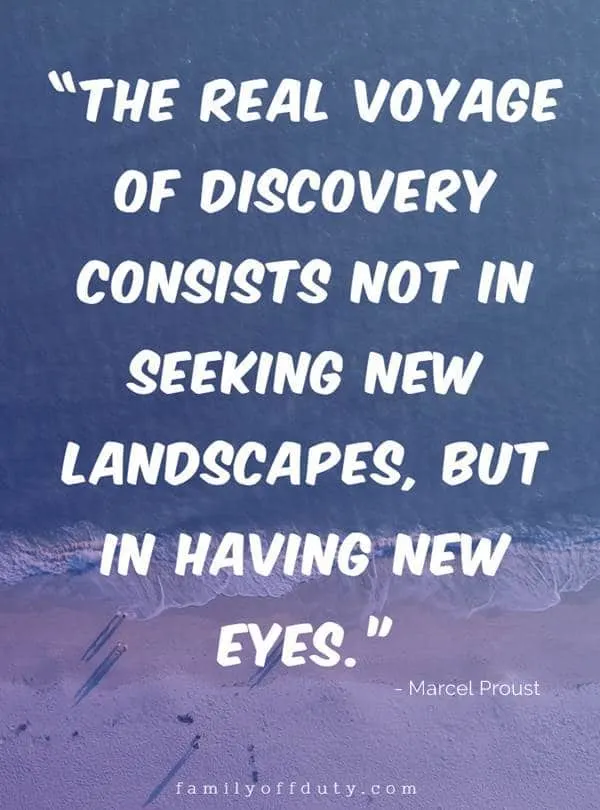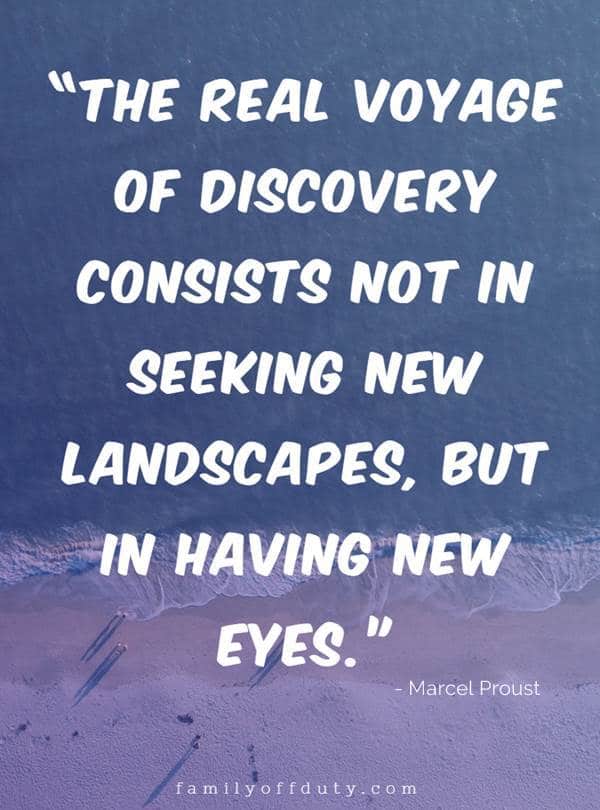 And nothing should stop you from living the exact life that you envision for yourself.
"Tourists don't know where they've been, travelers don't know where they're going."
– Paul Theroux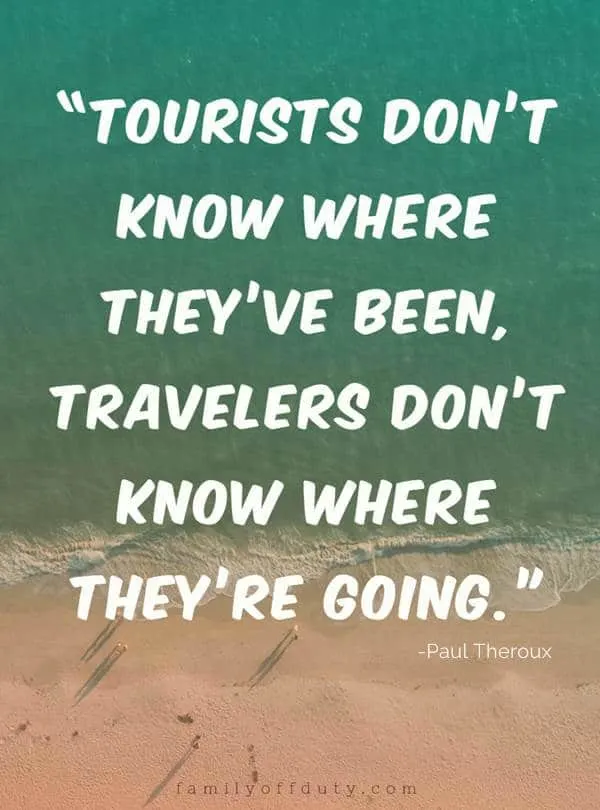 Here is the difference between tourists and travelers. Which one are you?
---
More Travel the World quotes: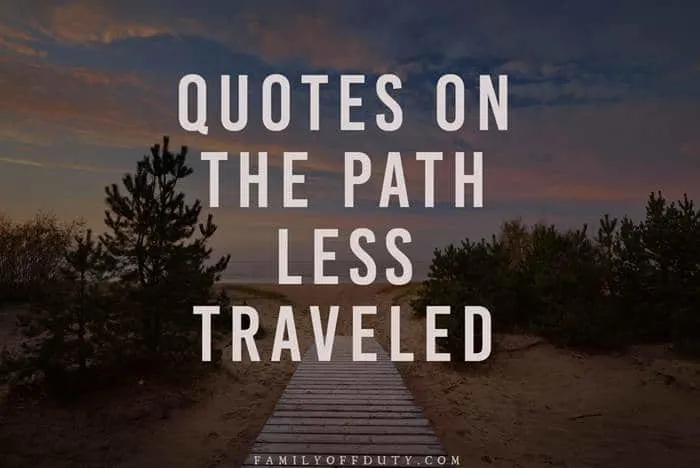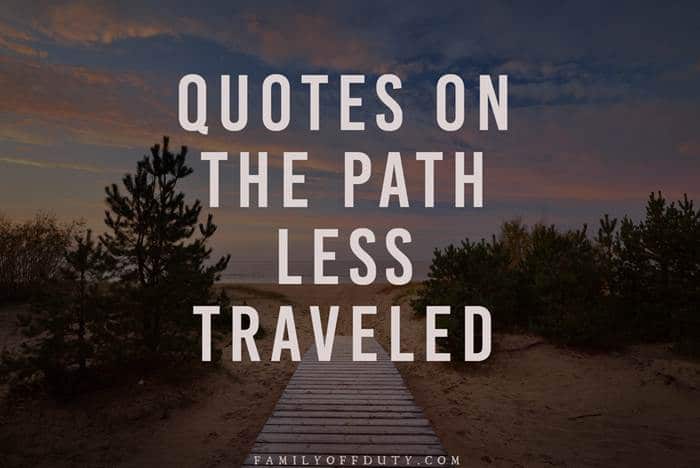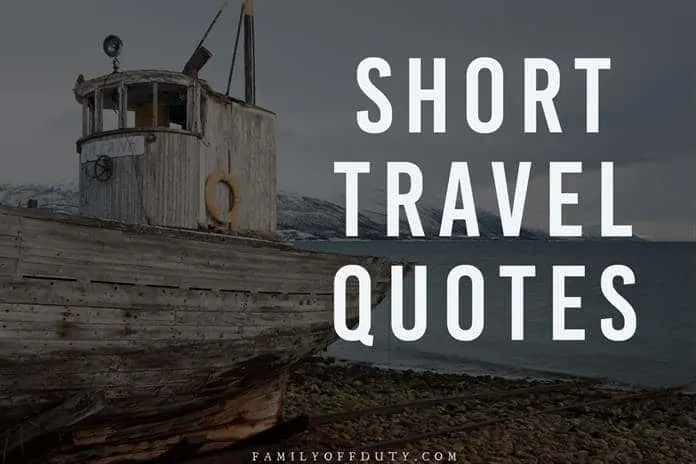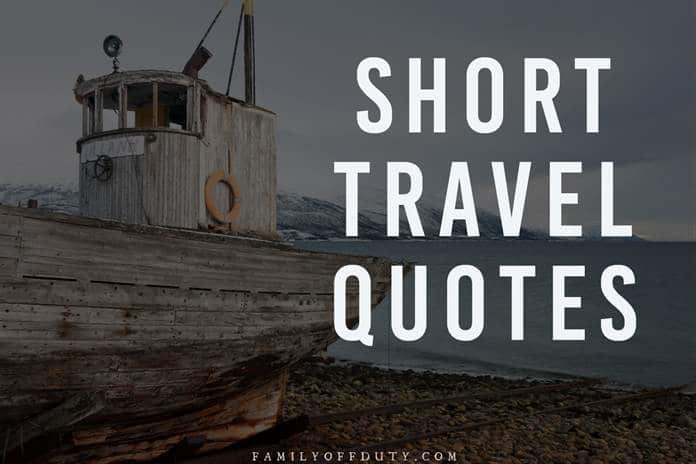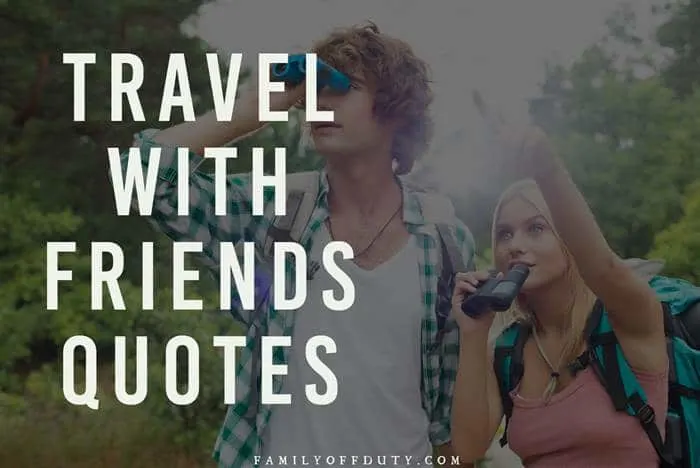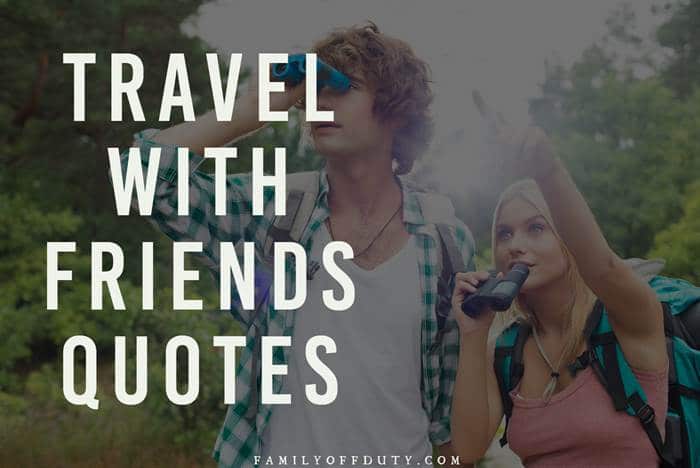 ---
And that is my list! Am I missing some other popular and famous travel quote? Let me know in comments below!
PIN FOR LATER!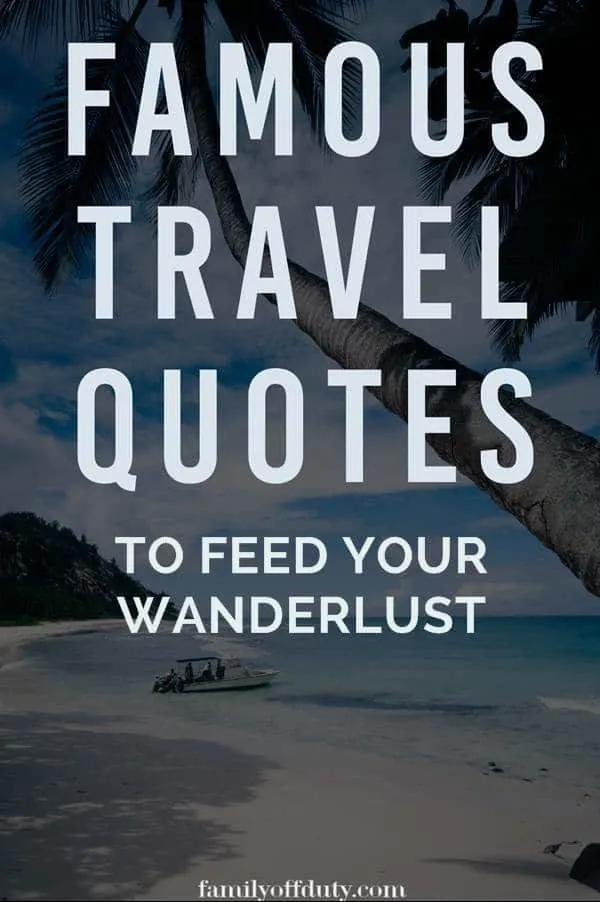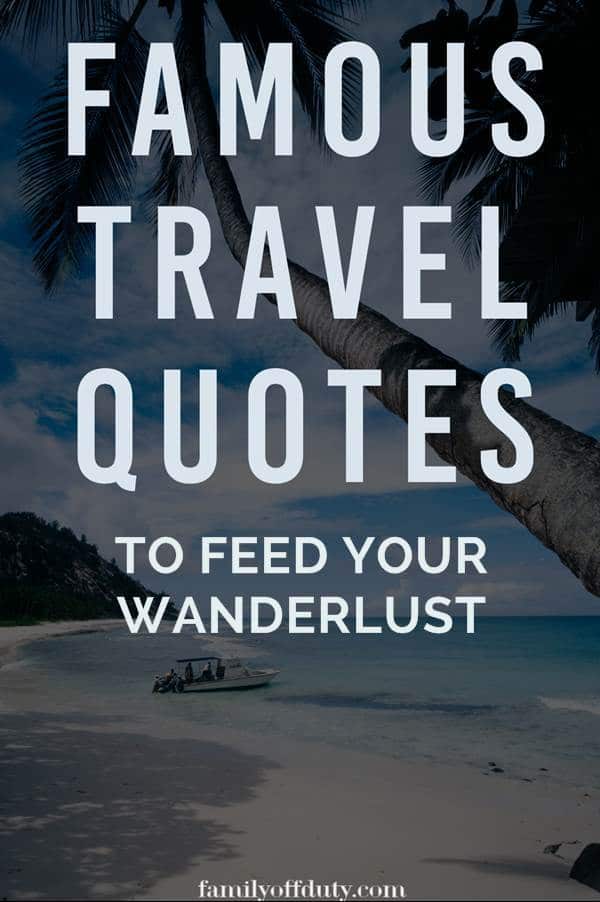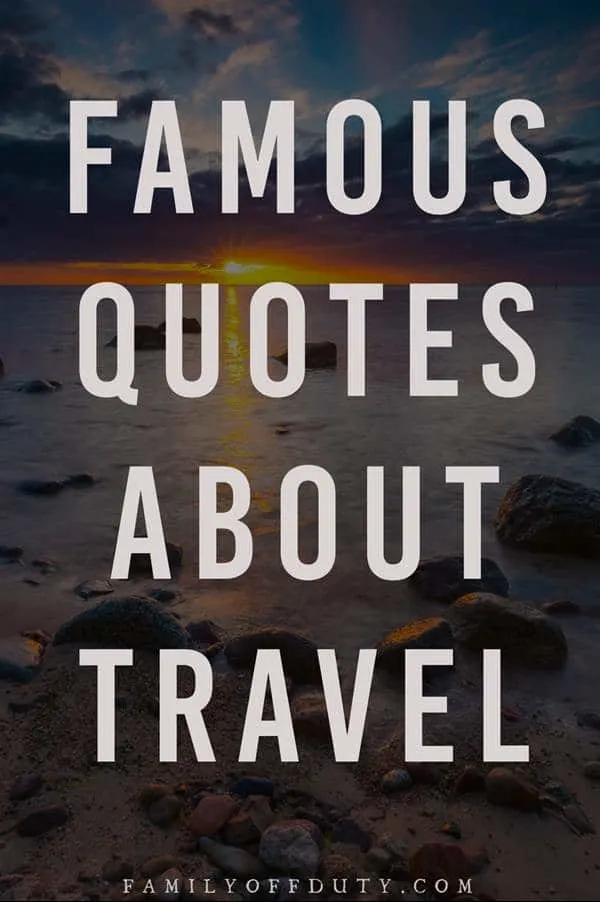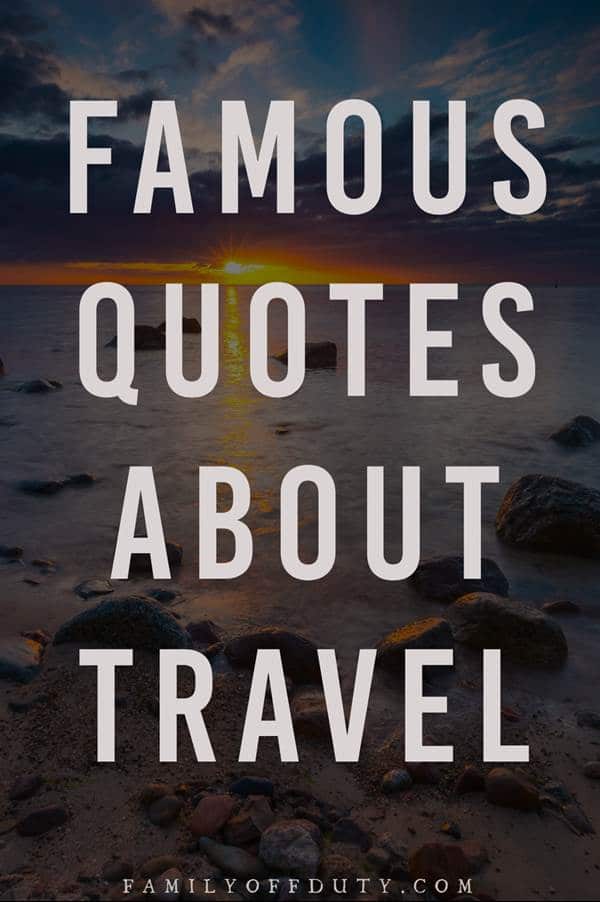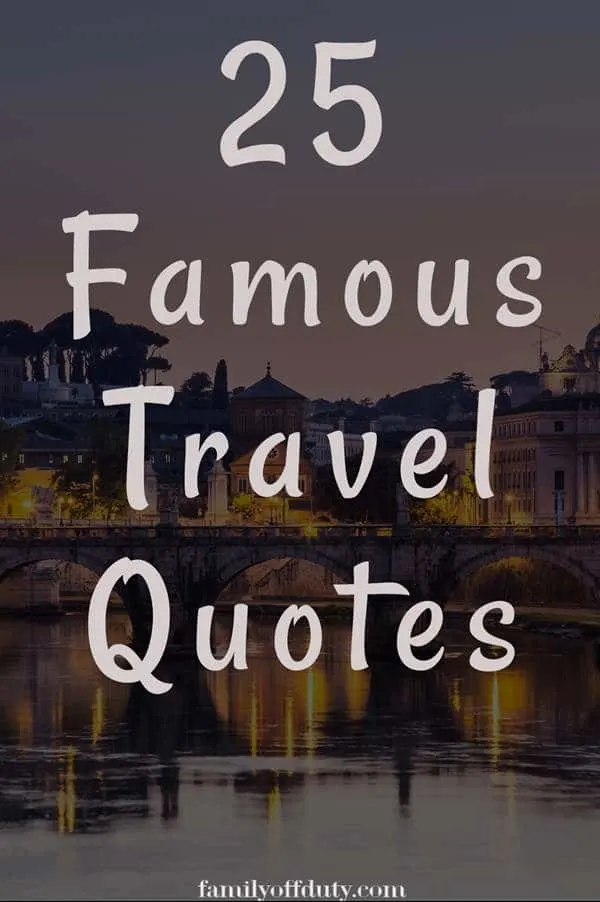 Travel quotes by famous people